800 Semis Go According To Form – We Can't Wait For Sunday's Finals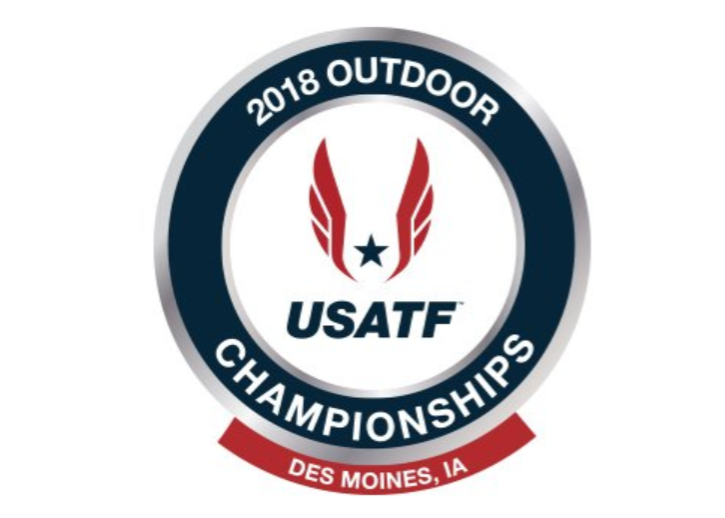 June 21, 2018 to June 24, 2018
by LetsRun.com
June 22, 2018
DES MOINES, Iowa — The men's and women's 800 semifinals of the 2018 USATF Outdoor Championshps were held this evening at Drake Stadium and they went very much according to form, meaning that Sunday's final should be a real treat for the fans. We recap the action in the order that it took place, starting with the women.
Women's 800: The 4 Sub-2:00 Women Look Fantastic
Coming into USAs, four Americans had broken 2:00 in the women's 800 this year and those top four seeds — Ajee Wilson (1:56.86 sb), Charlene Lipsey (1:58.35 sb), Raevyn Rogers (1:59.36 sb), and Ce'aira Brown (1:59.70 sb) — all lived up to their favorite status as they went 1-2 in each of two semifinals today to set up a high-quality final on Sunday.
Article continues below player
In heat #1, Wilson (adidas) did what she almost always does in a domestic competition: lead. Wilson took this one out in 59.13 and was trailed closely by the other woman in the heat who has gone sub-2:00 this year, Brown (Hoka NJ*NY TC). As they ran down the backstretch for the final time, the top two got a small gap on the rest of the field as they hit 600 in 1:30 mid. Coming off the final turn, the top two were well clear of everyone else as Wilson got the win in 1:59.34 to Brown's 1:59.49, which was a PB for Brown (1:59.70 previous pb).
Behind Wilson and Brown, a pair of NCAA champions had the third and fourth qualifyings spots locked up for pretty much the entire last 100 as 2018 NCAA indoor champ Sabrina Southerland of Oregon finished third in 2:01.28 with 2016 NCAA indoor mile champ Kaela Edwards (adidas) fourth in 2:01.35.
In the second heat, Wilson's training partner Lipsey led through 400 in 58.81 with the third elite member of the Derek Thompson-coached training group, Rogers (Nike), on her shoulder.
They hit 600 in 1:29.7 and never were in any trouble on the way home as Rogers ended up passing Lipsey late for the win in 2:00.17 to Lipsey's 2:00.25. Behind them, there was a three-way battle for the final two spots and they went to two women who achieved PBs. Stanford's Olivia Baker,who was 5th at NCAAs a few weeks ago, improved from 2:01.02 to 2:00.63 to finish third as Hanna Green (Oregon Track Club) the multi-time NCAA runner-up, lowered her pb of 2:01.17 which had stood since 2015 to 2:00.69 with Laura Roesler (Nike) missing out of the final in 2:00.84.
The first-year pro Green was thrilled to have PR'd for the first time since her sophomore year of college
Green said she had no idea she was on PR pace as she was focused on racing and while it felt hard, she was "actually surprised (by the time) because I didn't know how fast we were going."
Green says she thinks a variety of injuries have prevented her from PRing in recent years and said that even this year she had a foot injury a few weeks ago that kept her from running for two weeks. However, she thinks the foot problem actually may have turned into a blessing in disguise as she's feeling very fresh. Counting yesterday's prelim, this was just her third 800 of the year whereas in years past she's normally running on fumes by the time USAs comes around.
Women's Results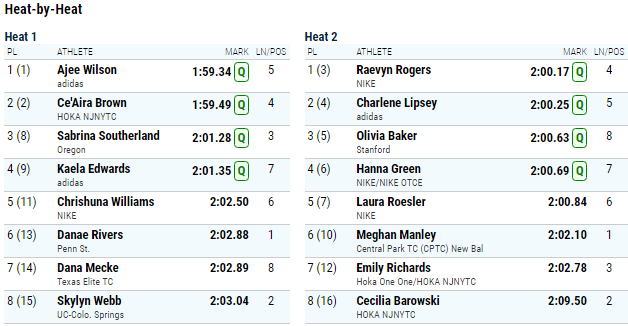 Men's 800: The Big Dogs All Cruise Into The Final
Like the women's semis, the men's 800 semis went pretty much according to form as well. Five men toeing the line for the semifinals tonight had broken 1:46.00 this year — Isaiah Harris (Penn State / 1:44.76 sb), Erik Sowinski (Nike / 1:45.07 sb), Drew Piazza (Unattached / 1:45.83 sb), Brandon Lasater (Atlanta TC / 1:45.85 sb) and Clayton Murphy (Nike / 1:45.97 sb), and all five of those men advanced to Sunday's final. Joining them in the final will be USC's Robert Ford, who was 7th at NCAAs a few weeks back, Hoka NJ*NY's Jesse Garn and BYU's Abraham Alvarado who didn't make the finals at NCAA outdoors this year but for the second straight year will find himself in the USATF final.
In the first heat, adopted Iowan Sowinski led from start to finish taking things out in 25 low, 51.71 and 1:18.8. Over the final 100, he pulled away to win comfortable in 1:46.39. Behind him, there was a five-way battle for the final three qualifying spots. Lasater went from 6th to 2nd in the final 50 (1:46.66) with the other two spots going to Ford (1:46.73) and Garn (1:46.82). Former Villanova runner Samuel Ellison, who ran on Sowinski's shoulder for most of the race, ended up being the first man out in fifth (1:46.87) as Iowa's Carter Lilly was sixth in 1:46.95.
In the second heat, Harun Abda of the Nike Oregon Track Club led at 400 (52.42) with Murphy right on his shoulder. On the backstretch, just as the runners approached 600, NCAA champ Harris made a big move from fourth to first, grabbing the lead a few meters into the turn. Once they hit the homestretch, Harris gapped the field and went on to win convincingly in 1:47.07. The Olympic medallist Murphy, who was looking over his shoulder coming home, ended up second in 1:47.51 with Alvarado third in 1:47.56 and Piazza fourth in 1:47.69.
Post-Race Interviews
Murphy says things are "coming along good"
After the race, Murphy said he was caught a little bit off-guard by Harris' move but wasn't concerned about going with him as it's all about managing the rounds and "it's all about making the final."
While Murphy started his season slowly, he's been running better of late and sounded like things were rounding into form nicely.
"Things are coming along good. There are still some things I need to work on and I'm still not on top of my game but I'm at a pretty good point right now," said Murphy.
When we asked Murphy if he considers himself the favorite for the final, Murphy replied, "That's for you guys to sit in a dungeon and twiddle your fingers and write articles about I guess. I'm out there to race."
MB: Is Murphy the favorite? '"That's for you guys to sit in a dungeon and twittle your fingers and write articles about."
Erik Sowinski: "I definitely think I'm rounding into form as of late."
Sowinski started off his post-race interview by saying, "I definitely think I'm rounding into form as of late." Actually, he started his interview by telling a Flotrack reporter to spell his name right (Sowinski has noticed several mistakes recently), but unfortunately we weren't recording at that point.
He said he still had another gear and sounded excited for the final. When asked if he'd lead the final, he replied, "Sometimes you have to be the hunter instead of the hunted but at the same point I don't think a race going out in 53 isn't going to benefit me either."
Sowinski also mentioned a cool stat: between indoors and outdoors, he's now made 12 straight U.S. finals (including the indoor 600). That's incredibly tough to do in an event as grueling as the 800, where the margin for error is so slim.
Men's Results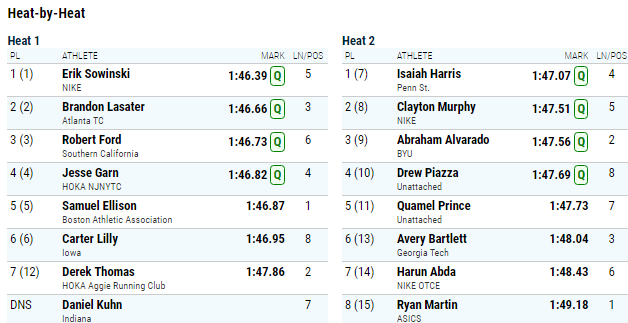 Talk about today's action on the fan forum / messageboard.