5 Reasons To Be Excited for the Women's Action at 2018 USAs: Sydney McLaughlin, Simpson vs. Houlihan in an Iowan Civil War, Jorgensen vs. Huddle, & More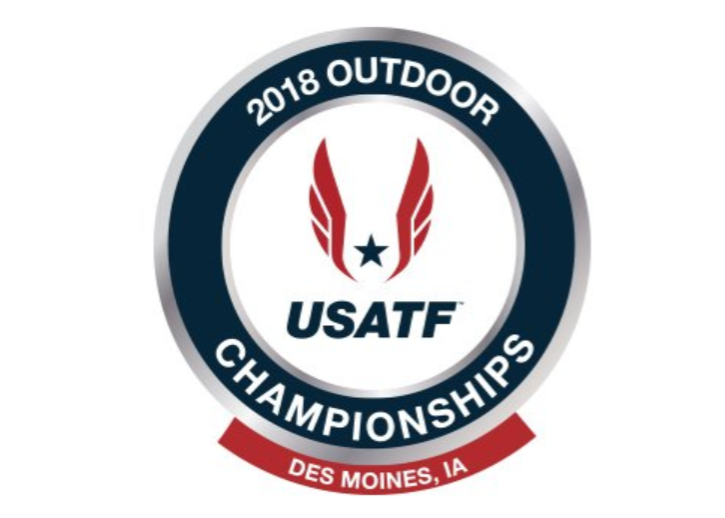 June 21, 2018 to June 24, 2018
By LetsRun.com
June 20, 2018
The 2018 USATF Outdoor Championships begin on Thursday in Des Moines, and with no World or Olympic team to make, even us track and field diehards have to admit, the meet isn't as exciting as it is the other 75% of the time when spots on Team USA are on the line.
Technically there is a team to make, however — the top finisher in each event will be invited to compete for Team USA at the inaugural Athletics World Cup in London next month. But since the World Cup lacks the prestige of soccer event of the same name — whose final just so happens to be on the same weekend as the Athletics World Cup — it's unclear how many Americans will actually take USATF up on the offer. Sadly some of the sport's biggest names (Justin Gatlin, Allyson Felix) clearly don't care about the World Cup as they are skipping the meet.
Article continues below player
That being said, it's the freaking US championship. And we love meets that matter and for us a US title matters. And way more big names are competing in the meet than not, even if some of the rising starts — Noah Lyles (100), Michael Norman (200), and Sydney McLaughlin (400) — are choosing to compete in events other than their specialty.
With that said, after taking a look at the fields, we've come up with five reasons for you to be excited for the women's meet; we did the same thing earlier this week for the men.
And here's one more reason: the LRC Running Warehouse Prediction Contest. It's totally free to enter, and the top three win a pair of HOKA One One Clifton 5's as well as a $100 Running Warehouse gift certificate.
*Schedule, entries, & results *TV & streaming information *All 2018 USATF Outdoors coverage
1) Two Iowa-born studs — Jenny Simpson & Shelby Houlihan — return to the Hawkeye State for a 1500m showdown
For the majority of this decade, Jenny Simpson has ruled over the women's 1500 in the United States. With four straight national titles and four medals in global championships, Simpson is the greatest 1500 runner the U.S. has ever produced. And while she's still going strong at age 31 — she has run 3:59 and 8:30 already this year — she may no longer be the country's top 1500 woman. That's because Shelby Houlihan, who has won the past two U.S. indoor titles and outkicked Simpson to win the 1500 at the Pre Classic in 3:59.06, has been on fire this year. It will be difficult for Houlihan to ever match Simpson's accomplishments — at Houlihan's age, Simpson was already a world champion — but Houlihan has a devastating kick and the strength to use it even in a fast race (remember, she was the U.S. 5,000 champ last year). If this is a changing of the guard, she is a worthy successor.
But we're not counting out Simpson just yet. Simpson is a marvelous tactical racer, and her 3:59 at Pre was faster than anything she ran in 2017 — a year in which she earned a silver medal in one of the most loaded events of the World Championships. Simpson was a well-beaten 8th at Pre last year and bounced back to win USAs, so it's not much of a stretch to imagine winning another national title in Des Moines.
That said, Houlihan represents a major challenge. If you look at the last two global championship finals, Simpson won her medals by judging her effort perfectly, running down tiring runners who made their moves too early. That's not Houlihan's style; she prefers to sit and kick. So it will be very interesting to see how Simpson plays this race strategically. Does she try to run the kick out of Houlihan from the front? That's what she tried at Pre, but even though Houlihan was 9th at the bell, she closed so hard (59.86 last lap, 28.9 last 200) that Simpson still couldn't stop her. But the alternative — allowing the pace to go slow and trying to outkick Houlihan over the final 200 — seems even worse as Houlihan is a former 800 runner.
That being said, please don't discount Simpson. It can be argued that Houlihanwon at Pre because she did what Simpson so often does on the global stage – judge her effort perfectly and run the tiring runners ahead of her. With no rabbits, we don't expect the pace to be as hot early and thus Simpson won't be as tired at the end. And a sit and kick strategy may not be totally foolish for Simpson. Simpson is actually better PRs at both 800 (2:00.45 vs 2:01.12) and 5000 (14:56.27 vs 15:00.37).
There are some other big names entered here in Olympians Brenda Martinez and Kate Grace, but those two women were both soundly beaten by Simpson and Houlihan at Pre. This race will come down to Simpson and Houlihan, and we can't wait to see what happens. Should Houlihan win, she could make history as she's also entered in Sunday's 5,000 meters (the 1500 prelims are on Thursday with the final Saturday). Should she win both, she'd join doper Regina Jacobs as the only women to win both events at the same USA championships. Ironically, her top competition in the 5,000 may be another native Iowan in NCAA champ Karissa Schweizer.
[gravityform action="polls" id="704″ mode="poll" cookie="1 month" show_results_link="false" display_results="true" percentages="true" counts="false" ajax="true"]
2) Gwen Jorgensen runs her first USAs as Molly Huddle returns to the track in the 10,000
Though multiple LRC staffers have said Gwen Jorgensen has no chance to achieve her stated goal of winning Olympic marathon gold in Tokyo — an opinion for which we've drawn criticism — that doesn't mean that we don't have a ton of respect for Jorgensen and aren't fascinated by her story. We love that the Olympic triathlon champ has decided to give running a go and it's been exciting to follow her progress as she transitions to running full-time under coach Jerry Schumacher. Her next test comes on Thursday, where she's entered in the 10,000 at what will be her first U.S. championships on the track.
Jorgensen enters with the #2 time in the country this year thanks to her 31:55 win at the Stanford Invite in March, and based on how she ran that race, she is likely capable of going even faster. And if she wants to contend for the win, she will need to run faster as two-thirds of Team USA from last year's Worlds will be present in Molly Huddle and Emily Sisson. Usually, Huddle would be a slam-dunk in this race — she's won the last three U.S. titles — but she's also usually heading into this meet in peak shape or close to it. This time around, she's coming off a spring marathon, and it was a grueling one — 2:50 in the freezing rain and wind in Boston. Huddle was still feeling the effects of that race at the New York Mini 10K on June 9 as she was 3rd in 32:25. That meant that, after going undefeated against Americans on the roads for six years, she has now lost to an American in each of her last two road races (Des Linden & others in Boston, Aliphine Tuliamuk in NY).
Still, Huddle is the American record holder at 30:13 — over a minute faster than anyone else in the field has ever run. Even if she's not at her best, she's the woman to beat.
Jessica Tonn is the U.S. leader thanks to her 31:54 at Payton Jordan — a 2+ minute pb — and should give Jorgensen a run for her money, but if someone is to defeat Huddle, it's likely her own training partner Emily Sisson. Sisson, like Huddle, is a grinder, and though she's only raced on the track once this year (9:01 3k at Adrian Martinez), she did finish second in the NYC Half Marathon in March. Her 31:25 pb is almost 30 seconds better than anyone else in the field, save Huddle. 2015 NCAA champ Molly Seidel is finally healthy enough to run her first NCAAs on the track, but considering she lost to Rochelle Kanuho by 13 seconds two weeks ago at the Portland Track Festival (running 32:31), she likely won't be a factor for the win here.
[gravityform action="polls" id="705″ mode="poll" cookie="1 month" show_results_link="false" display_results="true" percentages="true" counts="false" ajax="true"]
3) Sydney McLaughlin goes for her first national title — in the 400
With no Allyson Felix — who isn't in shape right now anyway — at USAs, the biggest sprint star on the women's side is an 18-year-old who has never finished in the top two at a U.S. championship. But everyone knows that Sydney McLaughlin, fresh off a dominant NCAA title in the 400 hurdles, is a special talent; she's so good, in fact, that she could wind up winning USAs in her second-best event. As an 18-year-old.
While McLaughlin's 52.75 in the hurdles is undoubtedly her strongest pb — it's 1.65 seconds faster than any other U20 athlete has ever run — she's no slouch in the flat 400, which is the event she'll run at USAs. Her 50.o7 sb puts her in a tie for 5th on the 2018 world list with reigning world champ Phyllis Francis, and only one of the women ahead of her (Kendall Ellis at 49.99) is entered in the 400 at USAs. What's more, McLaughlin's 50.07 was her only 400 of the season, and it came way back on March 30, just one day after she clocked a 200 pb of 22.39. It's conceivable that she could go significantly faster.
Only four U20 women have broken 50 seconds in the 400:
49.42 Grit Breuer, Germany 1991
49.77 Christina Lathan, East Germany 1976
49.88 Salwa Eid Naser, Bahrain 2017
49.89 Sanya Richards-Ross, USA 2004
Considering Breuer was banned for clenbuterol the following year and Lathan was an East German sprinter in the '70s, there are really only two legitimate performances on that list. It would not surprise us at all if McLaughlin runs faster than both of them in Saturday's final.
Ellis is obviously McLaughlin's primary competition in Des Moines. The recent USC grad was only second at NCAAs, but it took a monster performance from Georgia's Lynna Irby to beat her. Given the wet conditions, Ellis' 50.19 in that race may have been a better run than her 49.99 pb at Pac-12s. And we all know what Ellis did in the relay. Plus Ellis has already beaten McLaughlin in one championship this year, running 50.34 to McLaughlin's 50.36 to set the American record at NCAA indoors (we should point out that the two were in separate heats).
World Indoor champ Courtney Okolo is also entered, but hasn't looked great on the circuit this year, finishing no better than 6th in three DL appearances with an SB of 51.22. If someone is to break up McLaughlin and Ellis, it's probably Shakima Wimbley, who beat Ellis at NCAAs last year and ran a pb of 50.18 in April. She's been in the 50s in each of her past five races, but may need a 49 in her legs if she is to win this final.
[gravityform action="polls" id="703″ mode="poll" cookie="1 month" show_results_link="false" display_results="true" percentages="true" counts="false" ajax="true"]
4) Jenn Suhr vs. Sandi Morris in a great pole vault
Entering last year's U.S. champs, Jenn Suhr had won 10 of the last 11 titles, but she was beaten there by Sandi Morris, who has since gone on to claim world outdoor silver and world indoor gold (in addition to Olympic silver in 2016). Meanwhile, Suhr, who turned 36 in February, no-heighted at Worlds and finished just third at USA Indoors in February — the first time in 12 years that she missed a U.S. team that she tried out for. But Suhr, who has relocated from upstate New York to Texas this year, has been rejuvenated outdoors. On April 14 in Austin, she cleared a world-leading 4.93 meters, and backed that up with a meet-record 4.85 clearance to take down Morris at the Pre Classic.
Morris has been in great form as well, though. She cleared her SB of 4.88 to defeat Suhr at the Drake Relays and has since added DL wins in Oslo and Stockholm. And amazingly, neither of those women won USA indoors — that was Katie Nageotte, who cleared 4.91 in Albuquerque (though she hasn't gone higher than 4.71 this year outdoors). Considering Suhr and Morris are the two best vaulters in the world right now, their showdown in Sunday's final is must-watch TV.
[gravityform action="polls" id="706″ mode="poll" cookie="1 month" show_results_link="false" display_results="true" percentages="true" counts="false" ajax="true"]
5) Odds and ends
As we did in our men's previews, we'll quickly run through some of the other events worth following.
Emma Coburn vs Courtney Frerichs in the women's steeple. World champ Emma Coburn will try to make it five in a row in the steeple. While world champs silver medalist Courtney Frerichs could , the bigger opponent could be the clock. Can Coburn, who has finished second in her two DL steeples this year and owns the AR at 9:02, challenge 9:00? The more we think about the women's steeple we are kind of embarrassed we didn't put a matchup between the gold and silver medallists up above. But we wanted to give some love to the non-distance events and we just don't think that Frerichs, who ran 9:20.84 on June 7th in Oslo, is ready to challenge Coburn but we would have said the same thing last year heading into Worlds and it was Frerichs who had the lead on the backstretch of the final lap.
The best women's triple jump ever at USAs. For a long time, the triple jump has been the redheaded stepchild of the jumps in the United States. While the other disciplines have all produced global champions — including the last seven global champs in the women's LJ — no American woman has ever won a medal in the triple jump at Worlds or the Olympics. That could change in the next cycle, however, as Keturah Orji (4th at 2016 Olympics) and Tori Franklin (who broke Orji's American record with her 14.84-meter jump in May) are taking the event to new levels in this country. Orji has won the last two U.S. titles but will have her hands full with Franklin in Des Moines.
If you're a hammer fan, Saturday is your lucky day. Deanna Price broke Gwen Berry's American record with a 77.65m throw on June 2, only for Berry to reclaim the record six days later in Chorzow, Poland, with a 77.78 throw. Both women will be in Des Moines this weekend, where it could take another AR to win the national title.
Ajee Wilson shows her brilliance Wilson has dominated the 800 in recent years and will go for a second straight title while