2018 Prague Marathon Tracking, Live Leaderboard and Results
by LetsRun.com May 5, 2018 Galen Rupp has won the Prague Marathon Top 10 Men's results: Top Women's Results More coming. Rupp splits 5K: 14:52 10K: 14:44 (29:36) 15K: 14:52 (44:28) 20K: 15:16 (59:44) Half: 63:01 25K: 15:24 (1:15:08) 30K: 14:39 (1:29:47) 35K: 15:02 (1:44:49) Previous: Galen Rupp headlines the 2018 Volkswagen Prague Marathon which is on Sunday. The start time is 3 […]
Join Our Supporters Club To Keep Reading
Sign up today to get 25% off and a free t-shirt.
by LetsRun.com
May 5, 2018
Galen Rupp has won the Prague Marathon
Top 10 Men's results:
Article continues below player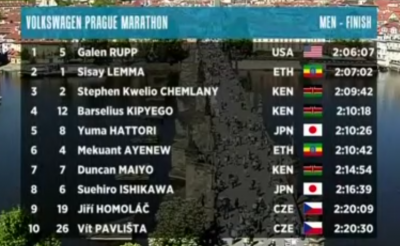 Top Women's Results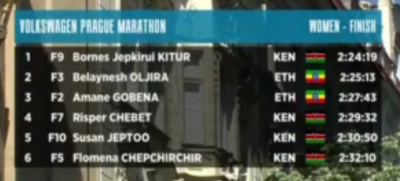 More coming.
Rupp splits
5K: 14:52
10K: 14:44 (29:36)
15K: 14:52 (44:28)
20K: 15:16 (59:44)
Half: 63:01
25K: 15:24 (1:15:08)
30K: 14:39 (1:29:47)
35K: 15:02 (1:44:49)
Previous:
Galen Rupp headlines the 2018 Volkswagen Prague Marathon which is on Sunday. The start time is 3 am eastern/ 9 am Prague time.
Galen may be targeting Khalid Khannouchi's 2:05:38 American record.
Tracking info: RunCzech has a tracking app you can download here.
You can also track runners via your browser here.
Results: We will post results after the race.
Viewing: The race will be on Czech TV and a few other TV channels throughout the world.
In the United States, the race is on the NBC Sports Gold PPV package.
The race will also be streamed here, but we think that it will be GeoBlocked to exclude US Ip addreses but are not certain.
Watchathletics.com usually has some other streaming links as well.
More Prague coverage: LRC What To Expect From Galen Rupp At The 2018 Prague Marathon – Is Khalid Khannouchi's 2:05:38 AR In Danger? Plus a defense of Rupp aimed at those of you who think he's a 2:09 guy or not tough.
RRW Galen Rupp Ahead Of Volkswagen Prague Marathon: "This is shaping up really well." Q&A with Rupp before Prague.