2018 Oxy Preview: Centro Doubles Up, Brenda Martinez & Boris Berian Return to 800, & A Deep Men's 1500 Headline The Action
By LetsRun.com
May 16, 2018
The 2018 USATF Distance Classic — aka Oxy — will be held on Thursday night at Occidental College in Los Angeles. This distance-only meet is usually a chance for top American and international pros to hit USATF/IAAF qualifiers. With 2018 being a non World Championships/Olympic year (and with the 2018 adidas Boost Boston Games also being this weekend), the fields are a little thinner than in years past but there's still some talent on hand. Matthew Centrowitz will tune up before next week's Bowerman Mile by running the 800/1500 double, and he'll be joined in the 800 by Nike Oregon Project teammate Craig Engels. Big Bear Track Club athletes Brenda Martinez and Boris Berian will both run their first 800s of the outdoor season — and for Berian, it's his first outdoor 800 since August 2016 after losing last year to an Achilles injury.
The event of the meet figures to be the men's 1500, which features Colby Alexander, Johnny Gregorek, Stanley Kebenei, Hassan Mead, and Kyle Merber in addition to Centrowitz.
Meet details are below, followed by a preview of each event.
What: 2018 USATF Distance Classic
Where: Jack Kemp Stadium, Los Angeles, Calif.
When: Thursday, May 17. First event starts at 6:15 p.m. PT (9:15 p.m. ET).
How to watch in the US: The only way to watch it live is online via the NBC Sports Gold Track & Field Pass. This requires a subscription ($69.99 for one year), which can be purchased here. The good news is Bill Spaulding will be doing play by play.
How to watch for non-U.S. viewers: If you live outside the U.S., you can watch the meet online through AthleticsCanada.TV, though it requires signing up for a RunnerSpace +PLUS subscription.
Article continues below player.
Schedule/streaming information  *Live results *2017 LRC coverage
Women's 800 (9:15 p.m. ET)
USATF Championship standard: 2:03.00
Section 1 (pacer 58.0 through 400)
1 Lambdin, Raquel Unattached
2 Whelan, Elizabeth U of Toronto Track Club
3 Green, Hanna nike Oregon TC Elite
4 Brown, Ce'Aira hoka Njnytc
5 Martinez, Brenda New Balance
6 Leblanc, Annie new Balance Canada
7 Roesler, Laura Nike
Section 2 (pacer 58.5 through 400)
1 Barowski, Cecilia hoka Njnytc
2 Butterworth, Lindsey New Balance
3 Cote, Laurence canada
4 Kelly, Madeleine U of Toronto Track Club
5 Manley, Meghan central Park Tc/New Balance
6 Sharp, Lynsey Adidas
7 Shukla, Jazz U of Toronto Track Club
Section 3 (pacer 59.0 through 400)
2 Brown, Alisha Oiselle
3 Goins, Rianna Unattached
4 Mires, Baylee Brooks
5 Murphy, Sam Vic City Elite
6 Propp, Adrea Vic City Elite
7 Stepanova, Julia Unattached
Brenda Martinez, who is now 30 years old, said her plan was to move up to the 1500 in 2018 after spending most of her career running the 800 at major championships. And indeed, she did move up at the Drake Relays for her first two races of the year, taking second in the U.S. road mile champs before running 9:32 for two miles on the track. Now she's back for her first two-lap test of the year, and Martinez, who ran a meet record of 1:58.78 here last year, will be favored to win again.
Her top competition may be Hoka One One NJ*NY Track Club's Ce'Aira Brown. The 24-year-old Hampton grad has broken out this year under the watchful eye of coach Frank Gagliano, finishing 4th at USA Indoors and breaking 2:00 for the first time in her outdoor 800 opener two weeks ago. She could give Martinez a run for her money.
Based on personal bests, the fastest woman entered is Lynsey Sharp, a 1:57 performer who made the World Championship final last year and the Olympic final in 2016. But Sharp often takes a little while to get going before rounding into form later in the summer and this year was no exception as she could not even make the final at the Commonwealth Games. As a result, she's in section 2 here.
[gravityform action="polls" id="682″ mode="poll" cookie="1 month" show_results_link="false" display_results="true" percentages="true" counts="false" ajax="true"]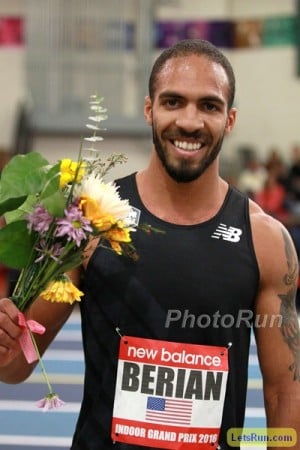 Men's 800 (9:35 p.m. ET)
USATF Championship standard: 1:47.50

(Pacer 50.25 through 400)
1 Centrowitz, Matthew Nike Oregon Project
2 Eke, Allen new Balance / Big Bear TC
3 Engels, Craig Nike Oregon Project
4 Jock, Charles Unattached
5 Berian, Boris new Balance / Big Bear TC
6 Low, Christopher Brooks
7 Abda, Harun nike Oregon TC Elite
8 Lily, Carter Unattached
9 Wynne, Henry Brooks
There will only be one heat of the men's 800, but it should be a good one as it features three Olympians plus 2018 World Indoor 1500 finalist Craig Engels. Olympic 1500 champ Matthew Centrowitz is obviously the big name, but he has not been in great form this year. Indoors, he split 1:48.98 on a 4×800 in his first race of 2018, which was actually much faster than his next two 800s — a 1:53.25 in Brisbane on March 22 and a 1:52.88 in Provo last Saturday (he finished last in both races). Centro is also entered in the 1500 at Oxy, suggesting he is training through this meet (which makes sense with the Bowerman Mile coming up next week), but getting under 1:50 would be a starting point .
The guy we're most interested to see is Boris Berian. A 2016 Olympic finalist, Berian didn't race at all last year and only ran once indoors, a 1:50.17 at the New Balance Indoor Grand Prix in February. The good news is that Berian looked great for the first 600 meters of that race and the Achilles injury that cost him 2017 did not seem to impact his sprinting ability. Obviously Berian faded badly over the final lap, but it showed that he could be back to his best this year with a little more strength work — which he's now had three months to do. Oxy, Berian's outdoor opener, will be a good chance to gauge the progress he's made.
Also watch for Berian's 2016 Olympic teammate Charles Jock. Jock left the Oregon Track Club and is now back with his college coaches at UC Irvine, who believe he still one day can run in the 1:43s once they get the "Kool Aid" of the Oregon Track Club out of his system, but his first two 800s of the year (1:50 and 1:52) haven't gone that well.
[gravityform action="polls" id="683″ mode="poll" cookie="1 month" show_results_link="false" display_results="true" percentages="true" counts="false" ajax="true"]
Women's 3000 steeplechase (9:55 p.m. ET)
USATF Championship standard: 9:50.00
1 Kipp, Shalaya Unattached
2 Lawrence, Marie Oiselle
3 Landwehr, Katie Unattached
4 Kamilos, Jessica Saucony
5 Chenah, Rima Algeria
6 Gerlach, Tori Reebok
7 Donegan, Laura Rose Battle Road Track Club
8 Bell, Rolanda central Park Tc/New Balance
9 Garner, Emma Unattached
10 Tanui, Susan U.S. Army
None of the big names are in action here, with Marie Lawrence (5th) the top returning finisher from last year's USA final. 2012 Olympian Shalaya Kipp is also entered.
Men's 3000 steeplechase (10:10 p.m. ET)
USATF Championship standard: 8:40.00
1 Erb, MJ Saucony / Freedom Track Club
2 Updike, Isaac Team Run Eugene
3 Shrader, Brian Saucony / Freedom Track Club
4 Mahoney, Travis Hoka One One / Hoka Njnytc
5 Mann, Jordan Ocean State Ac/ New Balance
6 Gay, John university of British Columbi
7 Doughty, Brandon zap Fitness Reebok
8 Hurt, James Unattached
9 O'Neil, Austin prestige WW
10 Sterling, Henry ne Distance
11 Carpenter, Jordan Unattached
12 Waterman, Jake Boulder Track Club
As in the women's steeple, the big guns like Evan Jager, Hillary Bor, and Stanley Kebenei are sitting this one out, with Ole Miss grad MJ Erb (7th) the top returner from last year's USA final.
Women's 1500 (10:25 p.m. ET)
USATF Championship standard: 4:11.00
Section 1 (pacer 4:05 pace through 1k)
1 Aragon, Danielle hoka Njnytc
2 Fulton, Eleanor High Performance West
3 Granados, Ayla Strava TC / rabbit
4 Hermansson, Hanna Cal Coast Track Club
5 Kelly, Mariah new Balance Canada
6 MacPherson, Sarah Vic City Elite
7 Mansy, Megan Hoka One One / Hoka Njnytc
8 Mecke, Dana Texas Elite Track Club
9 Osika, Shannon Nike
10 Stafford, Lucia U of Toronto Track Club
11 Tully, Nicole Hoka One One / Hoka Njnytc
Section 2 (pacer 4:09 pace through 1k)
1 Alm, Madeline Unattached
2 Colon, Savannah brooks Beasts
3 Haiss, Therese Unattached
4 Hawthorn, Natalia university of British Columbi
5 Lee, Kirsten Tbir/Canada
6 Mehra, Rebecca oiselle/High Performance West
7 Narvaez, Ana Ags MX
8 Potasinski, Tasia Strava TC
9 Rosenfeld, Leah Under Armour/Run Flagstaff
10 van der Wyk, Tracee Unattached
11 Van Pelt, Stephanie Hoka One One / Hoka Njnytc
There are two 2017 USA finalists in the field in Shannon Osika (7th) and Eleanor Fulton (12th). Of the two, Osika has been in better form in 2018. Indoors, Osika came one place shy of making her first Worlds team in the 1500. Outdoors, she was 4th in the US road mile champs (ahead of Fulton in 8th) last month and ran 9:58 to finish 7th in the 2-mile at Drake. Fulton, meanwhile, is coming off her 5,000 debut at Payton Jordan (16:00) and will get a chance to run her first 1500 of the season.
Ajee Wilson is the 2018 U.S. leader at 4:05.18, and that mark is likely safe (no one in the field has ever run that fast). But expect to see several sub-4:10s as the rabbits will be running 4:05 pace in section 1 and 4:09 pace in section 2.
Men's 1500 (10:50 p.m. ET)
USATF Championship standard: 3:39.00
Section 1 (pacer 3:35 pace through 1k)
1 Avila, Eric Unattached
2 Bruchet, Luc canada
3 Gregorek, John Asics
4 Gusman, Jordan Telford/Saucony/Bankstown TP
5 Haney, Blake Unattached
6 Herrera, Daniel High Performance West
7 Kebenei, Stanley Nike
8 Crawford, Edward hoka Njnytc
9 Mead, Hassan nike Oregon TC Elite
10 Keddar, Salim Algeria
11 Wynne, Henry Brooks
Section 2 (pacer 3:35 pace through 1k)
1 Alexander, Colby Hoka One One / Hoka Njnytc
2 Brannigan, Michael New York Athletic Club (Nyac)
3 Denault, Robert Vic City Elite
4 Fleet, Mac Nike
5 Hedeilli, Takieddine Algeria
6 Kidder, Brannon brooks Beasts
7 Noelle, Chad Asics
8 Riva, Thomas Vic City Elite
9 Merber, Kyle Hoka One One / Hoka Njnytc
10 Manzano, Leonel Hoka One One
Section 3 (pacer 3:39 pace through 1k)
1 Centrowitz, Matthew Nike Oregon Project
2 Knevelbaard, Kasey Unattached
3 Martinez, Jose mx International
4 Matthews, Julian New Zealand
5 Palamar, Adam Vic City Elite
6 Rodriguez, Lalo athletics Mexico
7 Vaziri, Shyan Unattached
8 Verdugo, Alexis mx International
Of all the events at Oxy, the men's 1500 should draw the most interest as there are a bunch of big names entered: Colby Alexander, Matthew Centrowitz, Johnny Gregorek, Stanley Kebenei, Hassan Mead, and Kyle Merber, to name a few. Rather than one fast heat, Oxy traditionally tries to balance the fastest two sections, and as a result, not all of these guys are facing each other. Gregorek, Kebenei, and Mead are in section 1; Alexander and Merber are in section 2; and Centrowitz, by request, is in section 3 as he's doubling back from the 800, which will be held just 75 minutes before the 1500 starts.
The current U.S. leader is 3:36.33 by Ole Miss' Robert Domanic, and while this meet is designed for athletes to chase fast times, it doesn't always turn out that way. Last year, with Olympic champs Centro and Mo Farah looking to run fast, the fastest time was 3:33. But in 2016, no one broke 3:37, and in 2015, no one broke 3:38 (and only two men broke 3:40, though the second fast section was cancelled because of rain).
There's no clear favorite as far as who runs the fastest on Thursday. Normally Centrowitz would be a no-brainer, but he's in the slow heat, doubling back from the 800 and hasn't looked great this year even when fresh (he finished a well-beaten 6th at Payton Jordan). Of the guys entered here, Merber is the fastest this year at 3:37.49, but that came seven weeks ago in Australia. Still, he's looked pretty good in his recent races and should be in contention.
Merber's NJ*NY TC training partners are also threats. Colby Alexander beat both Engels and Centrowitz at Payton Jordan, while 2017 World Championship finalist Johnny Gregorek ran an outdoor world leader of 3:54 in the mile at Penn, defeating Alexander in the process. Couple that performance with his strong 2017 season and Gregorek is the closest thing to a favorite in this field.
Don't overlook some of the distance guys dropping down, either. Kebenei was a stellar 5th in the steeple at Worlds last year and will be racing on the track for the first time in 2018 (he was 3rd at USA XC). And USA 10,000 champ Hassan Mead, who will be making his 2018 debut, ran the fastest time at this meet just two years ago (and ran 3:37 here last year).
[gravityform action="polls" id="684″ mode="poll" cookie="1 month" show_results_link="false" display_results="true" percentages="true" counts="false" ajax="true"]
Women's 5000 (11:25 p.m. ET)
USATF Championship standard: 15:25.00
(Pacer 15:06 pace through 2500m)
1 Buskirk, Kate Van Nike
2 Pagano, Sarah Boston Athletic Association
3 Paquette, Lauren Brooks
4 Gollish, Sasha Oiselle/Skechers Performance
5 Yee, Regan Unattached
6 Cliff, Rachel canada
7 Thackery, Calli Hallamshire Harriers
8 Blaase, Chelsea Brooks Hansons
9 Cridebring, Alycia rabbit / Sra Elite
10 Sachtleben, Bethany Unattached
11 Shanahan, Danielle Unattached
12 Pratt, Olivia Brooks Hansons
13 Blaney, Anne-Marie Brooks Hansons
14 LaBeaud, Natasha Rabbit/Canada
15 Neer, Waverly Hoka One One / Hoka Njnytc
16 Montoya, Maggie Roots Running Project
17 Weigel, Maya Strava TC
18 Nelson, Alicia Boulder Track Club
The BAA's Sarah Pagano and Brooks' Lauren Paquette finished close to each other last year in both this meet (Pagano 4th in 15:18.57, Paquette 5th in 15:19.73) and at USAs (Paquette 6th in 15:25.06, Pagano 8th in 15:26.04) and they should duel once again on Thursday, with the winner favored to take the victory at Oxy. Pagano enters having just shaved 20 seconds off her 10,000 pb to run 31:56 for 2nd at Payton Jordan, but Paquette beat her in their last matchup at the BAA 5K on the roads on April 14, 15:37 to 15:41. Paquette, who boasts 2:02/4:09 speed, has the superior kick, so it will be up to Pagano to drop her before the final lap.
Men's 5000 (11:46 p.m. ET)
USATF Championship standard: 13:35.00
(Pacer 13:20 pace through 2500)
1 Dunbar, Trevor Unattached
2 Buchanan, Reid skechers Perf / Mammoth TC
3 Stilin, Joe zap Fitness Reebok
4 Gusman, Jordan Telford/Saucony/Bankstown TP
5 Parsons, George Adidas / Tinman Elite
6 Kipruto, Nicholas U.S. Army
7 Muta, Yuki Hitachi TS
8 Yanagi, Toshiyuki Hitachi TS
9 Ichikawa, Takanori Hitachi TS
10 Zarda, Zachary Kansas City Smoke
11 Asaoka, Mitsunori Hitachi TS
12 Fischer, Reed tinman Elite
13 Lautenslager, Craig New Zealand
14 Rackers, Timothy Boulder Track Club
15 Atkin, Samuel American Distance Project
16 Kirwa, Evans U.S. Army
17 Crowe, Matthew track Club LA
18 Mahalsky, Ryan Brooks Hansons
The top entrants in this one are Trevor Dunbar and Reid Buchanan, who went 7-8 at USAs last year. Buchanan, whose PR is 13:27 from last year, has been in good form this year and beat Dunbar at the BAA 5K last month, 13:51 to 13:55.
---
Talk about the meet on our world famous messageboard: MB: Official 2018 Oxy Discussion Thread