Relays Weekend Preview: Jenny Simpson Goes for 2-Mile AR, Sydney McLaughlin Set for 400H Debut, & Andre De Grasse Is Back
By LetsRun.com
April 26, 2018
It's relays week. Historically, it's been one of the most fun and anticipated weeks of the collegiate track and field regular season in America. Not this year. Trying to write a preview of this week's action was one of the most depressing things we've done in the 18-year history of LetsRun.com.
The good news is that almost all of the country's top collegiate track & field teams will be in action this weekend. The bad news is that many of them won't be facing each other.
How can that be? Well in addition to the historic Penn and Drake Relays, several other meets are now on the schedule and the talent pools are totally diluted. Add in the fact that neither of the distance squads at powerhouses Stanford and Oregon are running any distance relays this weekend at any meet and you can understand why we are depressed.
The easiest way to understand this is to look at a non-distance event. Take, for example, the men's 4×400. A month ago, that event produced one of the greatest races in NCAA history and saw USC, Texas A&M, and Florida all run under the existing world record.
Article continues below player.
All of those schools are in action this weekend, but none of the big three will compete against each other. USC faces UCLA in a dual meet in Los Angeles, Texas A&M will be in Baton Rouge for the LSU Invitational, and Florida will be in Fayetteville, Arkansas, for the "National Relay Championships" a truly ridiculous name considering the historic Drake and Penn Renn Relays are also this weekend.
In an ideal world, all three schools would be at the same meet. That may be a little ambitious, particularly for USC, which would have to fly across the country to do so. Plus you've got to factor in what's best for the rest of the squad, not just the men's 4×400.
But both Texas A&M and Florida will be competing in the same part of the country this weekend. It's 362 miles from Texas A&M to LSU; to travel to Arkansas instead would require an extra 112 miles. Alternately, LSU is much closer to Florida's campus (587 miles from Gainesville) than Arkansas (999 miles from Gainesville), where the Gators are actually competing.
This is just one example (Flotrack has the full list of where the top teams in each of the sprint relays are heading). The bigger issue is that Penn and Drake — the two regular-season meets that actually mean something in collegiate track & field — are being diluted as meets such as the National Relay Championships and LSU Invitational (neither of which were on the schedule last year) divide the talent pool.
One of the reasons for this is that schools tend to act in their own self-interest rather than the interest of the sport. LSU pulled out of Penn two years ago because it conflicted with the school's "concentrated study period" before final exams — during which LSU athletic teams couldn't travel for events not scheduled by the SEC office (conference competitions/championships). So LSU started its own meet that weekend, the LSU Invitational. That morphed into the SEC Relays last year and is back to being called the LSU Invitational this year.
Arkansas — whose women's tennis team recently scheduled six matches against the same opponent on one day in an attempt to qualify for the NCAA tournament — is no better. After competing at the SEC Relays last year, Arkansas liked the idea so much that it decided to start its own meet, the National Relay Championships (we criticized this development when it was announced back in October). The fact that the SEC powerhouses no longer go to Penn is bad enough. But at least last year, they all decided to go to the same meet. Now that there are multiple competing meets at Arkansas and LSU, the talent pool has been splintered even further.
Look, we get that every school has its own particular logistical issues to deal with. Oregon likes to go to Mt. SAC and Penn, but this year Mt. SAC was the week before Penn so Oregon coach Robert Johnson reluctantly skipped Penn because he didn't want his athletes going hard two straight weekends in April. That makes sense. Similarly, Stanford is going to The Meet in Arkansas – we refuse to call it the  "National Relay Championships" – but not running any distance relays as the Payton Jordan meet is next week.
But the Penn and Drake Relays are two of the few track meets that have some mainstream recognition — enough for NBC/NBCSN to want to televise them every year. In the case of Arkansas and LSU, it's selfish to start your own meet (which will likely never gain mainstream recognition) in an attempt to cannibalize two of the few regular-season meets that actually have historically meant something.
Regardless, we have tried our best to figure out what events you want to try to watch this weekend. See below.
***
Meet Details/How to Watch
Penn Relays (Thursday-Saturday, Philadelphia, PA)
*Schedule/start lists/results
How to watch
Live on NBCSN/NBC Sports Gold from 5-6 p.m. ET on Friday and 12:30-3 p.m. ET on Saturday (USA vs. the World). Remainder of the meet will be streamed on USATF.TV +PLUS (requires subscription).
Drake Relays (Thursday-Saturday, Des Moines, IA)
*Schedule *Elite entries *Live results
How to watch
The elite portion of the meet (except for the women's 2-mile) will be shown live on NBCSN/NBC Sports Gold from 3-5 p.m. ET on Saturday. Remainder of the meet will be streamed on USATF.TV +PLUS (requires subscription).
National Relay Championships (Friday-Saturday, Fayetteville, AR)
*Schedule/results *Entries
How to watch
Live on SEC Network+ and Watch ESPN from 3-5 p.m. ET on Friday. Live on SEC Network and Watch ESPN from 8-10 p.m. ET on Saturday.
***
Now that we've got all that out of the way, there are actually races taking place this weekend, featuring a ton of stars: Sydney McLaughlin, Ajee Wilson, Jenny Simpson vs. Brenda Martinez, Andre De Grasse, Justin Gatlin, Fred Kerley, Ryan Crouser vs. Tom Walsh, and Keni Harrison vs. Kori Carter. Let's run through what we're most looking forward to below in chronological order.
Thursday's events
Penn Relays Women's DMR
Penn Relays women's DMR, Thursday, 5:30 p.m. ET
The Villanova women are going big at Penn once again and going for 3 titles. Siofra Cleirigh Buttner (Dublin, Ireland) was the Women's Athlete of the Meet last year for running on all three relays and she's back as a senior to try to lead them to glory. In this one, they'll face a slew of schools including Indiana who was fourth at NCAA indoors. Full entries here.
Friday events
Penn Relays Men's DMR
Penn Relays men's DMR, Friday, 5:15 p.m. ET
Without Oregon or Stanford at the meet, the Penn Relays distance relay fields have taken a hit. Of the three events (4×800, 4x mile, DMR), the DMR figures to be the best, with NCAA runner-up Notre Dame taking on Indiana (7th at NCAAs), Villanova (8th at NCAAs), Georgetown (11th at NCAAs), Heps champs Princeton, and Penn State (hopefully featuring 2017 World Champs team member Isaiah Harris). Notre Dame was the surprise story at NCAA indoors, finishing second thanks to a 3:56 anchor from true freshman Yared Nuguse, but Nuguse and the Irish won't be sneaking up on anyone at Penn.
Sydney McLaughlin Entered in 400 Hurdles for First Time Since 2017 USAs
National Relay Championships women's 400 hurdles, Friday, 6:25 p.m. ET
When Sydney McLaughlin enrolled at Kentucky last fall, the plan was for her not to run the 400 hurdles at all this year. But plans change: the sprint superstar is entered in her specialty event at the National Relay Championships (as well as the 4×100 and 4×400). Initially, Kentucky coach Edrick Floreal didn't want McLaughlin to run the 400 hurdles until he felt comfortable with the adjustments they had made to her mechanics in practice. And that was working out fine, as McLaughlin has excelled at everything from the 100 (wind-aided 11.07) to the 400 (50.07) in 2018.
Now it may be time for McLaughlin to see what she can do in the 400 hurdles, and with the progress she's made in other events this year, the outcome could be downright scary. McLaughlin's pb is the 53.82 she ran to set the world U20 record at USAs last year. Still only 18, McLaughlin could lower that record Friday.
"We were having some issues with the hurdles mechanically—technically I couldn't get her to do some the things I wanted to get done and she admitted in numerous interviews that the thing that brought her the most stress was the hurdles," Floreal told Track & Field News. "So I had to water down my teaching.
"I think I get too technical. I'm all X's and O's and we were looking at angles and takeoffs and touchdowns. You have to be precise and I think for an 18-year-old mind sometimes that is like this is too much. I backed up a little bit, watered it down and lo and behold, we're on a roll. The 400 hurdles are looking really, really good."
Does Anyone Else Realize Florida Has a Japanese World Championship Sprint Finalist On Its Roster?
National Relay Championships men's 200, Friday, 7:45 p.m. ET
It may have flown under the radar because the reigning NCAA indoor and outdoor champions are already totally loaded, but 19-year-old Hakim Sani Brown — who finished 7th at Worlds last year for Japan — enrolled at Florida last fall. So far outdoors, he's run 10.46 and a (barely) wind-aided 10.19 (+2.1) in the 100, but this is his first time competing in his specialty event at the NCAA level.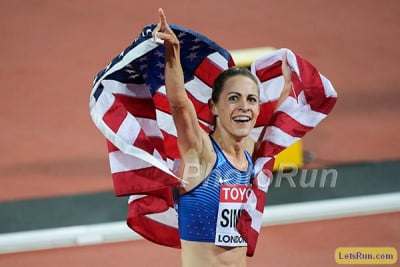 Jenny Simpson Goes for the American Record
Drake Relays women's 2 mile, Friday, 9:08 p.m. ET
Simpson already owns the American indoor record in this event (9:18.35) so the outdoor mark of 9:20.25, set by Simpson's rival Shannon Rowbury in 2014, is definitely attainable (drug cheat Regina Jacobs ran 9:11.97 in 1999 but that came in a mixed race so it is not record-eligible). She'll be joined by Brenda Martinez, who hasn't run a race this long on the track since 2014 and finished second at the U.S. road mile champs in Des Moines on Tuesday, as well as 2017 World Champs team member Sara Vaughn, steeple specialist Stephanie Garcia, Alexa Efraimson (5th at USAs in the 1500 last year) and Shannon Osika (3rd at USAs in the 1500 indoors).
The 31-year-old Simpson has won in all five of her Drake Relays appearances as a pro. Expect the streak to continue here in her season opener on Friday, with the real test coming a week later when she runs the 3,000 at the Diamond League opener in Doha.
Saturday events
U.S. Champs Justin Gatlin & Fred Kerley Lead USA vs. The World at Penn
Penn Relays USA vs. The World, Saturday, 12:30-3:00 p.m. ET
We don't have the exact composition of the relay squads for the USA vs. The World races at Penn this year (4×100, 4×400, and sprint medley) but we've seen the relay pools and Team USA has some star power to draw from as world 100 champ Justin Gatlin and U.S. 400 champ Fred Kerley are both entered, as is Raevyn Rogers (who we'd assume will be running the 800 leg on the sprint medley). Jamaica, The Bahamas, Trinidad & Tobago, Canada, Guyana, and Haiti will all be sending teams to oppose to the U.S., though those squads are mostly absent of any big-name stars.
Ajee Wilson Runs the Mile
Penn Relays Olympic Development women's mile, Saturday, 3:00 p.m. ET
Wilson opened her 2018 outdoor season with a 2:01/4:12 double in Philadelphia two weeks ago. The American 800 record holder will be stepping up in distance for this one as she takes on a mile field that includes teammate Charlene Lipsey and 2015 NCAA 1500 champ Rhianwedd Price-Weimer of Mississippi State. It should be a good battle between Price-Weimer, who ran 4:33.00 indoors to finish 4th at NCAAs, and Wilson, who has big-time wheels but a slower mile pb (4:33.57 from 2016). Can Price-Weimer put enough distance between her and Wilson to nullify Wilson's kick?
Drew Hunter Runs the Mile; Can Leo Manzano Finally Break 4:00?
Drake Relays men's mile, Saturday, 3:23 p.m. ET
Drew Hunter
 looked good in 
winning the BAA Mile in Boston
 two weeks ago but he'll get a bigger test 
on Saturday
 against a field that includes 
Lawi Lalang
 and 800 man 
Erik Sowinski
, fresh off a 
3:44
 1500 pb at Mt. SAC last week.
While Sowinski will be looking to join the sub-4:00 club in his first-ever mile, 2012 Olympic 1500 silver medalist 
Leo Manzano
 will be looking to rejoin the club. Manzano has now gone 14 straight races on the track without breaking 
4:00
. Most recently, he finished 15th at the US road mile champs in Des Moines 
on Tuesday
 in 4:09.83.
An Epic Shot Put Showdown
Drake Relays men's shot put, Saturday, 3:30 p.m. ET
Over the past two years, America's Ryan Crouser and New Zealand's Tom Walsh have been the world's greatest shot putters. Walsh got things going by winning the World Indoor title in 2016 before Crouser got rolling outdoors, breaking the Olympic record in Rio and claiming gold with a world-leading 22.52 meters (Walsh took the bronze).
Crouser was in even better form last year, throwing 22.65 at USAs (the longest throw in the world since 2003) and going undefeated until Worlds. But since then, the scales have been tipped in Walsh's favor. The Kiwi won Worlds in London, added a second World Indoor title in March (in a championship-record 22.31), and surpassed Crouser's PR by going 22.67 in Auckland on March 25, putting him in a tie for 6th on the all-time list. Crouser, meanwhile, was forced to miss the indoor season with a finger injury and will make his 2018 debut at Drake on Saturday.
Both Crouser and Walsh have talked openly about going after Randy Barnes' 28-year-old world record of 23.12, and they could get it by pushing each other this outdoor season. Walsh, a great character not afraid to speak his mind, is eager to play up his rivalry with Crouser.
"I hate losing to anybody, but I especially hate losing to him," Walsh told KUSports.com.
This will be the first of what figure to be many showdowns in 2018 between two titans of the event. Darrell Hill, who threw a PR of 22.44 to win the Diamond League final last year, is also entered.
World Champs/Training Partners Kori Carter & Keni Harrison Square Off
Drake Relays women's 100 hurdles, Saturday, 3:37 p.m. ET
World record holder Keni Harrison, who won the indoor world title in the 60 hurdles last month in Birmingham, has been almost unbeatable in the 100 hurdles since the start of 2016, with her two defeats coming in her two biggest competitions (2016 Olympic Trials, 2017 Worlds). That includes two Drake Relays victories, including last year where she ran a world-leading 12.56 despite cold, rainy conditions. Harrison will be expected to win in Des Moines, but she won't have it easy with World Champs silver medalist Dawn Harper Nelson in the field (plus Harrison's training partner, 400 hurdles world champ Kori Carter).
Harrison may also have 12.43 in her mind as that's the time that 2016 Olympic champ Brianna McNeal (formerly Rollins) laid down at Mt. SAC last weekend. That's some serious running for April, and the duels between Harrison and McNeal (who is not entered at Drake) will be a sight to behold in 2018 after Rollins was suspended for all of last year for missing three drug tests.
The Return of Andre De Grasse
Drake Relays men's 100m, Saturday, 3:56 p.m. ET

De Grasse, the triple Olympic medalist from 2016, was a medal favorite at last year's World Championships after winning Diamond League events in Rome, Oslo, Stockholm, and Rabat. But he was forced to withdraw from Worlds due to a hamstring strain and pulled out of the Commonwealth Games earlier this month, feeling that his fitness was not up to snuff. On Saturday, he'll run his first race in over nine months against a field that includes Mike Rodgers, U.S. 200m champ Ameer Webb, and Diamond League champ CJ Ujah.