Breaking 2:15:25: Can the Women's World Record Go Down at the London Marathon? An LRC Examination
By Jonathan Gault
April 18, 2018
LONDON — A major storyline in the women's race at the 2018 Virgin Money London Marathon centers around Paula Radcliffe's 2:15:25 world record. Radcliffe set the mark in this race 15 years ago, and since then it has not been seriously challenged — no other woman has ever broken 2:17, let alone 2:16. That may change on Sunday when the second- and third-fastest women in history, Kenya's Mary Keitany and Ethiopia's Tirunesh Dibaba, both titans of the sport, square off in the British capital. Last year, Keitany ran 2:17:01 to Dibaba's 2:17:56 to set a women's-only world record (Radcliffe benefited from male pacemakers) and since then Keitany has had her eye on Radcliffe's overall mark, making her intentions clear months ago that she will go for the record in London with the help of male pacers.
Today, Dibaba added her name into the WR mix as she said that she may chase the record on Sunday if the stars align.
Article continues below player
"So many factors in breaking the world record," Dibaba said through a translator. "The weather has to be good, pacemakers and the condition of the race and everything. Hopefully if all things are met, I'll go for it."
Can either of them do it? Let's run through what we know and try to come up with an answer.
2:15:25: An Appreciation
Before addressing whether Keitany and Dibaba can challenge the record, it is important to appreciate how special 2:15:25 truly is. In the distance events (1500 and up) contested at the Olympics, it is the longest-standing women's world record by far. Radcliffe set the record in April 2003. The next-oldest record is Dibaba's 14:11.15 in the 5,000 from June 2008; the other three Olympic distance events (1500, 10,000, steeplechase) have all seen a world record set within the last three years. But that alone doesn't do it justice.
When Radcliffe ran her 2:15:25, she broke the existing record of 2:17:18 by 1:53, a monstrous improvement. And that previous record had also been set by Radcliffe, exactly six months earlier in Chicago. When you compare Radcliffe to the second-fastest woman in history at the time, Catherine Ndereba, her WR was 3:22 faster than Ndereba's best of 2:18:47. Even after Keitany ran 2:17:01 last year in London, Radcliffe's record is still 1:36 better than the #2 mark in history. By percentage, it's 1.18% better than Keitany's 2:17:01, which is the second-largest gap in all the world record events (only the discus is larger), as shown by the table below.
| | | | | | | | |
| --- | --- | --- | --- | --- | --- | --- | --- |
| Event | WR | #2 mark | % difference* | Event | WR | #2 mark | % difference* |
| 100m | 10.49 | 10.61 | 1.14 | Long jump | 7.52 | 7.49 | -0.4 |
| 200m | 21.34 | 21.56 | 1.03 | Triple jump | 15.50 | 15.39 | -0.71 |
| 400m | 47.60 | 47.99 | 0.82 | Shot put | 22.63 | 22.55 | -0.35 |
| 800m | 1:53.28 | 1:53.43 | 0.13 | Discus | 76.80 | 74.56 | -2.92 |
| 1500m | 3:50.07 | 3:50.46 | 0.17 | Hammer | 82.98 | 82.29 | -0.83 |
| 5000m | 14:11.15 | 14:12.59 | 0.17 | Javelin | 72.28 | 71.99 | -0.4 |
| 10000m | 29:17.45 | 29:31.78 | 0.82 | Heptathlon | 7291 | 7215 | -1.04 |
| 100m hurdles | 12.20 | 12.21 | 0.08 | 4x100m relay | 40.82 | 41.01 | 0.47 |
| 400m hurdles | 52.34 | 52.42 | 0.15 | 4x400m relay | 191.17 | 191.51 | 0.18 |
| 3000m steeplechase | 8:52.78 | 8:55.29 | 0.47 | 20000m walk | 1:24:38 | 1:24:47 | 0.18 |
| High jump | 2.09 | 2.08 | -0.48 | Marathon | 2:15:25 | 2:17:01 | 1.18 |
| Pole vault | 5.06 | 5.05 | -0.20 | | | | |
*I calculated % difference by dividing the #2 mark by the WR. So in the 100m, 10.61/10.49 = 1.0114, or 101.14%. Thus, 10.49 is 1.14% better than 10.61. For the field events, the percentages are negative (since the #2 performance is, by definition, smaller than the WR).
It's hard to understate how ahead of its time Radcliffe's 2:15:25 was. When she set the record in April 2003, the men's world record stood at 2:05:38. Since then, the men have blown by the 2:05 barrier (sub-2:05 has been done 66 times), the 2:04 barrier (sub-2:04 has been done 17 times) and even cracked the 2:03 barrier (Dennis Kimetto's world record, set in 2014, stands at 2:02:57). Yet no woman has come within 90 seconds of 2:15:25.
For over a decade, Radcliffe's record was viewed as utterly untouchable.
"Paula's record is so far out there it is not even in people's consciousness," Chicago Marathon race director Carey Pinkowski told the Chicago Tribune's Phil Hersh in 2014. "There is not an athlete currently out there who can approach it."
Indeed, as recently as last year, it would have been viewed as insane for an athlete to even speak about trying to break Radcliffe's record. Then Keitany ran 2:17:01 in London last year, and the world began to wonder. Maybe it is possible after all.
Still, there's a big gap between 2:17:01 and 2:15:25. And in Wednesday's elite press conference, both Keitany and Dibaba showed Radcliffe's record the proper respect, admitting that it would take a monumental effort to break it.
"It's not easy," Keitany said. "2:15 is something else. We are asked to try to follow the footsteps of a legend."
"When you talk about the world record, especially what Paula broke, it's not an easy thing," Dibaba said, through a translator. "It's a very difficult thing to break."
Who Could Break the Record?
As terrific as this year's women's field is in London (four women with PRs under 2:20, three more under 2:22), Keitany and Dibaba are the only ones even remotely capable of challenging the mark. I asked the other elite women at today's press conference — Frankfurt champion Vivian Cheruiyot, world champion Rose Chelimo, Berlin champion Gladys Cherono, and 2015 London champion Tigist Tufa — whether any of them would go with Keitany if she went through halfway on world record pace and received four blank stares. It was as if I had asked them, What do you think your chances are of running faster than Eliud Kipchoge on Sunday?
And they would be right to take a conservative approach. Remember, last year four women hit halfway in 67:54 (world record pace is 67:42) and while Keitany ran 2:17:01 and Dibaba hung on for a 2:17:56, everyone ran massive positive splits and no one else broke 2:23. This year, Kenya's Gladys Cherono is the next-fastest entrant after Keitany and Dibaba at 2:19:25; for her to break the world record, she'd have to PR by over four minutes. That's simply not happening. It would be suicide for anyone outside of the top two to even attempt it.
Let's make one thing clear: it's unlikely the world record gets broken. Because so many things have to go right over the course of a 2+ hour race, it's foolish to predict a WR in any marathon, particularly on the women's side, where Radcliffe is so far out in front of the pack. But this is the best chance anyone has had since Radcliffe. And if anyone from this 30+ generation of female distance runners (Keitany is 36, Dibaba is 32) is going to do it, it's either going to be Keitany — the second-greatest marathoner ever behind Radcliffe (she'd become the GOAT with a WR) — or Dibaba, who with three Olympic and five world titles on the track and PRs of 14:11/29:42/2:17:56 has a very strong case as the greatest female distance runner of all time.
With the recent explosion of fast times in the half marathon, it's possible that we could see more world record assaults in the 2020s as there's a serious talent explosion in the half marathon at the moment. Seven women have broken 65:30 in the half since the start of last year; before then, only one woman in history had done that (Radcliffe's PR is 65:40). If some of those half marathoners prove equally (or more) adept over the 26.2-mile distance, one of them might have an outside shot to run 2:15:25 at some point.
That's a big "if," however. Even with today's half marathoners running faster than ever, the marathon WR remains a far better performance than the HM WR (currently 64:51). 2:15:25 converts to a 64:35 half marathon according to Daniels, 64:21 according to McMillan, and 63:35 according to Kellogg (though Hansons' calculator does have it at 64:57).
Where Is All That Extra Time Going to Come From?
Keitany needs to lower her PR by 1:35 to get to 2:15:25. Dibaba needs to shave off 2:31. That's a ton of time, especially when you're already the best in the world and, in Keitany's case, 36 years old. The good news is that there are definitely extra seconds out there for each of them; the question is whether there are enough of them to get down to 2:15:25.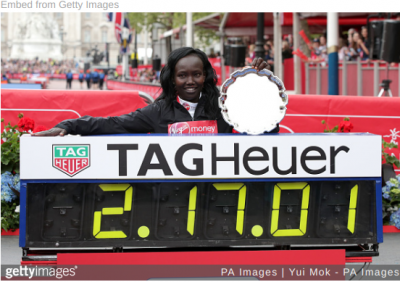 The biggest gains will come from pacing. Both Keitany (66:54-70:07) and Dibaba (67:53-70:03) ran personal bests in London last year despite significant positive splits, which is inefficient. Not only that, but those first half splits themselves were inefficient, as the opening 10k was way too fast. Keitany went 31:17-32:09 for her first two 10ks and Dibaba going 31:31-32:42 (WR pace is 32:05.6 per 10k). Even splits are better, though it's okay if the first 10k is a bit faster since there is an almost 100-foot downhill at the end of mile 2 where runners can bank some time (a near-100-foot elevation drop would be worth close to 18 seconds according to John Kellogg's formula of 1.8 seconds per 10 feet of drop). Keitany estimated that with smarter pacing, she may have been able to run 2:16:30 last year, while LetsRun guru John Kellogg said she could have gone under 2:16.
Keitany admitted that she had to be more patient this time around, "not rushing at the beginning and then losing at the end."
Smarter pacing alone puts Keitany in the ballpark. And if she is slightly fitter than last year (we'll get to that in a minute), that could be enough to dip under the WR. Dibaba doesn't have as much room for improvement in the pacing department, but she definitely could have run well under 2:17 in 2017 with better pacing. Dibaba also admitted that she wasn't prepared for Keitany's hyper-aggressive start, which won't be the case this year. And remember that Dibaba also experienced stomach issues that forced her to stop and dry-heave with a couple of miles remaining in last year's race, which cost her around 20 seconds. Assuming no repeat in 2018, that's another easy source of improvement.
Keitany is very excited that London will be employing male pacemakers again for the first time since Radcliffe set the record in 2003. While Radcliffe said afterwards she didn't think the pacemakers made much of a difference, Keitany's husband/coach Charles Koech told me that he thought it would help having men who can set a constant pace for Keitany and who can go further than Keitany's pacer last year, Caroline Chepkoech, who dropped out just past halfway. The pacers, whose identities have yet to be revealed, may not be able to make it all the way to the finish line — even for a male marathoner, 2:15 is a very solid time — but having someone to run with deep into the race will help Keitany.
"I want to say thank you for the race director of London for this position, they wanted actually the male pacemakers to assist the women so that we can see how far we can do it," Keitany said. "…This time around, there are male pacemakers, so it will be different."
Koech also said that he thinks having Dibaba run with Keitany would benefit her in the early stages of the race, though he admitted that if both women are together late, the pace could actually slow over the final miles as each woman would have to make winning the race her top priority. That is what happened in the men's race in 2016, when Eliud Kipchoge and Stanley Biwott both came through 30k on 2:02:40 pace but slowed over the final miles as they focused on battling each other instead of the clock.
Exactly how fast the pacers will go out is yet to be determined. I asked Keitany how fast she would like to come through halfway and she declined to answer, saying that she did not want to speak out of turn.
"We have to discuss this [with the pacemakers and race organizers]," Keitany said. "They have to tell us how it will be."
Koech was more candid, saying that he'd like Keitany to come through somewhere in the 67:00 to 67:30 range. 67:30 would make more sense, especially since both Keitany and Koech said that want to make sure she is "comfortable" and running a constant pace throughout the race. As good as Keitany is, she's not running 2:14:00 on Sunday, and if she struggled last year after going through halfway in 66:54 last year, going through six seconds slower this year won't help much.
How Did Their Buildups Go?
Keitany and Koech said that her workouts have gone very similar to last year when she ran 2:17:01. Since 2017 London, Keitany has raced four times, with mostly strong results. In 2017, she won the New York Mini 10K in June in 31:20, broke the course record to win the Beach to Beacon 10K in August (30:41, a PR), and finished second at the New York City Marathon behind Shalane Flanagan in November (it was later revealed that Keitany had received her first period in three months the day before the race). Keitany's lone race in 2018 was more impressive than any of those performances, as she clocked a personal best of 64:55 to finish second at the RAK Half Marathon on February 9.
That's a very good sign. Last year, LetsRun (correctly) pointed out in our London preview that Keitany had the potential to run extremely fast, and one of the key pieces of evidence was her run at RAK, where a strong run has often portended a big result in London two months later. Here's an updated version of the chart we included in last year's preview, which shows that Keitany ran 18 seconds faster at RAK in 2018 than she ever had on that course.
| | | |
| --- | --- | --- |
| Year | RAK Half result | London Marathon result |
| 2011 | 1st, 65:50 | 1st, 2:19:19 |
| 2012 | 1st, 66:49 | 1st, 2:18:37 |
| 2015 | 1st, 66:02 | 2nd, 2:23:40 |
| 2017 | 2nd, 65:13 | 1st, 2:17:01 |
| 2018 | 2nd, 64:55 | ??? |
So Keitany should be ready to roll. What about Dibaba?
Well after last year's London Marathon, she returned to London for the World Champs, where she earned 10,000 silver behind only Almaz Ayana. No shame in losing to the world record holder. After that, she won the Great Manchester 10K in May and then went to the Chicago Marathon, which she won in dominant fashion in 2:18:31. Though the women's race at Chicago starts with the masses (meaning Dibaba had men to chase down as she ran), it was still an oustanding performance as she had no pacemakers in that race and ran the majority of it alone or pushing the pace up front.
After Chicago, Dibaba took a long break of two months (it wasn't clear if it was two months completely off or if there was some light running at the end), which is longer than usual for her. Dibaba said that this was why she did not run a prep race before London, as she did not want to interrupt her training.
You can view this in two ways.
1) Dibaba took too much time off, was late returning to training, and could be rusty in London.
2) After a very busy 2017 (London Marathon, Worlds 10k, Chicago Marathon), Dibaba needed an extended break to recharge and will be revitalized for 2018 London.
I lean toward the latter. We've seen how longer breaks can be beneficial as runners age (see Shalane Flanagan before NYC) and though Dibaba has only run three career marathons, she's been running at a high level for such a long time (her first world title came all the way back in 2003) that she knows what her body needs. Dibaba said she is fit, fitter even than last year, and I'll take her at her word.
"Last year I came to London having prepared really well, trained really hard," Dibaba said. "And I suppose what shocked me a little bit was the fact that Mary started so fast from the start. And I've learned from that. I knew I had to train hard because of what I learned last year, and I have trained really hard."
"Tirunesh says she's changed many things," added her translator, "And I asked her what were those many things and she just said, 'I've changed many things.' [But] she feels she's in even better shape."
What Does the Weather Look Like?
As Monday's Boston Marathon showed, weather can have a massive effect on the outcome of a marathon.
(And if you're wondering, the elite women in London were in awe of the conditions in Boston — world champ Rose Chelimo said she would not have been able to finish, with Olympic 5,000 champ Vivian Cheruiyot saying she wouldn't have even been able to make it 5 kilometers).
For a world record, the weather doesn't need to be perfect, but it does need to be very good and the forecast for Sunday definitely is a bit dicey for a WR. If the race was held on Thursday or Friday, we'd 100% rule the WR out as the high on both days is projected to be over 80 Fahrenheit, which is shocking for London in April. Looking ahead to Sunday morning, we're still 3.5 days out, so take this with a grain of salt as London forecasts are known to be unpredictable, but the high is currently forecast to be 71 degrees Fahrenheit. However, it won't get that high in the morning. On Thursday, with a projected high of 81, Weather.com is projecting a temps of 63-70 during the 9:15-11:30 a.m. window when the women's race will be held so race temps likely for the women will likely the mid-50s to mid-60s range. While the science says that optimal running weather is very cool — around 40 degrees — many of the Africans don't like running in weather that cool, and the mental benefit of running in what one believes to be good conditions cannot be discounted. Keitany, for the record, said that 17 degrees Celsius — 62 Fahrenheit — would be "perfect" for her, and it should be very close to that on race day, although perhaps too hot late in the race.
The bigger issue is the forecast also calls for winds of around 14 mph from the SSW, which is much higher than ideal and could slow times (as the course finishes about 5-6 miles west of where it starts).
The Verdict
2:15:25 will require a monster effort, but for the first time since Radcliffe ran it, there are two women who head to the start line with an outside chance at eclipsing it. Even if everything goes according to plan — the weather cooperates, the male pacers run a sensible, constant pace and make it deep into the race — the odds are against the record being broken; 2:15 requires such an incredible amount of fitness that even peak Keitany and peak Dibaba would require a near-perfect performance to replicate that time.
Still, Keitany ran 18 seconds faster in her tuneup half this year than in 2017, and that potential bump in fitness, coupled with a more efficient pacing strategy, could be enough to see her over the line. Dibaba, meanwhile, is still only 32 years old and quite possibly still improving as a marathoner. With Keitany to run with and no stomach problems this time around (fingers crossed), she, too, has a shot at the record.
Of the two, Keitany has the edge. Not only did she beat  Dibaba last year by 55 seconds, but she proved just two months ago at RAK that she's in incredible shape. Dibaba, with only three marathons under her belt, has the higher ceiling over the next few years, especially because Keitany is 36 years old and cannot continue to race at such a high level forever. She's close enough to Keitany that Sunday's race has the potential to go down as one of the great battles in marathon history, but Keitany will go off as the deserved favorite.
Overall, I'd still put the odds of a world record at no better than 15%, but compared to every other race run in the last decade — where the odds were essentially zero — that's a big improvement.
Have your own say on the LetsRun messageboard: Will MARY KEITANY break the WR ( running behind a set of male pacers) ? 
[gravityform action="

polls

" id="671″ mode="

poll

" cookie="1 month" show_results_link="false" display_results="true" percentages="true" counts="false" ajax="true"]
****
Video of Keitany/Dibaba pre-race press conference