Mo Farah Sued British Journalist Ben Bloom For Defamation; Parties Agreed to Five-Figure Settlement
By Jonathan Gault
March 19, 2018
Ben Bloom, athletics correspondent for the British newspaper The Daily Telegraph, has agreed to pay four-time Olympic champion Mo Farah a five-figure settlement (GBP) after Farah sued Bloom for defamation, according to a source. The lawsuit stemmed from a tweet posted by Bloom on August 2, 2017, criticizing Farah and his PR firm, Freuds, for Farah's refusal to speak to print media prior to last year's IAAF World Championships in London. Farah initially hired Freuds in 2015 after news broke that Farah had missed two drugs tests in the leadup to the 2012 Olympics and a BBC/ProPublica investigation alleged that his coach at the time, Alberto Salazar, had broken US drug rules (Farah was not implicated in the investigation). Below is a screenshot of Bloom's original tweet (since deleted), followed by the full text of the two images Bloom posted within the tweet.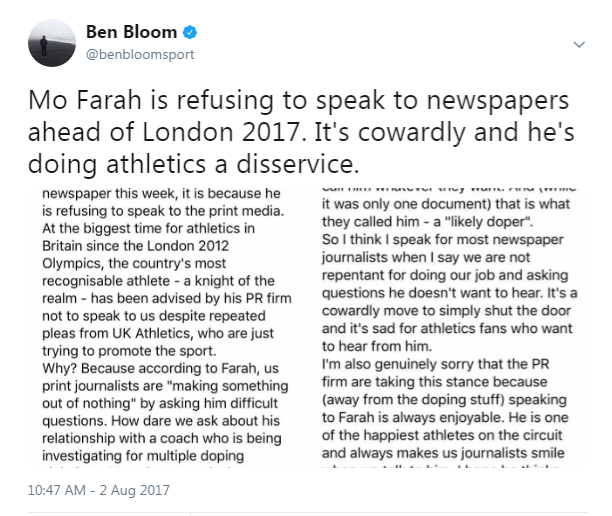 Article continues below player
Bloom also posted several replies to the tweet, including these two:
The media ask difficult questions when necessary, but this was a chance for a positive story. But Farah didn't speak so there isn't one.

— Ben Bloom (@benbloomsport) August 2, 2017
Defamation laws for journalists in the United Kingdom are significantly harsher than in the United States; in the US, the burden is on the plaintiff to prove the defendant's statement is false, while in the UK, the burden is on the defendant to prove their statement is true. Generally when a British paper writes anything that could cast doubts on whether Farah used performance-enhancing drugs — such as the leaked IAAF document that emerged last year that labeled Farah as "Likely doping; Passport suspicious: further data is required" (this was the source of the "likely doper" quote in Bloom's tweet, though only the phrase "likely doping," not "likely doper," appeared in the document) — it makes clear that Farah has repeatedly denied using PEDs, that he has never failed a drugs test or been charged with any doping offense and/or presents evidence more favorable to Farah. In a July 2017 article referencing the same IAAF document, Bloom noted that a subsequent IAAF document said Farah's profile was "now flagged as normal." In Bloom's story on Farah's victory in the 10,000 meters at Worlds — published just three days after the tweet above — he included the following sentence after referring to the leaked IAAF document: "Farah has never been formally accused of any drugs offence."
However, Bloom included no such disclaimer in his tweet, though he did state that "No newspaper has ever (or will ever) call Farah a 'likely doper' because there is no way it would be allowed for legal reasons."
It is unclear whether Farah would have won had the case gone to trial, with the outcome potentially hinging on how the court would have viewed a personal tweet versus a published newspaper article. (And here it should be noted that Farah sued only Bloom, not The Telegraph.)
Bloom and his lawyer decided to settle the case out of court rather than risk an (even more) expensive legal battle. Farah, meanwhile, avoided the extra scrutiny and attention that a trial would have brought. As part of the settlement, Bloom agreed to pay Farah a five-figure sum and was forced to pin the following tweet to the top of his Twitter profile for two weeks in early January:
On 2 Aug 17, I published a Tweet which may have been understood to suggest that Sir Mo Farah had used illegal substances in his athletics career. This was not my intention, I accept this would be untrue & unreservedly apologise to Mr Farah & his family for the distress caused.

— Ben Bloom (@benbloomsport) January 3, 2018
The odd timing of the tweet — during a dead period on the athletics calendar, over three months after Farah's most recent race — caused a flood of responses, with multiple people assuming (correctly) that Bloom had been threatened with a lawsuit.
Ben Bloom declined to comment for this story. LetsRun.com emailed Farah's agent, Ricky Simms, to give Farah a chance to comment for this story but Simms did not reply.
*Discuss this article here: Mo Farah sues Ben Bloom