Letsrun.com Enters Triathlon Market, Launches LetsTri.pro
By LetsRun.com
April 1, 2018
In the light of Olympic champion in the triathlon, Gwen Jorgensen, switching to the marathon and beginning her running career very successfully (she ran 15:15 for 5k in her first track race after having a baby), LetsRun.com has decided to enter the triathlon market by launching LetsTri.pro.
"Gwen has made us finally respect triathletes. Before Gwen's transition to running, we ranked them ahead of racewalkers, but behind ultrarunners," said LetsRun.com founder Weldon Johnson. "Now I'm definitely putting them ahead of ultrarunners," said Johnson, who earlier this year nearly had to enter the witness protection program after some in the ultra community misunderstood this video with ultra star Sage Canaday, who was coached by LetsRun.com co-founder Robert Johnson in college.
Article continues below player
"I've had enough with ultrarunners. Ultrarunners not only are less talented than triathletes, but they are poor," said Johnson, noting that there are super famous ultra races with $1.60 entry fees. "Haven't they seen the entry fees at these big city races? That's what running is about these days."
"Have you seen the money in triathlon? We're going to be rich," he continued.
Johnson was recently spotted with LetsRun.com Director of Advertising Sales Lars Finanger at the headquarters of endurance performance company ROKA.
"Lars did some sort of swim test in a pool, and I'm pretty sure I would have drowned if I had attempted it. And then he talked about going for a run with me, but I realized I wouldn't be able to keep up," Johnson said.
ROKA, which started out making triathlon wetsuits, has branched into running with superlight stylish performance sunglasses. And although an advertising partner of LetsRun.com last year, we swear they didn't pay us for this article, but they did give Wejo some free sunglasses.
"I went on the first run of my life the other day with sunglasses on. Same ones I was driving in my car with earlier. They didn't move or anything," said an amazed Johnson.
Johnson wanted to make it clear LetsRun.com was staying true to its roots of encouraging runners to look down upon everyone slower than them.
"We want our loyal audience of runners to know that we're not abandoning them. If Gwen has success in triathlon we will be able to craft the narrative on LetsTri.pro of how the Triathlon is a stepping stone to the marathon, sort of like how the NCAAs are to the pro leagues. If Gwen fails at running, we'll convert LetsTri.pro to LetsTry.pro and encourage people that it's ok to take risks in life even if they don't turn out," he said.
"[Then] our audience can go back to looking down on triathletes. And no matter how this turns out, they've got the hobby jogger to feel superior to," he added.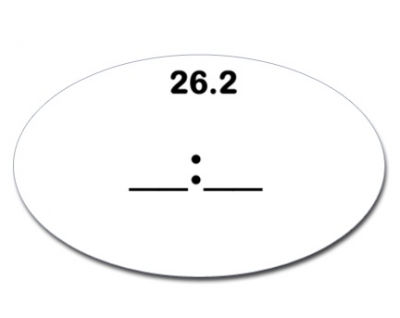 Johnson wanted to remind everyone that 26.2 stickers with your finishing time are still available in the LetsRun.com store.
On the web: LetsTri.pro
*ROKA.com