WTW: More Praise for the Japanese, Some Love For Caster Semenya, A Big Track Meet Gets Cancelled, RIP Jonathan Grey, Ken Young
The Week That Was In Running, February 5 – 11, 2018
By LetsRun.com
February 15, 2018
Past editions of the Week That Was can be found here. Questions, comments, or a tip? Please call us at 844-LETSRUN (538-7786), email us or post on our forum.
If during the week you missed our in-depth coverage of the RAK Half or the New Balance Indoor Grand Prix, catch up now:
Article continues below player
LRC 2018 New Balance Indoor Grand Prix coverage
LRC 2018 RAK Half Marathon coverage
****
If Only The US Marathons Broadcast Their Races Like This
In the 18 years that LetsRun.com has existed, one of the constants has been our amazement at how bad the average U.S. marathon broadcast is. It blows our mind that there has been little improvement over the last 18 years and the broadcasters still almost always miss the key break in the race. Last weekend, while we were watching a random re-broadcast of a Japanese marathon, we came across an invention that blew us away. Maybe US organizers wouldn't miss the break if they had a setup like this: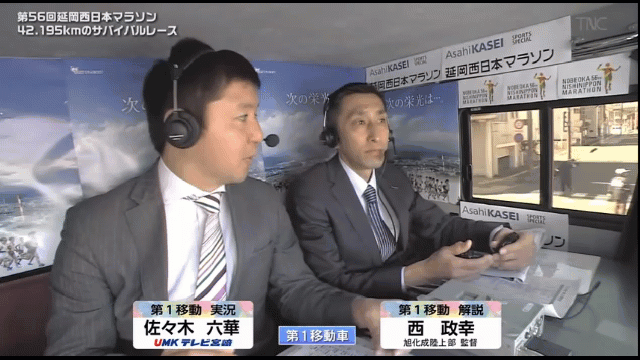 Yes, it appears that in some races in Japan, the actual play-by-play and color commentators travel in a truck that is actually on the course.
The more we examine the GIF, the more we fall in love with it. Upon further examination, our favorite thing isn't the fact that the guys are traveling on the course doing their commentating. It's the fact that they both have stopwatches. The guy on the right of the screen has two stopwatches in his hand. The one on the left has a stopwatch as well. Bravo.
Yet in America, they can't even manage to produce mile-by-mile splits on the screens with the help of timing mats.
Major marathon race directors, if you are reading this, promise us the following:
1) You will put every mile split up on the screen. Honestly, you should just keep it up there. Think of it as being like how the score is always shown in an NFL or NBA game.
2) Make sure you don't miss the break. If you have to go to a split screen to show an interview with the winner of a race that is already over, then so be it.
3) Start the men's and women's races far enough apart so that when one finishes, the other one is no farther than 15 miles in — halfway would be ideal.
###
In case you are wondering, the clip above is from the 2018 Nobeoka Marathon, which ended up featuring a three-way sprint for the title (you can watch the final two minutes here, but the clip above comes from the opening seconds of the video).
****
Maybe Some Records Aren't Made to Be Broken
Speaking of Japan, last week, Japanese half marathon record holder Yuta Shitara ran 46:12 to win the Karatsu 10-Miler by 46 seconds. Why is that significant? Well it's not really, except for the fact that it means that the Japanese 10-mile record held by Masanari Shintaku (also known as Hisatoshi Shintaku) lives on. Shintaku's record of 45:40 has stood since 1984.
Holding records for a long time is something that Shintaku is used to doing. He held the national steeplechase record from 1980 to 2003 at 8:19.52. To this day, he is still one of just two Japanese men to have ever broken 8:20 in the steeple. Good at the steeple and 10-mile, it shouldn't come as a surprise to learn Shintaku was also good at the 10,000 as his 27:44.5h pb in 1983 was just a second off Toshihiko Seko's then national record of 27:43.44. But his range extends all the way up to the 26.2-mile distance as he ran a 2:09:51 marathon pb to win Fukuoka in 1985.
More: Shitara Chasing 10 Mile National Record Sunday in Karatsu – Weekend Preview
More Japanese news: 20 km Racewalk World Record Holder Suzuki Suspended 6 Months for …… False Expense Claims?
****
Stat of the Week
3 – number of men who broke 61:00 at the 2018 RAK Half Marathon who received no prize money.
1 – number of women who broke 68:00 at the 2018 RAK Half Marathon who received no prize money.
The RAK races certainly were very deep.
More: 2018 RAK Coverage
****
More Proof That Life Isn't Fair — EPO Cheat Wins $50,000
While some presumably clean runners were running fast and winning no money last week, a doper ran slow and won a ton as well.
The 3rd Annual Access Bank Lagos City Marathon was held last week. We only mention it because it has big-time prize money for a non-major — $185,000 per gender for the top 10 (50k for 1st, 40k for 2nd, 30k for 3rd, full details here). Sadly the $50,000 first-place prize in the men's race went to EPO cheat Abraham Kiprotich of France via Kenya, who won in 2:15:02. Ethiopia's Almenesh Guta won the women's race in 2:38:23. If you are wondering why the times were so slow, realize it's very hot and humid in Lagos this time of year. For example, on Wednesday, the high was 92, the low was 78 and there was 79% humidity.
Kiprotich might be the best guy in the world at picking up huge prize money for really slow races in warm conditions. On December 17, he won more than $26,000 for winning the Taipei Marathon in 2:17:50. Lagos was actually his third marathon in four months as he also won Istanbul in November in 2:11:22.
*****
Reminder: Caster Semenya Still Has To Work Hard
Last week, it came out that women's 800 star Caster Semenya is changing coaches. One might ask why the five-time global champion would change coaches since she hasn't lost an 800 since September 2015. But it appears to mainly be related to the fact that she's going back to school and taking her honors at Tshwane University of Technology (TUT) in Pretoria. Previously, she was training more than two hours away in Potchefstroom under famed coach Jean Verster.
Verster, who has coached other 800 greats like Nijel Amos, the 4th fastest man in history, and Hezekiel Sepeng, the 1996 Olympic silver medallist, took the high road about the departure and was full of compliments for Semenya telling South Africa's Daily Sun:
"She said she no longer required my services and that she had decided to go back to Pretoria. She's joining TUT. It's been three good years and I'll miss her. Caster was purely a talented, disciplined and hard-working athlete. She is, by far, the best athlete I've ever coached.
"Amos was talented and so was Sepeng, but Semenya has everything that the others didn't have in terms of qualities. Overall Semenya is talented and disciplined."
That's high praise and a good reminder that despite what we view as unfair genetic advantages, Semenya still has to work hard. That's probably our favorite aspect about running — you can be the most talented person in the world but if you don't put in some work, you won't be any good.
Now don't misunderstand us; that doesn't mean we think she should be allowed to compete in the women's category without hormone treatment. There are plenty of runners that work really hard that can't make an NCAA D3 team.
More: Daily Sun Article
****
Quotes of the Week (that weren't quote of the day)
#1 Amy Cragg was relieved that her training partner Shalane Flanagan won the 2017 TCS New York City Marathon
"I was like, 'Man, if she doesn't win this race, after seeing what she did and what she put into [her preparation], there's not much hope for any of us.'"
-Cragg talking to Track & Field News last week.
More: Amy Cragg's Goal For Tokyo Marathon Is Simple – "To Try And Run A Very Big PR"
#2 Eliud Kipchoge really loves running
"Now when I miss a day's running, it makes me feel bad. It's like when I was younger and I missed a day at school.
"To me, running is life. I run to live longer and enjoy a healthier life.
"I always say: a run in the morning is like eating a fruit a day – it chases the doctor away. It is good for your mind."
-The world's greatest marathoner, Eliud Kipchoge, talking to the IAAF last week.
More: ELIUD KIPCHOGE: I LOVE RUNNING BECAUSE…
#3 SAFP Is Hungry in her comeback from maternity break
"I'm extremely hungry and wanting to get back out there and I still think there's a lot more to give and especially running faster than my personal best which is 10.70 and I still believe I'm able to achieve that."
-2008 and 2012 Olympic 100 champ Shelly-Ann Fraser-Pryce talking to Jamaica's The Gleaner last week about her goals for her comeback. SAFP is currently training to return from a maternity break (gave birth in August). We love the fact that at age 31 she thinks she can still PR as it needs to be remembered she's the same age as Usain Bolt (128 days older).
More: After giving birth in August, 2008 and 2012 Olympic 100 champ Shelly-Ann Fraser-Pryce is back training and says she's still hungry
****
The US vs UK Meet is Cancelled Before It Ever Begins / The Athletics World Cup Will Replace It
The never-ending search for a magic bullet to make track more popular continued last week as British Athletics announced that a two-day athletics event featuring a team competition between the USA, Great Britain & Northern Ireland, Poland, China, Germany, France, Jamaica and South Africa will take place July 14-15 at London Stadium. The Athletics World Cup, as it is being called, will take the place of the planned US vs UK dual meet ("The Meet"), which never actually took place.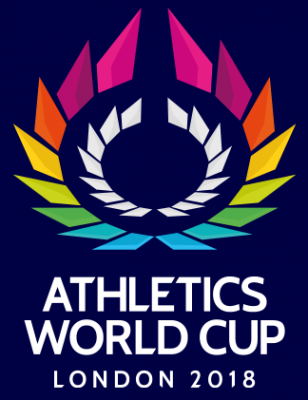 The event will have more than $2 million in prize money, which sounds astronomical. But when you realize there are 17 events per gender, that means $58,823 per in event, and in reality, it will likely be less than that as there will presumably be team prize money as well. For comparison's sake, each Diamond League final pays out about $3.2 million in prize money.
While we've never believed that marketing is the reason why track isn't more popular and are fairly happy to accept our sport's status as a Summer Olympics icon once every four years, we aren't opposed to people trying. People like to have someone to root for or against at sporting events so we're glad they are trying a team format. But the problem with things like this is that, ultimately, the team standings don't matter. And we don't know of any sports that are popular where that is the case — whether it's pre-season football, spring training in baseball, etc. (At first we were thinking maybe professional wrestling but then realized that's not true — even there, the results do matter, even if they are predetermined).
But we do like the way the event is marketed. Check out the following from the athleticsworldcup.org website: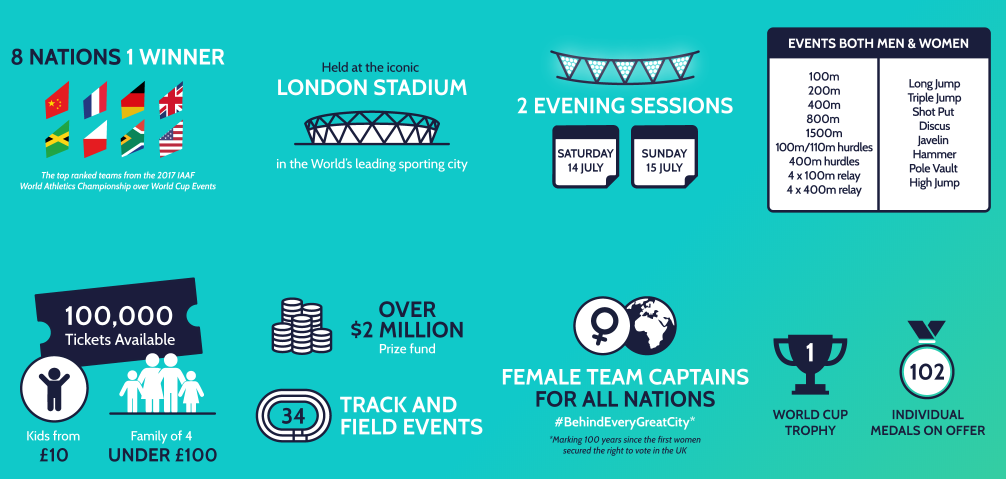 A very family-friendly marketing campaign, and we wish the event well.
Two more things about it — there is only one entry per country per event and to celebrate 100 years of women's suffrage in Britain, the teams will all have female captains.
More: London Stadium To Host A New "Athletics World Cup" In July
****
RIP Ken Young
From Race Results Weekly:
Ken Young, one of the pioneering statisticians in distance running, died on February 3, at his home in northern California. He was 76. Young had a brain tumor removed last December. His body will be interred in the Mattole Cemetery.
"Ken lived a full and pretty incredible life," said a close friend, Melanie Mirthan-Nelson, in an e-mail to Race Results Weekly. "He passed with dignity on his terms at a full age of 76 with loved members of community and family, in his own bed, in his own home. It is as it should be."
The fiercely independent Young was a co-founder of the Association of Road Racing Statisticians (ARRS), a loosely-knit group who helped him collect data from distance running events so Young could enter them into a master database and analyze the data. He worked heroically, and mostly alone, to input all of the data from which he produced the ANALYTICAL DISTANCE RUNNER newsletter. Young created a unique "point exchange" system which allowed athletes to be ranked based solely on who had beaten whom over distances from 3000m up to ultramarathons. Conventional statisticians primarily relied on marks to produce rankings, a methodology which Young found to be deeply flawed because it devalued performance in strategic races or races held on slow courses.
These data also formed the backbone of the arrs.net website which displays a wealth of distance running statistics for the public, including over 1000 race histories. In addition, the companion more.arrs.net allowed for free database queries, including sophisticated searches like career head-to-head athlete comparisons. Those websites remain active.
Through ARRS co-founder Andy Milroy, Young made plans for the organization to continue without him. A transition of the care and management of the database and websites is ongoing, but much work remains to be done. In truth, Young did 90% of the work associated with ARRS.
Race Results Weekly was a key contributor of data to the ARRS database and was in near-constant communication with Young every week.
Young's contribution to athletics was truly massive, and he will be sorely missed.
Amby Burfoot wrote a nice profile on Ken in 2016: The Endless Toil of the Big-Data Guy
More: Subscribe to RRW here.
****
RIP Jonathan Grey
Grey, who was a three-time All-American at William & Mary (his best finish at NCAA XC was 17th in 2009, where he led William & Mary to a 5th-place finish) and one of just 73 Americans to have broken 28:00 for 10,000 meters (thanks to his 27:59.88 pb in 2015), took his own life last Saturday, succumbing to depression just three days before his 30th birthday.
More: MB: RIP: Former William & Mary star / 27:59 man Jonathan Grey has lost his battle with depression at age 29
*Daily Camera: Boulder pro runner Jonathan Grey takes own life *RW
*York Daily Record: Fellow Runners Share Their Memories And Pay Tribute To Jon Grey Grey's coach Lee Troop tweeted, ". He was a hard worker, always went for goals despite how unrealistic, & was one of the most honest persons I've ever met. If he ran like shit, he accepted full responsibility and never looked for excuses.
****


Recommended Reads
To see our favorite reads from other weeks, go here.
****
Quotes Of The Day And Last Week's Home Pages
To see the actual quotes of the day from last week or last week's home page or any home page, go to our archive page.
---