Oh So Close: Fancy Chemutai Just Misses WR and Runs 64:53 (#2 All-Time), Bedan Karoki Runs 58:42 (#4 All-Time) At 2018 RAK Half
By LetsRun.com
February 9, 2018
With ridiculously talented fields assembled for the 2018 RAK Half Marathon, chances were someone was going to run very, very fast. And while that's exactly what happened on Friday morning in Ras Al Khaimah, the winners just missed etching their names into the history books — well, the top line of the history books, at least.
Both men's champion Bedan Karoki (58:42) and women's champion Fancy Chemutai (64:53) cracked the top four on the all-time list, and while Karoki was still a ways off Zersenay Tadese's 58:23 world record, Chemutai came just two seconds shy of the women's world record of 64:51 (and the near $100,000 bonus that would come with it) set by Joyciline Jepkosgei in October. The mark still represented a 43-second personal best for the 23-year-old Chemutai, who came out of nowhere in 2017 to run 65:36 in the same race in Valencia where Jepkosgei set her WR. She certainly had to work for it today as she ran stride for stride with one of the titans of the sport, Mary Keitany, for almost the entire race before pulling away over the final 50 meters. Keitany ran a PR her for the second year in a row (65:13 at age 35 in 2017, 64:55 today at age 36), but for the second year in a row, she had to settle for second place. Those two runs represent the two fastest runner-up finishes in history. The world record holder Jepkosgei was also in this race but fell off the pace and wound up 5th in 66:46.
Karoki's win was more comfortable in the men's race — his margin was 18 seconds — but, as in the women's race, the runner-up finisher was notable as Ethiopia's Jemal Yimer, a 21-year-old who was 4th at World XC and 5th in the 10,000 at Worlds last year, clocked 59:00 — the fastest half marathon debut ever.
The women's race was historic in quality and can lay claim to being the greatest women's half ever held. Two women broke 65:00 in the same race for the first time, four women broke 66:00 in the same race for the first time (previous best was two), seven women broke 67:00 in the same race for the first time (previous best was six) , nine women broke 68:00 in the same race for the first time (previous best was seven), and 11 women broke 69:00 in the same race for the first time (previous best was 10) as all-time marks for place were established for the 2nd- through 11th-place finishers.
In the men's race, behind Karoki and Yimer, all told seven men broke 60:00. Believe it or not, that's not an all-time record. The Airtel New Delhi Half featured nine men under 60:00 in 2014.
Women's race
Both Joyciline Jepkosgei and Fancy Chemutai had requested a fast pace, and the race did indeed go out fast, with the leaders hitting 5k in 15:13 and 10k in 30:33. At that point, the top group was down to four women — Jepkosgei, Chemutai, Keitany, and Caroline Kipkirui, who was second at the Houston Half Marathon on January 14. The group was small for good reason: 30:33 is 64:27 pace — a full 24 seconds under the world record!
Article continues below player.
Shockingly, it was Jepkosgei, the woman who broke the WR twice last year and hadn't lost on the roads since the 2017 RAK Half, who was the first to crack as she fell off during the 14th kilometer. Kipkirui hung on longer, and even when she started to get dropped during the 20th kilometer, she kept the deficit to around 10 meters for several minutes before Chemutai and Keitany accelerated away for their final kick.
They hit 20k in 61:33 (64:56 pace), which meant that the world record chase would come right down to the wire. Chemutai's tactics — she sat on Keitany as they neared the finish until exploding to the lead with 50 meters to go — ultimately won her the race but may have cost her the world record. Had she made her move just a bit earlier (and not celebrated at the finish line), it may have been enough to find the three seconds she needed to dip under the old mark (and earn a the $100,000 world record bonus). Still, when you run 64:53 for the half marathon, there's not much to complain about.
Kipkirui wound up third in a big PR of 65:07 to move to #5 on the all-time list — a time that would have stood as the world record had she run it one year ago.
We should also note that it was said on the broadcast that the lead women (Keitany, Chemutai, and Kipkirui) came through 10 miles faster than Paula Radcliffe's world record of 50:01, which looks to be true (the 16km split was 49:11, and 10 miles is 16,093 meters). But considering their exact split was not mentioned on the broadcast (race announcer Tim Hutchings later reported it was 49:29) and the IAAF doesn't officially recognize a 10-mile world record (Radcliffe's mark is technically a world best), we don't expect anything to be ratified.
Men's race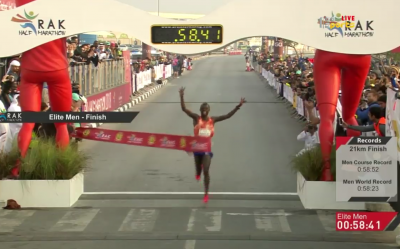 Like the women, the men ran some insane early splits — 13:53 at 5k, 27:48 at 10k — and, even more impressively, there were an astonishing 10 men still together in the lead pack at 10k. That's right: almost halfway through the race, 10 men were on pace to run 58:36.
By 13 kilometers, the race had begun to string out with Alex Kibet pushing the pace. Behind him, four men ran in single-file — Karoki, Edwin Kiptoo, 58:48 man Jorum Okombo (the only sub-59:00 guy in the field), and half marathon rookie Jemal Yimer of Ethiopia.
| | |
| --- | --- |
| Overall | |
| Comfort | |
| Cushioning | |
| Durability | |
| Appearance | |
| Value | |
Kibet kept his foot on the gas through 15k (13:55 from 10k to 15k) but, for the second year in a row, it was Karoki who made the winning move, dropping the others at some point in the final 5k (the race broadcast cut away to show the women's winner  (the women started 15 minutes before the men) so we missed the move). From there, it was all Karoki, as he powered away to the win in a course-record 58:42, which doubled as a 28-second improvement on the PR he set here last year.
How fast is 58:42? Karoki's 5k splits were 13:53, 13:55, 13:56, and 13:57. So yeah, it's fast.
Quick Take: Wow. Those were two fantastic races.
We're glad we stayed up late to watch them but will save more detailed analysis for next week's Week That Was as we want to get some sleep. We do have one parting thought. We wonder when Fancy Chemutai realized she had just missed out on $100,000 — the WR bonus was 350,000 AED which at today's conversion rates equals $99,371.25. Obviously when you run a huge PB (43 seconds) and get a huge win, you are going to be pretty darn happy but she may not have known how close she was (she appeared to be all smiles) as the finish line clock was 15 minutes off. 
Quick Take: Who is Jemal Yimer?
Though Yimer was top-5 at Worlds in the 10k and at World XC last year, he has never won a major medal, so we imagine many of you might be wondering exactly who he is after Yimer just ran the fastest debut half marathon ever. His agency, Moyo Sports, kindly tweeted out a primer after today's race.
Who is Jemal Yimer?

5th World Championships 10k, 2017
4th World Cross Country, 2017
1st Marseille-Cassis 20km, 2017
2nd Hengelo WC 10k, 2017
2nd Houilles, 10km, 2016/2017
4th African Champs,10k 2016

His story so far: https://t.co/Hfhstm98mX@tandfn @letsrundotcom @iaaforg

— Moyo Sports (@Moyo_Sports) February 9, 2018
"We wanted sub-60 and knew he had to commit to whatever pace the lead group went out at," Yimer's agent Malcolm Anderson told LetsRun. "So this is a really a great effort by him. His consistency in 2017 and PB at Worlds (26:56) and the way I saw him attack a tough course at Marseille 20km gave me confidence to know a sub-60 was definitely possible."
As Anderson noted, Yimer had run a 20k (1.1k shy of a half marathon) in October, and today's race wasn't that much farther. But while he won that 20k in Marseille, his time (59:16) was actually slower than what he ran today (59:00) — even though he had to run an extra 1.1 kilometers.
Anderson said that Yimer would like to run at the World Half Marathon Champs on March 24 and will run the Lisbon Half on March 11 if he's not selected for Worlds.
Leading results appear below. Talk about the race on our fan forum / messageboard. MB: Official 2018 RAK Half Live Discussion Thread.
Leading Men's Results
Leading Women's Results