Former Oregon Great Andrew Wheating Retires at Age 30, A Look Back at the Highs and Lows of His Career
By LetsRun.com
January 4, 2018
(Talk about Wheating's retirement on our messageboard: MB: ANDREW WHEATING RETIRES)
American middle-distance runner Andrew Wheating announced his retirement on Thursday at the age of 30. Wheating made the announcement in an emotional Facebook post, where he referenced the highs and lows of his career.
Article continues below player
"You've changed my life in ways I couldn't even imagine," Wheating said. "You've made me laugh, you've made me cry, you've brought me a happiness that can't be replicated anywhere else. However, you've also hurt me so many times I've lost count."
From 2008 to 2012, Wheating, who at six-foot-five towered over his competition, won three NCAA titles, made two Olympic teams and a World Championship team, and ran personal bests of 1:44.56 for 800, 3:30.90 for 1500 (#5 all-time among Americans), and 3:51.74 for the mile.
However, that 2012 Olympic team would prove to be the last Olympic/World squad Wheating would make as he struggled with a series of injuries. Year after year, Wheating found himself in a battle with his body to make it to the U.S. championships in one piece. He willed himself to three more U.S. finals — placing 12th in 2013, 5th in 2015, and 12th in 2016 — but, at the time of his retirement, it had been over five years since he last broke 1:46 or 3:36.
Wheating's career will most be remembered for bursting onto the NCAA scene and his heroics in the Oregon Ducks jersey and at Hayward Field in Eugene. In 2006, Wheating, a Vermont native, was a lightly recruited high school athlete at Kimball Union Academy in New Hampshire, a school that didn't even have a track team. But Wheating was fortuitous enough to catch the eye of early Nike exec Jeff Johnson and wound up at Oregon under Vin Lananna. In 2007, as a freshman, he scored two points in the Pac-10 meet at 800, but couldn't break 1:50 and didn't qualify for NCAAs. The next year, in the span of two weeks he ran a 3:58 mile, a 1:47 800 and a 3:38.60 1500 to get on everyone's radar. By the end of the year, he was the runner-up at NCAAs and the Olympics Trials, owned a personal best of 1:45.03 and had run in the Olympics in Beijing. He earned that ticket to Beijing as part of one of the most dramatic races in Hayward Field history:
He followed 2008 up with his first NCAA title in 2009, in the 800 outdoors. But Wheating's greatest season came in 2010, though that wasn't obvious early in the year. After anchoring Oregon to the DMR title at the NCAA indoor championships, Wheating, a senior, returned the next night as the heavy favorite to win the 800 meters. Instead, he lost to a true freshman by the name of Robby Andrews (who wound up having a pretty nice career of his own). Wheating again lost to Andrews and his University of Virginia squad in a duel in the 4×800 at the Penn Relays, but gained revenge at NCAAs, where he beat Andrews to win the 800 and led a 1-2-3 Oregon sweep in the 1500 and became the first man in 26 years to win the 800 and 1500 at the same NCAA meet.
Impossible to forget moments like this one.
Congratulations on a legendary career @AndrewWheating
Happy retirement. #GoDucks pic.twitter.com/wKN4JnguIi

— oregontf (@OregonTF) January 4, 2018
His most impressive professional accomplishments came that summer. On July 3, he ran his mile personal best of 3:51.74 at the Pre Classic, and followed it up with an 800 pb of 1:44.62 in Paris. Then in Monaco on July 22, Wheating ran a shocking 3:30.90 for 1500 to become the fourth-fastest American ever (that equates to a 3:47.82 mile, Wheating's former Ducks teammate Matthew Centrowitz has since bumped him down to #5).
Wheating would never run faster, and he was doing all of this running in a Team USA Nike singlet, as he would not sign his pro contract until after Monaco. He finished the season with another personal best in the 800 in London (1:44.56), and though he would make two more U.S. national teams, he would never again approach the heights of his age-22 season in 2010.
Though many runners would kill to have Wheating's career, one can't help but wonder how the last five years would have played out had he not endured so many injuries to almost every spot on a runner's body: foot, ankle, hip, groin, hamstring. He was, however, able to summon a few more moments of greatness, notably in 2015 when he claimed victories at the Pan American Games and NACAC Championships.
Still, Wheating leaves behind a legacy as a great runner on the track and a happy-go-lucky, genuine guy off of it. Few athletes were friendlier or more candid in the mixed zone. He will be missed.
[gravityform action="polls" id="625″ mode="poll" cookie="1 month" show_results_link="false" display_results="true" percentages="true" counts="false" ajax="true"]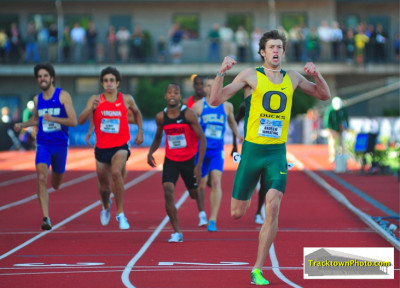 Andrew Wheating Archives: (more detailed recent archives here)
Share your thoughts on his retirement here: ANDREW WHEATING RETIRES
*Favorite Andrew Wheating moment?
More twitter reaction:
It's been real.
It's been fast.
It's been real fast.
I love you all! Thank you!✌?#Retiredhttps://t.co/mBsrLl6P9F

— Andrew Wheating (@AndrewWheating) January 4, 2018
*Two-time Olympian.
*3:30.90/3:51.74/1:44.56
*Terrific origin story that began in VT, of all places
*Part of 08 Trials 800m, among best USA races ever
*Some resented his first big $$ Nike deal
*Fun (and funny) human.
*Was good have him in the sport https://t.co/DXAe7be4OX

— Tim Layden (@ByTimLayden) January 4, 2018