2018 Dubai Marathon Women's Preview: Former Champs Worknesh Degefa & Aselefech Mergia Battle World Champs Medalists Mare Dibaba & Senbere Teferi (Debut)
By LetsRun.com
January 24, 2018
The first "major" marathon of 2018 is going to be a good one.
We put "major" in quotes because, while Friday's 2018 Standard Chartered Dubai Marathon is not part of the Abbott World Marathon Majors, the top-end quality and depth is as good as — and in some cases, better than — what you'd find in a WMM event. And for good reason – Dubai offers the richest first prize in all of athletics – $200,000 for the winner.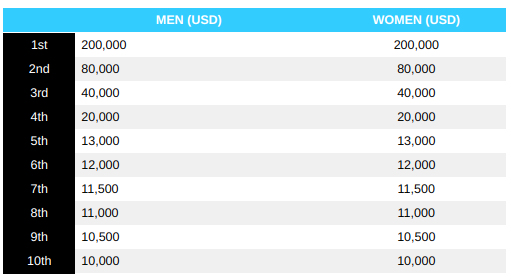 The women's race in Dubai this year race boasts two sub-2:20 women and a total of six who have run under 2:23 including Worknesh Degefa, who won here in her debut a year ago, three-time champion Aselefech Mergia (2:19:31 pb), and 2015 world champ/2016 Olympic medalist Mare Dibaba (2:19:31). The field also boasts super talented debutantes Gelete Burka (10k silver at 2015 Worlds) and 22-year old Senbere Teferi (5k silver at 2015 Worlds, 14:29 pb) as well as  67:26 half marathoner Netsanet Gudeta (bronze at 2015 World XC, 2:29 in her debut marathon).
Article continues below player.
There are a couple of changes for this year's race. First, there's a new course, which is very similar to the old course; the only change is that runners will run two shorter loops of Jumeirah Beach Road instead of one longer one. The upshot is that there are two extra 180-degree turns, which makes for a grand total of six turns in the straightforward course. The second change is that the elite field will now start one hour ahead of the mass race, a change prompted by last year's race when Kenenisa Bekele fell at the start and was forced to drop out after being trampled.
We tell you what to watch for in Friday's race (which will take place Thursday night U.S. Eastern Time) below. We're guessing most of you haven't watched a marathon since Shalane won New York two months ago, so do yourself a favor: open up the live stream, grab your favorite beverage and settle in for some Thursday night marathoning, live from Dubai.
If you missed our men's preview, you can read it here: LRC 2018 Dubai Marathon Men's Preview: Tamirat Tola Aims to Become First Man to Repeat Since Haile G in 2010.
We break down the women's field for you below.
What: 2018 Standard Chartered Dubai Marathon
When: Friday, January 26, 6:00 a.m. UAE Standard Time (9:00 p.m. ET, Thursday, January 25)
Where: Dubai, United Arab Emirates
How to watch: You can watch a free live stream on the race website here.
2018 women's elite field
| | | | |
| --- | --- | --- | --- |
| Name | Country | PB | Comment |
| Aselefech Mergia | Ethiopia | 2:19:31 | 3-time champ/course record holder was most recently 12th at Worlds |
| Mare Dibaba | Ethiopia | 2:19:52 | 2015 world champ/'16 Oly bronze medalist was 8th at Worlds |
| Feysa Tadese | Ethiopia | 2:20:27 | Ran 2:20 in '14 but hasn't cracked 2:25 since |
| Worknesh Degefa | Ethiopia | 2:22:36 | Her debut at '17 Dubai was a huge success as she won the race |
| Roza Dereje | Ethiopia | 2:22:43 | Ran 4-min PR in Shanghai in Nov. in her 7th marathon in 22 months |
| Yebrgual Melese | Ethiopia | 2:22:51 | 3rd last year, then finished 2nd in Paris (PR), & 2nd in Frankfurt |
| Sutume Asefa | Ethiopia | 2:24:00 | 4th in '16; runner-up in Toronto in October |
| Azmera Abreha | Ethiopia | 2:25:23 | Ran a solid 2:25 for 3rd in her debut in Amsterdam last year |
| Gelete Burka | Ethiopia | 2:26:03 | '08 World Indoor 1500 champ/ '15 Worlds 10k runner-up runs 4th marathon here |
| Yinli He | China | 2:27:35 | Ran 5 marathons last year but only one under 2:40 |
| Netsanet Gudeta | Ethiopia | 2:29:15 | Only ran 2:29 in her debut last year but ran 67:26 HM last year; 3rd at '15 World XC |
| Anne-Mari Hyrylainen | Finland | 2:32:19 | Ran her PR here last year; 25th at Worlds |
| Ababel Yeshaneh | Ethiopia | 2:33:10 | 14th at '16 Olympics in 5k; 67:21 HM pb |
| Tesfenesh Merga | Ethiopia | 2:35:31 | |
| Waganesh Mekasha | Ethiopia | 2:46:08 | |
| Senbere Teferi | Ethiopia | debut | 2nd, 5th, 4th at last 3 global champs in 5k; 14:29 pb. Just 22. |
| Genet Yalew | Ethiopia | debut | 66:26 HM pb; 5th at '16 World Half champs |
| Dera Dida | Ethiopia | debut | 2nd in jr race at '15 World XC; 14th in 10k at '17 Worlds. Just 21. |
| Muliye Dekebo | Ethiopia | debut | 69:10 HM at age 18 last year |
| Haftamnesh Tesfay | Ethiopia | debut | |
| Desi Jisa | Bahrain | debut | 15th in 10k at Worlds last year; 69:07 HM pb |
The Two Sub-2:20 Women
Aselefech Mergia — Ethiopia, 33 years old, 2:19:31 pb (2012 Dubai), 67:21 half
Marathons since start of 2016: 5th 2016 London (2:23:57), 6th 2016 New York (2:33:28), 3rd 2017 London (2:23:08), 12th 2017 Worlds (2:29:43)
Mergia has several impressive marathon accomplishments — she medalled at Worlds in 2009 and won London in 2010 — but her greatest success has come in Dubai, where she has claimed three titles (2011, 2012, 2015) and run three of her four fastest times. Mergia has not competed here in three years, but she has remained a global factor in the interim, racking up a 4th, 5th, and 3rd in three London Marathons as well as a 2nd in New York in 2015.
Her most recent result, a 12th-place showing at Worlds in August, was not her best, and with 14 marathons in her legs, she could be showing her age. But less than four months before that, she finished first in the "mortal" division in London (both Mary Keitany and Tirunesh Dibaba beat her by over five minutes). It would be foolish to write her off.
Mare Dibaba — Ethiopia, 28 years old, 2:19:52 pb (2012 Dubai), 67:13 half
Marathons since start of 2016: 6th 2016 London (2:24:09), 3rd 2016 Olympics (2:24:30), DNF 2017 London, 8th 2017 Worlds
Dibaba, the only other sub-2:20 woman in the field, is very familiar with Mergia at this point. She ran her PR of 2:19:52 in Dubai in 2012 — the same race in which Mergia ran her PR of 2:19:31 (Mergia won, Dibaba finished 3rd). In all, the two have raced each other five times, with Mergia coming out on top in three of them — though Dibaba won their last matchup, finishing 54 seconds ahead of Mergia at Worlds five months ago.
Dibaba's form dipped a bit last year. In London in April, she couldn't hold on after running her first 10k at 2:15 pace, dropping out after 30k. When she returned for Worlds in August, she could only manage 8th after winning the whole thing two years earlier in Beijing. But she remains one of the most talented marathoners in the world. In addition to her Olympic bronze — which should be silver since she finished behind doper Jemima Sumgong — she was LRC's World #1 in 2015 and our #2 in 2014. Those credentials, coupled with her success last time out in Dubai, make Dibaba one of the top contenders in this year's field.
The Defending Champ
Worknesh Degefa — Ethiopia, 27 years old, 2:22:36 pb (2017 Dubai), 66:14 half
Marathons since start of 2016: 1st 2017 Dubai (2:22:36)
Degefa, who ran 66:14 at the Prague Half Marathon in 2016, knocked her marathon debut out of the park by winning this race last year. Degefa, like Aselefech Mergia and last year's men's champ Tamirat Tola, is coached by Gemedu Dedefo, and that's a very good sign as his athletes have combined for six wins here in the past five years, including men's and women's sweeps in 2015 and 2017.
We're surprised Degefa didn't run a fall marathon in 2017 considering how well her debut went. And it's not like she wasn't racing: she ran 68:10 at the New Delhi Half in November for 5th. Maybe she didn't feel the need to run another one since her payday in Dubai ($200,000) is significantly more than she'd receive for winning any other race in the world. Picking up $200,000 once a year and keeping your body fresh the rest of it isn't a bad plan.
Big Talents Looking to Improve in the Marathon
Gelete Burka — Ethiopia, 31 years old, 2:26:03 pb (2014 Houston), 68:18 half
Last two marathons: 3rd 2014 Houston (2:26:03), 7th 2014 Chicago (2:34:17)
Burka is notable for her versatility on the track. She's run 3:58 for 1500 and 30:26 for 10,000 and won global medals in both events (gold and bronze in the 1500 indoors, silver in the 10,000 outdoors). But in moving up the marathon — this will be her fourth attempt at the distance — she faces the same challenge as Mo Farah: it's extremely difficult to be a world-class runner in the 1500 and the marathon. Burka isn't a 1500 runner anymore — she hasn't raced one in almost five years — but if you have the skill set and requisite fast-twitch muscles to run 3:58 in the 1500, it's unlikely that you also have what it takes to become a stud marathoner (of course, as Galen Rupp and Eliud Kipchoge have shown, exceptions can be made but neither one of them is nearly as good at 1500 relatively as Burka).
Like Farah, who will run London in April, this is Burka's first marathon since 2014, when she ran 2:34 in Chicago (she clocked her PR of 2:26 earlier that year in Houston). Burka's results last year — 30:40 for 10,000 on the track, 68:18 in the half marathon — show that she's still fit. Can she put it together in a full marathon in Dubai?
Netsanet Gudeta — Ethiopia, 26 years old, 2:29:15 pb (2017 Paris), 67:26 half
Marathons since start of 2016: 6th 2017 Paris (2:29:15)
Gudeta's marathon debut in Paris last year did not go great considering her lengthy credentials, which include two top-six finishes at the World Half championships, a 67:26 HM pb, and a bronze medal at World XC (in 2015). But she heads into marathon #2 on the strength of half marathon PR in New Delhi in November, and she seems more suited for longer distances than Burka; not only is her HM pb 52 seconds faster, but she's never raced anything shorter than 5k in her career. Dubai is a pretty simple race tactically — get out hard and hold on — so there's not much for Gudeta to figure out there. Either she's fit enough to hold on, or she isn't (though, really, you could say that for everyone in the field). We'll find out Friday.
Intriguing Debuts
Senbere Teferi — Ethiopia, 22 years old
If you read our men's preview, you read about Yenew Alamirew, the 12:48 track stud who is making his debut in Dubai despite never having raced above 10 miles. Teferi is the female version of Alamirew; in fact, she's even more accomplished on the track – at least in terms of medals. She owns dazzling PRs of 14:29 (#16 all-time, Alamairew is #10 all-time) and 30:40, has a silver medal in the 5k at Worlds (2015) and was 5th at the Olympics and 4th at the 2017 Worlds in the 5k. She has also run very well in cross country, taking silver at Worlds in 2015 and finishing 10th in 2017.
But, like Alamirew, she's almost exclusively a 5k specialist (she's run two 10,000s on the track) and has never raced an event longer than 10 miles. However, given her success at xc and the fact that she's just officially 22 years of age – we're less skeptical of her ability to go straight from the 5k to the marathon than we are with Alamirew. If she didn't think she be good at the 26.2 mile distance there would be no reason for her to try it at such a young age considering she's still a big factor on the track.
Yes, one might say that with no major championships this year (Ethiopia doesn't even compete in the Commonwealth Games), 2018 is a good time to try something new and she has nothing to lose. Perhaps. We'll find out on Friday.
Genet Yalew — Ethiopia, 25 years old, 66:26 half
Last marathon: DNF 2017 Amsterdam
Technically this isn't Yalew's debut since she dropped out in Amsterdam in October, but since she has yet to complete a marathon, we're putting her in this category. Yalew is certainly prepared to run the marathon as she's raced 10 half marathons in her career. Her 2016 season was the best of her career, as she won two races (the Egmond aan Zee Half in the Netherlands and the Rock 'n' Roll Lisbon Half), ran a 1:48 PR (66:26 at the RAK Half) and finished 5th at the World Half champs (she also ran a PR of 30:37 on the track for 10,000 meters). Last year did not go nearly as smoothly — her only other race apart from the DNF in Amsterdam was a 71:38 half marathon in Yangzhou, China, where she finished in 6th place. But if Yalew can recapture her 2016 form, she has the makings of a strong marathoner.
Best of the Rest
Because Dubai attracts so many quality runners — many of whom are relatively unknown, even to serious fans of the sport — it would take forever to run through all of them in detail. Instead, we'll highlight a few more women below and apologize in advance if we leave out the winner.
Feysa Tadese, Ethiopia, 29 years old, 2:20:27 pb: On paper, she's the third-fastest woman in the field. But she's only run two marathons in the last three years, and neither were faster than 2:25. She'll have to do better than that to win in Dubai.
Roza Dereje, Ethiopia, 2:22:43 pb: Unlike Tadese, Dereje has raced a ton recently: seven marathons in all over the past two years (in 2016, she ran 2:31 and 2:26 in the span of 29 days, winning both races). Dereje PR'd in her last two marathons, running 2:25:17 in Vienna in April before slicing 2:26 off that time to win her second straight title in Shanghai in 2:22:43. Shanghai was less than 11 weeks ago, which might be a problem for some marathoners. But given what Dereje has done in the past, she should be okay in Dubai.
Yebrgual Melese, Ethiopia, 27 years old, 2:22:51 pb: Melese has been remarkably consistent over the past three years as she has broken 2:25 an astonishing seven times in that span, with wins in Houston and Prague. She finished third here a year ago in a PR of 2:23:13 (which she lowered to 2:22:51 in Prague), but to win, she'll likely need another PR: the winning time in Dubai has been faster than 2:22:51 in five of the last seven years.
Dera Dida, Ethiopia, 21 years old, debut: Dida has only one half marathon result to her name (68:06 in Houston last year) but in that race, she ran 34 seconds faster than another half marathon debutant (Jordan Hasay) who wound up being pretty good at the marathon. With PRs of 14:42 and 30:56 and that 68:06 HM pb, she certainly has potential.
And our predicted winner is….. To find out, you'll have to go to our fan forum and check the following thread on our messageboard: MB: Dubai is tmw!! Official 2018 Dubai Marathon Discussion Thread – Who you got?  Who do you think will win?
 [gravityform action="polls" id="631″ mode="

poll

" cookie="1 month" show_results_link="false" display_results="true" percentages="true" counts="false" ajax="true"]