Favorites Justyn Knight and Northern Arizona Deliver and Win 2017 NCAA Cross Country Titles
By LetsRun.com
November 18, 2017
LOUISVILLE, Ky. — A year ago the Northern Arizona men finally broke through and won their first NCAA cross country title. Today, with a different coach guiding them (assistant coach Mike Smith took over for Eric Heins, who left the coaching profession after last year's NCAA champs) the Northern Arizona men repeated as NCAA champions at the E.P. "Tom" Sawyer Park in dominant fashion. Led by a 2-3 finish by juniors Matthew Baxter and Tyler Day and a surprising eighth-place finish by fellow junior Peter Lomong, who was left off NAU's championship squad last year, the Lumberjacks rolled to NCAA title #2 with 74 points.
The men's team battle was expected to be a prize fight in Muhammad Ali's hometown between #1 Northern Arizona and #2 BYU, a program looking for its first NCAA title. But this one was the equivalent of a 4th-round knockout, as at 4k NAU already led by BYU by 45 points and they'd go on to win by 63. The second-place team ended up being #4 Portland (127 points), who was perfect-scored by BYU at the WCC conference meet three weeks ago as it sat a few of its top runners, but was rewarded with its top finish ever, as BYU faded to third (165), with Stanford fourth (221), and Arkansas fifth (259).
Article continues below player
Third-ranked Syracuse, who won at this very site two years ago, was a disappointing 13th but all wasn't lost for the Orange as the man who led them to the NCAA team title in 2015, senior Justyn Knight, won his first NCAA title in 29:00.2 as he used a big kick to come from behind in the final 400 to get by Baxter (29:00.8). Stanford junior Grant Fisher, the two-time HS national champ in cross country who was the NCAA 5000m champion on the track, was expected to battle Knight for individual glory today but Fisher went out conservatively and was never among the leaders. 33rd at 2k (5.6 seconds back), Fisher moved up to 21st at 4k (9.2 seconds back), and got up to 5th at 8k (11.2 seconds back), but his charge through field stalled over the final 2k and he ended up 5th (11.9 seconds back).
The Race
The pace was honest from the start as NAU's duo of Baxter and Day went to the front and pushed. Shortly before 4k, Alabama's Gilbert Kigen put in a big surge and gapped the field. He'd eventually be caught around the 19:30 mark of the race, but only by three men — the eventual top three of Knight, Baxter and Day. The NAU teammates Baxter and Day had led the chase up to Kigen, but once they caught him they weren't content to settle. They kept the pace hard and eventually dropped Kigen.
Knight ran a few steps behind the NAU duo for most of the time but was never dropped by more than a few seconds. Baxter then made his bid for glory and with a minute left in the race, Knight had roughly a 10-meter gap to make up as shown here: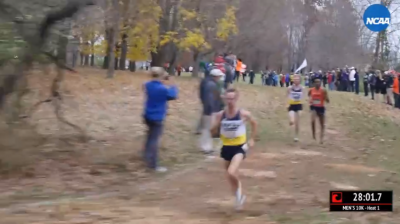 But once he hit the jets, he made it up almost instantaneously and went into the lead. He had been working hard and didn't have a whole lot more in the tank as he repeatedly looked over his right shoulder until he crossed the finish line.Watch the finish for yourself.
Watch @justyn_knight win a National title in one minute pic.twitter.com/6A7wqB83Th

— Syracuse XC/Track (@CuseXCTF) November 18, 2017
After the race, Knight said he felt a little off today and wasn't sure how much he had left at the end as he had to battle through cramps that started at 4k. He said he had no option but to "suck it up" and was obviously thrilled to have won it all.
"It's amazing. This is something I've been working really hard to accomplish. Since I committed to Syracuse, Coach [Chris] Fox told me we're trying to get a team title and he's going to try and make me an NCAA champ as well. To make him proud and my family proud… It just means a lot to me," said Knight, whose parents and uncles were in attendance (Knight said he always runs well when his parents are in attendance).
"To have [my] name up there with the greats and to know that they have gone on to do bigger and better things, that really just means a lot to me."
Quick take analysis appears below. Full results here.
For NAU, today was about one word: gas
That NAU stars Tyler Day and Matt Baxter were in the lead pack was not a surprise — both men were All-Americans last year and finished 4-5 at Wisconsin this year. But it was a shock to see them running 1-2 and forcing the pace in which much of the pre-race hype centered on a potential Justyn Knight-Grant Fisher duel.
Going into the race, NAU coach Mike Smith preached an aggressive approach that could be drilled down to one word: gas.
"I was joking with them, whenever you don't know what to do, what's the answer? Gas." Smith said. "Whenever you have a decision to make in the race, what do you do? Gas. What's the race plan? Gas. What gas means is just applying pressure, applying pressure, applying pressure."
Add in the wind, which was blowing upwards of 15 mph throughout the race, and it proved to be a winning strategy.
"In a typical in a race, if there's some gaps, gaps are easily closed, 10 meters," Smith said. "But with wind, what we saw today is, if you paid attention the first 2k, that group that got away a little bit in a wind like this, that's Tour de France, right? In a breakaway like that in cycling, you can't make that up and so if you watch enough cycling, you know that in conditions like this, it was going to be really hard to bridge that gap. When we noticed the gap, we smelled blood, and you have to apply pressure."
The result was three men in the top eight, 74 points, and a 53-point margin of victory — the largest at this meet since 2012.
Tyler Day and Peter Lomong took very different paths to lead NAU to a title
One of them arrived on NAU's campus with the a famous last name, and all of the expectations that come with it. The other arrived on NAU's campus with no expectations at all. And today, both Peter Lomong  and Tyler Day finished in the top 10 to lead the Lumberjacks to a second straight championship.
Lomong's pedigree is well-known — his brother is two-time Olympian Lopez (who also ran at NAU). But to unlock the talent within, Smith knew that Peter could not run in his brother's shadow.
"The key to Peter Lomong is he's Lopez Lomong's brother," Smith said. "And we had to undo that. And I love Lopez, but one of the first things I said to Peter when I started working at NAU was I closed the door and I got in his face and I said, I don't give a damn who your brother is. And we had to release him of that expectation."
Last year, Lomong did not make it into NAU's top seven at NCAAs. So in May 2017, when he and Smith met to discuss his summer training, Lomong asked Smith for more. A lot more.
Previously, Lomong was a 70-mile-per-week guy, and Smith warned him that making such a big jump carried a risk of injury. Lomong was undeterred and Smith said that he logged 14 weeks in a row of 100+ miles in Flagstaff this summer. After that, it was simply a matter of Lomong seizing his opportunity.
"I knew when it's my time, I'm gonna give it all for the guys," Lomong said.
Day, a 20-year-old junior, came to NAU in 2015 out of Mesquite (Arizona) High School with PRs of 4:20 and 9:28 for 1600/3200. He was 43rd at NXN as a senior. Not exactly the resume of a guy who would finish third at NCAAs two years later. But Day had two things working in his favor when he came to Flagstaff: he had only been running 25-35 miles per week, and he had never trained at altitude before.
Day has certainly put in the work to get to this point. But Smith said that he feels one of the biggest reasons for Day's success is that he is a big responder to altitude.
"He definitely had an upside as far as what he had done for training in high school, but his [response to training] to altitude is above average," Smith said.
Day is not done improving, but he definitely showed that upside in 2017. In June, he was 9th in the 10k at USAs (third U.S.-born finisher). He finished just 4.4 seconds behind Knight; since Galen Rupp won in 2008, Eric Jenkins (3.8 seconds behind in 2014) is the only American man who has come closer to winning this race.
Justyn Knight Gets NCAA Title #1
Justyn Knight has done a lot in his career, but he hadn't won an NCAA title until today.
NCAA title #1 wasn't easy. Alabama's Gilbert Kigen opening up a gap on the field early in the race didn't stress Knight out —  "I wasn't worried about it too much," he said afterwards — but he was worried about the stomach cramps he developed during the race.
Gaps and cramps were things that had happened to him in the past at NCAAs. His freshman year, Justyn cramped at NCAAs and he felt he gave up a bit on the race, fading to 143rd. Today he was determined to battle through them. Then when NAU's Baxter and Day opened up a gap on him the final mile, he knew he had to do everything to keep them close.
"Going through my head, I was a little bit worried. They looked phenomenal, they looked really strong from where I was running. I tried to keep that gap as close as possible and give it a good finish," Knight said of the NAU duo.
Knight hung close and once he could see the finish with roughly 200m to go, he made his move for glory, and secured NCAA title #1.
While the Syracuse team had an off day, finishing a disappointing 13th, Knight will leave the NCAA ranks with individual and team NCAA titles, and a new tradition of excellence at his school in cross country. Syracuse had its mascot and cheerleaders in attendance today (it doesn't hurt that the football team played at Louisville today) on the course and a strong fan presence. Knight was pleased with the support. "We have the greatest alumni in the world."
MB: Justyn Knight Makes History – 1st Canadian-Born Male To Win NCAAs
Ed Eyestone — "Best team I've had in my 18 years…We're not happy to be third, but we're grateful"
Coming in, many expected a tight two-way battle between NAU and BYU for the title. That didn't materialize as NAU dominated the second half of the race and BYU finished third behind Portland, the team they put a perfect 1-2-3-4-5 score on at the West Coast Conference meet.
Nonetheless, it was the best finish at NCAAs for an Ed Eyestone-coached BYU team and he was pleased to hang on to a podium spot. Eyestone said, "It's the best team I've had in my 18 years… We're not happy to be third but we're grateful that we ended up third. We'd have had to have a perfect day to beat NAU…. And Portland, our rivals, they came through and nipped us over the last 2k."
Eyestone said, "From 6k on it was obvious a couple of our guys were struggling (Clayton Young was 33rd at 4k, but would end up BYU's 7th man and Pre-Nats champ Rory Linkletter was only 39th today). When that happens, your six, seven have to come through," said Eyestone, who praised his fifth and sixth guys (Kramer Morton and Jonathan Harper) for helping ensure BYU made the podium (they would have still podiumed with even their seventh runner as their fifth).
"We obviously were hoping to get second or first. But that's what kind of continues to motivate us, doesn't it? It's a metaphor for life, this whole running business. You fall down, you come up short, you pick yourself up, dust yourself off, you come back stronger. A 3rd-place finish on a national scale, you've still got to be pretty proud about how the guys performed all year."
While today was a bit disappointing for BYU, they have four of their top five back next year (Casey Clinger is leaving to go on his mission to Japan), and three-time Foot Locker All-American Conner Mantz will be back from his mission and his redshirt, ready to make his debut for BYU.
Rob Conner's strategy pays off as the Portland men (2nd) record the highest finish in program history
Many (including us) expected the men's race to come down to NAU and BYU, and while those schools took two of the top three places today, the runner-up was not BYU, but the University of Portland — a team that BYU perfect-scored at the West Coast Conference meet three weeks ago. We'll touch on that meet in a minute, but first, let's hand out some credit to the Pilots.
Portland got big runs from its expected top three as Emmanuel Roudolff-Levisse (11th), Jeff Thies (14th), and Nick Hauger (26th). But the surprises came at #4 and #5. Portland's fifth man today was Caleb Webb, who finished 54th — the exact same spot he took at Wisconsin a month ago. Their #4 was Matt Welch, who was making his season debut. Welch, a graduate transfer from Minnesota, had been in Portland's top group in training earlier this season, but he came down with an Achilles injury that cost him three weeks of training. Welch ran his first step back five weeks ago, and Conner told him then, You're running nationals.
"That guy balled up and got it done," Conner said.
That allowed Portland to turn the tables on BYU and record the highest finish in program history.
Now about that conference meet. Three weeks ago, Portland went to the West Coast Conference meet and held out four of its top seven runners from Wisconsin. We published an editorial by Jonathan Gault criticizing Conner for not taking the conference meet seriously. Today, Conner explained why he rested those guys.
"I'm sorry, I've got some guys on short training," Conner said. "They're on short training, that's the reason they didn't run. Sorry. I've got a 14:19 guy running #4 for me. If I run that guy down, he cannot finish the season."
At the Dellinger Invite in September, 11 BYU guys finished ahead of Logan Orndorf, who was Portland's #4 man at Wisconsin two weeks later. Conner realized that his team could not beat BYU at WCCs and made the decision to rest some of the guys on his roster, believing that the extra rest would pay dividends at NCAAs.
Conner ran through his thought process before WCCs:
"Can we beat these guys (BYU)? No. How much do we have to run to beat San Francisco, I said to myself."
It is difficult to run three races — an 8k, 8k, and 10k — in the span of 23 days. But Conner said that his decision to rest his runners was not because the NCAA schedule is fatally flawed, but because of the specific personnel on his team this year.
"That has nothing to do with it," Conner said. "I had guys on short training. That's all it was. Everybody else has run every meet usually. This year, our best two guys ran, and they ran their hardest.
"They were running all-out at conference…Thies and Hauger were embarrassed to get 15 points thrown on them. I've got two European guys who basically started training in the middle of August. You run those guys too much, just like you in track, you're gonna water down their potential performance later…My goal, and my team's goal, was all-in on nationals all season."
For the record, we're still not fans of teams not taking their conference meet seriously, but all of the guys who ran for Portland at conference did take it seriously and BYU still perfect scored them. After Wisconsin, what was never in doubt was Portland's talent. Conner sacrificed any chance at a conference title by doing what he believed was in his team's best interest for nationals, and Portland ran its best nationals ever today.
The Portland team all year was focused on nationals and it paid off big-time.
We've got a brief video with them below, but 3rd placer on the team Nick Hauger summed up the day well when asked about his finish. "3rd guy, not sure what place. It doesn't matter. Second place team," he said and 2nd placer on the team Jeff Thies added, "It's all about the team."
MB: Portland ruins sport, gets 2nd at NCAAs 
Grant Fisher was disappointed with 5th, but would not have changed his strategy
Fisher matched his finish of 5th from 2016, and finishing in the top five in a race as strong as NCAA XC is nothing to be ashamed of. Watching the race, we were definitely surprised when Fisher chose to hang back and run in the second pack, but while Fisher admitted that he "wasn't super pleased" with his race, he did not regret his strategy. He knew that as the leader of a potential (and eventual) podium team in Stanford, he could not afford to risk going out too hard, even if it may have given him a better chance to win the race.
"I don't think I could have gone with that front pack and maintained where I finished," Fisher said. "You never know what could have happened, I guess, but I think it was the right decision for this scenario. And the way things turned out, I mean, those guys were going very fast, far faster than I've ever run. So who knows, maybe I could have hung with them, maybe not. But I just couldn't take any risks today going with that pack. I kind of had to stay with that pack, ensure that I got a top-10 finish [for] my team."
Gilbert Kigen 4th Place
Kigen dominated the junior college ranks and went for glory before halfway today and held on for a respectable 4th. Some brief thoughts from him below.
Is NAU building a mini-dynasty?
Last year, NAU won it all with just one senior in their top 5. This year, they won it all with just one senior in their top five (#4 man Andy Trouard). Since they return three men from the top 8 (all of whom are juniors), they are definitely favorites to make it a three-peat next year.
No men's team has three-peated since Arkansas won in 2000.
UPDATE: Matt Baxter is listed as a junior in the TFRRS results but NAU's official website lists him as a senior, so we don't think he'll be back next year.
Update to the Update: He does have eligibility next year as explained here: Matt Baxter NAU
MB: NAU WOW! – NAU Dominates With Three In Top 10 
Full results are here.
Talk about the race on our fan forum / messageboard.
MBoard Talk: