2017 NYC Marathon Women's Preview: Mary Keitany Goes for Four Straight Against Edna Kiplagat & Shalane Flanagan
By LetsRun.com
November 2, 2017
If you're in New York on Sunday and reading this article, you were probably already going to be watching the 2017 TCS New York City Marathon. But wherever you're watching from, whether it's Central Park, a bar on First Avenue, or the comfort of your own home, you're going to want to watch the women's race closely as there's a high probability that history is going to be made.
If Mary Keitany wins, she'll be just the second woman (after legendary nine-time champ Grete Waitz) to win New York four times.
If Edna Kiplagat wins, she'll be the first person to win America's two most prestigious marathons — Boston and New York — in the same year since Waitz's Norwegian comrade Ingrid Kristiansen turned the trick in 1989.
If Shalane Flanagan wins, she'll be the first American woman to win New York in 40 years (and the first to win an Abbott World Marathon Major since Deena Kastor in 2006). The 36-year-old Flanagan has also been dropping hints that if she can accomplish that and finally win a major marathon, then she will retire after the race.
And if somebody else wins? Well, that's newsworthy in and of itself given how well Keitany and Kiplagat have been running in 2017.
We should note that we've heard from a source that a "good" international woman will likely be announced as a scratch early Thursday. If it's Keitany, then Flanagan has a legitimate chance to win on Sunday. If it's anyone else, Flanagan's odds go up, but only very slightly.
UPDATE: The scratch is 2015 world champ/Olympic bronze medalist Mare Dibaba.
Article continues below player.
Do yourself a favor and educate yourself by reading our preview below.
Be sure to check out our men's previews as well:
LRC 2017 NYC Marathon U.S. Men's Preview: Can Meb Close Out His Career as the Top American? Or Will Jared Ward, Abdi Abdirahman, or Shadrack Biwott Stop Him?
LRC International Men's Preview: Ghebreslassie Guns for Repeat, Kipsang Tries to Bounce Back, & Kamworor Returns to the Marathon
What: 2017 TCS New York City Marathon
When: Sunday, November 5, 9:20 a.m. ET (elite men start at 9:50 a.m. ET. That 30-minute time gap is NOT enough. Also remember US clocks have to be moved back one hour on Saturday night).
Where: New York, New York
How to watch: The race will be broadcast nationally on ESPN2, with coverage beginning at 9 a.m. ET. You can also stream the race online through WatchESPN. Locally, the race will also be shown on ABC7, with coverage beginning at 7 a.m. ET.
Important links: LRC 2016 New York City Marathon coverage * Race website
Women's international elite field
| | | | |
| --- | --- | --- | --- |
| Name | Country | PB | Comment |
| Mary Keitany | KEN | 2:17:01 | 2nd fastest women in the marathon ever. Pick her second at your peril. |
| Edna Kiplagat | KEN | 2:19:50 | Won in Boston, 2nd at Worlds. Doing amazing at age 38 |
| Mare Dibaba | ETH | 2:19:52 | 2015 World Champ was 3rd at Olympics, but DNF at London and 8th at Worlds this year. |
| Buzunesh Deba | ETH | 2:19:59 | Nearly won NY in 2011, 2013. Ran 2:19 CR in Boston in 2014. She's only 30 but best years may be behind her. |
| Shalane Flanagan | USA | 2:21:14 | Came 20 seconds from winning NY in 2010 in her debut. First marathon since her 6th at Olympics last year. |
| Mamitu Daska | ETH | 2:21:59 | Hasn't run real fast in a few years but did run 2:25 to win Frankfurt last year. |
| Christelle Daunay | FRA | 2:24:22 | DNF in Rio. Has only been sub-2:25 once. |
| Jessica Augusto | POR | 2:24:33 | Won Hamburg this year. 6th at 2012 Olympics |
| Kaoru Nagao | JPN | 2:26:58 | DNF in Tokyo; hasn't run under 2:30 since 2011 |
| Miranda Boonstra | NED | 2:27:32 | Hasn't broken 2:30 since 2012 |
| Diane Nukuri | BDI | 2:27:50 | 9th in Boston this year |
| Emma Quaglia | ITA | 2:28:15 | Did get 6th at 2013 Worlds |
| Kellyn Taylor | USA | 2:28:40 | 6th at Olympic Trials |
| Adriana Da Silva | BRA | 2:29:14 | Won 2015 Pan Am Games |
| Stephanie Bruce | USA | 2:29:35 | 22nd at World Cross this year (top non-African-born) |
| Eva Vrabcova | CZE | 2:29:56 | 14th a Worlds in PR |
| Ayantu Dakebo | ETH | 2:30:06 | 4th marathon of year but did PR at Pyongyang Marathon this year |
| Aliphine Tuliamuk | USA | 2:34:44 | 15th at World Cross, 2nd at New Haven 20k this year |
| Betsy Saina | KEN | n/a | Bowerman Track Club athlete went for it in Tokyo and blew up. 5th at Olympic 10,000m last year in 30:07 |
Why in the World Would You Pick Anyone Else?
Mary Keitany — Kenya, 35 years old, 2:17:01 pb (2017 Dubai), 65:13 half
Marathons since start of 2016: 9th 2016 London (2:28:30), 1st 2016 New York (2:24:26), 1st 2017 London (2:17:01)
Tuneup race: 65:59 for 1st at Great North Run (half marathon) on September 10
Entering 2017, Mary Keitany was already the second-best women's marathoner in history. All she's done since then is go out and have the best year of her career. Just look at this ridiculousness:
Mary Keitany's 2017 season
Date
Race
Result
Comment
February 10
RAK Half
2nd, 65:13
At the time, 4th-fastest HM ever by a woman
April 23
London Marathon
1st, 2:17:01
#2 time ever, fastest in an all-female start
June 10
NY Mini 10K
1st, 31:20
August 5
Beach to Beacon 10K
1st, 30:41
Course record
September 10
Great North Run (HM)
1st, 65:59
Quite simply, it's one of the greatest years ever by a female distance runner. And we fully expect Keitany to finish it off with her fourth straight victory in New York.
Normally, it's foolish to pick one person over the field in a marathon, but there's nothing normal about Mary Keitany. Since the start of 2009, she's won 77% of her races across all distances. Bet against her at your peril.
We could easily list off several reasons why Keitany should win on Sunday, each of which on their own would be justification to pick her. In fact, let's do just that:
Keitany is the three-time defending champion.
Keitany has run two 65-minute half marathons this year, including 65:59 in her tuneup race at the Great North Run. At that race, she spanked the runner-up, Olympic 5,000 champ Vivian Cheruiyot (who just ran 2:23 to win Frankfurt last week), by a minute and 45 seconds.
She ran 2:17:01 in London in April.
Yes, 2:17:01.
SHE RAN A 2:17:01 MARATHON!
Could Keitany lose? Of course. It's sports. Anything can happen. And the most likely way that Keitany loses is by doing what she did in New York in 2011 and going out way too fast. In that race, Keitany went out in 67:56 — faster than Paula Radcliffe's 68:02 first half during her 2:15:25 world record — and at one point led by a ridiculous two minutes and 24 seconds. But she totally cratered on the Central Park hills (she had still led by 1:02 with three miles to go) and wound up third.
And there's reason to think that Keitany will be aggressive again on Sunday. The word is that Keitany wants the NYC course record of 2:22:31 and, six years after her NYC disaster, Keitany still loves going out insanely fast as her half marathon split in London in April was a ludicrous 66:54.
We still don't think she loses, though. Remember, even though she went out in 66:54 in London, she still held on to run 2:17:01 and won by 55 seconds. And between her knowledge of the NYC course (this will be her sixth appearance) and her experience six years ago, we expect she won't be quite as aggressive as she was in 2011. Heck, even if she does go out in sub-68:00 again, she could still win. She almost won in 2011, and she's a better runner in 2017 than she was in 2011.
The Logical Backup Pick
Edna Kiplagat — Kenya, 38 years old, 2:19:50 pb (2012 London), 67:41 half
Marathons since start of 2016: 3rd 2016 Tokyo (2:22:36), 2nd 2016 Chicago (2:23:28), 1st 2017 Boston (2:21:52), 2nd 2017 Worlds (2:27:18)
Tuneup race: none
Kiplagat turned 38 in September, but, like Keitany, she's put together one of the best years of a storied career in 2017. It began with a victory in Boston in April, and she followed it up with a silver medal against a stacked field at Worlds in August, coming just seven seconds shy of her third world title.
Kiplagat has run well in fast races — she boasts an impressive 2:19:50 pb and won London in 2014 — but she really excels in championship-style races as five of her six World Marathon Major victories have come in such races. She won NYC in 2010 — beating Keitany and Flanagan in their marathon debuts — and if it weren't for Keitany (who we're not sure is human), Kiplagat would be your NYC favorite.
The fact that Keitany and Kiplagat are the prohibitive favorites to go 1-2 in New York in 2017 says a lot about how remarkable these women are. Keitany is 35, Kiplagat 38, and both have given birth to two children (Kiplagat has adopted three others). They're also the best of friends: when Kiplagat had her wedding ceremony in 2012, Keitany was her maid of honor. Well into their 30s, both women remain at the very top of the sport.
One potential stumbling block: this is just the second time in her career that Kiplagat will attempt to run three marathons in a year. Last time, in 2013, the first two went very well (2nd London, 1st Worlds), but she could only manage 9th in the third one at Worlds. How will her body handle three marathons in seven months at age 38?
Two More Women to Watch
Shalane Flanagan — USA, 36 years old, 2:21:14 pb (2014 Berlin), 67:51 half
Marathons since start of 2016: 3rd 2016 Olympic Trials (2:29:26), 6th 2016 Olympics (2:25:26)
Tuneup race: none
Ever since Flanagan turned to the marathon in 2010, it's been her goal to win a major. She finished second in her marathon debut in New York (coincidentally sandwiched between Kiplagat and Keitany) but that is the closest she has come to victory. Now 36, Flanagan remains one of the U.S.'s elite marathoners, but it is harder than ever to win a major marathon these days. If Flanagan is to break the tape in New York — this is her first appearance here since her debut — she'll need to run the race of her life and hope that a few women in the field (especially Keitany) have off days.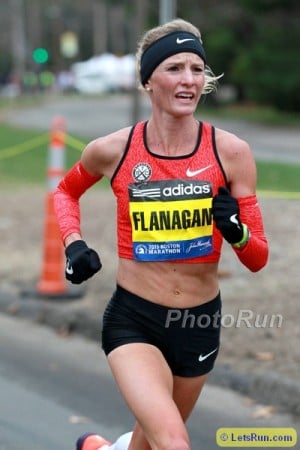 There's a lot to like about Flanagan. Her last marathon at the Olympics (6th place) was one of her best results ever, and though she had to scratch from Boston in April due to a back injury, that allowed her to hit the reset button after a decade of near-nonstop racing. Upon her return, she finished 4th in the 10,000 at USAs despite a limited buildup and ran her fastest 5,000 in six years (14:58). For this buildup, part of which Flanagan spent at altitude in Mammoth Lakes, California, Flanagan upped her mileage in the early stages and is feeling confident about her fitness. She has said she is "all-in" for New York and has hinted that she may retire after the race.
But here's the problem: Flanagan just isn't as good as Keitany or Kiplagat (or Mare Dibaba, for that matter). Before Boston this year, Desi Linden was saying the same things as Flanagan — that she was all-in, that she desperately wanted to win a major. Linden ran a good race, but lost to a pair of studs in Kiplagat and eventual world champ Rose Chelimo and breakout American star Jordan Hasay.
Look at Hasay. She ran her freaking ass off in Chicago and still lost to champ Tirunesh Dibaba by two and a half minutes. You don't get to play defense in running. If Keitany goes out and runs 2:22 on Sunday, there's nothing Flanagan can do to stop her.
Whenever Flanagan chooses to retire, she'll go down as one of the greatest American distance runners in history. If she never wins a major, that should not diminish her legacy because majors are very, very hard to win, particularly the ones Flanagan has chosen to run (her career marathons: 2010 NYC, 2012 Olympic Trials, 2012 Olympics, 2013 Boston, 2014 Boston, 2014 Berlin, 2015 Boston, 2016 Olympic Trials, 2016 Olympics, 2017 New York).
Of her nine previous marathons, only one of them could be considered "bad" by her lofty standards (9th at 2015 Boston, and even then she still ran 2:27:47) so we expect Flanagan will deliver another strong performance on Sunday. And given the attrition rate at major marathons, that could be enough for second or third — which would be a terrific result. But to win, she'll need Keitany to have an awful race and hope no one else hits it out of the park. That's just too much to ask.
UPDATE: Mare Dibaba has withdrawn due to an injury suffered in training in October.
Mare Dibaba — Ethiopia, 28 years old, 2:19:52 pb (2012 Dubai), 67:13 half
Marathons since start of 2016: 6th 2016 London (2:24:09), 3rd 2016 Olympics (2:24:30), DNF 2017 London, 8th 2017 Worlds (2:28:49)
Like Kiplagat, Dibaba will be doubling back from Worlds. Unlike Kiplagat, she has a good track record in her third marathon. In 2014 and 2015, she ran three marathons each year and in both cases, her third race of the year was a victory (2014 Chicago, 2015 Worlds). Dibaba didn't run terribly in London in August (she finished 8th in a deep field) but her two results this year (she also DNF'd the London Marathon in April) suggest she may not be in the same form as in previous years — she finished #2 and #1 in our world rankings in 2014 and 2015 and earned Olympic bronze (silver if you remove doper Jemima Sumgong) last year in Rio, 56 seconds ahead of Flanagan.
Still, this is a former world champ less than 15 months removed from an Olympic bronze. Her ceiling remains higher than Flanagan's, even if her last two marathons haven't gone great (though she did manage to beat Kenyan stud Vivian Cheruiyot at the Lisbon Half in March).
The Other Americans
Kellyn Taylor — USA, 31 years old, 2:28:40 pb (2015 Houston), 71:01 half
Marathons since start of 2016: 6th 2016 Olympic Trials (2:32:56), 13th 2017 London (2:28:51)
Tuneup race: 3rd at America's Finest City Half Marathon on August 20 in 73:12
Stephanie Bruce — USA, 33 years old, 2:29:35 pb (2011 Houston), 70:53 half
Last two marathons: 15th 2013 Boston (2:35:31), 2nd 2016 California International (2:32:37) 
Tuneup race: 5th at US 20K champs on September 4 in 68:14
Taylor and Bruce train together in Ben Rosario's Hoka One One Northern Arizona Elite group. This was Taylor's fourth buildup under Rosario, and all three of her previous marathons have been solid: 2:28 at 2015 Houston, 6th at last year's Olympic Trials and 2:28 at 2017 London. However, Rosario believes Taylor is capable of more and hopes that she'll be able to show that in New York.
"Sometimes they get to the last two weeks and they're just exhausted, they just can't wait to rest a bit," Rosario said. "But this time, she did that last big workout two weeks out and she felt great."
For Bruce, it's been a long road back from back-to-back pregnancies in 2014 and 2015, but now, at 33, she's running better than ever. She finished 22nd (top non-African-born finisher) at World XC in Uganda in March. Five days and 9,300 miles later, she ran a 10,000 PR of 31:59 at Stanford. Rosario said that Bruce has been close to Taylor in workouts, and he has a plan for the duo on Sunday.
"When you look at the Americans there, the folks who have done really well and finished in the top five, it's usually 2:28," Rosario said. "Shalane, Laura [Thweatt], Kara [Goucher], Desi, Molly [Huddle]. 2:28 for an American there seems to get the job done."
That's heady company — "those are really good athletes obviously, so it's not easy by any means," Rosario said — and barring a Flanagan blowup, neither Taylor nor Bruce is likely to finish as the top American on Sunday. But if the duo can manage a PR on Sunday (obviously that's weather-dependent, but the weather looks good), it will put them where they want to be.
American women in the top five in New York, 2003-2016
| | | |
| --- | --- | --- |
| Year | Athlete | Time |
| 2008 | Kara Goucher, 3rd | 2:25:53 |
| 2010 | Shalane Flanagan, 2nd | 2:28:40 |
| 2014 | Desi Linden, 5th | 2:28:11 |
| 2016 | Molly Huddle, 3rd | 2:28:13 |
Aliphine Tuliamuk — USA, 28 years old, 2:34:44 pb (2015 Pittsburgh), 69:16 half
Last two marathons: 2nd 2015 Pittsburgh (2:34:44), 9th 2016 Houston (2:35:35)
Tuneup races: 2nd at US 20K champs on September 4 in 67:49, 3rd at US 10-mile champs on October 1 in 53:52
Tuliamuk has been a force on the roads for some time now (five US road titles in the last two years), but has yet to run a marathon time equivalent to her performances at shorter distances. Given the challenging nature of the New York course, that still may be the case after Sunday, but she has the potential to run well. She beat Bruce at both World XC (Tuliamuk was 15th, 59 seconds ahead of Bruce) and at the US 20K champs (she was 2nd, 25 seconds ahead) and her last three races have been very good, winning the Peachtree Road Race in July (32:49) before taking 2nd at the 20K and 3rd at the US 10-mile champs.
If conditions cooperate, Tuliamuk should challenge for the #2 American spot and should be able to crack 2:30.
Best of the Rest
This preview is getting pretty long so we won't go into a ton of detail on the rest of the field, but here are a few more women worth mentioning. We'd like to go more in-depth on some of them, particularly Saina, after we talk to them at the press conferences on Thursday and Friday. Some of us think someone like Saina has a better shot at victory than Flanagan.
Buzunesh Deba, Ethiopia, 30 years old, 2:19:59 pb: Deba is the course record holder at Boston and was 2nd in NYC in 2011 and 2013 but it's been over two years since she's run a good marathon. Be prepared to hear on the broadcast about how she lives in the Bronx (though she also trains in Flagstaff).
Mamitu Daska, Ethiopia, 34 years old, 2:21:59 pb: An accomplished road racer, Daska won Frankfurt last year but has never come close to winning a major.
Jessica Augusto, Portugal, 35 years old, 2:24:25 pb: Fun fact: a Portuguese woman has finished in the top five in three of the last five NYC Marathons. Augusto, who won Hamburg in April, could add her name to the list.
Diane Nukuri, Burundi, 32 years old, 2:27:50 pb: The Flagstaff-based Nukuri, who went to college at Iowa, was 9th in Boston in April. Her boyfriend, Abdi Abdirahman, is running the men's race in NYC.
Betsy Saina, Kenya, 29 years old: The Bowerman Track Club member was extremely ambitious in her debut in Tokyo in February as she ran with the leaders at sub-2:21 pace for the first half before dropping out late (after 35k). For this one, she returned to her native Kenya and took advisement from Patrick Sang, the coach of Eliud Kipchoge. Saina, the 2012 NCAA XC champ at Iowa State, was 5th in the 10,000 at the 2016 Olympics, running a personal best of 30:07 (#12 all-time).
Who do you think will win New York? Vote in our poll and then explain the logic behind your vote on our messageboard MB: 2017 NYC Marathon Discussion Thread.
 [gravityform action="polls" id="620″ mode="

poll

" cookie="1 month" show_results_link="false" display_results="true" percentages="true" counts="false" ajax="true"]