WTW: Running's version of Sergio Dipp, a new 10k WR, Galen Rupp, Jordan Hasay and more
The Week That Was In Running – August 28 – September 10, 2017
by LetsRun.com
September 12, 2017
After an appropriate Labor Day week hiatus, the Week That Was is back. If you missed any of our Brussels DL, New Haven 20K, Prague 10K, or 5th Avenue Mile coverage, catch up now.
Past editions of the Week That Was can be found here. Got a tip, question or comment? Please email us or post in our forum.
****
Joyciline Jepkosgei Scorches Prague
Article continues below player
Last week, the biggest performance without a doubt came from 23-year-old Joyciline Jepkosgei of Kenya, who put up her second run for the ages in Prague. Five months after breaking road world records for 10k, 15k, 20k and the half marathon in the Czech capital, Jepkosgei smashed the road 10k world record again, clocking 29:43 to record the first ever sub-30 time for a woman on the roads at the 22nd Birell Grand Prix.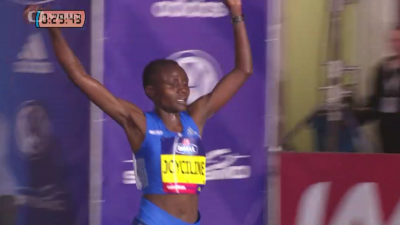 Now, it's been reported that Jepkosgei "does not run on the track." That's not true. Jepkosgei ran the Kenyan champs this year on the track on June 9 (not the Kenyan World Championship trials, which were held two weeks later), where she was third in 32:47.0 in a race won by Alice Aprot in 31:50.5. Aprot went on to get 4th at Worlds. That being said, it's hard not to think that if Jepkosgei did run more on the track that she'd at least have won the silver medal at the Worlds in the 10,000 as only four women have ever run faster than 29:43 on the track.
Additionally, Jepkosgei was third in the African champs on the track last year in 31:28.28 and has run a few 5000s on the track in Kenyan (15:40.0 is her best time).
The people who don't run track were the 2nd and 3rd place women in Prague, Fancy Chemutai (30:06) and Violah Jepchumba (30:25). Tilastopaja.org lists zero track results for both the 22-year-old Chemutai, who ran 66:58 for the half-marathon in Prague earlier this year when Jepkosgei set the WR, and the 26-year old Jepchumba, who ran 65:22 for the half-marathon (#5 all-time) in that April Prague race as well.
While Jepkosgei does occasionally run on the track, it's certainly fair to say she was largely an unknown until this year (she did run a 69:07 half last year). Jepkosgei credits her husband, Nicholas Koech a former 1:46 800 guy, for inspiring her to run. When her husband was asked why she wasn't a good runner before, he didn't mince any words.
"She was large," he said to Pat Butcher of globerunner.org, "She was fat!"
###
We imagine some of you are wondering about the track credentials of some of the top finishers in the men's race in Prague, especially considering the fact that Ethiopia's Jimal Yimer Mekonnen, who ran 26:56 for 5th at Worlds this year in London, was just 6th in 27:54.
Here are the track credentials of the top 5 Kenyans in Prague:
Benard Kimeli – 1st, 27:10 – The 22-year-old ran 28:09.46 for 5th in Ostrava on June 28 in the race won by Mo Farah in 27:12.
Mathew Kimeli – 2nd, 27:11 – The 19-year-old ran 27:14.43 and was the runner-up to Farah in Ostrava. Also was 6th at Kenyan Trials this year in the 10,000 (28:23) and winner of Kenyan champs this year in 27:53. Has also run a 13:33 5000 in Kenya this year.
Rhonex Kipruto – 3rd, 27:13 – The 18-year-old won the Kenyan junior champs in 29:05 this year on the track and also had run 28:56 in Eldoret in May.
Justus Kangogo – 4th, 27:51 – The 21-year-old, who ran 59:31 for the half marathon this year, only has one track result on Tilastopaja and that's a 28:30.0 from Nairobi in 2015.
Amos Kurgat – 5th, 27:53 – The only track result for the 25-year-old is an 8:08.70 3000 from Italy in July.
More: LRC Joyciline Jepkosgei Smashes 10k Road World Record – Becomes First Woman To Break 30 On The Roads With A Sensational 29:43 The world half marathon record holder wasted no time getting after it as she broke the 5k road WR with a 14:33 split.
*IAAF Recap Benard Kimeli took the men's race in 27:10.
*MB: Official 2017 Birrell 10k Discussion Thread – Women's Sub-30 WR attempt
*****
Paul Chelimo Ruffles Some Feathers
"Now the U.S. won't be embarrassed, we won't be lapped anymore. We don't need people who quit when it gets hard."
-Olympic silver medallist and Worlds bronze medallist Paul Chelimo talking in a Sarah Barker feature for Deadspin.com on the Army's WCAP / Scott Simmons' American Distance Project.
Chelimo's quote certainly rubbed a few people in the US distance running community the wrong way.
I hope this is a misquote… pic.twitter.com/Ugwev1zh82

— Dan Lilot (@Lilot1TrackMind) September 8, 2017
https://twitter.com/DanielHuling/status/906298939460030464
And for good reason, mainly because it's just not factually accurate.
The fact of the matter is the resurgence of US distance running began long before the WCAP picked up steam. In Rio, the US already had won five mid-d/distance medals before Chelimo won his medal – which was the last distance medal of the games for the US on the track (Galen Rupp won one more in the marathon the next day). None of those other medals were won by people in the US Army or born out of the country.
Surprised by the quote as Chelimo always talks glowingly about America when we interview him, we reached to Sean Ryan – spokesman for the WCAP – to see if Chelimo stood by the quote or if wanted to add context to it, for as Sergio Dipp showed on Monday night, it's easy for things not to come across as one intends when one is speaking their non-native tongue.
Ryan wrote back that the way the quote came out was "definitely not what he was trying to say according to [Chelimo]. He was saying he hopes the American people will embrace the WCAP and ADP runners when they make the Olympic and World teams, and they will be honest runners, and represent the U.S. well in competitions. Paul will never be the type of runner that gets lapped or quits while representing his country and the Army. He was not referencing any other American runners but himself."
It's ironic that Chelimo talked about US distance runners being lapped as we were told that Chelimo once said he was lapped by American Andy Bayer in a 3k at the beginning of his college career (see Dan Huling's tweet above). However, we've done a little research and it turns out Chelimo wasn't actually lapped. In the men's 3000 at Indiana's Gladstein Invitational in 2011, Bayer won in 7:48.35 while Chelimo, who was running for Shorter University (an NAIA school at the time), finished next to last in 8:11.84 – so Chelimo was only a little more than 2/3rds of a lap down.
See for yourself how close Chelimo came to being lapped at the end of this clip where Chelimo briefly shows up in blue.
MB: Deer Paul Chelimo: American runners were doing fine before you came along
****
Stat of the Week / Galen Rupp's Got More In The Tank
30:40 / 28:24 – 1st 10k split and 2nd 10k split for Galen Rupp at last week's Faxon Law New Haven Road Race, where he won the second road US title of his career in a sprint finish over Leonard Korir.
The fact that Rupp's winning 20k time of 59:04 was just 62:18 half marathon pace is pretty much irrelevant as the first half was tactical. He ran his 2nd half at sub-60 half-marathon pace (60:00 pace is 28:26 per 10k) to indicate he's got much more in the tank than a mid-62-minute half marathon.
Rupp's Nike Oregon Project teammate Jordan Hasay, however, won New Haven with a positive split as she ran 33:15 for her first half and 33:30 for her second half. Considering the second half of New Haven is slightly uphill overall, her effort was probably pretty even. Let's hope she was working on marathon pace as that's not a great time for Hasay. She was only running 70:14 half-marathon pace and in her buildup to her marathon debut in Boston, she ran two half marathons much faster (first in 68:40, second in 67:55).
****
One Amazing Road Race In Colorado Is Nice; Is Two Better?
Every Memorial Day, the Bolder Boulder 10k, the third largest road race in the US with more than 54,000 competitors, is a huge event in Boulder, Colorado. Bolder Boulder pretty much has it all — tons of racers, a big pro field and huge community support for the race that ends in the University of Colorado football stadium.
So why not expand the love? This year, the people in charge of Bolder Boulder created a similar event up the road in Fort Collins, Colorado. On Labor Day, the first annual FORTitude 10K was held in and it was a big success for a first-year event as nearly 7,000 people showed up. Many of the hallmarks of Bolder Boulder — pro field, stadium finish, etc. — were in place. The race even had live TV coverage on the local CBS affiliate. The only thing that was lacking was the huge neighborhood buzz, but it's hard to expect neighbors to offer crazy things like "water slides, bacon, marshmallows" along the route in its first year.
The pro race in Fort Collins wasn't your standard pro race. By now, most distance fans are familiar with men's vs. women's battles where the women get a head start. The FORTitude 10K took that logic to the extreme as every elite in the field got their own starting time based off an algorithm from their previous results, so theoretically all 50 elites had the same chance of winning.
The beneficiary of the radical format was former Western State runner Ian Butler.
Butler only had the 4th fastest time of the day (30:32.3) but he ended up crossing the finish line first and taking home $5,300 thanks to handicapped start. Perhaps the biggest loser in the format was Nicholas Kipruto. Even though he ran faster than Burrell (30:31.4), he only took home $900 as he didn't get much of a head start. The fastest man in the race was Haron Lagat. He ran more than 52 seconds faster than Burrell (29:40.1) and took home $4,750.
On the women's side, the fastest woman in the race was Natosha Rogers (33:42.3 – $1200) while the first women's finisher was Maggie Callahan (35:41.0 – $2,800).
It's the start of something big. Making history today. Go Fort and conquer! #Fortitude10k pic.twitter.com/jK2uKWxXTJ

— FORTitude10K (@FORTitude10K) September 4, 2017
#FORTitude10K winner! pic.twitter.com/Zb4xXCTMqK

— Bryan Bibeau (@N0BCB) September 4, 2017
An amazing sight to see on this great day! Thank you all for participating & joining us for this inaugural #FORTitude10K. See you next year! pic.twitter.com/p7Ws6JbRm3

— FORTitude10K (@FORTitude10K) September 4, 2017
More: Denver Post: FORTitude 10K looks like a new holiday tradition for Front Range runners
*Long time Bolder Boulder racer raves about 1st annual FORTitude 10K: "This is phenomenal for the first race"
PS. If you have never read the 2013 Denver Post profile by John Meyer on Ian Butler and how running has helped him overcome two traumatic brain injuries, we highly recommend it: Western State's Ian Butler overcame 2 traumatic brain injuries as a child to become an All-American runner
****
Tweet of the Week
This one is for you D.T. pic.twitter.com/0uwfmluE81

— Chris O'Hare (@chrisohare1500) September 7, 2017
More: Results: Emily Lipari And Chris O'Hare Win Hoka One One Long Island Miles * Race Video
*Chris O'Hare Dedicates Long Island Mile Win To David Torrence
****
The Most Amazing Stat / Semi-Prediction of The Year
Check out this tweet from Jon Mulkeen in April. Mulkeen realized that in each of the last three global championships, that the winner of the men's javelin was the athlete who had finished in the previous championship.
The pattern continues… pic.twitter.com/luFWv0AAfk

— Jon Mulkeen (@Statman_Jon) August 12, 2017
Sure enough, the 2017 world champion was Johannes Vetter.
Looking ahead to 2019, the streak could continue as Germany's Thomas Röhler was 4th this year.
****
Weekly Free Coaching Advice From Ato Boldon
"I have always had an ability to see the end before I even start. I tell my athletes that all the time. See the end first. If you see the end, then the steps that it takes to get to your goal don't seem as hard, as rigorous, or as time consuming….
"Say I told you that you have to drive 100 miles every day. On the 10th day, you would probably want to quit.
"But what if I also told you that on the 90th day, you will find the Hope diamond lying on the side of the road? Now your outlook would totally change — on the 10th day you would be saying, 'Great! Only 80 more days to go!'"
– Four-time Olympic medalist Ato Bolton talking to inc.com.
****
Quote of the Week (That wasn't quote of the day)
We All Need Rivals To Push Us To Greatness
"To be honest I wouldn't want to be on that track out front by myself, you have to have someone pushing you. I was a youngster once like Christian Coleman, (Andre) De Grasse and all those guys. When I was in the scene as the younger guy with Usain and them, I was putting pressure on them, and for guys to be running like that, I am happy. I do not want the sport to die. It's a great sport, it's an ungrateful sport but we don't want it to die and I am happy those guys are running well, it will keep me on my toes and keep me motivated,"
– Yohan Blake talking to The Gleaner about how he doesn't want to be the undisputed king of the sprints now that Usain Bolt has retired.
****
Thumbs up to Nick Willis and Zola Pieterse (née Budd) for hopping in the local cross country races in their towns
Before Willis finished second in the David Torrence Mile and won the 5th Avenue Mile last week, he hopped in the Michigan Open XC meet on September 1 — his first XC race in seven years — to spice his training up and placed fifth in 15:20.0 (race was won by Michigan's Ben Flanagan in 15:10.6).
At the Carolina Challenge on September 2, the 51-year-old Pieterse placed seventh in 18:43.4 (race was won by Clemson's Elizabeth Dawson in 18:24.7) and in the process beat all of the women on Coastal Carolina, where Pieterse is the head coach.
We think there should be a new NCAA rule. If the coach of the team is able to score for the team and they are over the age of 40, then let them run!!
MB: Zola Budd 7th place Carolina Challenge (18:43)
To see our favorite reads from other weeks, go here.
****
Quotes Of The Day And Last Week's Home Pages
To see the actual quotes of the day from last week or last week's home page or any home page, go to our archive page.