Watch amazing distance action Saturday & Sunday afternoon: 10k WR Attempt and 5th Avenue Mile both to be broadcast for free at 1:30 pm ET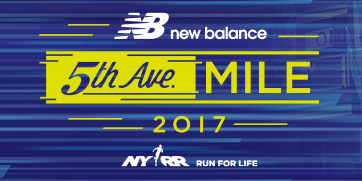 September 10, 2017
by LetsRun.com
September 8, 2017
This weekend is going to be a great one for distance fans as there are two great events will be broadcast on Saturday and Sunday afternoon that you can watch for free: the 2017 Birell Prague Grand Prix 10k (Saturday) and the 2017 New Balance 5th Avenue Mile (Sunday).
In the Czech Republic at 1:30 p.m. ET on Saturday, a world record attempt for the women's 10k on the roads will be taking place at the 2017 Birell Prague Grand Prix 10K. Race organizers are hoping to produce the first sub-30 showing in women's road history. The race will be broadcast (on Czech TV) and streamed live tomorrow, September 9, with the race starting at 1:30 p.m. ET (19:30 CET – 18:30 in the UK). The race will be streamed in both English and Czech:
Article continues below player
English commentary: http://public.pim.cz/RunCzech/sh/live_gp_en.html
Czech commentary: http://public.pim.cz/RunCzech/sh/live_gp_cs.html
In the US on Sunday, the 2017 New Balance 5th Avenue Mile will be broadcast on NBC from 1:30 – 2:00 p.m. ET. Yes NBC, not NBCSN. The men's pro race is at 1:35 p.m. ET and women's pro race at 1:50. The races will also be streamed via authentication on NBCSports.com and the NBC Sports App, as well as with a subscription to NBC Sports Gold's "Track and Field Pass," which live streams to desktops, tablets, mobile phones, and connected devices.
In terms of the 10k, Kenya's Joyciline Jepkosgei and Bahrain's Violah Jepchumba — the current two fastest women in history as they ran 30:04 (WR) and 30:05, respectively en route during the Sportisimo Prague Half Marathon in April — headline the women's field. In that April race, Jepkosgei set the half-marathon world record of 64:52. They will be joined by Kenya's Fancy Chemutai, who has run 30:24 on the roads this year.
The men's 10k race will include the defending champion, Abraham Kipyatich (27:40 last year), Benard Kimeli (27:18 on the roads 2017), and Jemal Yimer Mekonnen, the 20-year-old who was the top Ethiopian at Worlds this year thanks to his 26:56.11 that placed him 5th. Yimer was also 4th at World Cross Country this year.
In terms of 5th Avenue, here is an article you can read about it: RRW Colorado Medallists Emma Coburn and Jenny Simpson Excited to End Seasons at New Balance Fifth Avenue Mile.
Here are the elite men's and women's fields according to the media guide. The race will serve as the pro debut for Edward Cheserek. It was announced earlier this week that Cheserek had signed a shoe contract with Skechers.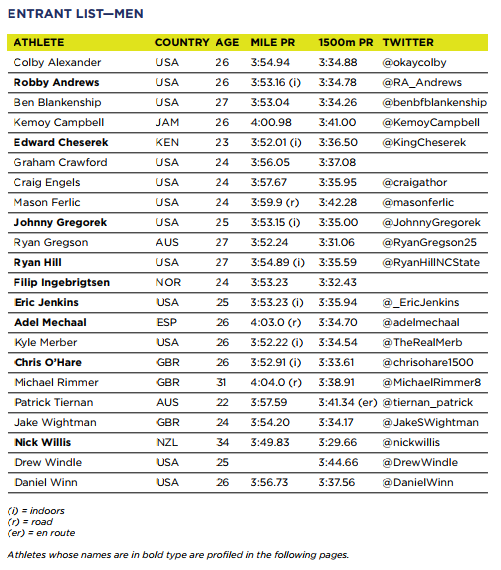 For more on the 10k race, see the press release below.
Talk about the races on our fan forum: MB: Watch history be made: 13.1 WR holder shooting for 1st-ever sub-30 10k by a woman on the roads on Sat. at 1:30 pm ET
MB: Official 2017 5th Avenue Mile Discussion Thread – Simpson v Coburn + King Ches makes his pro debut
---
Press Release:
SUB-30 IN PRAGUE?
Press Release from Race organizers:
Much talk about the men's sub-two-hour marathon, but the women's first sub-30min 10k may just unravel on the streets of the Czech capital on Saturday evening in the Birrell Prague Grand Prix, the penultimate event in the hugely successful RunCzech Running League (all seven races have an IAAF Gold Label).
Joyciline Jepkosgei and Violah Jepchumbah are both high achievers from Kenya, though the latter now competes for Bahrain, but they save their best battles for the streets of Prague. Jepchumba, 27, is the defending champion, having won last year in 30min 21sec, just three seconds shy of Paula Radcliffe's world record. Jepkosgei, 24, finished second. But five months ago, she reversed the roles in style, winning the Sportissimo Prague Half-Marathon in a world record 64:52, but also setting world records en route for 10k (30:04), 15k (45:37), and 20k (61:25). Jepchumba was just one second behind at 10k, but drifted back under the Jepkosgei assault, and finished second in 65:22.
Third in that race in her international debut was another Kenyan, Fancy Chemutai, but two months later, she won the Appingedam (Netherlands) 10k in 30:24, the fourth fastest in history. So, with Radcliffe retired, the three current fastest women in the world are all running Prague tomorrow.
At Friday's press conference, Jepkosgei conceded that another world record was a possibility, but didn't want to be drawn on who might win. Referring to the several women who have bettered 30mins in the track 10,000 meters, the Kenyan said, "I don't think there's any difference between road and track times, so it should be possible to run under 30 minutes on the road. But this is a good competition. I cannot say I will win".
For once, the men take a back seat, but their race also features a potential three-way struggle, between defending champion Abraham Kipyatich of Kenya (27:40 last year), Jemal Mekonnen of Ethiopia, recently fifth (26:56.11) in the 10,000 meters at the World Championships in London, and 19-year-old Mathew Kimeli of Kenya, who is currently second fastest of the year on the roads with 27:44 en route to a win in the Puy-en-Velay 15k.
They'll need to run faster than that, judging by Kipyatich's estimation at the press conference – "I'd like to run 27:10 tomorrow". There are strong supporting casts in both races, so little is pre-determined, apart from some good racing.