Three For Three: All Three Americans Advance To Women's 5000 Final at 2017 IAAF World Championships
by LetsRun.com
August 10, 2107
LONDON – The women's 5000 got underway this evening and for the most part all of the potential medallists who started the race moved on to Sunday's final. The biggest casualty before the start came as Genzebe Dibaba of Ethiopia, the second fastest woman on the year and fourth fastest in history, decided not to double back from a disappointing 12th place finish in the 1500.
Once the racing began, things went very much according to form save for one casualty as 11 of the 12 fastest women in 2017 moved on to the final, with the lone surprise being that Turkey's Yasemin Can, the #6 seed (14:36 this year) who was 6th in Rio last year, didn't advance after finishing 8th in heat #1 in 15:08.20, not a total shock given she didn't look good in the 10k where she was just 11th.
Article continues below player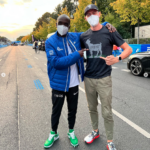 Kipchoge loves the 1:59:40 Shirt Get Yours Today
What a legend!
It was a good day for Team USA as all three US entrants moved on to the final.

Heat #1
The pace was modest up through 3k (9:13.45) before getting more honest up to 4k (12:12.40) but the close was furious. Olympic silver medallist Hellen Obiri and 10k world record holder Almaz Ayana were the best of the bunch as they ran their last laps in 63 to close out a 2:42 last 1k as Obiri won the heat in 14:56.70 and Ayana was second in 14:57.06. In the final 100, America's Shannon Rowbury moved up from 7th to 5th to take the final auto qualifying spot in 14:57.58, ahead of Kenya's Sheila Kiprotich (14:57.58) and Britain's Laura Muir (14:59.34) who would both also advance as two of five time qualifiers from the two heats.
Heat 2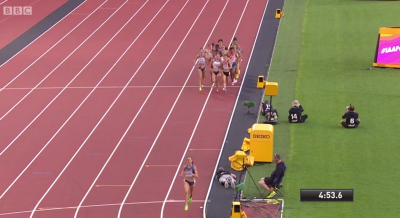 After two laps, American Molly Huddle decided she wouldn't take any chances. Knowing a top-10 finish would get her to the final as long as it was under 14:59, Huddle took off and no one went with her. At 1600 (4:53.61), Huddle led by 4.9 seconds. At 3200 (9:43.05), Huddle's lead had grown. However, the chase pack would soon start to gradually come back on her. At the bell (13:54.08), Huddle still led by 4+ seconds but the pack smelled blood. Sure enough, Huddle would be gunned down even though she ran her last lap in 69.52 to close off a final 1k of 2:55.9 as 19-year-old Ethiopian Letesenbet Gidey, who has a 14:33 pb, closed in sub-61 to win the heat. Once Huddle was caught on the turn, she had no response and ultimately she'd be passed by six women before finishing 7th in 15:03.60. But that would be good enough to get in on time as the final time qualifier was the woman who finished 8th in this heat, Kalkidan Gezahegne of Bahrain, who ran 15:07.19.
The third and fourth placers in the heat were certainly happier than most finalists as they both set a PB as American Shelby Houlihan ran 15:00.47 for third (previous pb of 15:06.14) and Britain's Eilish McColgan ran 15:00.38 (previous pb of 15:05.00).
Post-Race Interviews Below Results
SPLIT MARK ATHLETE COUNTRY
1000m 3:04.79 Camille BUSCOMB NZL
2000m 6:08.00 Ayuko SUZUKI JPN
3000m 9:13.47 Hellen Onsando OBIRI KEN
4000m 12:12.40 Hellen Onsando OBIRI KEN
Heat 2
SPLIT MARK ATHLETE COUNTRY
1000m 3:06.68 Molly HUDDLE USA
2000m 6:05.37 Molly HUDDLE USA
3000m 9:07.14 Molly HUDDLE USA
4000m 12:07.68 Molly HUDDLE USA
Shelby Houlihan PRs But Is Still Super Inexperienced at 5000
Shelby Houlihan made the Olympic 5,000m final last year but this was only the fifth meet she's run a 5,000 at as a pro (she ran a meet indoors last year, the Olympic Trials and Olympics, and this year ran USAs before Worlds). That may not be too surprising for someone whose Twitter handle is @shelbo800 for the 800m.
Nonetheless, Houlihan looked like a veteran today, kicking through to make the final in a PB of 15:00.37. Houlihan said she felt great, "I felt really comfortable, really easy. I knew I was in PR shape."
The final with Hellen Obiri and Almaz Ayana likely will be a lot faster and it will be interesting to see what progress Houlihan has made as a 5000m runner this year (she was 11th in the Olympics last year in 15:08). She's already shown some improvement as she won USAs after taking second a year ago.
Sifan Hassan Has Put 1500 Behind Her, Doing 5000 for Experience
Sifan Hassan was battling for 1500m gold on the backstretch earlier at Worlds and ended up off the medal stand in 5th place. When asked about the 1500, she said, "That's gone, I'm moving on."
She said the 5000 here is primarily about getting experience at longer distances. "I really don't have much experience [at 5000m]. I've only run 3, 4, 5 times 5000m (editor's note: she's run three 5000 this year, and six in her career)? I'm running this competition to get more experience for the future, maybe for Tokyo."
Quick Take: Shannon Rowbury thinks she can medal
Rowbury primarily has been a 1500m runner at the Worlds and Olympics (she ran the 5000 at the 2013 Worlds), but she didn't make the 1500 team for this Worlds so it's just the 5000. She said she's still adjusting to it but thinks she can medal if she runs her best. "It's just foreign to me. The last time I did a lot of 5ks was cross country in college. Just wrapping my head around the distance and duration (is foreign). The training, the volume is there and I have good preparation. It's a lot more grit it takes to perform well in the 5k. So that's what I'm preparing myself for." When asked about the final she said, "Given the depth of the field. I think it's going to be a battle royale and I'm going to do what I can do and I think if I run a smart race I have a good shot at the medals."
With Ayana and Obiri looking great, we think everyone else is running for bronze but it will be interesting to see what Rowbury can do in a 5000 without having previously run a 1500 before it.
Molly Huddle on Leading: "It kind of turned into a nightmare like I was just waiting for them to catch me."
Huddle's goal wasn't to try to run away from the pack, but to push the pace and keep it honest to help see if they could make the final on time. Once no one went with her she did her best to stay in front, but with 800 to go she knew they were close.
"I kind of new 15 flat was the time. I don't have good closing right now. I'll just run 72s. It kind of turned into a nightmare like I was just waiting for them to catch me. I thought if I could just run 15 flat 15:03 range I should get in…. I just blew up the last 200. I'm very lucky to be in the final, happy to be in the final," she said.
Huddle had tape on her leg and said she hurt her calf before Monaco which caused her to miss that meet. She's healthy now and hoping to finish her Worlds track career with a top 8 showing.
Laura Muir Struggled on Last Lap But Still Hoping for a Medal
The British star Muir didn't have it the final lap today and advanced to the final as a time qualifier. Nonetheless, she's still shooting for a medal in the 5000 despite it being her secondary event. "I know I'm better than what I ran today and I hope I can show that in the final. I felt good out there except for that last lap," she said. When asked about how she was thinking about her 4th place 1500 performance at Worlds she said, "At the end of the day 4th in the world is bloody good."
And Muir with her 1500 speed, does not think the 5000 m final will be slow. She said the Africans won't let it come down to a race like that, where a 1500m star like herself might have a much better chance.
Quick Take: Hellen Obiri wants a fast pace for the final — but not too fast
Obiri suggested that the Kenyans may use teamwork to beat the Ethiopians in Sunday's final, but considering Obiri is the only Kenyan who has run faster than 14:43, that may be wishful thinking. If Obiri is going to beat Ayana, she will likely have to do it herself.
And that's okay. Obiri beat Ayana last year in Rio, even though Obiri said she wasn't well prepared for the 5k after spending most of her career as a 1500 runner. Now that Obiri has made 5k the focus, she believes she's in even better shape.
Obiri, who has the top two fastest times in the world this year, would like to see a faster race in the final, around 14:30, in order to drive off the pretenders. If the race unfolds that way and it comes down to Obiri vs. Ayana on the last lap, Obiri has confidence that she will prevail.
"I am the best at 400 meters," Obiri said.
We agree. The only way that Ayana beats Obiri is by getting dropping her early as Obiri has already blown away one frontrunner on this track in 2017 (Laura Muir at the Anniversary Games).
Both Brits that advanced ended up on the track afterwards.