Justin Gatlin Steals the Show in Usain Bolt's Final 100M Race to Win 2017 World Title at Age 35
By Jonathan Gault
August 5, 2017
LONDON — Usain Bolt has always delivered the unexpected. 9.69 and 19.30 world records in Beijing. 9.58 and 19.19 a year later in Berlin. Three straight Olympic titles in the 100 and 200 meters. At 30 years old, in his final major championship, he appeared to have run out of ways to shock the track world.
Yet on Saturday night, Bolt once again left a packed stadium staring with their mouths agape. He did the one thing no one could have imagined.
He lost.
Justin Gatlin, not Usain Bolt is the world's fastest man, as he defeated Bolt to win the men's 100-meter final in 9.92 seconds on day 2 of the 2017 IAAF World Championships at London Stadium. Fellow American Christian Coleman took the silver in 9.94, as Bolt had to settle for his first career bronze medal in 9.95. At 35, Gatlin is the oldest men's 100-meter champion in history.
The vibe inside the stadium was one of a party gone off script. From the very beginning, the 2017 track season has been hyped as Bolt's farewell tour, with the final stop a golden sendoff in London. Before Friday's preliminary round, and again before the semifinals and final tonight, the crowd roared for Bolt as the big man embraced his role as the guest of honor, clowning around for the adoring masses.
Article continues below player.
Then Gatlin, an afterthought in lane 8 after running just 10.09 in his semifinal, came in and won the damn final.
This wasn't supposed to happen. There were a few moments of relative quiet in the immediate aftermath, the crowd hoping, somehow, that the scoreboard would tell them something that their own eyes had not. But Gatlin's name popped up first, and as it did, the boos that had accompanied him all weekend returned in full force.
Apart from that one-minute span, however, it was if Bolt had not lost at all. Thunderous chants of U-SAIN BOLT! U-SAIN BOLT! quickly replaced the boos. And as the Jamaican took off on his victory lap, the in-stadium announcers stuck to the script, heaping praise upon Bolt, applauding him for his legendary career and for speaking out about the importance of clean sport and essentially ignoring the man who had, you know, won the race.
If this bothered Gatlin, he did not show it. After the race, he bowed down to Bolt (literally) on the track before doing the same (figuratively) during the post-race media rounds.
| | |
| --- | --- |
| Overall | |
| Comfort | |
| Cushioning | |
| Durability | |
| Appearance | |
| Value | |
"He's inspired me to be a stronger, faster competitor," Gatlin said. "I've only wished every year to be his top rival, even coming back into the sport. We've grown so much respect for each other throughout the years. I think a lot of people in the media think we have this bitter rivalry where we hate each other where it's actually the opposite. We joke around, we actually go to parties together."
Gatlin repeatedly stated that this was a victory for his team — his coach, his family and the fans who stuck with him through the drug ban that forced him to miss four years from 2006 to 2010. But on the track after the race, he found a moment to enjoy himself, finally acknowledging the boos he had ignored through three rounds by raising a finger to his lips. Shh.
The race itself was slow by championship standards; you'd have to go back to 2003 to find the last World Championship final with a slower winning time than Gatlin's 9.92 tonight (the 0.8 headwind didn't help). The outcome was decided by two things: Bolt's start and Gatlin's finish.
The former has never been a strength for the greatest sprinter in history, but his final 80 meters have always been good enough to dig him out of whatever hole he might have faced. But tonight, the hole was greater than ever before. Bolt's .183 reaction time was his slowest ever in a global final; the difference between that and Gatlin's .138 and Coleman's .123 accounted for the margin of victory by itself. And the 30-year-old Bolt doing the digging on Saturday night was not the same man who blew away the field in the last three Olympic finals.
"I really don't know what to say about my start," Bolt said. "This is the first time in the championship that I've gone through the rounds and it's been so poor. Normally I always get my start at some point."
Even still, Bolt had a shot to win. Coleman in lane 5 held the lead in the middle stages, ahead of both Gatlin — on the outside — and Bolt — on the inside in lane 4. Bolt was gaining on Coleman as they neared the finish line, but so was Gatlin, and in an unlikely role reversal, it was Gatlin who closed better.
Two years ago, Gatlin blew the world title in Beijing, breaking form as Bolt drew level on his inside. But with Gatlin alone on the outside in London, four lanes away from Bolt, he was only focused on himself and maintained his form all the way until the lean at the finish. Gatlin knew he had it the instant he crossed the line, throwing his arms out in amazement.
Gatlin had won the silver medal in 2013, 2015 and 2016 but for him to finally win a second world title in 2017, 12 years after his first, defies logic. In 2015, Gatlin was in the shape of his life, blasting 9.7s all year, and Bolt still beat him in Beijing. That was supposed to be that. Gatlin had missed his shot. In 2016, Gatlin rolled through the competition again, staying undefeated until the Olympics. But once again, Bolt turned him back in Rio, and that time it wasn't even that close.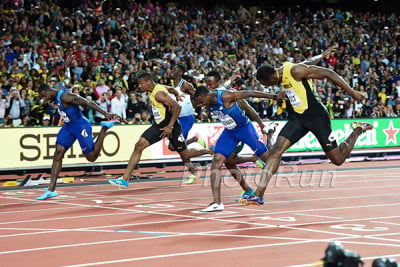 Early in the spring of 2017, Gatlin was slowed by injuries, first a hip flexor that cost him two weeks and then a calf injury that came as a result of overcompensating which forced him to miss another week. And once he began racing, he wasn't the same guy. Gatlin ran 10.14 in his 100 opener in Doha and finished fourth, his first defeat to anyone other than Bolt since 2013. Three weeks later at the Pre Classic, he finished fifth. Entering Worlds, his season's best was 9.95, his slowest since 2011.
"When you saw me running at nationals and running a couple races after that, it kind of just off guts, man," Gatlin said.
Yet Gatlin delivered a season's best, 9.92, in the World Championship final, and while that would not have been enough to beat Bolt in any of his previous 100-meter finals, it was all that was needed for gold tonight.
***
For a portion of running fans, this outcome is a hard one to reconcile. Gatlin, a man who served a four-year drug ban during the prime of his career and has been reticent to discuss or apologize for the incident publicly, has, at the age of 35, beaten the universally beloved Bolt. Gatlin would like very much to chalk up the boos he faced this week as solely a product of the final part of that sentence.
"It's just amazing that, I guess because I've become more of a rival for Usain, that's where the boos come from," Gatlin said. "I didn't get booed in 2010, I didn't get no boos in '11. I didn't get no boos in '12 — '12 was here. I didn't get no boos in '13, '14 or '15."
Later, in the post-race press conference, a reporter said that Gatlin seemed to enjoy being the bad boy of the sport.
"Here's my question to you: what do I do that makes me the bad boy? Do I talk bad about anybody? Do I give bad gestures? I don't. I shake every athlete's hand, I congratulate them, I tell them good luck. That don't sound like the trait of a bad boy to me."
That is true. In interviews, Gatlin is often cordial and charming. Bolt never has a bad word to say about him.
But in failing to acknowledge the primary reason for the fans' vitriol — Gatlin was caught cheating the sport — Gatlin only provided more ammunition to those who criticize him for failing to own up to his past.
Related: LRC Was Usain Bolt's stunning loss last night actually a great development for the future of track and field as it proves Bolt is clean?
Results  Wind: -0.8
***
Most Entertaining Part of Press Conference: Usain Bolt Takes Offense at Reporters' Questions about More Stringent Anti-Doping
The most entertaining part of the press conference and one of the more intense moments was when a journalist asked the medallists if they thought the slower sprint times at this year's Worlds were because of stronger anti-doping controls and Usain Bolt took offense.  The journalist pointed out that this was the slowest 100m winning time since 2003, and "the marks in general were much slower than the last edition of the World Championships and I'd like to know from you guys if you think there is any kind of relationship (with the slower times) from a stronger anti doping control."
Bolt interjected, "Woah, woah, woah, what? What's she saying?"
The journalists started to talk again and Bolt said, "I heard you but what?"
She then explained there were 21 sub-10-second times at the Beijing Worlds and less than 10 here. As she was explaining herself, Bolt signaled to the other two medallists that he wanted to answer the question.
He then said, "First of all I'm sure everyone up here takes that [as] very disrespectful. You know what I mean. I, we've worked hard. Justin has done his time throughout the years and he's proven himself over and over again. I've proven myself over and over again. The young kid just coming in, Coleman, has done great. He's performed himself to show the world to show he's going to be a great athlete. There's something called injury and sometimes everything don't go [as] smoothly as you want to, there's negative wind. There's so much different things [that can affect the 100], so for you to just directly say something or state something to all three of us like that, I take that disrespectfully, you know what I mean? Because we've done so much great things throughout the years. Yes it's slow but we came out and we put on a good show for everybody, you now what I mean? (Pause) Wow."
Gatlin then spoke, "As athletes regardless of what the sport is we're human being still. We have to perform. We work hard. We train everyday as you all are sitting typing on your computers… Of course sometimes our times are not going to be the best…. We push ourselves to the best we can do and tonight that was the best the world could give and we still made it the most exciting race you've probably seen all year and it was so close. So I don't think it's an algorithm to an anti-doping issue."
Coleman was then asked by the moderator if he had anything to add and he deadpanned, "I think they pretty much said it all" as the room erupted in laughter.
It's worth a watch. Bolt can be very charming and funny and he was here, even as he took offense at the reporter's question. The clip below is set to start at the relevant point.
****
Justin Gatlin in the mixed zone post-race
Gatlin admitted that "one millisecond after I crossed the line, I was like, 'I'm retiring'" but his son wants to go to Tokyo 2020 (Gatlin would be 38), so he's going to continue taking things race by race.
Usain Bolt in the mixed zone post-race part I
Usain Bolt in the mixed zone post-race part II
Men's 100m medalists press conference part I
Men's 100m medalists press conference part II
At 4:20, Gatlin was asked if he could understand why people were antagonistic toward him.
"I really don't need to understand," Gatlin responded, before asking for acceptance.
"I've done my time like you said. I've come back, I did community service. I've talked to kids, I've actually inspired kids to walk the right path. And that's all I can do. Society does that for people who have mistakes and I hope that track and field can understand that too. We're just trying to have a cooperative society."