Heather Kampf (4:30) And Jake Edwards (4:00) Repeat At Ryan Shay Mille Winners
Press Release
July 22, 2017
Charlevoix, MI –  The 10th annual Ryan Shay Mile took place this morning in Charlevoix, Michigan under overcast skies and 70 degree temperatures.  This invitational road mile had separate races for men and women. There was $4000 in prize money available ($1000.00 1st place, $500.00 2nd, $250.00 3rd) with the title sponsor being Bergmann Marine.
Jake Edwards was able to win his third title in a row to become the only three time winner of the men's race, and Heather Kampf returned to claim her fifth title.
Article continues below player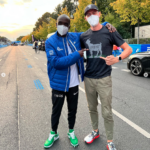 Kipchoge loves the 1:59:40 Shirt Get Yours Today
What a legend!
Edwards, with a time of 4:00 minutes, led a pack of seven runners who finished within two seconds of each other.  Matt Dorsey let the race through the half mile by a few second margin.  That lead did not last long as almost half of the field descended the hill together into downtown at the three quarters mark.  Edwards and Nate Brannen pushed each other to the finish with Edwards having just enough push at the end to take the title.  Brannen finished second in 4:01 along with Nick Harris finishing in third with a time of 4:01 as well.  Julian Matthews and Reid Buchanan recorded times of 4:01 also to finish fourth and fifth.
Kampf continued her string of great summer performances in downtown Charlevoix winning the race in 4:30.  She was leading a tight pack of seven runners through the halfway point.  The descent into downtown saw Kampf and the newcomer Katie Landwehr pull away from the pack.  Landwehr kept the pressure on Kampf right to end as she recorded a time of 4:31 for second place.  Alexina Wilson finished third in a time of 4:35.
The Ryan Shay Mile started in the summer of 2008 to honor the memory of Ryan Shay.  Ryan passed away on November 3, 2007 while competing in the 2008 USA Olympic Marathon Trials in New York City.  Ryan was from Central Lake, Michigan,  about thirty minutes south of Charlevoix.  A talented runner, who through hard work and persistence, won championships in high school, while in college in Notre Dame, and as a professional.  Ryan continues to be a role model for many young people in Northern Michigan and around the country.
Bergmann Marine, located in Charlevoix, Michigan, provides marine sales, service and storage facilities.  This family owned and operated business spans three generations and has been providing service to Northern Michigan for more than twenty five years.
This event is held as part of Charlevoix's annual Venetian Festival, and in conjunction with the Drenth Memorial 5k/10k road races on the same Saturday morning.  Charlevoix is located in the upper northwestern portion of the lower Michigan peninsula.
####
Links to results:
Women: http://newtontiming.com/results/17/shay/shaywomen.html