WTW: How Much Does A Diamond League Meet Cost, The LRC Singlet Comes Out of Retirement and Are Stars Now Ducking Each Other in High School?
The Week That Was In Running – June 12 – June 18, 2017
by LetsRun.com
June 20, 2017
Past editions of the Week That Was can be found here. Got a tip, question or comment? Please email us or post in our forum.
Article continues below player
If you missed our extensive coverage of the Stockholm or Oslo DL meets from last weekend, catch up now:
2017 BAUHAUS-galan Stockholm DL Coverage
2017 Bislett Games – Oslo DL Coverage
*****
Stat of The Week
$2.4 million (20 million Norwegian krone) – budget for the Bislett Games in Oslo when ExxonMobil was the title sponsor.
$1.9 million (16 million Norwegian krone) – budget for the Bislett Games in Oslo this year now that ExxonMobil isn't the title sponsor.
-stat comes from the Dagens Næringsliv (DN) newspaper as reported here.
*****
Mixed-Gender Relays In The Olympics??
The IOC has announced that the 2020 Olympics will feature a mixed-gender 4 x 400 for the first time. Mike Rowbottom of Insidethegames.biz does not like the idea:
The Olympic Games are not, and should not be, a novelty event.
The bottom line is that, in sports such as swimming, athletics and triathlon, a mixed relay will mean a relay between two faster athletes and two slower athletes, in whichever order they are deployed.
Do the IOC think that a plethora of mixed events within their quadrennial Games will inspire spectators – or future athletes? If so, I beg to differ.
Who ever got worked up about mixed sport?  Which youngster will ever exclaim to their coach: ""No! I am going to be a mixed relay competitor whether you like it or not!" Or reflect: "Some people are born for mixed sports, and I am one such."
We've got no problem with them adding in a mixed-gender event assuming it is only added if the schedule is set up so that people can do the mixed 4 x 400 relay, the open 400 and the original 4 x 400 relay. If you can't do all three, and you insist on a mixed relay, then the traditional single-gender 4 x 400 needs to go as we don't want to have a watered-down single-gender 4 x 400 and a watered-down mixed-gender 4 x 400 as certain stars opt for where their medal chances are the highest.
The IAAF agrees, and after the IOC announced plans to add the mixed-gender 4 x 400, it sent out a press release that included the following statement:
We should not expect the athletes entered to compete in the men's and women's 4x400m relays, from which the participants for the mixed relay will be naturally drawn, to compete in a third round of heats and finals for the mixed relay without allocating the appropriate space and time in the programme or enabling teams to bring additional athletes. 
But reworking the schedule to fit in a 400, mixed 4 x 400 and single-gender 4 x 400 is going to be tough. In Rio, the men's 400 was held on days 1, 2 and 3 and the men's 4 x 400 was held on days 8 and 9. So maybe you could add in the mixed-gender event on days 5 and 7. But what about athletes like Wayde van Niekerk and LaShawn Merritt who want to run the 200 and the 400?
The abomination that was known as short course cross country proved decisively that two watered-down events aren't nearly as good as one great event where the stars are forced to race each other.
****
Oh So Close To Sub-2:00 For "Iceland's Mary Cain"
In 2013, 17-year-old Aníta Hinriksdóttir of Iceland ran 2:00.49 for 800. But women's distance fans know that improvement in the late teens/early 20s is far from a guarantee in the world of women's distance running.
In 2014, she didn't PR (2:01.23 sb).
In 2015, she didn't PR (2:01.01 sb).
Last year, Hinriksdóttir's perseverance paid off as she did PR with a 2:00.14 on the biggest stage in the sport – the Olympics.
Sub-2, here we come? It sure looks like it, but twice last week Hinriksdóttir, now 21, came agonizingly close to the barrier. In Oslo, she ran 2:00.05 – a new national record – but just over 2:00. In Stockholm, just three days later, she ran 2:00.06.
****
The Stars Avoid Each Other…. In High School???
The high school nationals in cross country have long been splintered ever since the NXN meet was added to the cross country calendar meaning some go to the Foot Lockers and some to go to NXN. That same type of splintering is now taking place in track as everyone used to go down to Greensboro, NC, for the New Balance Outdoor Nationals (previously known as Nike Outdoor Nationals) but now many go to the Brooks PR Invitational and also the adidas Boost Boston Games.
Last week, however, all of the top boys' milers went to the Brooks meet. However, we didn't get a true national champion crowned as the fastest high school miler on the year – 3:59.30 miler Reed Brown – raced the 800.
For the record, Brown finished second in the 800 in 1:51.01 and the boys' mile was won by Sam Worley – who also defeated Brown in the 1600 at the Texas state championships this year – in 4:02.04. So we guess we'll say that Worley is the best miler on the year and Brown the fastest?
If people want to know why our sport struggles for popularity, you just got a great example. Stars will avoid each other – even when money isn't on the line. To be fair to Brown, he had a good reason to run the 800, he wanted to go sub 1:50 for the first time, but no doubt the fans would have been much better off if Brown had raced everyone in the mile.
In women's action at Brooks, senior Brie Oakley ran the second fastest HS 2-mile in history at 9:51.35.
More: Full Results For The 2017 Brooks PR Invitational *New Balance Outdoor National Results
****
Email Of The Week
A few weeks ago, we pointed out in this column that while Jakob Ingebrigtsen was the first 16-year-old to break 4:00 in a mile race that Ethiopia's Yomif Kejelcha had actually broken 4:00 by running 4:57.74 in a 2000-meter race at a younger age, and thus Kejelcha must have run a mile in under 4:00 en route.
A very smart website visitor, Tom McCormick, an engineer from Canada, wrote us and point out that our statement wasn't necessarily true. See his email below.
Not necessarily:  Consider the following 2000 m splits (each 400 m):
1st 400 m:  00:57.2
2nd 400 m:  01:01.0
3rd 400 m:  01:01.0
4th 400 m:  01:01.0
5th 400 m:  00:57.2
Total time: 4:57.4 (same as Yomif)
ANY 1600 segment in this race would have to have the 3 inner splits, and the equivalent of 1 outer split:  3×1:01.0 + 00:57.2 = 4:00.2 for 1600 m:  i.e. slower than a 4-minute mile.
I know that the times are contrived, but 57-sec and 1:01 laps are not out-of-the-ordinary for a 2000 m race.  Just wanted to show that average pace does not equate to having a smaller distance being at that pace (common mathematical fallacy).  By the way:  big fan of your running site – keep up the quality work!
Thanks for the email, Tom. Tom describes his connection to the sport as follows: "I'm a 62-year old runner (actually, ex-runner:  slipped disk in back has me cycling and race-walking now).   Have done 5 marathons (3:26:15 best);  was better at mid-distances:  5:09 mile, 36:58 10 k (back in the days when dinosaurs were young!).  Time marches on (at least I'm still moving!)."
****
Tweet Of The Week
In my experience I do not know of any female track n field athletes that have had an abortion. Am I naive? I think unfair to paint everyone? https://t.co/ZdFpHYGrYq

— Shalane Flanagan (@ShalaneFlanagan) June 14, 2017
Flanagan's tweet was in reference to Sanya Richards-Ross's claim that she "literally [didn't] know another female track athlete who hasn't had an abortion," a statement Richards-Ross later walked back on Twitter.
MB: Shalane Flanagan fires back at Sanya Richards-Ross: I don't know any T&F athletes that have had an abortion
****
Screenshot of The Week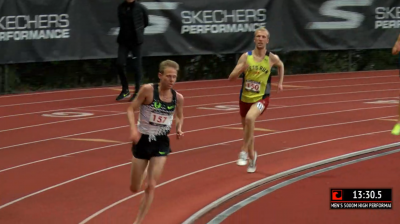 After a nine-year mini-retirement from elite track competition, the LetsRun.com singlet returned to the oval in impressive fashion last week. After taking a Greyhound bus for part of his travels to the meet, Ben Rainero, dressed in LetsRun.com's famed yellow singlet, was the last man battling Galen Rupp at the Stumptown Twilight meet in Portland last week. While Rainero lost to Rupp, the singlet, which in the past has beaten a marathon world record holder, picked up a nice scalp in Cam Levins.
###
The LetsRun.com singlet wasn't the only one returning to action last week.
At the Garry Bjorklund Half Marathon last week in Duluth, Minnesota, Kara Goucher raced for the first time since the 2016 Olympic Marathon Trials, finishing fifth in 75:12. In the men's race, American Kevin Castille ran the fastest half marathon ever for a 45-year-old (63:58), but the point-to-point course isn't eligible for record purposes (65:01 is the record).
More: Stumptown Twilight Results
*Kenya's Elisha Barno Becomes The First To Three-Peat At Grandma's Marathon 
*MB: Kevin Castille 1:03:58 HM at Garry Bjorklund
*****
Video of the Week
Track and field fans already know that Will Claye is multi-talented — at the 2012 Olympics, he earned medals in the long jump and triple jump. But Claye's talents also extend off the track as last week he released a video for his rap song, "Father". His album, Look What You Created, came out in April.
https://www.youtube.com/watch?v=eH-YiuOwyXM
*****
Quotes of the Week That Weren't Quote of the Day
#1 A Flower Doesn't Bloom All Year Round
"A flower doesn't bloom all year round — that was the major lesson [I learned from the Olympics last year]. It's hard to pinpoint when you're going to peak and have your best performance, and for me it was in Paris [two weeks after the Olympics, where Mageean clocked a PB of 4:01.46]. Why that didn't happen in Rio, I still don't know, but it was a hard pill to swallow. I knew that wasn't me in that semi-final, but you can't beat yourself up. You dust yourself off and get ready for the next one.
-Irish 1500 runner, Ciara Mageean, talking to the Irish Examiner about what she learned last year when she went out of the Olympics in the semis, but then ran a big 4:01 pb (previous pb of 4:06) two weeks later.
#2 Thinking About Quitting? 
"The moment you're ready to quit, is usually the moment right before the miracle happens. Don't give up, you are closer to success than you think."
-Kiwi Camille Buscomb, talking to the New Zealand Herald, after qualifying for her first Worlds thanks to a 15:19.81 pb in the 5,000 (previous pb of 15:28.78).
#3 This Kenyan Certainly Has More Motivation To Run Than The Average American
"I think this is so far the happiest day of my life.
"I really want to get a manager and be able to earn some money to pay my school fees and lift up my poor family. My journey has just started and I thank God for this far."
– Kenya's Edward Zakayo, talking to The Nation after winning the men's 3000 Trials for the World U18 Championships in 7:53.77. US college coaches, you might want to start recruiting him now as the article says he hopes the win will "catapult him to stardom not only in education but athletics." In the race, it was only the second time in his life he had worn spikes.
Speaking of the World U18 Championships, which Kenya is hosting next month in Nairobi, the host nation's team is now set. The bad news is yet another country pulled out citing 'terrorism concerns' – Japan.
More: Kenya Names Its Team For The World Youth (U18 Champs) That It's Hosting Later This Summer
#4 For Some Schools, It's Track, and For Others, It's Field
"A lot of coaches came and told me, 'Hey, don't worry about this sprints thing, because you almost won a national title with just field events.'"
-Georgia track coach Petros Kyprianou talking to Redandblack.com after Georgia nearly won NCAAs without scoring a single point in a running event. Kyprianou shouldn't apologize as the women of Oregon won without scoring a single point in the field.
#5 Having A Coach That Believes In You Is Huge
"Once I finally got to Arkansas, Coach Compton told me – and this is my favorite Compton Quote – 'You can jump about 15 feet your way. Or you could change and jump the world record my way some day.' So I thought, 'Wow, this coach believes in me. He thinks I can break the world record if I change.'"
–Sandi Morris talking to RunBlogRun.
More: Sandi Morris: The View from 5 Meters – RunBlogRun
#6 Seb Coe Admits Athletics May Not Ever Again Be One Of The Top 3 Sports in GB
"I don't know. If I'm being honest maybe not. But there is a great deal we can do to restore support and trust in the sport. We have to be more innovative, we have to be braver and more creative in formats……Are we going to get back to the point where the Nine O'Clock News breaks into a world record attempt of mine in 1981? Possibly not. But there is a lot more we can do to be more relevant and more exciting. We've got to be brave about it."
–Seb Coe talking to The Guardian last week.
#7 Even A Dead-End Has An Exit
"It is from my father, who first told when I was a kid 'every dead end has an exit'. What he means by this is, it is all about how you handle things that come to you. Often as I have found in my life, the exit is simply patience."  
-European and Olympic high jump silver medallist Mirela Demireva talking to SPIKES.
****
Recommended Reads
To see our favorite reads from other weeks, go here.
****
Quotes Of The Day And Last Week's Home Pages
To see the actual quotes of the day from last week or last week's home page or any home page, go to our archive page.
Past editions of The Week That Was can be found here. Questions or comments? Please email us or post them in our running fan forum.