WTW: Mo Farah Celebrates Really Early, Edward Cheserek Dominates Virtually, And Molly Huddle's Medal Chances Go Up While Evan Jager's Go Down
The Week That Was In Running – June 5– June 11, 2017 by LetsRun.com June 15, 2017 Past editions of the Week That Was can be found here. Got a tip, question or comments? Please email us or post them in our forum. If you missed our extensive coverage of the 2017 NCAA Outdoor Track and […]
Join Our Supporters Club To Keep Reading
Sign up today to get a free 12-week training program and t-shirt.
The Week That Was In Running – June 5– June 11, 2017
by LetsRun.com
June 15, 2017
Past editions of the Week That Was can be found here. Got a tip, question or comments? Please email us or post them in our forum.
If you missed our extensive coverage of the 2017 NCAA Outdoor Track and Field Champs, the 2017 Portland Track Festival or the 2017 Rome Diamond League, catch up now:
Article continues below player
2017 NCAA Outdoor Track and Field Championship Coverage *2017 Portland Track Festival Coverage *2017 Rome Diamond League Coverage
****
Mo Farah Pulls an Eamonn Coghlan x2
At the inaugural 1983 World Championships, Eammon Coghlan famously celebrated and pumped his fists with more than 100 meters to go as he knew he had the race won when he was coming off the final turn as shown here in this slow-motion replay (click here for full speed):
At the JN Racers Grand Prix in Jamaica last week, Mo Farah started celebrating with more than 200 meters to go. The video isn't all that clear but Farah does his first fist pump with more than 200 meters to go and all told we counted at least four fist pumps before the finish, not counting the actual finish line celebration.
MB: Who was the runner in the 1970s or 1980s that pumped his first with like 100 m to go
The JN Racers Grand Prix in Jamaica Was Awesome and Should Have Been on TV in the US
The JN Racers meet was not only Usain Bolt's final race in Jamaica and had many of the stars of the sport competing (Allyson Felix, David Rudisha, Mo Farah and obviously Usain Bolt), but like a lot of things with Usain Bolt it was a spectacle (It had a Bolt tour the track in a car, a military band, a concert after the meet with Bolt dancing with the crowd). It should have been on TV in the US, as it was very entertaining and much different than what we normally see with track meets in the US. We think a lot of people would have watched "Usain Bolt's final race/party in Jamaica."
****

Stat of the Week I / Edward Cheserek Is Still Ruling In Absentia
55.14 – final 400 split for Tulsa's Marc Scott, who won the 10,000 at the 2017 NCAA Outdoor Track and Field Champs in 29:01.54.
53.17 – final 400 split for Edward Cheserek when he was a freshman at the 2014 NCAA champs which he won in 28:30.18 (24.8 final 200).
##
55.76 – final 400 split for Stanford's Grant Fisher in the 5000 at the 2017 NCAA Outdoor Track and Field Champs which he won in 14:35.60.
53.89 – final 400 split for Edward Cheserek in the 5000 at the 2017 NCAA Indoor Champs where Cheserek won in 13:41.20.
We hope those stats make it clear: had he been healthy, Edward Cheserek would have easily won the 2017 NCAA Outdoor Champs in both the 5000 and 10,000.
Can anyone tell us why Edward Cheserek wasn't shown on the ESPN broadcast? If a star football player wasn't playing in a game due to injury, you can bet his face on the sidelines would have been shown multiple times.
More: Complete 2017 NCAA Outdoor Track Coverage
****
The Number of Foreign-Born NCAA Champs Over The Last 10 Years
After foreign-born athletes won all of the NCAA men's mid-d and distance events last week, there was some talk on the messageboard about foreigners winning NCAA titles. What interests us is how much it varies by event over the last 10 years.
| | | | | | |
| --- | --- | --- | --- | --- | --- |
| | 800 | 1500 | Steeple | 5000 | 10,000 |
| Men | 4 | 2 | 6 | 8 | 9 |
| Women | 2 | 8 | 0 | 3 | 4 |
More: Foreigners dominate men's NCAA distance races
MB: 25% of NCAA field is foreign
****
Thumbs Up/Thumbs Down
Can we give the biggest thumbs down ever to Spain's Marta Dominguez for trying to get her doping ban overturned on the grounds that drug testing violated her rights to privacy? Thankfully, Spain's supreme court ruled against her.
We'll mention this again as we occasionally mention it when discussing intersex/transgender issues: individual people may have freedoms/rights, but there is no right to be a professional track and field athlete. The idea that requiring certain things for participation, whether it be drug testing, hormone treatment for transgender/intersex athletes, etc. violates someone's human rights is absurd as there is no right to be pro track athlete. If you don't want to be tested, the solution is simple: choose another profession.
###
It was pretty shitty for the fans who paid a premium for finish line seats, but no doubt Florida's Kyra Jefferson wants to give a big thumbs up to the NCAA for running the women's sprint finals on the backstretch in Eugene so that they weren't run into the wind. The decision paid off as Jefferson used a healthy (but legal) 1.1 m/s tailwind to break the collegiate record in the 200 meters (22.02). The wind wasn't as severe in the 100 (just +0.3) but champion Mikiah Brisco of LSU still moved into a tie for 5th all-time in the NCAA with her 10.96.
Christian Coleman's 9.82 (+1.3 m/s wind) in the semis of the men's 100 had the entire track world buzzing. His 10.04 win in the finals into a big headwind on the home straight (-2.1 m/s) was met with disappointment by the casual fan when in reality the performances were nearly identical in an absolute sense. Coleman's 9.82 was worth 9.88 in still conditions, while his 10.04 was worth a 9.89. In case you are wondering, Coleman's 20.25 win in the 200 final, which was run into a 3.1 m/s wind, is equivalent to a 20.01 in still conditions according to Professor Jonas R. Mureika (100 conversions/200 conversions).
More: Spanish court rules doping tests don't violate privacy
****
Did You Know?
That the 1,500-meter men's national records for both Uganda and Belgium went down at 35th FBK-Games last week in Hengelo?
Olympic finalist Ronald Musagala of Uganda, 24, beat his own national record of 3:35.02 by running 3:33.65 to finish third. The fourth placer, Ismael Debjani of Belgium, lowered his pb from 3:35.62 to 3:33.70 – eclipsing Christophe Impens's 3:34.13 national record which had lasted since 1996.
****
Molly Huddle's Medal Odds Keep Getting Higher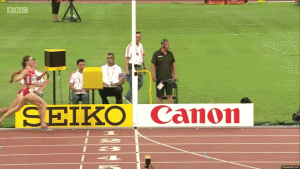 The meet in Hengelo also served as the Ethiopian Trials for a ton of mid-d and distance events – basically everything except for the 5,000. In the 10,000 Trials, the top two finishers on the men's side were the third and fourth placers at World Cross Country, Abadi Hadis and Jemal Mekonnen (aka Jemal Yimer). Hadis, 19, won in a new world leader of 27:08.26. In addition to getting third at World XC this year, he broke 27:00 last year (26:57.88) and was 15th at the Olympics. Mekonnen/Yimer, 20, PR'd by nearly a minute (previous pb of 28:08.92).
The women's winner was 2015 world championship silver medallist Gelete Burka, but the big news was that world record holder Almaz Ayana didn't participate either in this race or in the Rome Diamond League 5000, where she withdrew due to injury. If Ayana doesn't run Worlds (she has an auto bid in the 5,000 as defending champ), the odds of a medal for Molly Huddle go up by a lot.
We reached out to Ayana's agent Jos Hermens and he had the following to say about Ayana's status:
Almaz had an injury in april and had to cancel Shanghai and Rome.
She is training well and will normally compete in Monaco and then WC London!
Huddle's odds for a medal in 2017 are actually looking pretty good right now. Here is the status of the five women who beat her at the Olympics last year.
The Top 5 At The Olympic 10,000 – Where Are They Now
1. Almaz Ayana ETH 29:17.4 Injured, hasn't raced all year
2. Vivian Cheruiyot KEN 29:32.5 Moved to the marathon (2:23 in London)
3. Tirunesh Dibaba ETH 29:42.6 Moved to marathon (2:17 in London)
4. Alice Nawowuna KEN 29:53.5 In great shape: 2nd World XC, won Kenyan champs in 31:50 last week
5. Betsy Saina KEN 30:07.8 Only 7th in 33:15 at NYRR New York Mini 10k last week
*****
Evan Jager's Steeple Medal Odds Went Down A Little Bit Last Week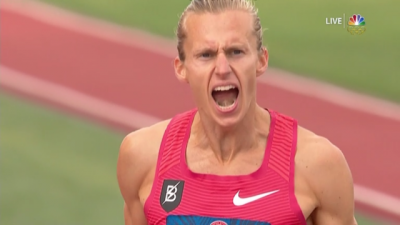 While Huddle's medal odds went up last week, the medal chances for Evan Jager went down a little bit. One of the things that has made the steeple easier to medal in than the 5000 or 10,000 is that historically Ethiopia hasn't been very good at the steeple and Morocco has sucked in recent years as well. That started to change a little last week.
The steeplechase results in Hengelo were fascinating. The winner of the steeple in 8:12.28 was Ethiopia's Getnet Wale. 8:12 – what's the big deal you say? Well Wale, last year's world junior bronze medallist in the steeple, has a listed age of just 16!! Yes, Ethiopians have a long history of lying about their age but Wale is clearly a talent.
Only one Ethiopian in history has broken 8:10, Roba Gari (8:06.16), whereas four Americans have done it.
Wale clearly seems poised to be #2. The two guys behind him who both ran 8:13 have listed ages of 23 and 21 respectively.
1. Getnet Wale, 16, ETH, 8:12.28 PB
2. Tafese Seboka, 23, ETH, 8:13.22 PB
3. Chala Beyo, 21, ETH, 8:13.24 PB
But 8:12 is a long way away from Evan Jager's PB of 8:00. However, in Rome, 21-year-old Moroccan Soufiane El Bakkali, who was 4th in the Olympics last year at age 20, ran a big pb of 8:05.17 to grab second (old pb of 8:14.35), becoming the first Moroccan in eight years to break 8:10.
****
Not Bad For Age 45
Former drug dealer turned masters ace Kevin Castille got yet another age-group world record last week. Castille broke Said Boudalia's age-45 5000-meter record of 14:21.77 by running 14:11.09 at the Music City Distance Carnival in Nashville. 14:11 at age 45 seemed mind-blowing until we remembered that Bernard Lagat ran 13:06.72 in Rio last year at age 41.
****
Asbel Kiprop's Struggles Continue
It's a good thing Asbel Kiprop has a bye into 2017 Worlds as the reigning champion as he's not in good form yet. Last week, he ran at the Kenyan Champs (not the Kenyan Trials) and was only 3rd in the 1500.
Men's 1500 Results
1. Timothy Cheruiyot – 3:41.0h
2. Justus Soget 3:41.5h
3. Asbel Kiprop 3:42.6h
###
Kiprop isn't the only superstar struggling to regain their old form. Genzebe Dibaba may think she's in world-record shape as she's twice gone for the world record in the 5000 in recent weeks but our favorite for Worlds is Hellen Obiri, who beat Dibaba in the 5000 at the Olympics last year and again last week in Rome where Obiri became the 5th woman (and first non-Ethiopian) to break 14:20 with her 14:18.37 win.
*****
New York Crushes Boston
At the 2017 NYRR New York Mini 10K in Central Park, the current New York City and Boston Marathon champs raced each other and it ended up being no contest as the New York champ, Mary Keitany, crushed the field and won in 31:20. Boston champ Edna Kiplagat was fourth in 32:23.
More: The Boston Marathon champ raced the New York City Marathon champ today. And the winner is…..
*Mary Keitany Will Defend Her Title And Look To 4-Peat At 2017 TCS New York City Marathon On Sunday, November 5
More News of Note: BEKELE and DIBABAs Lead Ethiopian Marathon Team for London World Champs
****
Quotes of the Week (That Weren't Qoute Of The Day)
#1 Allie Ostrander Happily Throws Out The Middle Finger
"It was awesome today to just give stress fractures the middle finger and go out there and do it finally,"
-Boise State freshman Allie Ostrander talking after winning the steeplechase and finishing fourth in the 5000 at the 2017 NCAA Outdoor Track and Field Championships after Ostrander missed an entire year of NCAA competition due to injuries.
#2 Craig Engels Gets Compared To An Adult Film Star
From movie characters to out-of-work adult film actors, Engels' hairy combination drew no shortage of comparisons from the internet. Even ESPN sports business reporter Darren Rovell, who often points out odd or interesting things to his nearly 1.8 million Twitter followers, tweeted multiple photos of Engels on Wednesday, calling Engels "the star" of the championships.
-excerpt from an article by David Potter in the Oxford Eagle last week on Ole Miss star Craig Engels, who was third at NCAAs in the 1500.
More: Ole Miss' Craig Engels becomes main attraction at NCAA outdoors with hairy look Darren Rovell called him "the star" of the championships to his 1 million+ Twitter followers. *Tweet here
#3 Diego Estrada Explains Why His Mom Brought Him To The US
"She (my mom) told me that if we had stayed in Mexico, by the age of 15, I would've already had a kid, and be a brick-maker like my father was. I'd make about $30 a week, trying to support a family."
-US runner Diego Estrada, talking to Runner's World about why his mom brought him to the US illegally at age 13 months.
More: Diego Estrada Aims to Prove His Worth to the World
#4 Are the Japanese Too Focused on 2020?
"The Tokyo Olympics aren't the be-all and end-all for everyone!…
"I think it's strange that everyone is totally fixated on the Tokyo Olympics. People are different at different ages. Runners in their late 30s now will be about 40 in three years, and the high schoolers focused on Tokyo will only be college students. I don't like this environment of, 'Well, we don't have any choice except to say that we're aiming for Tokyo.' It feels a bit like during the war era. There's this Great Cause called the Tokyo Olympics, and everyone has to march in that direction. If you step out of line even just a tiny bit people say, 'You're a traitor!' I hate that kind of atmosphere."
–Yuki Kawauchi expressing his belief that runners need to be focused on the present – not the far-off 2020 Tokyo Olympics.
More: Kawauchi on Tokyo 2020: "It Feels Like the War — If You Step Out of Line People Call You a Traitor" – Brett Larner in Japan Running News
#5 Sanya Richards-Ross Writes About What It Was Like To Get An Abortion Before The 2008 Olympics
"All of the crying left me so numb that I barely remember the cold instruments as they brushed against my skin, and the emptiness that followed. It was a quick procedure, but it felt like an eternity. I made a decision that broke me, one from which I would not immediately heal. Abortion would now forever be a part of my life, a scarlet letter I never thought I'd wear."
-excerpt from Sanya Richards-Ross book, Chasing Grace, according to the UK's Telegraph where Richards-Ross revealed she had an abortion prior to the 2008 Olympics so she could pursue Olympic glory.
More: Sanya Richards-Ross breaks silence on sport's last taboo with incendiary claim about prevalence of abortions
****
Recommended Read
The LA Times Takes A Look At The Recovery Of Jamie Nieto – Once Paralyzed From The Neck Down, Nieto Is Now Hoping To Walk Down The Aisle At His Own Wedding
To see our favorite reads from other weeks, go here.
****
Quotes Of The Day And Last Week's Home Pages
To see the actual quotes of the day from last week or last week's home page or any home page, go to our archive page.
Past editions of The Week That Was can be found here. Questions or comments? Please email us or post them in our running fan forum.