A 14-Year-Old and New Steeple Star, Celliphine Chespol, Arrive, Genzebe Dibaba Just Wins, Charlene Lipsey Keeps Excelling – Recap of Friday Night at Pre
by LetsRun.com
May 26, 2017
EUGENE, Ore. — On Joan Benoit Samuelson Night at the 2017 Prefontaine Classic, where the women's distance runners took center stage, the stars of the night were two teenagers. The biggest star was Kenya's Celliphine Chespol, who turned 18 in March, as tonight she ran the fourth-fastest steeple in history and the fastest ever on US soil – 8:58.78 – defeating the Olympic champion Ruth Jebet in the process. Making that feat all the more impressive was the fact that Chespol STOPPED after the penultimate water jump for two and a half seconds as her heel came out of her shoe. She put her foot back in the shoe and then proceeded to catch the leaders over the final lap and a half and win the race. An unbelievable run.
Earlier in the night, 8th grader Tamari Davis, just 14, showed that the high school girls' 200 was misnamed as she won in 23.21 – the fastest time ever recorded by a 14-year-old, breaking her own 23.38 record (coming into the year the record was Angel Perkins' 23.43 from 1999).
In the women's 5000, Genzebe Dibaba destroyed the field but came up well short of the world record by running 14:25.22.
Article continues below player.
We recap the action for you below, starting with the most newsworthy distance races first.
Women's Steeplechase: Celliphine Chespol Doesn't Give Up and Arrives As A Star With A Sensational Run
Before the race, it was said that the rabbits would take this one out at 9:10 pace, but the leading trio of Kenyans Celliphine Chespol, Beatrice Chepkoech and Ruth Jebet got out faster than that as the first full lap from the finish line was 72.59 (72 pace is about 9:03 on the Eugene track) for Jebet and that would prove to the slowest lap of the race except for the penultimate one.
On the 5th lap, Jebet put in one of her patented mid-races surges (70.35) to get a lead of a few meters, but this was a three-person race all the way to the finish line. On the backstretch of the penultimate lap, Chespol showed no fear and went by Jebet at the 7:08 mark in the race but as she came off the water jump, suddenly she was gapped. And for good reason: she had come to a complete stop to put her right shoe back on.
She was gapped by more than 10 meters but Chespol wasn't giving up. She soon started to narrow the gap and on the backstretch of the bell lap, just over 400 meters from when she'd first taken the lead, she once again made a big surge and was right next to the leader, Chepkoech, who had passed Jebet with three-quarters of a lap remaining.
Coming into the final water jump, Chespol and Chepkoech were side by side but Chespol came out of the water slightly ahead and never looked back, powering away to victory in 8:58.78 thanks to a 67.31 final lap as Chepkoech got second in a new pb of 9:00.70 (previous pb of 9:01.57). Chepkoech ran 70.17 for her last lap. Jebet took third in 9:03.52 and closed in 73.30.
Behind that threesome, Emma Coburn was making a run at her own 9:07.63 American record with little fanfare. After a final lap of 69.02, Coburn came up just short in 9:07.96 – the second sub-9:10 clocking of her career (her other 9:07 came when she won bronze in Rio).
| | | | |
| --- | --- | --- | --- |
| Pos. | Country | Name | Result |
| 1 | KEN | CHESPOL, Celliphine Chepteek | 8:58.78 |
| 2 | KEN | CHEPKOECH, Beatrice | 9:00.70 |
| 3 | BRN | JEBET, Ruth | 9:03.52 |
| 4 | USA | COBURN, Emma | 9:07.96 |
| 5 | USA | FRERICHS, Courtney | 9:19.09 |
| 6 | KEN | KIRUI, Purity | 9:20.07 |
| 7 | GER | KRAUSE, Gesa Felicitas | 9:20.32 |
| 8 | USA | GARCIA, Stephanie | 9:25.04 |
| 9 | CAN | LALONDE, Geneviève | 9:33.95 |
| 10 | USA | LAWRENCE, Mel | 9:39.32 |
| 11 | KEN | TUIGONG, Caroline | DNF |
Quick Take: Jebet took the steeple to new heights last year but Chespol seems poised to take it to an even higher level in 2017
Chespol was totally stopped for 2.5 seconds in this one. If you factor in the fact she had to slow down and speed up again, she lost at least 3 seconds with the shoe mishap so we think it's safe to say she ran the equivalent of 8:55. Amazing for someone who is just 18 (and we know people are suspect of Kenyan birthdays but she looks young).
Chespol certainly had the pedigree of a future star – she won world youth gold in the 2k steeple 2015 and then world junior gold in the 3k steeple last year – but we doubt anyone was thinking she'd lower her pb from 9:24 to 8:58 so quickly.
The best part about the steeple right now is there are four really good women in the event. Remember, Hyvin Kiyeng, who has twice run 9:00 in her life including once this year, wasn't even in this race as she's sponsored by adidas.
MB: Wow, Wow, Wow: 18 Year old Cellphine Chespol stops to put on her shoe still runs 8:58.78 steeple
Quick Take: Emma Coburn Keeps improving; so does the rest of the world
Coburn ran faster tonight than she did last year at Pre when she ran what was then an American record (9:10.76), so her coaching switch this year is working well (she switched from Mark Wetmore and Heather Burroughs to having her fiance, Joe Bosshard, coach her this year). The only problem is the rest of the world is getting a lot better. To medal at Worlds, Coburn will likely need to be in 9:00 shape. Can Coburn get there? Coburn has shown in the past she can run her best when it matters most and that may be more important than ever in the steeple which is at a new level.
Coburn was very excited with the time after the race and believes that she can get down to 9:00 shape by London. She pointed out that she ran 9:07.63 in the midday sun in Rio last year — just .51 behind Hyvin Kiyeng — and Kiyeng went on to run 9:01 in Paris 12 days later.
Coburn had a very thoughtful response when we asked her about the fast times run by the women up front.
"It's kind of unbelievable. You just have to really remain within yourself and you can't get frustrated and you can't get discouraged because I'm doing the best I can. I know I'm doing it the best way I can and the right way. I just have to really look within myself and say I'm proud of what I did today and congratulations to those three women who are crushing it and are running really well. But I think if I start beating myself up for not being closer to them, then it's a little unhealthy. But I definitely have goals to close that gap and I'm fired up and I'm motivated to try and be there. I'm obviously aware of what they do but I can't let it discourage me."
The whole interview was a good watch as Coburn also talked about how she's training more like a 5,000 runner that year as she feels that the best way for her to improve is to focus on building up her strength.
Quick Take: Courtney Frerichs just became the fifth American woman under 9:20
Frerichs' DL opener was a disaster as she ran 9:54 in Doha after coming down with a stomach bug. Take two tonight went much better, and Frerichs was justifiably thrilled when she saw 9:19 pop up on the screen.
Frerichs said the race was a big adjustment from last year, where she was mostly used to running away from her fellow collegians at the front of races, but knows that a race like tonight is the new reality with the explosion of talent in the women's steeple right now.
Quick Take: Those of you watching this race live may have gotten excited when announcer Craig Masback said at the bell that the runners were ahead of the time that Jebet had at the bell when she set her world record. He said she was at 7:50 when she set the 8:52.78 world record and they hit the bell in 7:49. His statement was incorrect. When Jebet set her world record, she hit the bell in 7:43.
Women's 5k: Dibaba Wins With Ease, Americans Disappoint
Genzebe Dibaba is the victim of her own past success. Dibaba, the outdoor world record holder at 3:50.07 for 1500m and the indoor world record holder at everything from 1500 through 5000m, won the 5,000m with ease at the Pre Classic. Yet the win was totally anti-climatic as her winning time was by her standards very modest, 14:25.22, nearly 10 seconds off her personal best of 14:15.41. This race was billed as a world record attempt, but her sister Tirunesh's 14:11.15 WR wasn't in doubt in this one after the mile.
A problem for Dibaba in her world record attempts is finding good rabbits. Rabbit Mary Kuria went out too fast for the first 800 and then was behind the 14:10 desired pace by the 1,000m. Meraf Bahta then took over the rabbiting duties and never ran a single lap at the desired 68-second pace. Bahta stopped at 2600m and when Dibaba reached the 3000m mark she was 9 seconds off her desired pace. It would take something miraculous to get the record now, and Dibaba was going in the wrong direction, unlike her sister when she set the record who upped the pace at the end.
Dibaba cruised in for the easy win in 14:25.22. Lilian Rengeruk, a former world youth champ and third at the most recent world cross country champs for Kenya in the senior race, lowered her pr from 15:25 to 14:36 in second as Sifan Hasan lowered her pr from 14:59 to 14:41. The chase pack behind them was way, way back.
With Dibaba going for the world record and no secondary rabbit, they were gapped by a ton from the very start. Check out this picture, from just 300+ meters into the race.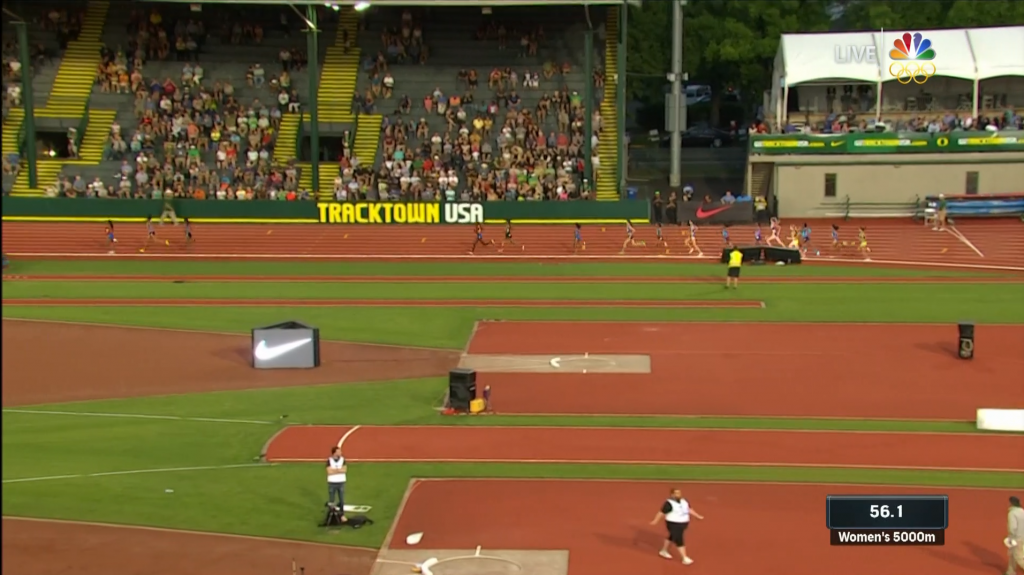 They hit the first 1600 in roughly 4:50, by 3200 (9:50), it was clear they weren't going to be running fast.
Gelete Burka came out on top of the chase pack to finish 4th in 15:06. The Americans all had disappointing days with Molly Huddle first across the line in 15:09 and Emily Sisson, Marielle Hall and Kim Conley all finishing close behind before Conley was last to cross the line in 15:14.
| | | | |
| --- | --- | --- | --- |
| Pos. | Country | Name | Result |
| 1 | ETH | DIBABA, Genzebe | 14:25.22 |
| 2 | KEN | RENGERUK, Lilian Kasait | 14:36.80 |
| 3 | NED | HASSAN, Sifan | 14:41.24 |
| 4 | ETH | BURKA, Gelete | 15:06.01 |
| 5 | ETH | DIDA, Dera | 15:07.27 |
| 6 | GBR | MCCOLGAN, Eilish | 15:07.43 |
| 7 | ETH | OLJIRA, Belaynesh | 15:08.05 |
| 8 | USA | HUDDLE, Molly | 15:09.09 |
| 9 | BRN | GEZAHEGNE, Kalkidan | 15:09.93 |
| 10 | USA | SISSON, Emily | 15:10.91 |
| 11 | USA | HALL, Marielle | 15:11.02 |
| 12 | USA | CONLEY, Kim | 15:14.57 |
| 13 | AUS | HILLS, Madeline | 15:15.18 |
| 14 | ETH | GEBRESLASE, Gotytom | 15:15.82 |
| 15 | SWE | BAHTA, Meraf | |
| 16 | KEN | KURIA, Mary | |
Quick Take: Without the World Record, this race was a letdown
The crowd for the Joan Benoit Samuelson distance night was big for Friday night standards and no doubt some of them came out hoping to see history in the women's 5000m. They'll go home disappointed with this race as it was the least interesting of the night once the world record went out the door. The question for Dibaba is what does she try to run at Worlds? When Dibaba is on top of her game, she may be unbeatable. But she has rarely is on top of her game outdoors at a World Championship. Will she be able to do that this year? And what happened with the doping investigation after her coaches' hotel was raided last year? Only time will tell. (We asked Dibaba about the status of the investigation. Through an interpreter, she told us she didn't have any updates on the situation).
QT: Subpar night for the American women
Just as Dibaba was never really on world record pace after the first lap, the American women were never really on 15-minute pace.
Huddle was disappointed to miss an opportunity to run fast as she only has a few of them remaining in 5,000-meter track races, but she knew early on that 69-70-second-lap pace was going to be too fast for her so she instead tried to focus on leading the second group and racing those women. Though she got dusted by Gelete Burka and Dera Dida on the last lap, Huddle wasn't panicking after this one was over.
She had just come down from an altitude stint for this race and said that she believes her fitness is comparable to where it was this at this point last year — she just needs her speed to come around.
"We're not really far behind where I was last year workout-wise. Just got to get feeling good."
As for the other Americans — Sisson, Hall and Conley — none of them bombed but none of them were that close to their PRs, either.
Quick Take: Sifan Hassan said that running the 5k tonight was "the hardest thing I have done…in my life"
Entering 2017, Hassan had only run three 5k's in her life, but tonight was her second in a month as she also ran 15:13 at Payton Jordan. While she said that one was easy, she was singing a different tune tonight after smashing Lornah Kiplagat's Dutch national record of 14:56.
"This is just the hardest thing I have done, 5k. In my life," Hassan said afterwards.
As for why she's been running the 5k in 2017, Hassan said her plan is still to focus on the 1500 (an event in which she earned bronze at Worlds in 2015 and gold at World Indoors last year) but that "it is beginning of the season. I don't have any speed. I just want to do some longer stuff."
We also asked Hassan, the newest member of the Nike Oregon Project, whether she had heard about the recent allegations about her coach and training group in this week's leaked USADA report. At first she said she doesn't really follow the news, but she seemed to let on that she knew something lengthy had been published and that she wasn't that interested in finding out what it said.
"I don't really follow the news and haven't seen…sometime I don't read. It's so big and I don't understand what they say and I don't have to get graded for it."
"B" Women's 800: Charlene Lipsey Continues to Excel
Charlene Lipsey, who ran the second fastest 800 ever indoors for an American in February, kept her strong 2017 campaign going as she dominated the women's 800. Running up front throughout, Lipsey was clearly the class of this field. The rabbit made it about 500 meters (opening 400 58.87) and really nothing happened in the race for nearly 700 meters as there was very little movement in the pack. While everyone else slowed down a lot over the final 150, Lipsey stayed strong and won convincingly in 1:59.87 as Olympian Chrishuna Williams was second in 2:00.62. High schooler Sammy Watson ran a personal best of 2:01:47 for 3rd (2:01.78 indoors was her previous best).
| | | Athlete | | Affiliation | Time |
| --- | --- | --- | --- | --- | --- |
| 1 | | Charlene LIPSEY | | USA | 1:59.87 |
| 2 | | Chrishuna WILLIAMS | | USA | 2:00.62 |
| 3 | | Sammy WATSON | | USA | 2:01.47 |
| 4 | | Kendra CHAMBERS | | USA | 2:01.67 |
| 5 | | Dana MECKE | | USA | 2:01.73 |
| 6 | | Laura ROESLER | | USA | 2:01.89 |
| 7 | | Chanelle PRICE | | USA | 2:02.32 |
| | | Kimarra MCDONALD | | Jamaica | DNF |
Quick Take: Lipsey Continues to Excel
Lipsey would have broken the American record indoors this year at Millrose if her new training partner Ajee Wilson didn't beat her to it in the same race. She continued that excellence tonight. She got her first sub-2:00 clocking outdoors. No doubt she'd have wanted a faster time and perhaps a crack at the "A" section tomorrow, but come nationals the battle is going to be fierce to make the US team with Wilson, Lipsey, and presumably Brenda Martinez and Kate Grace in the mix. The US women are clearly the best in the world at 800.
Lipsey told us after the race that she took a big break after the indoor season — about three weeks of no serious training — so she thinks there's a lot of room for improvement remaining. Her final 100 meters tonight certainly suggested that was the case.
Quick Take: Sammy Watson is now the fourth-fastest high schooler ever
Watson ran an impressive 2:01.47 for third — not bad considering she only lost to a U.S. champ and a 2016 Olympian. That was enough to put her fourth on the all-time U.S. high school list, which now looks like this:
Fastest 800's by a U.S. high school girl
1:59.51 Mary Cain 2013
2:00.07 Kim Gallagher 1982
2:00.91 Ajee Wilson 2012
2:01.47 Sammy Watson 2017
2:01.61 Chanelle Price 2008
Watson, who will attend Texas A&M next year, said that she's undecided between running USA Jrs. or USA Srs. (they are the same weekend) and that she'll assess her fitness next month and make a decision. She did say that she'd like to take another crack at a fast time against pros and become just the second U.S. high schooler under 2:00.
"It's kind of far-fetched but I feel like if I keep training and working hard, being competitive, I can get there."
"B" Women's 1500: Gabriela Stafford Wins on the Track, Gabriele Grunewald Keeps Inspiring
21-year-old Canadian Olympian Gabriela Stafford got the win with a strong final 100m in 4:07.43 as Katie Mackey put on a late surge to get second n 4:07.79 ahead of Emily Lipari.
Eleanor Fulton rabbited this one and opened up a gap on the 3rd lap ahead of the field which was led by Alexa Efraimson until the final lap. Efraimson was followed by Lipari at the bell and would lead until the final 200m when Stafford made her move and looked good the final lap. Stafford was the deserved winner as she had the only sub-64-second final lap, but Katie Mackey with a late charge was clearly second-best (4:07.79). Efraimson faded back to 5th (4:09.03) but wasn't totally left empty handed for leading much of the race as that was a seasonal best (she ran 4:10.12 at Oxy).
The hero of the night was Gabriele Grunewald, who is fighting a recurrence of cancer again and delayed her treatment to try to hit the USATF qualifying time of 4:09.50. Grunewald fell off the back before they were 2 laps in, but kept running hard and passed Heidi See to finish second to last. Afterwards, Grunewald spoke to NBCSN's Lewis Johnson and revealed her cancer doesn't have a cure, but that's not stopping her from fighting. She said, "I'm a professional runner. I'm a four-time cancer survivor and still in the fight. There are a lot of rare cancers out here that don't have cures and mine is one of them. I'm hoping I can find some treatment that can help me out."
| | | Athlete | | Affiliation | Time |
| --- | --- | --- | --- | --- | --- |
| 1 | | Gabriele STAFFORD | | Canada | 4:07.43 |
| 2 | | Katie MACKEY | | USA | 4:07.79 |
| 3 | | Emily LIPARI | | USA | 4:08.29 |
| 4 | | Sasha GOLLISH | | Canada | 4:08.41 |
| 5 | | Alexa EFRAIMSON | | USA | 4:09.03 |
| 6 | | Marta Pen FREITAS | | Portugal | 4:09.22 |
| 7 | | Rachel SCHNEIDER | | USA | 4:09.80 |
| 8 | | Sara SUTHERLAND | | USA | 4:10.20 |
| 9 | | Gabriele GRUNEWALD | | USA | 4:15.04 |
| 10 | | Heidi SEE | | Australia | 4:15.34 |
| | | Eleanor FULTON | | USA | DNF |
| | | Sheila REID | | Canada | DNS |
QT: Gabriela Stafford decided to stick with her coach at the University of Toronto rather than transfer to Stanford and the decision is paying off
Stafford is on a roll right now, as she followed up her 4:08 win in heat 2 at Oxy with a 4:07.43 victory tonight, dipping under the World Championship standard of 4:07.50.
Stafford, who is only 21 years old, said that she was recruited by some American colleges out of high school but didn't feel ready to leave Toronto at the time. She considered it more seriously after her second year at UT in 2015 when Stanford came in with an offer but ultimately felt that she could not leave her coach Terry Radchenko, who has been with her since the 10th grade.
"I just had every confidence that if it was in me to go to the Olympic Games, he was going to take me there," Stafford said.
Stafford did indeed make it to Rio last year in the 1500 (she was the first person left out of the semis) and now will have a chance to do the same in London. She's heading to Rome in two weeks to run the 1500 there and would like to get down to 4:03 and make it to the World Champs semis this summer.
Quick Take: Katie Mackey is back in her wheelhouse racing the 1500
An injury last year meant that Mackey got a late jump on the 2016 season and, feeling that her speed wasn't going to be ready by the Olympic Trials, she focused on the 5k, where she came one spot short of making the team. Mackey's coach/husband Danny gave her the option of focusing on the 1500 or 5k at the start of this year, and Katie chose the 1500.
"That's my favorite event and it probably always will be," Katie said.
Mackey was pleased with her effort and her final 150, but was boxed in with a lap to go and felt that, had she positioned herself better, she could have won.
"That's why you race 1500s going into USAs, so you can sharpen up and analyze what you can do better. Because I can't let any gaps like that form at USAs just because of how deep American 1500 running is right now…I know it's going to be difficult but I'm excited to rise to the challenge and see what can happen."
QT: Gabe Grunewald's cancer's fight puts this one in perspective
At the end of the day this thing is just a foot race and Gabe Grunewald cancer fight shows how inconsequential and beautiful a foot race is at the same time.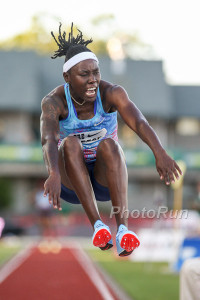 Women's Long Jump: Brittney Reese Turns Tables on Bartoletta
2012 Olympic champ Brittney Reese, who settled for silver in Rio, turned the tables on 2016 Olympic champ Tianna Bartoletta in the women's long jump as Reese won by becoming the first woman over both 7 meters and 23 feet this year with her 7.01m (23-0) jump in the second round. Bartoletta jumped 6.83 (22-5) in that round for 2nd.
         Long Jump - Women 
                                                             Pts    Wind
    1 Reese , Brittney                 USA       7.01          8    +1.4
    2 Bartoletta , Tianna              USA       6.83          7    +1.4
    3 Ugen , Lorraine                  GBR       6.78          6    +0.3
    4 Klishina , Darya                 ANA       6.70          5    +0.4
    5 Proctor , Shara                  GBR       6.63          4    +1.3
    6 Okagbare , Blessing              NGR       6.52          3    +2.2
    7 Nettey , Christabel              CAN       6.33          2    +0.5
Women's Javelin: Tatsiana Khaladovich Wins
European champ Tatsiana Khaladovich of Belarus, who was 5th in Rio last year, got the win with a throw of 66.30 meters, just off her national record 66.34. China's Shiying Liu, who has thrown a national record of 66.47 this year, was second with a 65.21m mark as two-time Olympic champ and three-time Olympic medallist Barbora Špotáková was fourth.
Javelin Throw - Women 
                                                             Pts
    1 Khaladovich , Tatsiana           BLR      66.30          8
    2 Liu , Shiying                    CHN      65.21          7
    3 Kolak , Sara                     CRO      64.64          6
    4 Špotáková , Barbora              CZE      63.30          5
    5 Mitchell , Kathryn               AUS      62.87          4
    6 Palameika , Madara               LAT      62.14          3
    7 Winger , Kara                    USA      61.66          2
    8 Molitor , Kathrina               GER      60.91          1
    9 Gleadle , Elizabeth              CAN      54.17
"High School" 200m: 14-Year-Old 8th Grader Tamari Davis Wins
14-year-old Tamari Davis won this one, as she was clearly best the final 100m after running the bend in lane 2. As we said in the intro, 23.21 was the fastest time ever recorded by a 14-year-old, breaking her own 23.38 record (coming into the year the record was Angel Perkins' 23.43 from 1999). And the meet may want to update the affiliation below to "Middle School" or something. Not sure they contemplated a 14-year-old winning.
Quick Take: Remember her name, because Tamari Davis is a certifiable phenom
You better commit her name to memory, because Davis, who attends Abraham Lincoln Middle School in Gainesville, Florida, and has already been sprinting for seven years, is a legit PHENOM. Last year, she finished third in the adidas Dream 100, running 11.77 against some of the nation's top high school sprinters — and that was when she was in seventh grade. And she thinks she can go faster as she said off-camera that she got a bad start tonight.
| | | Athlete | | Affiliation | Time | | Sec (pl) | | | |
| --- | --- | --- | --- | --- | --- | --- | --- | --- | --- | --- |
| 1 | | Tamari DAVIS | | High School | 23.21 | +0.6 | 1 (1) | | | 0.179 |
| 2 | | Daija LAMPKIN | | High School | 23.36 | +0.6 | 1 (2) | | | 0.193 |
| 3 | | Sha'Carri RICHARDSON | | High School | 23.39 | +0.6 | 1 (3) | | | 0.195 |
| 4 | | Symone MASON | | High School | 23.49 | +0.6 | 1 (4) | | | 0.193 |
| 5 | | Rosaline EFFIONG | | High School | 23.68 | +0.6 | 1 (5) | | | 0.182 |
| 6 | | Twanisha TERRY | | High School | 23.80 | +0.6 | 1 (6) | | | 0.157 |
| 7 | | Arria MINOR | | High School | 23.87 | +0.6 | 1 (7) | | | 0.176 |
| 8 | | Karimah DAVIS | | High School | 24.09 | +0.6 | 1 (8) | | | 0.223 |
Talk about the meet on our fan forum / messageboard. MB: Official 2017 Prefontaine Classic discussion thread – Is this the best Pre meet ever?
*MB: Wow, Wow, Wow: 18 Year old Cellphine Chespol stops to put on her shoe still runs 8:58.78 steeple