Big Weekend of Track in Boston: 2017 Adrian Martinez & adidas Boost Boston Games Preview
By LetsRun.com
May 31, 2017
Boston is the place to be this weekend if you're a track fan as the Hub and its environs will play host to two professional meets: the Adrian Martinez Classic on Thursday and the adidas Boost Boston Games on Friday and Sunday. Olympic champions Wayde van Niekerk and Shaunae Miller-Uibo will be racing on the streets of Boston this weekend, along with fellow sprint stars Tori Bowie, Akani Simbine and Yohan Blake. Friday will also bring some top distance showdowns on the track as Robby Andrews and Donavan Brazier square off in the 800 and Ethiopian studs Dejen Gebremeskel and Muktar Edris battle in the men's 5,000. The men's mile at Adrian Martinez is the marquee event, with Kyle Merber facing Olympians Leo Manzano, Charles Philibert-Thiboutot and David Torrence.
We'll be providing on-site coverage for both events and to get you ready for the weekend, we've highlighted the best events below. We're going chronologically, so that means starting with the Adrian Martinez Classic.
Adrian Martinez Classic
What: 2017 Adrian Martinez Classic
When: Thursday, June 1, 2017
Where: Emerson Playground, Concord, Massachusetts
How to watch: Live online on RunnerSpace.com (free webcast)
Meet schedule (all times ET)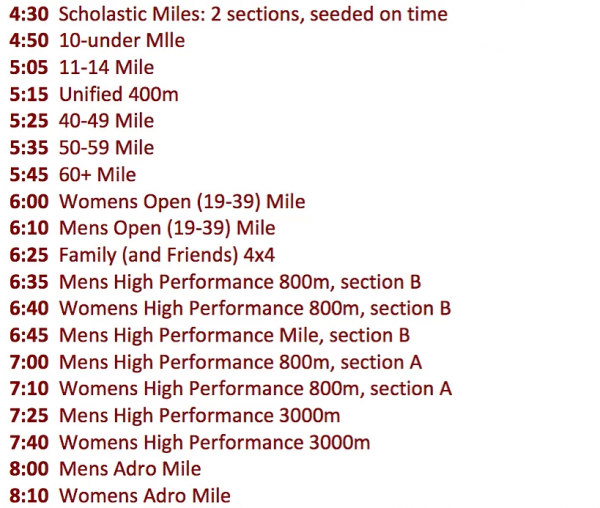 Men's 800 (7:00 p.m. ET)

Article continues below player.
Anthony Romaniw CAN Speedriver
Charles Jock USA NIKE OTC Elite
Ryan Martin USA ASICS Furman Elite
Russell Dinkins USA NYAC
Harun Abda USA NIKE OTC Elite
Chris Giesting USA HOKA/NJNY TC
Edose Ibadin USA District TC
Emmanuel Tugumisirize (pacer) USA Unattached (48-49 seconds through 400)
No one in the field has hit the World Champs standard of 1:45.90 yet, but there are a few men worth watching. Chief among them is 24-year-old Edose Ibadin, a 2015 Hampton grad who has made impressive strides as a pro with Matt Centrowitz's District Track Club. In college, Ibadin had a PR of 1:48.19 and never made it to NCAA outdoors, but he ran a PR of 1:46.31 at the Olympic Trials last year to advance to the semis. This year, he's been even better, with his 1:45.91 SB just one hundredth off the Worlds standard.
Russell Dinkins is another guy who never broke 1:48 in college, but the 2013 Princeton grad is also knocking on the door of the Worlds standard after running a PR of 1:46.40 at the Georgia Meet of Champions on May 19. Chris Giesting never ran an 800, period, while at Notre Dame, but he's been converted to a half-miler under Frank Gagliano and has made rapid progress, debuting with a 1:49.63 on April 21 and getting down to 1:47.16 in his most recent race.
In addition to the up-and-comers, there are two 2016 Olympians in the field — Canada's Anthony Romaniw and the USA's Charles Jock — though neither has broken 1:48 yet this year. Jock's Oregon Track Club teammate Harun Abda was an Olympic Trials finalist last year. Ibadin is in the best form and starts as the favorite, but really any of the seven men in the field could win this.
Women's 800 (7:10 p.m. ET)
Kenyetta Iyevbele USA HOKA/NJNY TC
Megan Krumpoch USA New Balance Boston
Kimarra McDonald Jam Rush-Henrietta HS
Cecilia Barowski USA HOKA/NJNY TC
Ce'ira Brown USA HOKA/NJNY TC
Anna Silvander SWE New Balance
Amanda Eccleston USA Brooks
Meg Manley (pacer) USA CPTC New Balance (57.5-58 seconds through 400)
2016 Princeton grad Cecilia Barowski is the only woman with the 2:01.00 World Champs standard and she's been on a roll in 2017, running a PR of 2:01.52 indoors at Millrose and following that up with 2:00.90 to take fourth in the fast heat at Oxy. As good as she's been this year, she'll have to be in sub-2:00 shape to have a shot at making the team as this event is deep on the domestic level right now. Still, she will be favored to win here and the meet record of 2:02.77 is well within her grasp.
Also watch out for Amanda Eccleston, who was outleaned for an Olympic spot in the 1500 last year. Her 800 best of 2:02.14 dates to last year.
Men's 3000 (7:25 p.m. ET)
Brian Doyle USA Unattached
Ryan Mahalsky USA District TC
Jordan Mann USA Ocean State AC
Caleb Rynard USA Hanson Brooks
Louis Serafini USA Mizuno/Heartbreakers
Ross Proudfoot CAN Speedriver
Tommy Curtin USA Saucony Freedom TC
Aaron Nelson USA Reebok/Zap Finess
Travis Mahoney USA HOKA/NJNY TC
Craig Lutz USA HOKA/NAZ Elite
Andrew Colley USA Reebok/Zap Finess
Wilkerson Given USA Team Greene Running
Julian Heninger USA Unattached
Joe Stilin USA Reebok/Zap Finess
Brandon Doughty USA Reebok/Zap Finess
Liam Dee UK Unattached
Alfredo Santana PUR Unattached
Mason Ferlic USA NIKE
Donn Cabral USA HOKA/NJNY TC
Luc Bruchet CAN ASICS
Kemoy Campbell JAM New Balance
Connor Reck (pacer) USA BAA (4:09 through 1 mile)
The guys to watch are the last four names on the start list. Mason Ferlic and Donn Cabral are two of America's best in the steeplechase, and though this race won't have any barriers, it will serve as the outdoor opener for both over their specialty distance. Luc Bruchet (13:24 pb) and Kemoy Campbell (13:14 pb), on the other hand, were both Olympians at 5,000 meters last year and should provide solid competition for the Americans in this one.
Men's mile (8:00 p.m. ET)
Daniel Herrera MEX HPW
Robert Domanic USA Unattached
Chad Noelle USA ASICS
Jesse Garn USA HOKA/NJNY TC
Sam Penzenstadler USA District TC
Trevor Dunbar USA NIKE
Charles Philibert-Thiboutot CAN ASICS
Will Geoghegan USA NIKE
Kyle Merber USA HOKA/NJNY TC
David Torrence PER HOKA ONE ONE
Graham Crawford USA HOKA/NJNY TC
Leo Manzano USA HOKA ONE ONE
Brian Gagnon (Pacer) USA HOKA/NJNY TC (1:57 through 800)
This is the race of the night. Kyle Merber has the fastest mile on the year of anyone entered (3:52.22 indoors) and if he wants to make his first World Champs team this summer, this is a race he needs to win as this is a good field but not close to what he'll face at USAs. Still, he'll be tested on Thursday. Robert Domanic anchored Ole Miss to a DMR victory at NCAAs this year, while Jesse Garn has broken 1:46 in two of his three 800 races this spring. Sam Penzenstadler won this race last year. Will Geoghegan, 8th at USAs two years ago, will race for the second time this year after missing most of 2016 to injury.
But the two guys with the best shot to defeat Merber are a pair of Olympians. Canada's Charles Philibert-Thiboutot finished one spot behind Merber at the Wanamaker Mile indoors and ran a solid 3:55 on Saturday at the Pre Classic. And Peru's David Torrence, an Olympic 5,000 finalist last year, has a faster PB than Merber (3:52.01). He's mostly raced the 800 so far in 2017, but he's better at the 1500/5k, and could be a threat to win here.
Finally, we have to mention Leo Manzano. During his career, Manzano has frequently alternated very good races with very bad ones, but there hasn't been much to cheer about in 2017. He's run five miles this year, none faster than 4:02, and his two 1500s haven't gone much better: a 3:52 in horrible conditions at Drake and a 3:41 at Oxy on May 18. Manzano finished a well-beaten 10th in the latter race, but if there is a silver lining, it's that 3:41 was his best performance of the year. Based on his 2017 form, Manzano should not contend for the win here, but we've watched the 32-year-old long enough to know he should never be counted out. Once his fitness gets to the point where he's in the mix, watch out as he's a ferocious competitor.
Manzano doesn't need to win here, but he does need to show more progress before USAs or he's in danger of missing out on the meet entirely after finishing in the top four every year from 2006-2016. His 3:41.68 SB ranks him tied for 39th nationally, but only 30 guys make it to USAs. Manzano can punch his ticket by running the auto standard (3:39.00 or 3:56.50 for the mile), but he's running out of time. Correction: Leo Manzano has qualified for 2017 USAs because he ran 3:36.62 for 4th place at the Olympic Trials last year. The qualifying window started July 1 last year.
There's also a cool story in the B section (6:45 p.m. ET) where Australian Philo Saunders will be trying to break 4:00 for the first time at age 40 (he ran 4:01 in 2015 and was 11th at the Aussie champs 1500 in April). Later this month, he plans to go for Lagat's 40+ record of 3:41.87.
adidas Boost Boston Games
What: 2017 adidas Boost Boston Games
When: Friday, June 2 and Sunday, June 4, 2017
Where: Dilboy Stadium, Somerville, Massachusetts (Friday events) & Boston Common (Sunday events)
How to watch: Friday's events will be streamed live online, but you'll need the NBC Sports Gold Track & Field Pass ($) to watch them. Sunday's events will be shown live on NBC Sports Network for free from 4:00 to 6:00 p.m. ET.
Meet schedule (all times ET)
Friday, June 2 
| | |
| --- | --- |
| 5:00 PM | Youth Girls' 400m |
| 5:06 PM | Youth Boys' 400m |
| 5:11 PM | HS Girls' Distance Medley Relay |
| 5:31 PM | HS Boys' Distance Medley Relay |
| 5:49 PM | Youth Girls' 800m |
| 5:57 PM | Youth Boys' 800m |
| 6:05 PM | Youth Girls' 100m |
| 6:11 PM | Youth Boys' 100m |
| 6:20 PM | Men's 400m Hurdles |
| 6:25 PM | Men's Masters Mile |
| 6:34 PM | Women's 400m |
| 6:40 PM | Men's 400m |
| 6:47 PM | adidas Girls' Dream Mile |
| 6:57 PM | Women's 3000m |
| 7:11 PM | adidas Boys' Dream Mile |
| 7:22 PM | Men's 800m |
| 7:29 PM | Women's 1500m |
| 7:39 PM | adidas Men's 1500m |
| 7:50 PM | adidas Women's 800m |
| 8:00 PM | Men's 5000m |
Sunday, June 4
| | |
| --- | --- |
| 3:15 PM | Women's Long JUmp |
| 3:18 PM | Youth Girls' 100m |
| 3:25 PM | Youth Boys' 100m |
| 3:30 PM | Boston Fire vs. Police Relay |
| 3:55 PM | Women's Pole Vault |
| 4:03 PM | Women's 100m Hurdles Heat 1 |
| 4:11 PM | Women's 100m Hurdles Heat 2 |
| 4:21 PM | Men's 110m Hurdles |
| 4:27 PM | Women's 150m |
| 4:30 PM | Men's Long Jump |
| 4:34 PM | adidas Dream Girls' 100m |
| 4:42 PM | adidas Dream Boys' 100m |
| 4:50 PM | Men's 100m |
| 4:57 PM | Fastest Girls' 100m |
| 5:02 PM | Fastest Boys' 100m |
| 5:10 PM | Women's 100m |
| 5:20 PM | Men's 150m |
| 5:30 PM | Women's 200m Hurdles |
| 5:43 PM | Women's 100m Hurdles FINAL |
| 5:48 PM | adidas Women's 200m |
| 5:55 PM | adidas Men's 200m |
Reminder: Sunday will be a street meet that will take place on Boston Common, with an elevated 200-meter straight track and long jump/pole vault runway. The Sunday events are free to attend, though finish line seats cost $25.
adidas Boys' Dream Mile (Friday, 7:11 p.m. ET)
| | |
| --- | --- |
| Casey Clinger | USA |
| Christopher Conrad | USA |
| Isaac Green | USA |
| Dalton Hengst | USA |
| Austin Hindman | USA |
| McKay Johns | USA |
| Connor Lane | USA |
| Yared Nuguse | USA |
| Patrick Parker | USA |
| Hayden Penrod | USA |
| Kyler True | USA |
The story here is Casey Clinger, the #1 cross country recruit in the nation who signed with BYU after winning his second consecutive NXN title in December. Clinger has mostly stayed in-state for competition this spring in Utah, but he's venturing to the East Coast in an attempt to become the 10th U.S. high schooler to break 4:00. It seems likely that at least one high schooler breaks 4:00 this year — already, California's Cooper Teare, Texas' Sam Worley and Rhode Island's DJ Principe have run 4:00 in 2017. But none of them are running in Boston, so Clinger gets first crack at it (unless, of course, Foot Locker champ Reed Brown does it on Thursday in St. Louis).
Clinger's personal best is "only" 4:05.96, but he's definitely capable of faster. He ran 8:44 for 3200 meters at Arcadia in April and most recently completed a 1:54-4:08-8:57 800-1600-3200 triple at the Utah state meet two weeks ago. Oh yeah, and all those races were run at 4,500 feet (the 1600 was on day 1, the 800 and 3200 on day 2). The only problem for Clinger is that if he is to do it in this race, he will likely have to do it on his own. Teare, Worley and Principe, meanwhile, are all running the Brooks PR Invitational on June 17 in Seattle. Chances are at least one of them breaks the barrier there.
More: Deep Fields Set For Boys' And Girls' adidas Dream Miles At Boost Boston Games Two-time NXN champ Casey Clinger leads the boys race while the girls has the top-4 in the country headed by Taylor Roe (4:45) and NXN champ Brie Oakley.
Men's 800 (Friday, 7:22 p.m. ET)
| | |
| --- | --- |
| Robby Andrews | USA |
| Donavan Brazier | USA |
| Sam Ellison | USA |
| Mark English | IRL |
| Christian Harrison | USA |
| Marcin Lewandowski | POL |
| Brandon McBride | CAN |
| Willy Tarbei | KEN |
| Jake Wightman | GBR |
| Sadiki White | USA |
This should be a good one: Robby Andrews vs. Donavan Brazier. And it's quite possible that neither of those men wins the race as Olympic sixth placer Marcin Lewandowski of Poland is also entered. Brazier has been in the best form so far outdoors, clocking 1:44.63 back on April 8 and a 1:44.14 split in the sprint medley at the Penn Relays on April 29. He hasn't raced since then, so it's scary to think what Brazier could be capable of after another month of training. After a somewhat disappointing indoor season, Andrews has raced just once outdoors, running 3:38 at Swarthmore on May 17. Can he round into form to make his third straight U.S. team in Sacramento? 
Lewandowski, the European 1500 champ indoors, is very consistent. He ran 1:45.87 in Shanghai on May 13 and the Americans will have to be on their game to beat him. Brandon McBride, Brazier's old college rival, is also entered. He ran 1:46.40 in Shanghai.
Women's 1500 (Friday, 7:29 p.m. ET): Gabe Grunewald goes for the USA standard one more time
| | |
| --- | --- |
| Eleanor Fulton | USA |
| Kalkidan Gezahegne | BRN |
| Gabe Grunewald | USA |
| Emily Lipari | USA |
| Cory McGee | USA |
| Dominique Scott | RSA |
| Dawit Seyaum | ETH |
| Alena Brooks | TTO |
Watching Gabe Grunewald race in the face of her fourth cancer diagnosis has been the most inspiring thing in track & field in 2017. Grunewald, who has a number of small tumors in her liver — too many for surgery — has a goal of qualifying for the USATF Outdoor Championships in the 1500. Through three races this year, her best time is 4:12.29, which would be good enough to make it if USAs were today (she's ranked 23rd nationally and USATF accepts 30 entrants). But to be 100% sure, she has to hit the auto standard of 4:09.50. This field, led by Olympic finalist Dawit Seyaum, will give her a chance to get it. Normally we don't play favorites here at LetsRun.com, but we're making an exception for this race. Go Gabe.
Men's 1500 (Friday, 7:39 p.m. ET)
| | |
| --- | --- |
| Guillaume Adam | FRA |
| Hamish Carson | NZL |
| Pat Casey | USA |
| Collis Cheboi | KEN |
| Paul Chelimo | USA |
| Nixon Chepseba | KEN |
| Mac Fleet | USA |
| Daniel Herrera | MEX |
| Drew Hunter | USA |
| Andrew Bayer | USA |
| Mostafa Smaili | GBR |
| Chris O'Hare | GBR |
| Charles Simotwo | KEN |
| Cristian Soratos | USA |
| Daniel Winn | USA |
| Mitchell Black | USA |
Chris O'Hare, who was third at Oxy behind Matthew Centrowitz and Mo Farah and second in the B mile at Pre (3:53.34) has been in good form and should be favored here, though he'll be challenged by Olympic silver medallist Paul Chelimo (stepping down in distance) and Cristian Soratos (who only ran 3:56 at Pre but who has been in good form this year). The goal for Soratos will be to knock out the World Championship standard of 3:36.00, which he just missed earlier this year at Oxy (3:36.73). Nineteen-year-old Drew Hunter also goes here after running a PR of 3:38.39 at Oxy, while Mac Fleet will look to continue the resurrection of his career after running his fastest time in three years at Oxy (3:38.72).
Women's 800 (Friday, 7:50 p.m. ET)
| | |
| --- | --- |
| Habitam Alemu | ETH |
| Natoya Goule | JAM |
| Megan Krumpoch | USA |
| Charlene Lipsey | USA |
| Angie Petty | NZL |
| Lynsey Sharp | GBR |
| Lauren Johnson | USA |
| Latavia Thomas | USA |
| Sparkle McKnight | TTO |
Habitam Alemu finished fourth at the Pre Classic last week and was only .09 behind Francine Niyonsaba — the closest anyone not named Semenya or Wambui has come to beating her since the start of last year. She'll be favored to win here, though Charlene Lipsey, coming off a win in the B section at Pre where she broke 2:00 for the first time outdoors, is in good shape and could challenge her. Lynsey Sharp was an Olympic finalist last year but only managed 2:01 at Pre.
Men's 5000 (Friday, 8:00 p.m. ET)
| | |
| --- | --- |
| Alfred Barkach | KEN |
| Muktar Edris | ETH |
| Dejen Gebremeskel | ETH |
| Edwin Kiptoo | KEN |
| Thomas Longosiwa | KEN |
| Sam McEntee | AUS |
| Cyrus Rutto | KEN |
| Edwin Soi | KEN |
| Lou Serafini | USA |
If last year is anything to go by, expect some fast times in the men's 5k. Last year, Ethiopians Dejen Gebremeskel and Hagos Gebrhiwet both earned Olympic spots thanks to this race — Ethiopia selects its teams strictly on time and Gebremeskel and Gebrhiwet managed 12:59.89 and 13:00.20 here in 2016. Gebremeskel returns, and though Gebrhiwet is absent (he has a bye to Worlds by virtue of being Diamond League champ), his replacement, Muktar Edris is just as good — Edris crossed the line fourth at the Olympics, one spot behind Gebrhiwet, before later being DQ'd. Expect Gebremeskel and Edris to battle for the win, though Kenyan Olympic medallists Thomas Longosiwa and Edwin Soi could also be in the hunt.
Sunday events
We've got good news and bad news about Sunday's events. The good news: a ton of stars will be in action. South Africa's Akani Simbine (winner of the Doha Diamond League), Jamaica's Yohan Blake, South Africa's world record holder Wayde van Niekerk, Tori Bowie (fresh off a blazing 21.77 200 at Pre) and the Bahamas' Olympic champ Shaunae Miller-Uibo are all entered. Outside of the Pre Classic, no U.S. meet this year will see more top-end foreign sprint talent.
The bad news: none of those athletes will be racing each other.
That's right. None of them.
How is that possible you ask? 
Well, there will be a 100, 150 and 200, which allows adidas' biggest stars to each win a race while dodging their toughest competition. Simbine is in the 100, Blake in the 150 and van Niekerk in the 200. On the women's side, Bowie is in the 150 while Miller-Uibo is in the 200. Yes, Miller-Uibo and Bowie raced each other last week at the Pre Classic. But that race was amazing! Any fan in attendance would much rather see a rematch than watch each of them trounce their respective fields.
In defense of adidas, Blake won't have a complete walkover in the 150 as he's facing Olympic 200 finalist Alonso Edward of Panama. And considering van Niekerk could contend for 200 gold in London this summer, asking anyone to beat him at that distance is going to be tough. 400 specialist Steven Gardiner of the Bahamas, who is also entered in the 200, is a stud in his own right (he has run 44.26 this year and won the DL opener in Doha), and he should at least provide some competition. And the women's 100 hurdles, with Nia Ali, Dawn Harper-Nelson, Cindy Ofili, Sally Pearson, Tiffany Porter, Jasmin Stowers and Danielle Williams, is loaded.
But let's think about the good of the sport here. What's the point of getting a bunch of studs together if they're not going to race each other? Perhaps it looks better for adidas if all of their stars come away with wins on Sunday. But we would think more highly of them as a company if they actually made their best athletes race one another. After all, you didn't see Nike creating a 3k and a 5k so that Mo Farah and Geoffrey Kamworor could each win at the Pre Classic.