A Huge Tailwind Produced Mind-Boggling Times At The 2011 Boston Marathon; Will History Repeat Itself Again On Monday?
by LetsRun.com
April 16, 2017
Back in 2011, history was made in Boston when Geoffrey Mutai took nearly three minutes off the Boston Marathon course record and ran the fastest marathon in history — 2:03:02 (the world record at the time was 2:03:59, course record was 2:05:52) — to win.
Most of the world was totally shocked by Mutai's time — but not the faithful readers of LetsRun.com, as LetsRun.com coaching/stat guru John Kellogg predicted it. Before the race, once the weather forecast of a near-20 mph tailwind with low 50-degree temps was examined, John Kellogg said he'd be surprised if the guys in Boston didn't run the fastest marathon in history if they got after it and went for a fast time as he thought the conditions were worth 3 to 4 minutes.
Article continues below player
It certainly was a great day for us here at LetsRun.com as we started LetsRun.com in 2000 because we believed John Kellogg understands distance running better than anyone on the planet and John certainly showed his wisdom on that day.
Before the 2011 race, we called the weather "once in a (marathon) lifetime conditions" as you only see conditions like that maybe once every 20 years or so (similar conditions were also seen in 1994 when both the men's and women's course records went down). Some are wondering if we misspoke as the conditions for tomorrow's race are pretty favorable from a wind perspective once again.
Here is the forecast for tomorrow in Hopkinton (race starts in Hopkinton at 9:32 a.m. for the women and 10 a.m. for the men) from Weather.com:

And the forecast for Boston (race ends in Boston) from Weather.com:

The Boston course runs northeast basically the whole way as shown below, so the wind in 2017 isn't a total tailwind but will definitely be helping. In 2011, the wind was out of the west/SW whereas this year it's out of the west/NW.
2011 Boston Forecast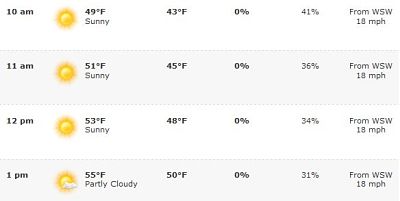 Seeing the forecast, we decided we had to we call up John Kellogg and asked him what he thought about the conditions.
"If it's a 15 mph wind that is a little more out of the west than north, then it's probably the equivalent of an 8-10 mph tailwind or something like that and I think that would reduce (a pro's) time by 1:30 to 2:00 provided they get after it. Remember, in that 2011 race, Ryan Hall acted as a front runner so they were almost guaranteed to have a fast race. If the wind ends up being directly out of the west, I'd think it would be running about 2 minutes faster than if there was no wind," said Kellogg, who added that even if they don't start fast they could still run a really fast second half. Kellogg reminded us that in 1994 when Cosmas Ndeti ran 2:07:15 (with the help of a huge tailwind), he did so after a 65-flat first half, so Ndeti ran the hilly second half in 62:15.
Kellogg did note that the temperature tomorrow isn't nearly as ideal as it was in 2011 as it looks like it will be almost 15 degrees warmer at the start.
"I don't think a temperature that is maxing out at 66 degrees is going to be huge factor unless it's sunny the whole time. But as compared to 50 degrees (the temperature in 2011), it's not ideal and might slow it down about 30 seconds," said Kellogg, who added that he's less confident about the impact of heat on the race than the wind (in the hot 2012 race he thought the winner would still break 2:10 and the winning time was over 2:12).
Talk about the Boston Marathon weather on our fan forum / messageboard: MB: The OFFICIAL Boston Marathon Weather Thread – 2017 Boston Marathon weather looking good, could be identical to 2011
More: From The Archives: 2011 LRC Once In A (Marathon) Lifetime Conditions Forecast For Boston On Monday
MB: Official John Kellogg Is a Genius Thread (He Predicted The 2:03 on Boston)