RIP: Dr. Norbert Sander – 1974 New York City Marathon Champion and Long-Time Armory President CEO – Has Died Unexpectedly At Age 74
by LetsRun.com
March 17, 2017
Updated 8:40 pm ET
Dr. Norbert Sander, the winner of the 1974 New York City Marathon, and the long-time President and CEO of The Armory Foundation in New York City has died this morning.
Sander was instrumental in transforming the Armory from a neglected homeless shelter to being the mecca for indoor track in the United States.
Article continues below player
The Armory website has no details on his death – simple a picture announcing it – but a source emailing us saying he'd heard that Sander had a heart attack. Sanders was 74 years of age.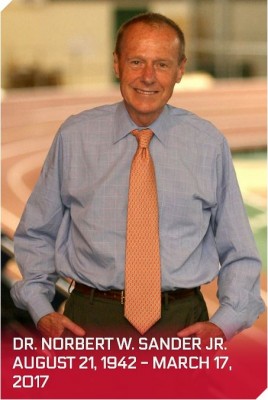 Funeral services are as follows:
Public Wake:
Monday, March 20, 2017 at 2:00-4:00pm and 7:00-9:00pm
Edwards-Dowdle Funeral Home
64 Ashford Avenue
Dobbs Ferry, NY 10522
Funeral Mass:
Tuesday, March 21, 2017 at 9:30am
Monastery Church of The Sacred Heart
110 Shonnard Place
Yonkers, NY 10701
In Dr. Sander's honor, please consider a contribution to Armory College Prep program at Donate in Honor of Dr. Sander.
Talk about Sanders on our messageboard. In the thread, there are links to many articles that have been written in other publications as the day has gone on.
RIP: Norb Sander – 1974 NYC Marathon Director and long-time Armory Foundation CEO and President – has died at 74
More: RunBlogRun did a feature on Sander's career in 2013. Track & Field Visionary: Dr. Norbert Sander, Armory Savior, by David Hunter
Sander's bio on the Armory website is as follows.
Norbert W. Sander, Jr. M.D.
President, CEO & Founder
Norbert Sander is a life-long resident of New York City. He is the winner of the 1974 NYC Marathon and has been practicing medicine since 1971. For nearly a quarter century, Dr. Sander has led The Armory to becoming the foremost indoor track and field facility in the country, with over 125,000 young people competing each year. Dr. Sander is the recipient of the 2014 Abebe Bikila Award for Outstanding Contribution to the Sport of Running and 2016 City & State Reports Outstanding Achievement in Community Development Award. He currently resides in Hastings-On-Hudson with his family.