2017 NYC Half Women's Preview: Molly Huddle Goes for the Three-Peat (and the American Record?) Against Amy Cragg & Desi Linden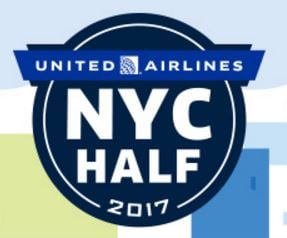 March 19, 2017
By LetsRun.com
March 16, 2017
The indoor track season is over, so it's time to shift your attention to the roads as this weekend's biggest running event will take place on the streets of Manhattan. For some, Sunday's 2017 United Airlines NYC Half Marathon serves as a one-month-to-go checkpoint ahead of the Boston Marathon. For others, it's an end in and of itself. For all, it's a stern test as some of the country's best half marathoners will tackle an international field that includes Olympic silver medallist Feyisa Lilesa of Ethiopia, Scottish sensation Callum Hawkins, defending champ Stephen Sambu of Kenya and two-time world marathon champion Edna Kiplagat of Kenya.
The New York Road Runners are calling this year's field the best in the event's history, and the domestic contingent is also very strong as Molly Huddle, Amy Cragg, Desi Linden, Diego Estrada, Meb Keflezighi, Jared Ward and Chris Derrick are all entered. We break down the women's race for you below. Our men's preview is here: 2017 NYC Half Men's Preview: Feyisa Lilesa Faces Callum Hawkins, Meb, Abdi, Chris Derrick, and Diego Estrada.
Article continues below player
---
What: 2017 United Airlines NYC Half
When: Sunday, March 19, 7:30 a.m. ET
Where: Manhattan, New York
How to watch: If you live in the New York area, you can watch the race live on ABC7 starting at 7:00 a.m. ET or stream it online via WatchABC. The rest of the country can stream the race live on Watch ESPN, also beginning at 7:00 a.m. ET.
Course map * Race website * 2016 LRC coverage
Talk about the race on our fan forum / messageboard – MB: Official 2017 NYC Half Marathon Discussion Thread – Who Will Win? Will Molly Huddle get the AR?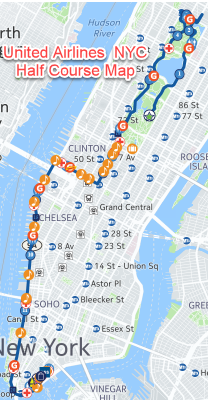 STELLA!
Before we dissect the fields, we should point out that New York City received seven inches of snow on Tuesday. Fortunately, New York is used to snow in the winter and Winter Storm Stella — which was predicted to dump up to 20 inches on New York — didn't turn out to be that bad in the city. There is some rain/snow in the forecast for Saturday but race director Peter Ciaccia assured us that NYRR is planning on holding the race as scheduled on Sunday morning. It will be cold during the race itself (Weather.com has a high of 41 on Sunday, with a low of 29) but runners could benefit from a tailwind as the wind is supposed to be 13 mph out of the north and the course runs mostly north to south.
Women's Elite Race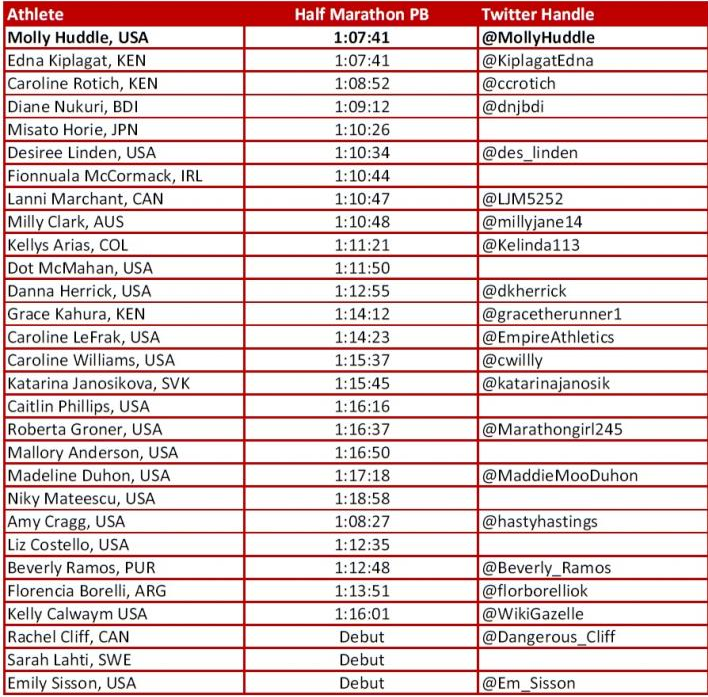 Huddle has won here the past two years, tying the event record of 68:31 in 2015 before smashing it with a PR of 67:41 last year, just seven seconds off Deena Kastor's American record. Huddle has raced once so far in 2017, a 15:01 5,000 in Boston on February 26, and when we spoke to her after that race, she said she'd like to PR in the NYC Half, assuming the race/conditions played to her favor and if she does that she might get the AR (yes the course is record-eligible even though the finish is more than 5 miles away from the start). Though conditions won't be perfect on Sunday, they'll be similar to 2016 (32 degrees, 10 mph winds) and Huddle will have the wind at her back for the majority of the race. Given that she ran a similar time on the track this winter (15:01 at BU vs. 14:57 at Millrose last year), Huddle appears capable of dipping under 68:00 once again. Challenging Kastor's record will take some doing — remember, Huddle had Joyce Chepkirui pushing her all the way to the line last year — but if someone like Edna Kiplagat can hang with her, we could see a very fast time from Huddle. The 37-year-old Kiplagat, who will be running the Boston Marathon in April, remains an elite marathoner (3rd Tokyo, 2nd Chicago last year), though she hasn't run a half since 2015. Still, she figures to be Huddle's biggest competition here.
Caroline Rotich, who, like Kiplagat, is running Boston next month, won the NYC Half in 2011, but hasn't been able to recapture that kind of form in the two years since her Boston victory in 2015. If she's on, she is dangerous.
Can Amy Cragg Overcome 1-22?
One of the biggest questions of the race is whether Marathon Trials champ Amy Cragg will be able to hang with her old training partner Huddle up front. Cragg has experienced unqualified success since joining up with Jerry Schumacher's Bowerman Track Club last year, following up her Trials win with a 69:50 half marathon PR in San Diego, a ninth-place run at the Olympics and, most recently, a massive 68:27 PR at the Marugame Half on February 5. Cragg decided to eschew a spring marathon in order to focus on the half marathon, with the hope that that will eventually translate into better marathon performances down the road. As a result, she's effectively peaking for this race, which gives her a better chance to beat Huddle than if she were merely using this as a tuneup for Boston. That will still be a tough ask, however, as Huddle has owned Cragg during their careers: across the track and roads, she's 22-1 against her lifetime (Cragg's lone win came by .34 in a 15:50 performance at the 2007 Stanford Invite).
(Related: RRW: United Airlines NYC Half Is A Marathon Of Sorts For Amy Cragg Cragg decided not to run a spring marathon with the hope that focusing on the half will help her improve in the full in the long term.)
There are two other women to watch here. The first is Desi Linden, and while we certainly expect Linden — who earlier this week declared that she wants to win the Boston Marathon — to be among the contenders to break the tape on Boylston Street next month, she's been a much better marathoner than half marathoner during her career. Linden ran 2:22:38 for the full marathon at Boston in 2011; guess what her half marathon PR is?
70:34.
That's right — less than four seconds per mile slower than her PR pace for the full marathon (granted there was a freakish tailwind at 2011 Boston). But Linden isn't someone who needs to run a fast half marathon in her buildup. She's obviously capable of running better than 70:34 if she's fully fresh and dialed-in on a half marathon, but that's never been the case for her, and the point of the Hansons' training is to practice training and racing while fatigued. Two years ago, Linden ran 72:36 at the NYC Half and a month later finished fourth in Boston. This is a race, and Linden will record a time, but for insight on how she'll fare in Boston, one needs to consult her training log.
Emily Sisson, on the other hand, is someone who could run very fast on Sunday. Sisson's been training with Huddle and was step-for-step with her for most of that 5,000 in Boston last month, running 15:02 as Huddle pulled away late. Huddle raved about Sisson's fitness, and the Providence grad looks to be made for the roads as she was second in the US 5k and 20k champs last fall and first at the US 10k champs. A time in the 69-minute range wouldn't surprise us as coach Ray Treacy has said she's made for the marathon; Sisson ran 66:03 at the 20k champs last fall, and if she kept going another 1100 meters at that pace, she'd have run 69:40 for the half marathon. Considering how fit Sisson looked in Boston, that's well within the range of possibility should the weather cooperate in New York.
LRC: Huddle FTW but Kastor's American record lives to see another day. Plus a real strong showing from Sisson that makes everyone realize she's going to be a 2020 Olympian at 26.2.
[gravityform action="

polls

" id="513″ mode="

poll

" cookie="1 month" show_results_link="false" display_results="true" percentages="true" counts="false" ajax="true"]
More: Men's Preview: 2017 NYC Half Men's Preview: Feyisa Lilesa Faces Callum Hawkins, Meb, Abdi, Chris Derrick, and Diego Estrada
Talk about the race on our fan forum / messageboard – MB: Official 2017 NYC Half Marathon Discussion Thread – Who Will Win? Will Molly Huddle get the AR?