Week That Was: Women's 800m Madness, One Runner from Japan is Better than All of American Men Combined in the Marathon the Last 6 Years, Collegiate Milers and More
The Week That Was In Running – February 6 – 12, 2017
by LetsRun.com
February 15, 2017
There was a lot of important action last week as World Half Marathon champion Peres Jepchirchir got the world record by running 65:06 at the 2017 RAK Half Marathon, Genzebe Dibaba set yet another WR, Alysia Montaño finally got the global medals she so deserved, the innovative Nitro Athletics series in Melbourne came to a close and the 2017 NYRR Millrose Games were held. If you missed our coverage of those events as they happened, catch up at the links provided as we don't like to repeat ourselves.
Article continues below player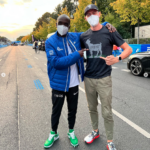 Kipchoge loves the 1:59:40 Shirt Get Yours Today
What a legend!
There were also some impressive non-distance performances last week. Texas A&M's Fred Kerley ran the fastest indoor 400 in six years (45.02), Oregon's Hannah Cunliffe broke Remona Burchell's 7.08 collegiate record in the 60 by running 7.07, and Louisiana high schooler junior Armand Duplantis set yet another high school record in the pole vault (18'10 1/4″, 5.75) which makes him the 5th best jumper in the world this year.
We try to put it in perspective for you below.
Past editions of The Week That Was can be found here. Questions or comments? Please email us or post them in our running fan forum.
****
Stat of the Week I / Huge PRs and Records Galore For Several US 800-Meter Women 
It certainly was quite a weekend for American 800-meter running as the high school, collegiate and American records all fell within the span of a few hours. We take a look at the numbers below.
4.07 – number of seconds that American Jazmine Fray chopped off of her indoor PB by running 2:00.69 (a new collegiate record) at the Clemson Tiger Paw Invitational. Fray's time was an absolute PR of 2.56 seconds as she ran 2:03.25 outdoors last year.
3.37 – number of seconds that American Charlene Lipsey chopped off of her indoor PB by running 1:58.64 (#2 all-time US) at the 2017 NYRR Millrose Games. Lipsey's 1:58.64 was an absolute PR of 1.96 seconds as she ran 2:00.60 outdoors in 2015.
2.16 – number of seconds that 17-year-old American Sammy Watson chopped off of her indoor PB by running 2:01.78 at Millrose to break the 2:01.8 high school record (and at the time, world record) that Mary Decker ran as a 93-pound 15-year old at the 1974 San Diego Indoor Games. Watson's time was also a 1.13-second improvement over her outdoor personal best of 2:02.91.
1.82 – number of seconds that 22-year-old American Ajee Wilson chopped off of her indoor PB by running 1:58.27 to break Nicole Teter's nearly 15-year-old US record of 1:58.71. Wilson's outdoor best is 1:57.67.
15,700 – number of days that Mary Decker's 2:01.8 American high school indoor record, which was set on February 17, 1974, at the San Diego Indoor Games, lasted. We should point out that Decker's time was a converted one as she ran 2:02.4 for the half mile and that at the time it knocked more than four seconds off of Decker's pending world indoor record. Some might still consider Decker's run to be superior to Watson's as it came on an 11-lap-to-the-mile track. That being said, the San Diego track was considered by many to be the fastest in the world at the time (here is an interesting 1980 Sports Illustrated article on which indoor track was the fastest).
5,460 – number of days that Nicole Teter's 1:58.71 American indoor 800 record lasted, which was set at USAs on March 2, 2002.
4,367 – number of days that the NCAA indoor record of Tennessee's Nicole Cook, which she ran at the 2005 SEC Championships on February 27, 2005, lasted. Cook, who was 22 at the time, would never get close to that time again indoors our out. For the rest of her career, only once would she run within two seconds of it, when she ran 2:02.68 in Europe in 2007.
1,986* – number of days that passed between Alysia Montaño finishing the 2011 World Championships in 4th and her being upgraded to a bronze medal thanks to the doping suspension last Friday of Russia's Mariya Savinova (more on this later).
*It will take even longer than 1,986 days for Montaño to receive her medal. As Brenda Martinez tweeted, Savinova has 45 days to appeal. So Montaño won't officially be elevated to bronze until Savinova's appeal is over or Savinova doesn't choose to appeal at all. And then the IAAF will still have to deliver the medal to Montaño. Unfortunately Montaño has even more waiting to do.
Of the four big indoor PRs, Lipsey's is probably the most surprising as she's already an established athlete at age 25. Fray is an up and comer (just 19), Watson is only 17 (and a World Youth/Junior champ) and Wilson ran 1:57 outdoors in both 2014 and 2015. You could also make a compelling argument that Fray's performance was more surprising given most of the LetsRun.com staff had never heard of her before the race.
Who is Charlene Lipsey, you say? Well in 2008 and 2009, she won NY state titles with seasonal best times of 2:07.46 as a junior and 2:05.83 as a senior, the latter of which ranked her #3 in the nation. She the went to LSU where she was a 5-time All-American and 3-time SEC champ.
As a freshman at LSU, she improved a tiny bit (2:05.34) before becoming a player at the NCAA level as a sophomore indoors, running 2:04.55 before improving to 2:03.73 outdoors (4th at NCAAs). Outdoors as a junior in 2012, she ran 2:01.40 and was the NCAA runner-up (BYU's Nachelle Mackie was the winner). As a senior, Lipsey was 3rd indoors in 2:02.47 and was 4th outdoors in 2:01.70.
In her first year as a pro in 2014, Lipsey made the finals of USAs for the first time (out in the heats the previous two years) and placed sixth in a new PR of 2:01.02, which she later improved to 2:00.91. In 2015, she ran what was her PB until this weekend – 2:00.60 – at the New York Diamond League meet in a race that Ajee Wilson won in 1:58.83 (Lipsey was 9th). She ran a similar time in 2016 (2:00.65) but Lipsey was largely forgotten about and far from a household name as in both years she failed to make it out of the semis at USAs.
Now after joining Derek Thompson's training group, she's the second fastest 800 runner in US indoor history. Well done.
More: LRC Texas A&M's Jazmine Fray Runs Massive PR To Break NCAA 800m Record Before Saturday, the sophomore's indoor PB was 2:04.76 (outdoor PR was 2:03.25) – now she's the collegiate record holder.
LRC 800 Madness At Millrose – Ajee Wilson (And Her Training Partner Charlene Lipsey) Breaks American Record, Sammy Watson  (2:01.78) Gets Mary Decker's High School Record
*****
Stat of the Week II / Yuki Kawauchi Is Greater Than All of The United States
11 – number of sub-2:10 marathons that Japan's Yuki Kawauchi has run since the start of 2011 as he ran his 11th last week, running a 2:09:54 course record to win the 55th Ehime Marathon.
10 – number of sub-2:10 marathons run by everyone in the United States of America since the start of 2011.
Yuki Kawauchi's Sub-2:10s since 2011

2011
2:08:37 3rd Tokyo
2:09:57 3rd Fukuoka

2012
None

2013
2:08:15 1st Oita
2:08:14 4th Seoul
2:09:05 3rd Fukuoka
2:09:15 2nd Hofu

2014
2:09:36 9th Hamburg
2:09:46 1st Hofu

2015
None

2016
2:09:01 2nd Gold Coast
2:09:11 3rd Fukuoka

2017
2:09:54 1st Ehime

Total: 11

USA's Sub-2:10s Since 2011

2011
2:04:58 Ryan Hall 4th Boston
2:08:04 Ryan Hall 5th Chicago
2:09:13 Meb Keflezighi 6th New York

2012
2:07:47 Dathan Ritzenhein 9th Chicago
2:09:08 Meb Keflezighi 1st OTrials
2:09:30 Ryan Hall 2nd OTrials
2:09:47 Abdi Abdirahman 3rd OTrials
2:09:55 Dathan Ritzenhein 4th OTrials

2013
2:09:45 Dathan Ritzenhein 5th Chicago

2014
2:08:37 Meb Keflezighi 1st Boston

2015
None

2016
None

2017
None

Total: 10
###
Kawauchi wasn't the only Japanase man to run well last week. At the Karatsu 10-Miler in Japan last week, 51 men broke 50:00. If you are wondering if that's a record for must sub-50s in a race, it's not even close. At the 2016 Kosa 10-Miler in Japan, 103 men broke 50:00.
*Full 2017 Karatsu 10-Miler Results
*Full 2016 Kosa 10-Miler Results 
****
Stat of the Week III / Elite Distance Running Can Be A Real Hard Way To Make A Living 
$1,020.99 (3,750 AED) – amount by which the prize money for Eritrea's Nguse Amlosom was reduced at the 2017 RAK Half Marathon for not breaking 60:00 but finishing in the top 5. 60:00 is a time that just five non-African-born runners have ever broken. In the end, he did make $3,062 (11,750 AED) for running 60:05.
****
Stat of The Week IV / What Makes A Marathon a Major?
$370,000 – prize money paid out officially at the 2nd Access Bank Lagos City Marathon in Nigeria last week.
$299,233 – prize money and bonuses officially paid out at the Berlin Marathon in September (€282,000).
$289,600 – prize money and time bonuses paid out officially last week at the 21st Standard Chartered Hong Kong Marathon.
When you factor in appearance fees, Berlin definitely pays out the most but we found the stat to be interesting.
The top five finishers in Lagos and Hong Kong appear below courtesy of Race Results Weekly. You can get detailed prize money and full race results each and every week delivered to your inbox by subscribing to Race Results Weekly for $75 per year.
2017 Access Bank Lagos City Marathon Top 5
1. Abraham Kiptum, KEN          2:15:23  USD 50,000
2. Ronny Kipkoech Kiboss, KEN   2:15:25      40,000
3. Kiprotich Kiroi, KEN         2:15:30      30,000
4. Dickson Tuwei, KEN           2:16:50      20,000
5. Dabi Tadesse Yae, ETH        2:16:57      15,000
Women
1. Rodah Tanui, KEN             2:37:52  USD 50,000
2. Fridah Jepkite Lodepa, KEN   2:38:22      40,000
3. Alice Timbilili, KEN         2:39:02      30,000
4. Emily Samoei, KEN            2:39:22      20,000
5. Birke Debele Beyene, ETH     2:40:48      15,000
2017 Standard Chartered Hong Kong Marathon Top 5
1. Bizuneh Melaku Belachew, ETH       2:10:31 PB/CR* USD 65,000 + 5000i
2. Julius Kipyego Keter, KEN          2:10:34            30,000 + 5000i
3. Chala Adguna Bekele, ETH           2:11:32            15,000 + 5000i
4. Julius Chepkwony Rotich, KEN       2:11:44            10,000 + 5000i
5. Samwel Kiptanui Maswai, KEN        2:12:50             6,000
WOMEN 
1. Aberu Mekuria Zennebe, ETH         2:33:43 USD 65,000
2. Bethelhem Moges Cherenet, ETH      2:33:48     30,000
3. Letebrhan Haylay Gebreslasea, ETH  2:33:56     15,000
4. Azalech Masrecha Woldeselasse, ETH 2:34:35     10,000
5. Tsehay Desalegn, ETH               2:34:44      6,000
*****
Stat of the Week V
240 – number of days that have passed since the Spanish authorities raided Jama Aden's training compound in Sababell, Spain, with no charges or sanctions being announced.
1,271 – number of days that passed after the Court of Arbitration for Sport says Mariya Savinova last doped (August 19, 2013) to the day she was finally banned for doping last week
We post those numbers simply to remind people that doping investigations can take a REALLY long time. That being said, we couldn't have been the only ones to think that the fact that last week Genzebe Dibaba set a new world record of 5:23.75 in the 2000 in Sababell, Spain – the very same town where Spanish authorities made its doping raid last June – could be a sign Dibaba's not too worried about sanctions coming down.
More: Genzebe Dibaba Gets World Record #6, Runs 5:23.75 for 2,000 Meters in Sabadell She destroyed the 18-year-old indoor record by 7 seconds and also beat Sonia O'Sullivan's outdoor mark of 5:25.36.
*Breaking: Alysia Montaño Just Won Two World Championship Medals at 800 Meters
*****
Stat of The Week VI / New Additions To The Collegiate Mile Top 10 List 
Lost in the 4:19 mile win by Sifan Hassan in the women's Wanamaker Mile was the fact that two collegians ran top-10 all-time times in the same race.
Here are the top 10 all-time fastest collegiate milers according to Track and Field News.
1. 4:25.91 Jenny Simpson (Colorado) 02/28/09
2. 4:27.18 Leah O'Connor (Michigan St) 03/14/15
3. 4:27.19 Sally Kipyego (Texas Tech) 02/28/09
4. 4:28.31 Vicki Huber (Villanova) 02/05/88
4. 4:28.31 Abbey D'Agostino (Dartmouth) 01/24/14
6. 4:28.48 Katie Flood (Washington) 2/11/12
7. 4:28.71 Shelby Houlihan (Arizona St) 03/14/15
8. 4:28.75 Kaela Edwards (Ok. State) 2/11/17
9. 4:29.67 Colleen Quigley (Florida St) 02/13/15
10. 4:29.44 Elinor Purrier (New Hampshire) 2/11/17*
*Purrier was already on the list with her 4:29.71 from last year.
Other miles that caught our attention were Penn State's freshman Danae Rivers' 4:32.55 on the oversized track in Washington and  Cristian's Soratos' big PR of 3:54.23 in the 'B' heat of Millrose. Soratos' time briefly tied him for the world lead and was faster than everyone in the Wanamaker Mile except for winner Eric Jenkins.
Millrose wasn't great for everyone as reigning NCAA mile champion Henry Wynne of Virginia only ran 4:11.95 and 3:57 miler and Paralympic 1500 champ Mikey Brannigan only ran 4:04.26. It seems unlikely that Wynne, who has a seasonal best of 4:00.80, will get a chance to defend his mile title at NCAAs as he's only 31st on the NCAA descending order list. Twenty-six collegians have broken four already this year, counting converted times (top 16 make it to NCAAs).
****
Quotes of the Week (that weren't quote of the day) 
I – Alysia Montaño Deserved Better Than This
"I found out in my tweet mentions. That's how I found out.
"I should NOT be finding out from everybody else on Twitter mentions. Like I said, I was on the flight over here and I knew I was going to compete here. I haven't even been able to deal with it myself.
"No, I haven't heard anything from [the IAAF] ever. They sent me a tweet on my birthday last year. Happy birthday with my face blasted across their Twitter, but no [other correspondence]."
-American 800 runner Alysia Montaño talking at the NYRR Millrose Games about how she learned about the fact she's going to be receiving two World Championship medals thanks to the doping DQ of Mariya Savinova.
#2 Ajee Wilson Wilson Loves Having A New Teammate
"Before we came out here today, my coach knew we were going to go 1:58…
"I think that was more for my teammate (Charlene Lipsey) than it was for me. That's a huge PR for her. I'm just beyond excited. It was a big jump for her. She's come out and trained with us, and it's definitely been the biggest blessing to my career, to my training. We have a great friendship and I'm super happy for the both of us."
–Ajee Wilson talking after setting the American record at Millrose.
****
Tweet Of The Week
Who will win this year's Wanamaker Mile?

— Kyle Merber (@TheRealMerb) February 10, 2017
In case you forgot, neither Matt Centrowitz nor Nick Willis were in the Wanamaker Mile. Merber, who has one of the best Twitter accounts out there, was third in the race in 3:54.67.
****
It's Time To Cancel World U18s And Give World U20s To Kenya

It's a shame that so many countries are pulling out of the 2017 World U18 Championships (formerly known as the World Youth Championships) due to terrorism concerns. Kenya, which will host the event in Nairobi from July 12 to 16, has spent a ton of money on the championships and now the US, UK and New Zealand won't be there. The event should just be scrapped (it's the last World Youth anyway) but the IAAF should make it up to Kenya by giving them the next available World U20 Championships (formerly known as the World Junior Championships) or some other meet of importance.
A source told us that Kenya basically built a walled-off athlete village so the athletes could just go from the competition back to the village without as little of a security threat as possible.
More: Team USA Pulls Out Of World Youth Championships In Kenya Due To Terrorism Concerns
****
Recommended Reads / Watches
Vivian Cheruiyot Prepares To Move To The Roads And Reflects On The Best And Worst Moments Of Her Track Career Cheruiyot isn't approaching the marathon as a career afterthought as she talks about winning Olympic marathon gold and breaking the WR.
Recommended Watch: Freak Accident Costs Runner 800 Heat Win At Irish Indoor Collegee Championships