Book Review: "Collision Course" by Jason Henderson — A Terrific Summary of the Events Before, During and After One of the Most Memorable Races of All Time
By Jonathan Gault
December 15, 2016
Few events tie two athletes together for eternity more powerfully than the Olympic Games. Many of the most interesting bonds are the product of a collision, two athletes thrown together and eternally linked by a single moment whether they like it (Haile Gebrselassie and Paul Tergat) or not (Nancy Kerrigan and Tonya Harding).
Article continues below player.
Track and field has been the source of several such moments, few more famous or controversial than Mary Decker's fall after tangling with Zola Budd in the 3,000-meter final at the 1984 Olympics in Los Angeles. Despite the many accomplishments of both Decker (world records at mile, 5000 and 10,000 and two world track titles) and Budd (world 5000 record two world xc titles), when one hears either of their names, it's hard not to inevitably conjure up images of Decker sprawled on the infield of the Los Angeles Coliseum.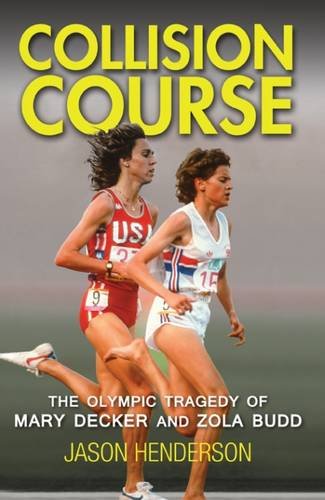 That moment, and the months, weeks and years that preceded and followed it, is the subject of Jason Henderson's book Collision Course, which was released in July. Henderson, the longtime editor of Athletics Weekly, does a magnificent job telling the story of how Decker and Budd came to occupy the same space on the night of August 10, 1984, and is fortunate in that there is plenty to tell, with two compelling subjects. Decker, a phenom who took down the reigning Olympic silver medallist over 800 meters at age 15, was the reigning world champion and gold-medal favorite competing on home soil in southern California. Budd was similarly precocious, emerging from obscurity to run a world best of 15:01 5000 as a 17-year-old in January 1984, before enduring perhaps the craziest route to LA of any Olympian. Ineligible to compete in the Olympics as the nation of her birth, South Africa, was banned by the International Olympic Committee for its apartheid policy, Budd hastily switched citizenship to Great Britain just four months before the Games. The fallout from that decision produces some of the book's richest material.
Drawing on biographies of Budd and Decker as well as the archives of Athletics Weekly, Sports Illustrated and several other publications (though a bit surprisingly, there is no bibliography/reference section at the end), Henderson traces each woman's path to the Games and, as you might expect from a track junkie, he does a terrific job contextualizing each performance. Learning about Decker's 10,000-meter world record in 1982 — a race that Decker entered on a whim and one that her coach only allowed her to run if she wore flats — makes the reader appreciate the performance far more than if Henderson had simply recited the time. Collision Course also makes clear how each runner's background contributed to the fall: both Decker and Budd were front-runners, and though Budd's times were world-class, she was totally unprepared for an Olympic final from a tactical standpoint. Having been banned from facing top international competition until just before the Games, Budd had never had to worry about running in a pack or developing a kick, both of which came back to haunt her in LA.
With seemingly half of the British government involved in Budd's citizenship process, the names of the assorted politicians and officials can run together, but overall Henderson does a good job tracing out Budd's tricky journey to citizenship. Indeed, the section that could get easily bogged done by bureaucrats does not ruin the book's pacing. Between Budd's controversial citizenship, the fall itself and Decker's 1996 positive drug test, there are plenty of difficult subjects for Henderson to address, but he doesn't pull any punches and remains impartial, presenting the evidence and allowing the reader to render their own judgment.
A complaint concerns the way the book is structured; the final section, in which Henderson catches up with Budd, Decker and the '84 Olympic medallists, jumps back and forth chronologically, and when Decker and Budd offer insight on events the book has already covered, it feels a little repetitive. This section is also the only one that tends to drag (though only a little) as the previous three sections are all page-turners. Part of the problem may be the access granted Henderson by the subjects. Budd does not conduct many interviews these days and she did not sit for an interview for this book, though Decker did after Henderson tracked her down at the Elliptical Cycling World Championships in California. It's certainly possible to write a book like this without full cooperation from one of the parties, but that does present challenges. While Henderson collates what has already been written about or said by Decker and Budd, he does not break a lot of new ground, especially after the release of The Fall, a 2016 documentary about the race that includes interviews with both women and a Budd-Decker reunion at the Los Angeles Coliseum. 


Overall, however, Henderson's book a must-read for anyone unfamiliar with the story (or in need of a refresher), and even hardened track veterans will likely learn a thing or two. I can't call it the definitive book on the subject (another book, Olympic Collision by Kyle Keiderling was released November 1 but I haven't read it), but Henderson's expert knowledge coupled with his passion for the sport shine through to make Collision Course a hit. Four out of five stars.
UK visitors can buy the book here. US visitors can buy it here.

---
Previous book reviews by LetsRun.com can be found here.