2016 Foot Locker Finals Boys' Preview: Sam Worley, Noah Affolder & Finn Gessner Headline a Wide-Open Race
By LetsRun.com
December 7, 2016
The high school cross country culminates this weekend, as it always does, with the Foot Locker Cross Country Championships in San Diego. This year's boys' race is different from years past because Utah's Casey Clinger — the consensus top runner in the country — will not be racing after choosing NXN over FL. Four of the top six finishers from NXN will be in San Diego, but if an athlete who didn't run at NXN wins on Saturday — such as Wisconsin's Finn Gessner or Pennsylvania's Noah Affolder — they could have a legitimate case to split the national No. 1 ranking with Clinger.
Despite Clinger's absence, this remains a deep field and should produce a more exciting individual race than NXN as there is no clear favorite. We break down the guys with the best chance to win below.
Article continues below player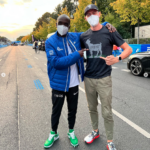 Kipchoge loves the 1:59:40 Shirt Get Yours Today
What a legend!
What: 2016 Foot Locker Cross Country Championships
Where: Morley Field at Balboa Park, San Diego, California
When: Saturday, December 10. Girls' race begins at 12:15 p.m. ET, boys' race at 1:00 p.m. ET.
How to watch: You can stream the races live for free here beginning at 11 a.m. ET.
Results: 2015 FL Finals * 2016 FL Regionals
The Top Tier
Sam Worley • Senior • New Braunfels, TX • 1:50.58 800 • 4:04.86 mile • 8:51.44 3200
Regional result: 1st South, 14:58
Previous FL finishes: none (75th at NXN in '15)
College choice: Texas
Major results this fall: 14:40 5k win at Texas 6A state meet on 11/12; 15:10 5k win at NXN South on 11/19; 2nd at NXN in 15:35 on 12/3
Only one Texas native (boy or girl) has won Foot Lockers in the 37-year history of the meet: San Antonio's Reuben Reina, who set the Balboa Park course record of 14:36 in 1985. But two Lone Star Staters have a shot at the crown this year: Worley and Reed Brown. Let's begin with Worley, since he's beaten Brown on all four occasions the two have raced this fall. Worley is the top FL finalist who ran at NXN, finishing second, seven seconds behind Casey Clinger. Seth Hirsch and Alex Maier both finished within four seconds of Worley in Portland, and they'll both be at Foot Lockers, but Worley has to be favored to beat them again on Saturday. He also has terrific range, with a 1:50 800 personal best. His only loss this fall came to Clinger at NXN and it will take a big effort for someone to hang another one on him on Saturday.
Noah Affolder • Senior • Carlisle, PA • 4:07.33 mile • 8:47.60 3200
Regional result: 1st Northeast, 15:28
Previous FL finishes: 15th 2015
College choice: Syracuse
Major results this fall: 12:10 2.5-mile win at Manhattan Invitational on 10/8; 15:33 5k win at Pennsylvania 3A state meet on 11/5
Affolder generally hasn't racked up massive margins of victory in his marquee races, but he's undefeated on the year, has the fastest 3200 pb in the field (8:47) and was 15th last year as a junior (he also won FL Northeast last year) when he ran for Carthage (N.Y.) High School before moving to Pennsylvania over the summer after his father, a lieutenant colonel, was accepted into the U.S. Army War College in Carlisle, Pa. He'll also benefit from not running NXN last weekend, plus he'll have a friendly face on the line next to him: Affolder's younger brother Sam was 2nd at FL NE as a sophomore.
Finn Gessner • Senior • Madison, WI • 4:16.90 1600 • 9:01.81 3200
Regional result: 9th Midwest, 15:13
Previous FL finishes: 11th 2015
College choice: Wisconsin
Major results this fall: 15:22 5k win at Wisconsin D1 state meet on 10/29 (won by 16 secs); 14:39 5k win at NXN Heartland on 11/13 (199 speed rating)
Like Affolder, Gessner certainly benefits from the fact that didn't race or travel last weekend. In addition, he didn't go all-out at FL Midwest two weeks ago: he only ran to qualify, crossing the finish line in ninth place. But Gessner enters Foot Lockers with the single best 2016 Tully Runners speed rating of anyone in the field (198.87 at NXN Heartland) and he wasn't going all-out there either as he and fellow Wisconsin commit Seth Hirsch crossed the finish line together.
All of this means that we've yet to see what Gessner can truly accomplish when he goes all out against a top-notch field. His track PRs aren't earth-shattering, but that 9:01.81 comes with an asterisk. He ran that time at the Wisconsin state meet in June, when the 3200 was stopped after two laps due to lightning. Gessner had to sit in a gym for almost two hours before starting the race over. There's some uncertainty surrounding Gessner, but he just missed the top 10 last year and has a high ceiling. Discount him at your own risk.
MB: Hey Flosplits, Gessner is the name in the running game
Seth Hirsch • Senior • Omaha, NE • 4:21.50 mile • 9:15.47 3200
Regional result: 5th Midwest, 15:09
Previous FL finishes: 9th 2015
College choice: Wisconsin
Major results this fall: 15:04 5k win at Nebraska Class A state meet (won by 33 seconds) on 10/21; 2nd NXN Heartland in 14:39 on 11/13; 4th NXN in 15:37 on 12/3
Don't let the track times fool you: Hirsch is an exceptional cross country runner. He is the top returner from last year (9th) and has also posted two top-10 finishes at NXN during his career (9th in '15, 4th in '16). Hirsch has three losses this year, but his defeat at NXN Heartland isn't much to worry about: he still posted a 199 speed rating (only Gessner has a higher score this season) and crossed the line together with future Wisconsin teammate Gessner. At FL MW, Hirsch likely left something in the tank with NXN and FL still to come the following two weeks. Hirsch did lose to Worley at NXN, but was only 2.8 seconds behind. If he can erase that gap in San Diego, he could wind up with a national title.
Other Names to Watch
If we were placing bets, we'd expect one of the four boys above to win, but no one has been totally dominant like Drew Hunter last year — of the four, only Affolder is undefeated on the year. So it wouldn't be a surprise at all if someone else were to win the title. We've listed some of the other contenders below plus one runner whose name may be familiar to fans of LRC.
Alexander Maier, sophomore, Flower Mound, TX (4:27 1600/9:49 3200): Maier has put together a breakout fall season as a sophomore, with no race better than his 5th-place showing at NXN last weekend. Maier has only won one race this fall as he has repeatedly squared off against Texas studs Sam Worley and Reed Brown (see below). But at NXN, he beat Brown and was only 3.7 seconds back of Worley. Only one sophomore boy has ever won Foot Lockers (Lukas Verzbicas in 2009, though Verzbicas was the age of a junior); in fact, until this year, none had even qualified since 2012. A sophomore hasn't placed in the top 10 since Andrew Gardner in 2010, but Maier has could do just that on Saturday.
Reed Brown, senior, Grapevine, TX (4:04 mile/8:50 3200): Brown won a loaded HS mile at the Olympic Trials in July, beating Worley, Clinger, Affolder, Hirsch and several others in 4:04.73, making him the fastest miler in the field. He also placed in the top 16 at both NXN (14th) and Foot Lockers (16th) last year and was 6th at NXN last week. However, Brown has lost to Worley four weeks in a row and was 9.8 seconds behind him at NXN.
Talon Hull, senior, Ogden, UT (4:14 mile/9:29 3200 at altitude): If you want an example of why NXN was the premier national meet this year, look no further than Hull, who won FL West but was only third at his state meet, behind Clinger and Clinger's American Fork teammate McKay Johns. Hull is a fine runner, and his run at FL West was his best of the year (196 speed rating; only Affolder posted a faster one at FL regionals), but it would take a special effort for him to win Foot Lockers.
Luis Grijalva, senior, Suisun City, CA (4:07 1600/8:59 3200): Grijalva ran the fastest time of the day at the California state meet two weeks ago and claimed a big win back in September at the Woodbridge XC Classic, defeating Reed Brown (6th NXN) and Cooper Teare (16th NXN). Grijalva has lost three times this fall, however — first at the Lagoon Valley Classic to Michael Vernau (23rd NXN) on September 3, then at the Sac-Joaquin Sub-Section meet on November 5 (just running to qualify) and at FL West. As the top boy in California, Grijalva is a good bet to place highly at Foot Lockers (a California boy has finished in the top 10 four straight years), but not winning FL West was a slight red flag. Was he taking it easy and running to qualify?
Dylan Jacobs, junior, Orland Park, IL (4:15.81 1600/9:19 3200): Jacobs won FL MW, but he was only 3rd at the Illinois 3A state meet and 19th at NXN last weekend. Only a junior, he's a big talent for sure but may have to wait until 2017 to contend for the national title.  
Joshua Schumacher, junior, Portland, OR (4:12 mile/8:58 2-mile): Schumacher was 8th at FL West and thus unlikely to win nationals, but we thought we'd mention him as his father Jerry (3:39 1500 runner and coach of the Bowerman Track Club) is well-known in running circles. We also found it interesting that Joshua chose to run Foot Lockers over NXN — which is sponsored by his father's employer. Upon thinking about it, his decision makes a lot of sense. Would you rather get a free trip to race down the road in your hometown that is sponsored by your dad's boss or a free trip to San Diego that has nothing to do with your dad?
A Few More Stats
Returners from 2015 Foot Lockers include: Seth Hirsch (Omaha, NE; 9th in '15), Finn Gessner (Madison, WI; 11th), Noah Affolder (Carlisle, PA; 15th), Reed Brown (Grapevine, TX; 16th), Matthew Pereira (Kildeer, IL; 34th), Tibebu Proctor (Seattle, WA; 28th), Waleed Suliman (Henrico, VA; 29th), Matthew Grossman (Millburn, NJ; 35th) and Talon Hull (Ogden, UT; 37th)
Runners pulling the FL/NXN double include Sam Worley (New Braunfels, TX; 2nd NXN), Hirsch (4th), Alexander Maier (Flower Mound, TX; 5th), Brown (6th), Jack Aho (Grayslake, IL; 17th), Dylan Jacobs (Orland Park, IL; 19th) and Gabe Fendel (Fisher, IN; 28th)
Graydon Morris of Aledo, TX, is the first freshman boy to qualify for Foot Locker finals since Futsum Zienasellassie in 2008.
Thanks to Athletic.net for the PRs and to Tully Runners for the speed ratings.
Discuss the race on our world famous messageboard: MB FL 2016 Predictions
Our main forum (which has everything) is here but we also have a high school-only forum.