Kenya's Jemima Sumgong (31:26) destroys competition at 45th edition of NYRR New York Mini 10K, Americans Finish 2nd, 5th and 6th
By the NYRR
New York, June 11, 2016—Kenya's Jemima Sumgong took the tape in 31:26 at the 45th edition of the NYRR New York Mini 10K on Saturday, June 11, leading a group of 17 Rio-bound Olympic marathoners and a record-number 8,833 finishers through the historic Central Park course.
Sumgong, April's Virgin Money London Marathon champion, was neck-and-neck with American Aliphine Tuliamuk for the first half of the course before breaking from the pack after the 5K mark to win in her event debut. Tuliamuk finished second in 32:14, and Burundi's Diane Nukuri was third in 32:18.
Article continues below player.
"It was very difficult because the field was so strong," Sumgong said. "But I was happy because it was my first time at the NYRR New York Mini 10K, and to finish in first place was the best thing I could ask for."
Tuliamuk, who was born in Kenya and just became a U.S. citizen on April 29, showed promise with her second-place finish with less than a month to go before she competes in the 10,000 meters at the U.S. Olympic Team Trials.
"Right around 3 miles, I realized Jemima was very strong, and she was going up the hill like a machine," Tuliamuk said. "I just made sure at that point that nobody was coming up after me so that I could come in second."
| | |
| --- | --- |
| Overall | |
| Comfort | |
| Cushioning | |
| Durability | |
| Appearance | |
| Value | |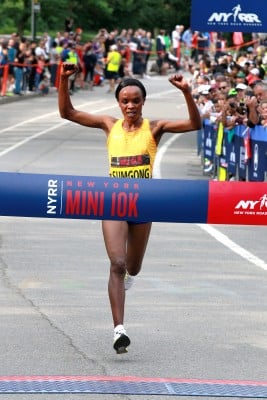 Third place marked the highest finish ever for Nukuri on the course, who was racing the event for the seventh time.
Americans Brianne Nelson (33:02) and Desiree Linden (33:17) finished fifth and sixth, respectively, while Beverly Ramos (33:17) broke her own Puerto Rican 10K road record with a seventh-place result.
Founded by NYRR in 1972, the New York Mini 10K got its name when race founder Fred Lebow convinced the sponsor to support a six-mile "mini" marathon—named for the miniskirt—rather than a full marathon. It was the world's first road race exclusively for women, with the inaugural race having 72 finishers and this year's race having one of the most esteemed professional athlete fields in history.
This year's race began on Central Park West at 61st Street and finished at 67th Street on West Drive, with runners vying first-place prize of $10,000 as part of the $35,150 prize purse. The event was aired live on USATF.tv.
For the first time, this year the historic event also included a Girls' Run for more than 350 runners ages 7-18. The Girls' Run at the NYRR New York Mini 10K started before the professional athlete group and full field of runners got underway in the 10K race, ending at the NYRR New York Mini 10K finish line, which is also the TCS New York City Marathon finish line. The Girls' Run was paced by reigning U.S. 10,000-meter champion Molly Huddle, who announced earlier in the week that she will make her marathon debut at the 2016 TCS New York City Marathon, racing as a Team for Kids Ambassador on November 6.
NYRR New York Mini 10K – Top 10 finishers
Jemima Sumgong, 31, KEN           31:26
Aliphine Tuliamuk, 27, USA          32:14
Diane Nukuri, 31, Burundi            32:18
Kim Smith, 34, New Zealand        32:41
Brianne Nelson, 35, USA               33:02
Desiree Linden, 32, USA                33:17
Beverly Ramos, 28, PUR                33:17
Etaferhau Temesgen, 26, ETH     33:28
Madai Perez, 36, MEX                    33:38
Tomomi Tanaka, 28, JPN               33:39
Weather: 63 degrees, 63% humidity, wind calm
---
Talk about the race on the LetsRun.com fan forum: MB: Jemima Sungong crushae NYRR Mini 10k – Aliphine Tuliamuk (32:14) 2nd, Desi LInden 6th (33:17)