Jama Aden Doping Raid Update: How Might The Raid Impact Mo Farah, The Dibabas and Nike?
By LetsRun.com
June 21, 2016
Yesterday, we gave you the facts (see: Everything You Need to Know About The Jama Aden Doping Raid That Took Place With Three Dibaba Sisters Being Present) regarding the doping raid in Sabadell, Spain, that resulted in the arrest of famed coach Jama Aden. Today, we look a little more at some of the connections between Aden and the sport's biggest names like Genzebe Dibaba, Tirunesh Dibaba, Mo Farah, and Nike and wonder what type of impact the scandal will have on them. Plus, we reveal for the first time in the English press that Farah has trained in Sabadell.
All the athletes that were in Spain training with Aden now and those who have associated with him in the past are rightfully due a lot more scrutiny now. However, it needs to be remembered that everyone is innocent until proven guilty. As the photo below shows, just because you are in contact with Aden doesn't mean you are doping as we doubt that retired star Haile Gebrselassie is currently on the juice.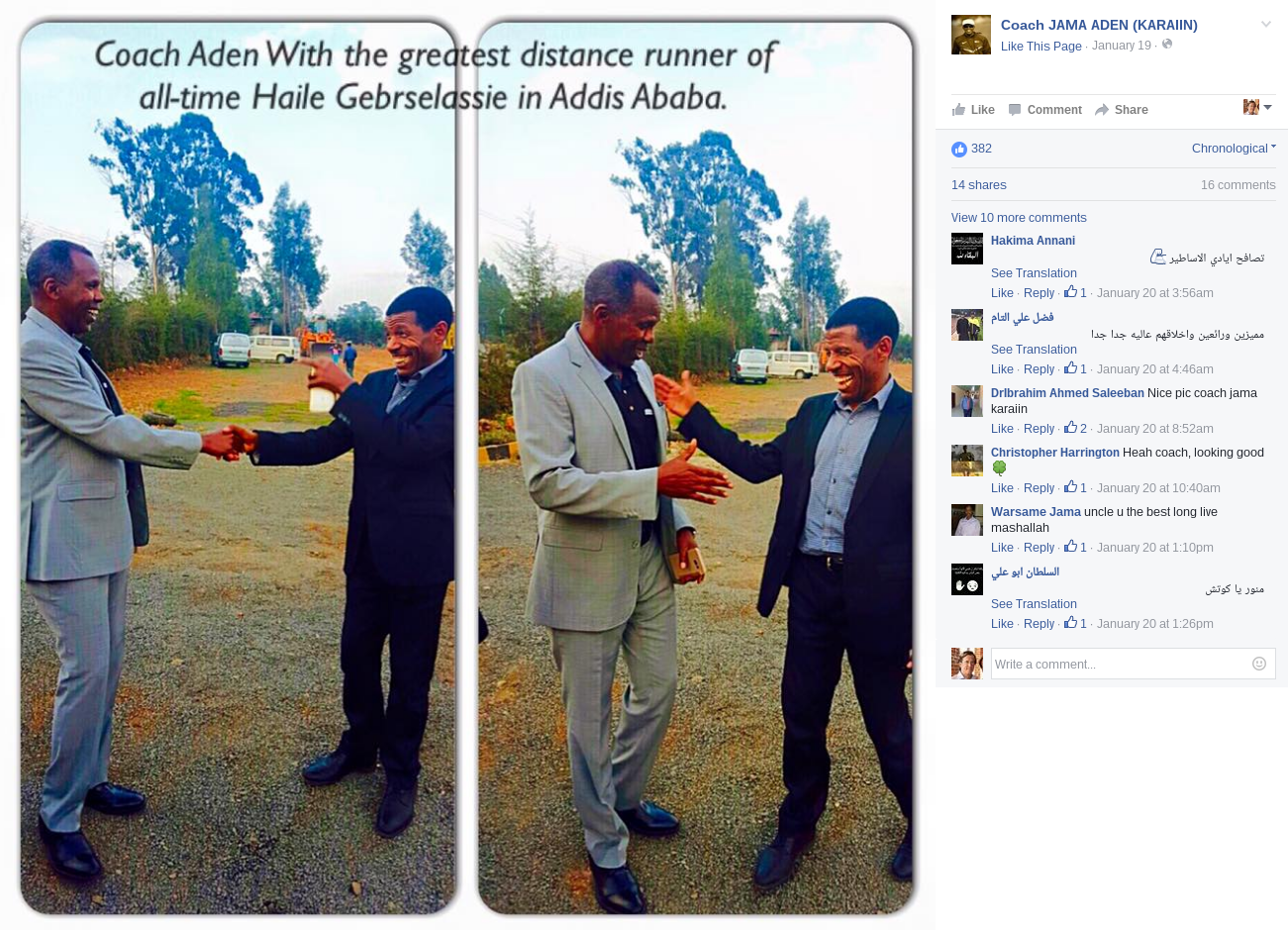 Aden is a very prominent coach and the track world is very tight. That being said, some of the biggest distance stars in the sport are going to have a lot of explaining to do if Aden goes down for possessing EPO and/or steroids. If Aden is busted, then it's going to be very hard for his star pupil Genzebe Dibaba to explain how she ran 3:50 for 1,500 without being on drugs even though her coach had them. And if Genzebe goes down, then what does that mean for her sister – triple Olympic champ Tirunesh Dibaba? While Tirunesh doesn't train with Aden and was out on maternity leave during most of her sister's greatest accomplishments, Tirunesh was at the hotel yesterday and Genzebe lives in Tirunesh's house in Ethiopia. It's going to be hard for most people to think if Genzebe was dirty that Tirunesh didn't at least know about it. Of course, it's possible Tirunesh herself had recently heard that Aden was dirty and was trying to get her little sister out.
And what about double Olympic champ Mo Farah? Farah, in recent years, hasn't been training at altitude with Galen Rupp. Instead, he's been going to Africa and training often in the same place as Aden's group of athletes. Last year, British Athletics admitted that Aden was, according to the Daily Mail, an 'unofficial facilitator' during Farah's seven-week stay in the high-altitude town of Sululta.
Yesterday, both British Athletics and Farah's management team downplayed any link between Aden and Farah. According to The Telegraph, British Athletics downplayed the role Aden played last year, saying, "All Aden did was hold a stop watch and shout out times. He wasn't coaching. It was something that anyone could do and it wasn't anything technical."
Article continues below player.
British Athletics added that they have not used Aden in any capacity this year, while the athlete's representatives "have denied that he has ever had a relationship with Aden."

Farah may not have had an official or unofficial relationship with Aden this year but it's clear that Farah was training in the presence of Aden in January of this year as shown by this Instagram post from indoor 1000m WR holder Ayanleh Souleiman. (Souleiman has since made his account private but we saved a screenshot)
And while British Athletics has stated that they have not used Aden in any capacity this year, Aden's Facebook page shows him in Africa this February coaching right next to UK Director of Endurance, Barry Fudge.
These photos may just show how pointless a semantics debate on whether Aden is coaching Farah is – what is clear is that Farah likes to train where Aden's athletes train.
Farah Has Trained in Sabadell But…
A more peculiar incident for Farah took place in 2014 that we don't believe has ever been reported before in an English publication. Yesterday, while reading about the raids in on the Spanish website La Bolsa Del Corredor, we came across an article that referenced a Mo Farah Instagram post which led us to find an article from El Pais in 2015 that talked about a tweet from Farah in 2014.
We found the tweet. Here it is: 
In Font Romeu… Trainings going good!! next stop….. commonwealth Games…!! Shabba pic.twitter.com/unxLaBoei5

— Sir Mo Farah (@Mo_Farah) July 16, 2014
(Note: Originally the La Bolsa Del Corredor did not include the tweet, as shown by this screenshot of a Google cached page. Now La Bolsa Del Corredor is embedding the tweet.)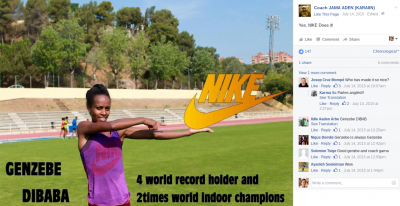 There's one small problem with the tweet. While Farah claimed to be in southern France in Font Romeu (about a 2- to 2.5-hour drive away from yesterday's raid) getting ready for the Commonwealth Games, the picture, according to the Spanish press, is of Mo working out on the track in Sabadell – the site of yesterday's raid and where Aden's group has trained for parts of the last four years according to press reports. If you look at videos of workouts in Sabadell or even the photo to the right of Genzebe Dibaba on the Sabadell track you can see it is the same track and definitely not Font Romeu.
Why was Farah not being accurate about his location?
We don't know. Yesterday, we reached out to Farah's agent Ricky Simms and asked him if Farah had ever been to Sabadell and he responded, "I am not aware of Mo ever training there." After we analyzed the tweet and compared it to photos of Fort Romeu and Sabadell and concluded it was the Sabadell track, we wrote Simms back sharing it with him and have not received a response.
Aden's Relationship with Nike
All evidence points to Aden being a Nike paid coach. On his Facebook page, Aden lists Nike under his affiliation (along with the Qatar Athletic Federation, which also employs him). Not only does Aden coach numerous Nike athletes (we don't know of a non-Nike athlete that he coaches), he promoted Nike through a series of Facebook posts in March and this article also suggests he is employed by Nike (we reached out to Nike on Monday to confirm its relationship with Aden but have not yet received a response).
Nike Global Director of Athletics John Capriotti visited Aden's training camp this February as shown by the following photos.
And all of the athletes in this photo with Aden in Sansabell, Spain (the site of yesterday's raid) appear to be Nike sponsored.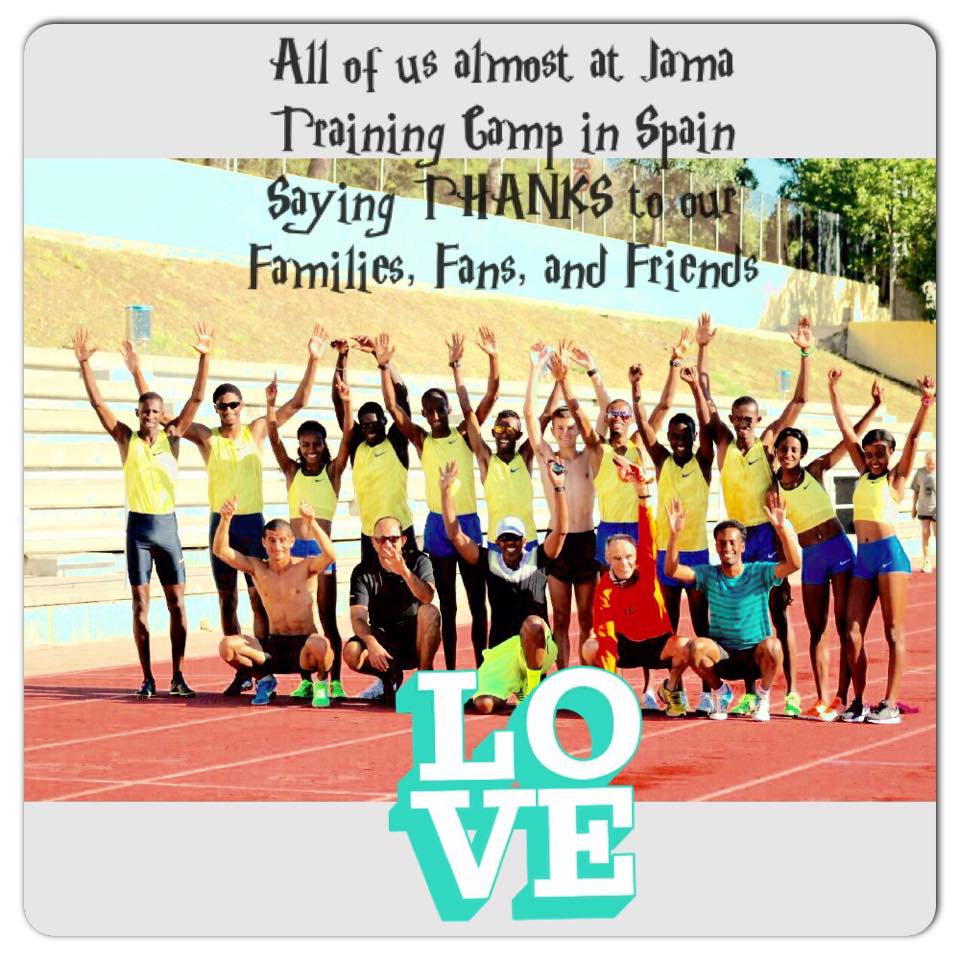 That's certainly not a good look for Nike considering that they were also the sponsor or the Russian track and field federation, which was just booted from the 2016 Olympics for doping.
Aden also has shared workouts with another Nike coach, Farah's official coach, Alberto Salazar. After news of yesterday's raid broke, we received the following email from former Nike Oregon Project assistant coach, now whistleblower, Steve Magness, which reveals that Aden once shared workouts with Salazar.
From: Jama Aden <*****@hotmail.com>
Date: April 7, 2012 12:03:45 PM PDT
To: "Salazar, Alberto (ETW)" <*****@nike.com>
Subject: Program today
Hi Alberto
hope every thing is going great with you and your Athletes
after couple of month Iten altitude training we come back back
and kakis First session was good
4x1000m 2.32, 2.32, 2.31 and 2.30 then 7 minutes rest 600m 1.21. then 400m 52 and 200m 25  kaki si running 1500m in Doha
the Other   guys did 5x 200m hill then come to the track  500m 1.05 , 300m 38 and 25 then again 5x200m hill and back to track
500m 1.05 , 300m 38 and 200m 24
every one feels good Iten was Awesome place to Train
truly yours
What will Nike do?
The ties between Nike and Aden are very strong. How will Nike react? Will it be business as usual for them? In the past, Nike did not cut ties with Lance Armstrong until after he was convicted of doping and has willingly embraced convicted drug cheats like Justin Gatlin after their suspensions. Will they be more proactive this time?
Quick Take Analys: Let This Be An Official Reminder – Just Because You Associate With Someone That Is A Doper That Doesn't Mean You're a Doper
As many have pointed out on the messageboard, just because you have spent some time with someone who is a doper that doesn't automatically mean you're also doper (As we've written about in the past, LetsRun.com founder Weldon Johnson visited doctor Anthony Galea in Canada for treatment, and Galea was later busted for importing HGH into the US and Weldon didn't dope). And Aden himself has not yet been convicted — though things obviously look very bad for him. Yet on the other side of the coin, associations do matter — if they didn't, British Athletics would not be going to such great lengths to deny an association with Aden?
Any maybe more importantly, why did Mo Farah in 2014, before any news had broken linking Aden to doping, indicate he was training in France when the pictures he posted said he was in Sabadell, Spain?
---
Give us your thoughts. Talk about the Jama Aden doping bust on our messageboard: MB: BREAKING:Jama Aden's hotel in Spain raided.
More: Everything You Need to Know About The Jama Aden Doping Raid That Took Place With Three Dibaba Sisters Being Present