WTW: Here's Why You Ran Slow In Boston, Allyson Felix Pulling A Michael Johnson Will Be Tough, Courtney Okolo Makes History And So Does Omar McLeod
The Week That Was In Running – April 18 – April 24, 2016
by LetsRun.com
April 26, 2016
Past editions of The Week That Was can be found here. Questions or comments? Please email us or post them on our fan forum.
The biggest events last week were the Boston and London Marathons.
Eliud Kipchoge had a run for the ages in London where he ran not only ran 2:03:05, but became the first man to win four straight World Marathon Majors, and put forth his claim to being the best marathoner ever. We discussed all of this at length here.
If you missed our extensive coverage of  Boston (Boston Marathon photo gallery) or London Marathon, you can re-live it by clicking on those links.
Article continues below player.
****
Did You Run Horribly In Boston? Don't Feel Too Bad – Here's Why
Last Monday, the Boston Marathon was held. The winning times were slow and that confused some people. In the media room, they were showing the international feed and on that feed the slow opening splits perplexed commentator Larry Rawson as he said the runners were running in "excellent conditions."
Some on the messageboard felt as if the slow times were a sign that the biological passport was working.
On our main Boston thread, "Precious Roy"  wrote:
I think we are entering into a post-flagrant doping era. Since the biological passport has been catching top athletes doping, times have started coming back from the brink of absurdity. Boston and NY have been very slow the past couple of races. Berlin was absurd in 2014, but less so in 2015. It is not the end of doping, but something is changing.
On another thread devoted solely to the slow times, "Pilgrim Scott" wrote:
I have a theory that I put out a few months ago that marathon times are slowing in general. The genetic passport is starting to kick in. I believe the period where every major was won in under 2h 05m might be over.
Ok the weather had a huge impact on today, but London next week will be interesting.
The "this is a sign doping used to be rampant but now no longer is" argument is an interesting one but it took a big hit when the London Marathon men's times up front were scorching fast.
For us, the lack of fast times in Boston didn't shock or surprise us. From the moment the race started, we knew a super fast time wasn't going to happen as the weather wasn't ideal.
If a marathon starts in the high 60s (women's race) or low 70s (men's race), it's not excellent conditions for racing. Those temps may be indeed ideal for doing a picnic or a five-mile jog with a friend but not for a 26.2-mile race. Throw in the fact that there was a slight headwind at the start and a big one at the finish and people were bound to run slow.
Want proof that it was the weather rather than the anti-doping movement that caused the times to be slow?
Well if the winning men's time in London didn't do it for you, here is some proof. We went back and looked up the finishing times of the 500th and 1000th finishers in Boston the last four years on marathonguide.com. The 500th and 1000th finishers aren't running a tactical race and they aren't subject to drug testing. They are going all-out. To place in the top 500 this year, you could run more than six minutes slower than you had to in any of the previous three years. The 1,000th finisher was more than four minutes slower than in any of the previous three years.
| | | | | |
| --- | --- | --- | --- | --- |
|  Finisher | 2016 | 2015 | 2014 | 2013 |
| 500th | 2:52:00 | 2:44:59 | 2:43:34 | 2:45:24 |
| 1,000th | 2:56:29 | 2:50:35 | 2:50:35 | 2:52:20 |
We purposely left out 2012 in the chart above as that was the scorching hot year when it was over 90 degrees. That year, the 500th finisher ran 2:59:19 and 1,000th finisher ran 3:09:03.
Weather makes a huge difference in marathon times. Before the 2011 race when the course record went down we were predicting the possibility of something magical before it even happened because of the great weather.
So if you didn't PR in Boston, don't feel too bad. The stats reveal that just about everyone in the field ran multiple minutes slower than normal based on the weather.
Related: MB: Official John Kellogg Is a Genius Thread (He Predicted The 2:03 on Boston)
*****
NCAA DI Leading Marks Set Last Week
Okolo Goes Sub-50/Henry Wynne Continues To Excel

Each week, we are giving you the new NCAA and world leaders for all events as we want you to be fans of the whole sport – not just distance running.
A track meet is a lot more entertaining if you have some idea of what is going on in the other events.
This week the biggest news was the University of Texas' Courtney Okolo becoming the first collegian under 50 seconds in the 400m, running 49.71. Okolo had the previous NCAA record of 50.03 from two years ago but she smashed it this week.
2016 NCAA indoor mile champ Henry Wynne of Virginia ran an NCAA outdoor leading 3:38.05 continuing his fine 2016 campaign and proving that his indoor mile win was far from a fluke.
Men
200m:  Nethaneel Mitchell-Blake (LSU, Jr.) 20.14 (wind 3.6 m/s, LSU Alumni Gold)
1500: Henry Wynne (UVA, Jr.) 3:38.05 (Virginia Challenge)
400h: Byron Robinson (Texas, Jr.) 49.10 (LSU Alumni Gold)
4 x 100: LSU 38.94 (LSU Alumni Gold)
4 x 400: LSU 3:00.38 (LSU Alumni Gold)
SP: Nicholas Scarvelis (UCLA, Sr.) 67'7.5″ (20.61m) (2016 Triton Invitational)
Women
100m: Morolake Akinosun (Texas, Sr.) 10.97 (wind 3.5 m/s, LSU Alumni Gold)
400m: Courtney Okolo (Texas, Sr.) 49.71 (LSU Alumni Gold)
1500m: Marta Freitas (Miss. State, Sr.) 4:11.52 (Virginia Challenge)
400h: Nnenya Hailey (Arizona, Sr.) 54.98 (LSU Alumni Gold)
PV: Alexis Weeks (Arkansas, Fr.) 15.2.75″ (4.64m) (John McDonnell Invitational)
LJ: Quanesha Burks (Alabama, Jr.) 22'2.25″ (6.76m) (War Eagle Invitational)
TJ: Keturah Orji (Georgia, So.) 46'3.5″ (14.11m) (Virginia Challenge)
Discus: Kelsey Card (Wisconsin, Sr.) 203'9″ (62.10m) (2016 Triton Invitational)
Javelin: Hannah Carson (Texas Tech, Sr.) 198'3″ (60.42m) (Michael Johnson Classic)
More: History: Courtney Okolo Becomes 1st Collegian To Break 50 In 400 – 49.73!! *LSU Men Run World-Leading 3:00.38 In 4×400 *Arizona's Nnenya Hailey Runs Collegiate Leading 54.98 In 400H
****
World-Leading Pro Marks Set Last Week
Omar McLeod Breaks 10.00/Dafne Schippers Opens Fast
Men
100m: Femi Ogunode (QAT) 9.91 (+0.6) (Gainesville, FL)
10,000m: James Ndirangu Mwangi (KEN) 27:23.04 (Hyogo Relays – Kobe, Japan)
Marathon: Eliud Kipchoge (KEN) 2:03:05 (London, UK)
110h: Jason Richardson (USA) 13.33 (+1.0) (Gainesville, FL)
SP: Joe Kovacs (USA) 70′ 5¼" (21.47m) (La Jolla, CA)
Discus: Fedrick Dacres (JAM) 223′ 2″ (68.02m) (La Jolla, CA)
Javelin: Jakub Vadlejch (CZE) 280′ 7.75″ (85.54m) (Potchefstroom, South Africa)
4 x 400: LSU 3:00.38 (LSU Alumni Gold)
Women
200: Dafne Schippers (NED) 22.25 (-0.2) (Gainesville, FL)
10,000: Juliet Chekwel (UGA) 31:37.99 (Rubiera, Italy)
400h: Ashley Spencer (USA) 54.70 (Baton Rouge, LA)
PV: Sandi Morris (USA) 15′ 9¼ (4.81m) (John McDonnell Invitational)
SP: Lijiao Gong (CHN) 64′ 10½" (19.77m) (Huaian, China)
The pro mark that most caught our attention last week wasn't a world leader. It was neat that former Arkansas hurdler Omar McLeod ran 9.99 in the 100m, making him the first human to break 10.00 in the 100m and 13.00 in the 110h.
One of the bigger stories of the Olympics for the Americans will be Allyson Felix's quest for the 200/400 double, 20 years after Michael Johnson did it in Atlanta. She's going to have a very hard time winning the 200 as Schippers is very good. Last year, Schippers opened up at 22.63. This year, she opened in 22.25.
One thing casual fans may not realize is that Schippers' pr of 21.63 (#3 all-time) is already faster than the Felix's 21.69. Schippers is 23. Felix is 30. MB: Dafne Schippers 22.25 ( -0.2)WL #1 in the World women's 200m –
More: History: Omar McLeod Is 1st Man To Go Sub-13 In Hurdles And Sub-10 In 100m *Dafne Schippers Opens Season With 22.25 In Gainesville Last year, she opened out at 22.63.
*****
Genzebe Dibaba Does Doesn't Do The 10k / Does Genzebe's Decision Mean Tirunesh Dibaba's Comeback Isn't Going Well?
Last week, one of the bigger events of the week was actually a non-event – the DNS (did not start) for Genzebe Dibaba in a 10,000 in Dubai, as she has a toe injury that will keep her out for two weeks. Earlier in the week, it came out that Dibaba is interested in doing the 10,000/5,000 double at the Olympics.
To us, that makes very little sense. Dibaba is the world record holder at 1,500. Why wouldn't she run that event at the Olympics?
To elect to run the 10,000 — an event she's never run and an event that her sister Tirunesh has won at the last two Olympics — dumbfounds us and makes us wonder if the comeback of Tirunesh isn't going well. If you have any insight on to the comeback of Tirunesh, email us.
We applaud Genzebe for wanting to win two events as we don't like it when heavily favored distance runners take the easy road and just do one event, not risking defeat in a second. But if Genzebe truly wants to win two gold medals, we suggest she go the 1500/5000 route. That way she's not simply matching what her sister achieved in 2008. She would be doing something historic and her name would become globally known as a woman has never completed the 1500/5000 double at the Olympics or Worlds (only two men have done it at the Olympics – Paavo Nurmi and Hicham El Guerrouj).
The way the 1500/5000 schedule is set up at the Olympics isn't ideal as the 5000 prelims are the morning of the 1500 final, but we feel Genzebe could pull it off as the two events are 13 hours apart. Dibaba could definitely tempo a 5000 prelim at 9:30 a.m., go home, take a nap and come back for the 1500 final at 10:30 at night.
With some advanced planning and help from her agent, Dibaba should have gone the Allyson Felix route and had the schedule changed. We're sure the IOC could have just as easily moved the 5000 prelims either up a day or back a day if it had been requested.
More: 
*****
Predictions of the Week
"I have no doubt he is going to win" 
-reigning World XC and two-time World Half Marathon champion Geoffrey Kamworor talking to Cathal Dennehy of Runner's World last week about Eliud Kipchoge's chances at the 2016 Virgin Money London Marathon. 
In the same article, Kipchoge said this about what he was expecting.
"My mind is fully on defending the title. The training is faster this year. I've had no injuries, nothing bothering me, so I think I'll do a fast time."
More: The Simple Life of One of the World's Best Marathoners
*****
Stat of The Week (The Tortoise Almost Beat The Hare)
2:06 / 0:56 – amount of time that Bulgaria's Volha Mazuronak was behind the leaders at the 2016 Virgin London Marathon just 10k into the race (32:43 versus 34:49) versus the amount of time that she was behind at the finish.
Mazuronak ended up fourth thanks to a negative-split 2:23:54 pb (1:13:19/1:10:35). The gap between her and the leaders was the biggest at halfway (2:34) and smallest at 35k (35 seconds) as the leading women slowed down a ton after a quick start.
Update: Not everyone enjoyed Mazuronak's negative split. British Olympian Mara Yamauchi found it to be very suspicious: Serious questions asked of the 4th place London finisher.
More: Complete 2016 London Marathon coverage
*****
Screenshot Of The Week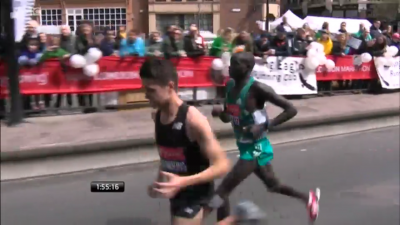 What you are seeing above is Scottish athlete (and former Butler University runner) Callum Hawkins passing the world record holder Dennis Kimetto at the 2016 London Marathon where Hawkins, who has modest track pbs of 14:06/28:49, ran 2:10:52 to nab 8th (Kimetto was 9th in 2:11:44) and secure a spot on the British Olympic team.
That's certainly a great picture for British fans. It did come at a cost, however. It came at the same time that Eliud Kipchoge was pulling away from Stanley Biwott at the front of the men's race. So even the great BBC missed "the break" in their coverage of the London race. It absolutely blows our mind that virtually every single marathon telecast manages to miss the main break.
(Although in London, the Brits on the BBC "red channel" have something every major marathon should have. In addition to the main  race broadcast there are special channels dedicated to the men's and women's pro races. With online streaming, there is no reason fans shouldn't be able to watch whatever race feed they want).
One thing we greatly enjoyed about the main BBC coverage: they didn't interrupt coverage of the men's race to interview the women's winner. Post-race interviews should come after all of the races are over.
Hawkins only ran a couple of years at Butler. His second XC season was a smashing success as he won the Great Lakes regional and was 26th at NCAAs as a 19-year-old in 2011. However, after two years that Scotland's Herald described as "blighted by injury and surgery," he returned home to Scotland. Hawkins will be joined at the Olympics by his older brother Derek, who was the third Brit in London in 14th in 2:12:57.
Friend of LRC David Woods of the Indianapolis Star has a piece on Hawkins making Rio: Olympic sports: Butler to be represented in Rio
More: Nice 2013 Feature On Hawkins
*****
Quotes of the Week (that weren't quote of the day)
#1 Alberto Salazar Didn't Think Edward Cheserek's Triple At NCAA Indoors Was All That Tough
"That was 20 minutes of running. That's not even a 10k. How fast did he run that 5k indoors? I think that kid could run a 13:05."
–Alberto Salazar talking to The Oregonian's Ken Goe about whether the three seasons of the NCAA are too tough on runners. For the record, Cheserek ran 13:47.89 to win NCAAs.
#2 Maybe This Explains Why Meldonium Is So Popular
"If we talk about male athletes, many of them take meldonium in order to improve their sexual performance rather than to enhance their sports performance. We need to take this into account."
–Ivars Kalvins, the creator of meldonium, talking last week to the AP.
More doping news:
#3 In All Areas Of Life, A Few Bad Apples Cause A Lot of Problems
"Sport is not special, it's just like life. You find that in society there are one or two criminals, but it doesn't mean the whole society are criminals. It doesn't mean all athletes or the whole sport is cheating. All these guys, we have been tested like seven or eight times, in and out of competition, and we should trust the results.
"We want to send out the message to the whole world, 'Please let us not try to sum up and say all Kenyan athletes are cheating.' No. We are clean."
–Wilson Kipsang talking to Ireland's Independent before the 2016 Virgin Money London Marathon.
#4 The Marathon Is A Lot Longer Than A 5,000
"We were OK through halfway in 67 [minutes], but from then on it was tough. I was slowing down every kilometer and then it became a matter of getting to the finish and trying to enjoy the last 10km with the crowds and things like that.
"It's a long way. It's a different feeling [to the 5000m event]. If you're having a tough day it goes for an hour and a half, not three minutes. It was a tough, long day for me. But I came to London to run a marathon and I finished it. It was a great experience."
-Australia's Craig Mottram, the 2005 World Championship bronze medallist at 5,000, talking to the Melbourne Herald Sun after running 2:28:39 in London and coming up short in his bid to make a 5th Olympic team.
#5 Finishing A Marathon Is Nice, Beating People Is Better
"I really started enjoying it (the training for a marathon). For someone who wasn't a runner, I enjoyed doing it so much. It made me feel so much better the rest of the day. Mentally fresher.
"I was happy with my time, and then I saw where I finished compared to other people in my age bracket and men overall and all that and I want to finish with a higher ranking because I love competing. For something that was supposed to be a once-in-a-lifetime deal, I may have to try it again."
-Mississippi State football coach Dan Mullen talking to Runner's World after running his the first race (and marathon) of his life in Boston in 4:28:35. We love the fact that for Mullen it's about competition and pushing yourself to the limit, not simply getting to the finish line.
More: The first race of Mississippi State coach Dan Mullen's life was the Boston Marathon
****
Recommended Reads
LRC The Brilliance Of Asbel Kiprop & Jairus Birech's Crazy Quadruple: Scenes From The Spring's Final Athletics Kenya Meet In Eldoret
Despite Money And Fame, Eliud Kipchoge Chooses To Live A Simple Spartan Lifestyle In A Training Camp Where He Has To Do His Share Of The Chores At his camp Kipchoge shares a tiny room, has to chop vegetables, trim the garden and even clean the toilets.
Great Interview By Gary Cohen With 8-Time US 800 Champ And Now LSU Coach Khadevis Robinson
Commentator And Journalist Cathal Dennehy Writes About The Experience: "How I Lost My Mind Calling a Women's Relay Race in Ireland" We loved Dennehy's tweet: "One day, a race you commentate on could go viral. At the pivotal moment, don't screech like a slaughtered chicken."
*Good Read: Dennehy Explains Why In This Dark Period Of Doping Scandals, Phil Healy's Viral Finish Is Great For The Sport "That one race won't change people's perceptions about the sport … but maybe it has helped them remember that beneath the ugliness they've come to know, come to accept, there is still a whole lot of beauty left."
Wesley Korir's Protege Elkana Yego Expected To Surprise At The Scotiabank Ottawa Marathon On May 29th The poor 22-year-old turned heads and caught the attention of former Boston champ Wesley Korir when he showed up at a local 3K and won running barefoot. Korir took him in and arranged for him to train with Wilson Kipsang. Korir thinks he can run 2:06-2:08.
Previous Recommended Reads from other weeks can be found here.
****
Quotes Of The Day And Last Week's Home Pages
To see the actual quotes of the day from last week or last week's home page or any home page, go to our archive page.
Past editions of The Week That Was can be found here. Questions or comments? Please email us or post them in our running fan forum.