Week That Was: World Indoor CliffsNotes, Should Molly Huddle's Have Been DQd?, Duane Solomon, Chanelle Price & Raevyn Rogers Make News Outdoors, and The 'Robots' in the Long Jump Pit
The Week That Was In Running – March 14 – March 20, 2016
by LetsRun.com
March 22, 2016
Past editions of The Week That Was can be found here. Questions or comments? Please email us or post them on our running message board.
Article continues below player
If you missed our in-depth on-site coverage from the 2016 World Indoors, relive it here: 2016 IAAF World Indoor Championships. Want to relive 2014 World Indoors? Do so here: 2014 IAAF World Indoor Championships
****
Molly Huddle Is Involved In Yet Another Amazing Finish/Controversy At 2016 United Airlines NYC Half Marathon
The most popular article we wrote on LetsRun.com last week had nothing to do with World Indoors. Surprisingly, it was our brief recap of the 2016 United Airlines NYC Half Marathon – LRC Molly Huddle Wins 2016 NYC Half In Controversial Fashion (67:41 CR), Stephen Sambu Rolls In 61:16 – as Molly Huddle's controversial win is generating a lot of debate.
Is this a foul or not? (We set the video to start with the incident; the best replay occurs at 0:55)
We have 5 thoughts about the race:
1) You can't do what Molly Huddle did.
In a photo finish, when your competitor is making a late charge, you can't extend only the arm on the side that your competitor is running and hit them in the chest in the final strides of the race.
2) How about a new rule for Molly Huddle? Molly, don't ever, ever raise your arms before you cross the finish line the rest of your career.
In case you've forgotten, this is what happened the last time that the world saw Molly raise her arms before the finish.
And that came just a few years after a similar gaffe cost Huddle the 2012 U.S. Cross Country Championships.
From a competitive standpoint, what Huddle did in New York on Sunday was certainly better than what she did in Beijing or St. Louis. Rather than give a race away with her arms, she tried to use her arms to keep a victory. But we think it's best if, in the future, she just runs as hard as she can until she leans at the line.
Archives: LRC Agony & Ecstasy in the Women's 10,000: Molly Huddle Gives the Bronze Away to Emily Infeld as Vivian Cheruiyot Wins Gold Once Again
3) Should the NYRR have DQ'd Huddle?
While we said in point #1 that a runner shouldn't do what Huddle does, instinct and the competitive drive often take over. Plus not every foul results in a DQ. Race officials often consider context. If you impede someone on the first lap of a 10,000, no one is likely to DQ you.
In 2014,  Shannon Rowbury shouldn't have veered in and then out when trying to hold off Huddle at USAs but she did and wasn't DQ'd. Of course, that decision was made a lot easier since Rowbury was passed by Huddle.
We reached out the NYRR for comment and they said they didn't think that Huddle's actions had a "material impact" on the race so she wasn't DQ'd. They also noted that Joyce Chepkirui didn't file a protest within 30 minutes of the results being posted.
While we think Huddle likely would have won without throwing her arm out, we don't know that for sure. It's possible that Chepkirui could have nipped her at the line and if that's the case, we feel there probably should be some sort of accommodation to Chepkirui. The finish was indeed tight as shown here:
We kind of view it like pass interference in American football. If the ball is uncatchable, you don't throw the flag. But if the ball might have been caught, then you throw the flag. You don't have to know for certain if it would have been caught, just that it might have been. If the outcome of a race might have been impacted by a foul, then you should call it.
But for us, a total DQ is too harsh of a penalty. Which leads us to our next and perhaps most important point.
4) To be truthful, who wins the United Airlines NYC Half Marathon isn't really important to us. What we're interested in is making sure the rules are such that we don't have a similar controversy when the stakes are really high – say at the TCS New York City Marathon or at a USATF final.
As a result, we asked the NYRR if there was any way for them to rule in such a way that Huddle could be placed second, instead of being totally DQ'd. If two people are battling it out for a win and one impedes the other, the one fouling the other shouldn't be DQ'd, they should just be placed behind the person they impeded.
The NYRR rep thought our point was a valid one and said he'd pass it on to the higher-ups. If this happens down the road at an Olympics or Abbott World Marathon Major, we hope our lesser punishment is a viable option.
In this case, we think in an ideal world that Huddle would have been stripped of her title and placed second, not totally DQ'd.
5) In the long run, the DQ or no DQ isn't all that important for Huddle (even if $20,000 was on the line – Huddle won $20,000, Chepkirui won $10,000). In the long term, the key is Huddle's fitness and 67:41 is very fast.
It's the third-fastest time ever run by an American.
Fastest Half-Marathons In U.S. History.
66:57 Kara Goucher – Run at 2007 Great North Run (point to point) where she beat Paula Radcliffe.
67:34 Deena Kastor – Run in Berlin in 2006, lost to Edith Masai. American record.
67:41 Molly Huddle – Run at 2016 NYC Half  narrowly beat Joyce Chepkirui.
That being said, the course is mostly point to point and her run was definitely wind-aided. Here is the course map.

And the weather at the start of the race.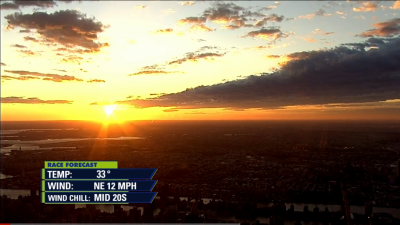 So the wind helped but the key thing is Huddle is 50 seconds ahead of what she ran last year (when the wind was listed as being 10 mph and out of the WNW). We don't think all 50 seconds of that is wind.
*Miss the 2016 NYC Half? You can watch it on WATCHESPN as it was shown live on ESPN3.
Talk about the finish on our messageboard: *MB: Molly Huddle Interference? Should Huddle have been DQ'd for flailing her arms out at United Airlines NYC Half? 
*****
The CliffsNotes Version of What We Learned From The Mid-D and Distance Action at 2016 World Indoors
The 2016 World Indoors are in the books. We broke down the individual events in great detail as they happened but here are "event takeaways" for the mid-d and distance action. For the most part, there weren't any really shocking results.
Men's 800: Confirmed what we thought. Boris Berian is very fast and a big talent. Berian's gold greatly enhanced his ability to get a nice shoe contract. That being said, the words "rounds" and "Berian" still make us little nervous as Berian only got into the final on time.
Men's 1500: Confirmed what we thought. Matthew Centrowitz is the best miler in the world outside of guys like Asbel Kiprop, Elijah Manangoi, Abdelaati Iguider, Taoufik Makhloufi and Silas Kiplagat.
Yes, Centrowitz did beat two guys that we had ranked above him in our world rankings last year (Nick Willis and Ayanleh Souleiman) but that wasn't a total shock as Centrowitz has been better than Willis over the last few years as a whole and Souleiman, whom Centrowitz was 1-13 against for his life before Worlds, left the track in a wheelchair.
This doesn't mean we shouldn't appreciate and celebrate Centrowitz's win. Of course we should. Iguider was our favorite to win either the 3000 or 1500 and he didn't even medal at Worlds. Iguider's surprising lack of a medal in the 3000 coupled with Souleiman's injury definitely mean that Centro's medal hopes increased a little bit last weekend.
Men's 3000: Yomif Kejelcha is a name we could be saying a ton through the year 2030.
Kejelcha was the biggest winner of Worlds in the mid-d and distance events (well either him or Boris Berian, as to win a world title while unsponsored is a golden ticket). The men's 3000 was the most loaded mid-d and distance event and he emerged as the winner. That being said, we doubt that Mo Farah, who didn't even know Kejelcha's name when he was serving as a guest commentator on the NBC Sports broadcast, is too worried yet as in the end Kejelcha ended up just .18 ahead of Ryan Hill. 
Farah's Olympic 5000 gold chances may have actually gone up last week as Caleb Ndiku revealed he's having trouble generating as much power as he'd like on his left side due to injury.
Women's 800: The results here intensified what we we've been fearing since last August – one of the bigger stories of the Olympics this summer will be the issue of hyperandrogenism in the women's 800 (Related: LRC The End Of Women's Sports As We Know It?  The Court Of Arbitration For Sport Suspends IAAF's Hyperandrogenism Regulations). Should intersex women be allowed to compete against other women without treatment? We will not say more now, but are working on an article on this sensitive issue.
Women's 1500: Confirmed what we thought. Sifan Hassan is very good and Ethiopia's got some great young talent. It doesn't please us to say it but Jenny Simpson needs to move to the steeplechase if she wants to contend for a gold in 2016. Either that or hope that Dibaba, Hassan and Faith Kipyegon at a minimum are off their games or in other events.
Womens 3000: Confirmed what we thought. Genzebe Dibaba is amazing, Meseret Defar is still relevant and Shannon Rowbury is competitive with the rest of the world once you get past the gold-medal-contending superstars. Unfortunately for her, her event outdoors has a ton of superstars in it.
****
Six More Thoughts About World Indoors
1. It was hard not to see the silver-medal performance by Ethiopian Dawit Seyaum – who is 85 days younger than Mary Cain – and not think, "That's the type of performance Alberto Salazar was envisioning for Cain when he started coaching her."
Remember two years ago when Mary Cain opted for the 3000 at World Juniors, not the 1500, and some people were wondering why? We told you we thought it was to stay clear of Dawit Seyaum. Seyaum has gone from world junior gold to one of the top 1500 runners on the planet in 2016. Cain has gone from world junior gold to struggling 19-year-old.
One more thing about teen sensations. The bronze medallist in the women's 1500 at Worlds – Gudaf Tsegay – is even younger than Seyaum. Like Cain and Seyaum, Tsegay is also 19 but she's 179 days younger than Seyaum.
2. It was weird to see two prominent U.S. athletes who skipped U.S./World Indoors – Duane Solomon and Chanelle Price – in outdoor track results last week.
Rather than vie for $40,000 in front of a sold-out crowd and an international TV audience, they opted for the University of Central Florida's Black & Gold Challange, where both emerged victorious.
Men's 800
1. Duane Solomon         Saucony                1:46.45
2. Jonathan Moore        Bethune-Cook           1:48.60
3. Sean Obinwa           Unattached             1:49.72
Women's 1500m:
1. Chanelle Price        Unattached             4:20.93 
2. Natosha Rogers        New Balance            4:22.78 
3. Anne-Marie Blaney     UCF                    4:23.14
In our sport, we get that the Olympics are THE BIG THING but it's a shame we can't at least get World Indoors to be the next big thing. The fact that Solomon and Price — the defending champion — didn't do World Indoors shows you the problem the bureaucrats in charge of our sport face in marketing it to the masses. Everything in our sport save the Olympics and outdoor Worlds (and various countries' national championships) are optional meets. Optional sporting events – whether it's NFL preseason games or track meets that don't fit into someone's ideal schedule – aren't normally very popular as they end up being viewed as nothing more than exhibitions. Don't misunderstand us. We're not ripping Solomon and Price individually. Just because they raced doesn't mean they are in shape to be factors for World Indoors. In fact, neither had the World Indoors standard, so even if they did run USAs, they would have been reliant on an at-large bid from the IAAF to run Worlds. We're just complaining about the nature of our sport.
#### ####
There was another US 'name' running fast outdoors last week. NCAA superstar Raevyn Rogers, who won the NCAA indoor 800 title the week before, ran a 400 pb of 52.30 at the Willie Williams Classic in Tucson. Rogers crushed her PB of 53.34, which she achieved her junior year of high school. But check this out: Rogers ran nearly the same time – 53.36 – way back in 2009 in the summer after 7th grade!!! As we've pointed out before, Rogers is the ultimate teenage youth prodigy. While a sophomore in college, she's only 19 as her birthday in September. So that means she ran her 53.36 at age 12!!
3. Thank You Dafne Schippers, Trayvon Bromell and Asafa Powell
The excitement of the meet was much higher because these star sprinters all showed up. Powell and Schippers didn't get wins but they made the weekend a lot more interesting by competing. More: Settle the LRC Debate: Asafa Powell Choker or Not?
4. Here's why undefeated world leader Dejen Gebremeskel didn't run at Worlds
One man missing from the field was Ethiopia's One man missing from the field was Ethiopia's Dejen Gebremeskel, the 2012 Olympic silver medallist at 5000 and 2014 World Indoor bronze medallist at 3000. Gebremeskel was healthy and ready to compete and has the world's fastest time this year (7:38.03) but he was not selected by the Ethiopian federation. Ethiopia can hardly be criticized for selecting Kejelcha, but their other entrant, Yenew Alamirew, wound up dead last in the final. Gebremeskel surely would have done better than that. Here's what happened. Gebremeskel ran 7:42.94 in Boston at the New Balance Indoor Grand Prix on February 14. At the time, however, that was only the third-best time by an Ethiopian in 2016 and since Ethiopia picks its teams based on season bests, Gebremeskel had to take another crack at it. So at the low-key Boston University Last Chance Meet on February 28, Gebremeskel employed a couple of rabbits and ran 7:38.03, then as now, the world-leading time (he won by 28 seconds). However, according to Gebremeskel's agent Mark Wetmore, that time was not considered by the Ethiopian federation (even though the World Indoor qualifying window didn't end until March 7) because they had already informed Alamirew that he had been selected. As for U.S. shot putter Reese Hoffa, he qualified for Worlds by finishing second at USAs but skipped it as he had already committed to giving a TED talk.
5. The men's 1500 at World Indoors was historic…
Not only was Matthew Centrowitz's gold the first by an American-born athlete in that event in 108 years (!) but it was also the first men's race at World Indoors longer than 400 meters in which an African runner failed to medal since 1993. The last time it happened, in both the 1500 and 3000 in 1993, Ethiopia entered zero men in the distance events while Kenya entered two.
In fact, counting World outdoors and the Olympics, this was only the second track race longer than 400m since 1993 that no African man medalled. The other was the 800 at 1997 World outdoors, but that was won by Kenyan-born Wilson Kipketer.
Hat tip to Twitter user St Brendan of Tucson for posing the question.
6. …and so was the U.S.'s medal haul
After the meet was over, USATF's Amanda Brooks emailed us with a list of stats. Some of the more interesting ones:
The U.S. set records for most medals at a World Indoors (23, breaking the old record of 19 set by the U.S. in 1999) and most golds (13, breaking the old record of 10 set by the U.S. in 2012).
Thanks to medals by Boris Berian and Erik Sowinski, the U.S. doubled its all-time total of World Indoor medals in the men's 800 (previously David Krummenacker won gold in 2003 and Rich Kenah bronze in 1997).
At 18 years, 62 days, Vashti Cunningham was the youngest American ever to medal at World Indoors and the youngest woman to win the high jump at World Indoors. Silver medallist Ruth Beitia of Spain (36 years, 11 months, 19 days) is more than twice as old as Cunningham.
The U.S. was helped by the fact that many of its top athletes took the indoor season seriously, with a goal of peaking at World Indoors (before taking a break and peaking again at the Olympics). Even so, to win so many medals required American athletes to be close to the top of the world in their events and execution on a big stage, which is no easy feat, whether it's March in Portland or August in Rio.
****
Stat of the Week
0 – number of gold or silver medals won by Kenya at the IAAF World Indoors.
2 – number of total medals (bronze in men's 3000 and women's 800) earned by Kenya at the IAAF World Indoors.
At outdoor Worlds, Kenya actually led the medal table (award 3 points for gold, 2 for silver and 1 for bronze) with 16 medals, including 7 gold. Kenya was also 2nd in the placing table (awarding points for place 1-8). In Portland, Kenya was tied for 25th in the medal table and tied for 9th in the placing table.
What does it mean? Not much other than the Kenyans don't really care about indoors and many of their medals come in events that don't have an indoor equivalent. Two years ago in Sopot, the Kenyans won just two medals as well, but one was gold and one was silver so they placed 10th in the medal table and 13th in the placing table.
Even if the Kenyans did care about indoors, they wouldn't be nearly as dominant as outdoors as 10 of their 16 medallists don't really have an indoor event that they'd excel in as they are all either javelin throwers, long hurdlers, steeplechasers, 10k runners or marathoners.
2015 Kenyan Medallists With No Indoor Events

Helah

K

iprop (silver marathon)
Vivian Cheruiyot (gold 10k)
Geoffrey Kamworor (silver 10k)
Paul Tanui (bronze 10k)
Hyvin Kiyeng (gold steeple)
Ezekiel Kemboi (gold steeple)
Conseslus Kipruto (silver steeple)
Brimin Kipruto (bronze steeple)
Nicholas Bett (gold 400h)
Julius Yego (gold javelin)
Kenyan Medallists Who Likely Would Do Very Well If They Did Indoors
Caleb Ndiku (silver 5000)
Asbel Kiprop (gold 1500)
Elijah Manangoi (silver 1500)
David Rudisha (gold 800)
Faith Kipyegon (silver 1500)
Eunice Sum (bronze 800)
Only one of those 2015 medallists — Ndiku — ran World Indoors. He finished 5th in the 3000.
****
Tweet of the Week
6,89 vs 7,07 @JanayDeLoach and Spanovic… something wrong? #Athletics https://t.co/b5aKkuucFH pic.twitter.com/gHWdWRj4KK

— Queenatletica (@Queenatletica) March 19, 2016
At LetsRun.com, we always pride ourselves in sniffing out corruption. Thus when got wind of this tweet indicating that American Janay DeLoach, who ended up 4th in the long jump at 6.89, wasn't credited with her first-ever indoor 7+ meter jump at Worlds, we started investigating.
Had the IAAF's incredible video measuring system somehow made a mistake?
We had to go all the way to the Italian press before we found the answer. This article on the Italian website – atleticalive.it – was fantastic. It starts by revealing that it took way longer than normal for DeLoach's mark to post. Most marks popped up very quickly but Deloach's didn't show up for 90 seconds. Unlike most marks, hers posted after the pit had been raked.
Proof of corruption? No. Apparently, her right hand grazed the sand before the rest of her body and we imagine the official in charge of the video measuring system, who has to place the mark, was just making sure her hand actually hit the sand.
We went back and watched the video of the jump (and DeLoach's painful 90-second wait for a mark) and it does appear it's quite possible her right hand grazed the sand as shown by the blurry screenshot below.
Talk about the interesting women's high jump and the video measuring system on our world famous fan forum / messageboard here: MB: The Robots are Taking Over! We don't have to measure the long jumps anymore.
****
Quotes of the Week (that wasn't quote of the day).
#1 Alberto Salazar was right on the money
"I think Matthew is running as well anyone in the world right now. I'm real pleased he's learning to win in different ways. He's continuing to mature. He still likes to have fun. But now that's balanced. It's not just training hard all the time for him, but he's kept focused. He's made a huge jump."
— Alberto Salazar talking to Ken Goe of The Oregonian prior to last week's World Indoor Championships.
#2 It's Time To Trash Text
"There's already been a bit of trash talk. The boys have already sent me a text saying, 'well done on winning the world title, but no-one was there'. So it's already started."
-2016 World Indoor shot put champ Tom Walsh of New Zealand revealing tostuff.co.nz that he's been getting some trash texts about how many of the big guns in the shot put skipped World Indoors. While we have no idea why all of the World medallists from outdoors last year  – Joe Kovacs, Germany's David Storl, Jamaica's O'Dayne Richards – skipped World Indoors, we do know that Walsh's winning throw in Portland was quite good as it would have netted him silver at World outdoors in 2015.
****
Weekly Free Coaching Advice
Goe had a nice article in The Oregonian that all 1500 racers should learn from. It describes Centrowitz's tactics perfectly.
They figured the pace would be slow early. Salazar wanted Centrowitz in lane two, where he wouldn't get tripped, and so he wouldn't be boxed in when the race started started.
To do that and make it work, Salazar said, Centrowitz couldn't let anybody pass him.
"You've already sacrificed distance by running extra," Salazar said. "If you let people by, now you are boxed. Once you have fought to get some ground, never give it up. He is master of that."
Centrowitz pretty much ran the entire race on the outside of lane 1/inside of lane 2 near the lead in the top four. Being near the shoulder of the leader is a great spot to be in. The problem is, it's a spot everyone wants to be in. The key thing Centrowitz did is make sure the entire field never came around him and pushed him too far back. At times, Centro was willing to run in the middle of lane two to ensure the others didn't come around him.
Around 800 meters into the race, Centro did get pushed back to 5th at Chris O'Hare came around him. Centrowitz immediately responded and went the way out into lane 3 to get back near the front as shown here:
Video of 800 to 900 in Race:
That was critical. As Salazar pointed out, Centrowitz had already run a ton of extra ground. There is no point in doing that only to find yourself in a horrible spot when the real racing begins.
The other tactical options indoors are to be in the very front or to just run the first half on the rail, not responding to anything and then make a huge move to the front, which is sort of what Nick Willis did (but Willis also made an aborted move to the front at 450m which we didn't like).
****
5 Men Break 60:00 For 13.1
Last week, we mentioned that until Kenyan Solomon Kirwa Yego ran 58:44 on a wind-aided course that no one in the world had broken 60:00 for the half-marathon distance this year.
That's certainly no longer the case this year as a slew of men broke 60 last week.
At the 26th Meia-Maratona Internacional de Lisboa, Sammy Kitwara, in his first race since finishing 2nd at the Bank of America Chicago Marathon, broke 60 for the sixth time in his career.
Leading Meia-Maratona Internacional de Lisboa Men's Results
1. Sammy Kitwara, KEN              59:47
2. Kenneth Kiprop Kipkemoi, KEN  1:00:05
3. Paul Lonyangata, KEN          1:00:11
Leading Meia-Maratona Internacional de Lisboa Women's Results
1. Ruti Aga, ETH                 1:09:16
2. Wude Ayalew, ETH              1:09:23
3. Linet Masai, KEN              1:09:33 PB
4. Eunice Chebichi Chumba, BRN   1:09:55 PB
In the Netherlands, at the 10th Wehr Minerals Venloop Half-Marathon, three guys broke 60 minutes.
Leading Wehr Minerals Venloop Men's Results
1. Geoffrey Yegon, KEN              59:44 PB/CR
2. Kenneth Keter, KEN               59:48 PB
3. Yigrem Demelash, ETH             59:49 PB
Leading Wehr Minerals Venloop Women's Results
1. Perendis Lekapana, KEN         1:10:34 PB
2. Winnie Jepkorir, KEN           1:11:27 PB
The road performance of the week came at the 45th Stramilano Half-Marathon in Italy where James Wangari of Kenya broke the 59:17 course record held by the great Paul Tergat by five seconds. James showed up in the Italian press under the name of James Wangari but he shows up in our results databases as James Mangwi and is listed as 22 years old (turns 23 on March 23). Mangwi has a 27:23 10,000 pb and runs for Team NTN in Japan. Both of our results databases list this as the half-marathon debut for Mangwi so we assume he's not the James Mangwi who was 7th in the 2005 World Half Marathon Championships.
Leading Stramilano Men's Results
1. James Wangari, KEN                 59:12 PB/ER* € 2000
2. Paul Kariuki Mwangi, KEN         1:01:31          1200
3. Amos Kibiwot Kurgat, KEN         1:01:56           700
Leading Stramilano Women's Results
1. Rael Kiyara, KEN                 1:10:19 € 2000
2. Violah Jelagat, KEN              1:11:01   1200
3. Hellen Jepkurgat, KEN            1:11:34    700
4. Mary Wanjohi, KEN                1:11:35    500
****
Recommended Reads
Daily Relay Recaps World Indoors Kevin Sully gives a really good rundown of the highs and lows from Portland, both from an athlete perspective and for the presentation of the sport.
Previous Recommended Reads from other weeks can be found here.
****
Quotes Of The Day And Last Week's Home Pages
To see the actual quotes of the day from last week or last week's home page or any home page, go to our archive page.
Past editions of The Week That Was can be found here. Questions or comments? Please email us or post them in our running fan forum.