Tirunesh Dibaba Is "Training Well" And Planning On Going For Unprecedented 3rd Olympic 10,000 Gold In Rio
by LetsRun.com
January 7, 2016
No human being has ever won three Olympic 10,000 track and field gold medals, let alone three in a row, but Ethiopia's Tirunesh Dibaba hopes to do just that in August at the 2016 Rio Olympics.
Dibaba's agent, Mark Wetmore, revealed today to LetsRun.com that Dibaba, who gave birth to a baby boy in Atlanta in March and hasn't raced since May 2014, is planning on going for the Olympic three-peat come August.
Article continues below player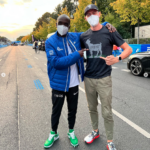 Kipchoge loves the 1:59:40 Shirt Get Yours Today
What a legend!
In response to an inquiry for an update on Dibaba's status and plans for Rio, Wetmore wrote in part:
Tirunesh is training well. The plan right now is the 10000m [not the marathon, at the Olympics]. She should run 1-2 indoor races and then prepare for the 10000m early in the outdoor season.
Going for gold in the 10,000 makes a lot of sense as the 30-year-old Dibaba has only run one marathon in her career (a 2:20:35 3rd place showing in London in 2014) and she's undefeated at 10,000 for her life. At 10,000, she's a perfect 11 for 11, with five of those wins earning a global gold (3 World, 2 Olympic) and six times she's run under 30:30, including one sub-30:00.
Counting Dibaba, seven distance stars have won double Olympic 10,000 gold – Paavo Nurmi, Emil Zatopek, Lasse Viren, Haile Gebrselassie, Kenenisa Bekele, and Derartu Tulu – but no one has won three. Tulu is the only athlete who has ever won three medals at 10,000 as in addition to her 1992 and 2000 Olympic golds, she also won a bronze in 2004.
[gravityform action="polls" id="304″ mode="poll" cookie="1 month" show_results_link="false" display_results="true" percentages="true" counts="false" ajax="true"]
Discuss this topic on our messageboard: MB: Tirunesh Dibaba Is "Training Well" and Planning On Going For Unprecedented 3rd Olympic 10,000 Gold in Rio.
More: LRC Predictions For The New Year: Will Mo Farah Win Double Gold (Again)? Will Tirunesh Dibaba Win Triple Gold? Will Kenenisa Bekele Even Compete?
LRC Archives: 2013: Tirunesh Dibaba Remains Undefeated For Her Life at 10,000 – Wins Record 5th Global 10,000 Title
*2012: 2012 Olympic Women's 10,000: Tirunesh Dibaba Makes The Case For Being The Greatest Ever
*2008: LetsRun.com homepage day after Dibaba won 1st Olympic gold