LRC $200,015 Running Warehouse NCAA XC Prediction Contest Recap
by LetsRun.com
January 7, 2016
It may be 2016, but we're still looking back to 2015 on LetsRun.com and that means we need to look back and honor the winners of the $200,015 LRC Running Warehouse NCAA Cross Country Prediction Contest.
The winners of our contests always have tremendously cool stories and this time is no different. While we didn't have any rocket scientists win this time, all three winners are college students or recent graduates on their way to being doctors, engineers, and aerial mapping experts. They are  soon to be in the vast majority of LRCers who will make over $100k a year and not in the tiny minority who will live in the basement of their parents.
Article continues below player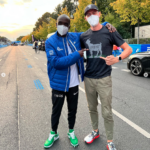 Kipchoge loves the 1:59:40 Shirt Get Yours Today
What a legend!
Dylan Scott was our overall winner. Dylan is 20 and is pre-med at Lander University in South Carolina. A huge track and field fan, Dylan hasn't been able to run the last 2.5 years due to "an Achilles injury that NO ONE has been able to fix, or really even tell me what exactly is wrong for that matter." Dylan adds, "Your message boards, along with around six different doctors and a now well known massage therapist that is no longer Rupp certified have pointed me in different directions, but so far they haven't been the right ones. Regardless I still love watching and keeping up with running at all levels."
For winning the contest Dylan wins a $200 gift certificate from our title sponsor Running Warehouse (where all of you should be buying your shoes online), a pair of Mizuno running shoes (he chose the Mizuno Wave Rider 19), and a not Rupp-certified LRC t-shirt. Dylan picked the individual winners of both races, the team winners of both races, and crushed it with his women's picks, nailing the top four teams and individuals in the women's race.
We hope to see Dylan running on the roads again soon as while he is winning contests, we know that actual running is better. Dylan wrote, "I hope that one day I'll be back on the roads logging real miles, but until then y'all keep up the great work on the site, it is fun to read, and interact with other runners around the world, and also provides a pleasant get away from school work!"
A Former Football Player Turned Collegiate Track Runner Wins Individual Portion of Contest
John Wamhoff, originally from Hopkins, Michigan, is a biomedical engineering student-athlete (junior) at Indiana Tech who runs cross country and track (focused on 3K indooors and steeplechase outdoors) and won the individual portion of our contest. John grew up on a dairy farm in Hopkins and was a football player until switching over to track and field. John wants to work in the prosthetics field after college and aspires to work with Paralympic track athletes. He won the contest by picking the top two in the men's race and the top three in the women's perfectly and six of the top 10 in each race.
John won an LRC t-shirt and a pair of Mizuno shoes  (he also chose the  Mizuno Wave Rider 19).
A Recent School Record Holder With a Job and a Girlfriend Who Runs at Syracuse Wins Team Contest
The winner of the prize in the team portion of the prediction contest was Maurie Clark.  Maurie is a recent graduate of the University of Vermont, where his collegiate career was highlighted by breaking the school record in the 4×8 at IC4A's (7:30.9) the day before graduation. To top it off Maurie is already gainfully employed, as he works at Pictometry, an aerial imagery company.
Maurie also has a girlfriend, Syracuse's Shaylyn Tuite, who at NCAAs "absolutely killed it, passing 90+ runners from 2k to 6k to finish 55th." Maurie was on-site in Louisville to cheer Shaylyn on. And for an added bonus, picking Syracuse to win helped him win a pair of Mizuno Wave Rider 19's for winning the team portion of our contest.
Congrats to all our winners, Running Warehouse for sponsoring the contest (please remember them when you buy your shoes online), and Mizuno. If you played, you can check your scores here.
Top 30 Below