by: LetsRun.com
June 20, 2015
Eugene, OR – A relaxed TrackTown USA President Vin Lananna coming off record ESPN viewership of the NCAA championships talked about the doping allegations surrounding the Nike Oregon Project, coach Alberto Salazar and Galen Rupp for the first time today, at a media event in advance of next weekend's USATF National Championships.
While "saddened" by the allegations, Lananna does not think they will detract from the USA championships.
Lananna said, "All of us who love the sport… are obviously saddened by all of this but in the end I feel confident it will be sorted out."
"I would think any black cloud will be overshadowed by all the positives that are going on," he said talking about the "phenomenal success" of the Prefontaine meet, Oregon state championship, and then last weeks NCAA Championships.
Article continues below player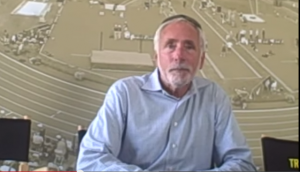 Lananna on Rupp
Lananna was the head coach at the University of Oregon when 10,000 Olympic silver medallist Galen Rupp was at Oregon. Lananna said about Galen, "I'm sure he's not happy about it (the doping allegations). In the end of the day he's been a great competitor between high school, the U of O, at the World Championships, at the Olympic Games, and I assume he'll figure out how to sort this out and compete at the USAs and… be successful."
In the investigation into the Nike Oregon Project, Lananna has come out as one of the good guys as Lauren Fleshman credits him with helping her take a step back and not push the boundaries in terms of taking prescription drugs that she claims Alberto Salazar wanted her to take at a level for possible performance enhancing reasons.
When asked about being one of the "good guys" in the entire investigation and his thoughts on Lauren Fleshman's comments, Lananna cracked a joke saying, "That part you said I came across as a good guy, I think I am," before turning to address Lauren's comments more specifically.
He said, "Lauren expressed her views, I don't necessarily (remember) the exact conversation I think she was struggling with her ability to be able to perform at the level she wanted to compete. She was sorting out information and just like any other advisor, any coach would provide for her, I tried to get her a good context of how to approach (the situation) and use practical information."
Lananna said he has not spoken to Alberto Salazar about the allegations.
Lananna Thinks Kids Should Stay Away from the Grey Line
When asked whether there might be some positives for all the dirty laundry getting out and spotlight being shown on the "grey area" in the doping fight Lananna said, "If you look at all of this information and look at it in the context, I think every coach and every athlete are out there to perform at their highest level. All of us who love the sport believe in a clean, pure sport. Anything that casts light on that (grey area) that isn't along those lines is a problem for the sport itself. I don't think I can comment on what the rules are, I don't know them well enough, in terms of what's legal and what's not legal. All I can comment is what my position (is) and my position is we would encourage kids to stay away from that line and we would expect them to be able to perform at their highest level by good hard work…I think we would be remiss to say there is no exception (where athletes can't take certain drugs). There are very legitimate concerns and athletes need to be in a position where medical treatment or advice has them using whatever the medication would be to remedy it, they should be able to. Everybody knows the rules. I have confidence in USADA and WADA and I assume they will review these (allegations) and they provide that forum for those athletes to research that information."
Lananna's immediate priority is putting on a successful US championships. When asked whether the forecasted 90+ degree weather concerned him he joked, "I am so excited after 10 years I am able to apologize for the hot weather."
It should be a tremendous US championships and the circus side show surrounding the Nike Oregon Project allegations may make it even more entertaining. USAs start next Thursday in Eugene.
****
Lananna said there is a chance that Oregon does not have home meets during the 2017 outdoor season due to renovations to Hayward Field. The plan is for any renovations to not affect the 2017 Prefontaine or NCAA meets, but it could impact the Ducks 2017 home season.
Full interview below (set to start with doping talk):
---
Advertisement
The 1:59:40 GOAT shirts are here