Drake Relays Recap: Ajee Wilson Holds off Brenda Martinez for $20,000, King James Breaks Michael Johnson's Meet Record
by: LetsRun.com
April 24, 2015
On a cold (mid 50s) and blustery evening, the pros came out in force on Friday at the Drake Relays to chase the biggest winning first-place prizes in the sport outside of the World Champs/Continental Cup ($20,000 for 1st here or the "Beijing Preview" track events, $10,000 for 1st in field events).
The women's 800m was the highlight for distance fans as nearly all of America's stars squared off and in the end U.S. #1 Ajee Wilson held off 2013 World Championship bronze medallist Brenda Martinez to pick up $20,000. We recap that and the other highlights below including Kirani James setting a meet record in the 400.
Women's 800: Ajee Wilson Wire-to-Wire Win
This race was a strange one as the large field didn't start in lanes, but used a barrel start.
Article continues below player.
Ajee Wilson did not appear to be fazed as she took the lead the first 200m and led in 28-mid. She would never relinquish it. She took the field through 400 in 58.93 and led at 600 with Chanelle Price in second. Around the turn Brenda Martinez closed on Wilson as they separated from everyone else. Wilson hit the final straight in front, but Martinez was right there in striking distance and had been closing the gap. Could the strength of the 800/1500 runner Martinez outlast the speed of Wilson?
No. Wilson had something left and kept pretty much the same lead the entire home stretch and crossed the line in a world-leading 2:00.03 ahead of Martinez's 2:00.51. The two American stars were clearly best today. Phoebe Wright edged Molly Ludlow in the sprint for third with the other U.S. star in this event Alysia Montano finishing 5th in her first 800 since giving birth last year in 2:01.78, ahead of NCAA leader Shelby Houlihan in 2:02.03. Maggie Vessey was 7th, Sarah Brown 8th, and previous world leader Chanelle Price faded from 2nd to 9th the last 200. Morgan Uceny, the former world #1 at 1500, was last in this one at 2:05.20.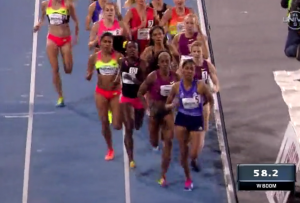 QT#1: Where Does Ajee Wilson End Up in 2015?
Wilson acknowledged in her post-race TV interview on Universal Sports that it is still very early in the season. Nonetheless, considering the conditions this was an impressive run in her first real test of 2015. Wilson can't legally have a drink until a couple of weeks from now (she turns 21 on May 8), but the World #2 in 2015 is arguably America's best hope for distance gold this year. She said afterward, "I'm excited to see what I can do the rest of the year." So are we.
QT #2: Expect More Battles from Brenda and Ajee This Year
Ajee had the edge over Brenda today but we can expect these two American stars to battle a lot this year. They are both two of the world's best and Wilson will attempt to lead the U.S. to 4×800 gold (Martinez is not part of the U.S. team this year).
QT #3: Winners and Loser of Everyone Else
Phoebe Wright no doubt will be pleased with her 3rd-place finish versus this field and the $5000 she won. Alysia Montano put up a decent showing in her first competitive 800 since giving birth last year, but she's not used to finishing fifth in a field of Americans. Chanelle Price was faster than everyone else in the world coming in, but only finished 9th, showing she did not run very well and how good the U.S. is at the 800m. Heather Kampf and former World 1500m #1 Morgan Uceny no doubt want to do better.
QT #4: 800m outdoors are supposed to be run in lanes
We're not sure why the organizers let 13 runners into the field and then didn't double up runners in lanes so they could start in lanes. By rule, 800s outdoors are supposed to start in lanes.
However, after thinking about it, why don't some races do things a little differently? How about a 400m with only the first 100m only in lanes? It might make things more interesting for fans.
Place
Athlete
Time
1
Ajee Wilson
Adidas
2:00.03
2
Brenda Martinez
New Balance
2:00.51
3
Phoebe Wright
Nike
2:01.65
4
Molly Ludlow
Unattached
2:01.72
5
Alysia Montano
NYAC Asics
2:01.78
6
Shelby Houlihan
SR – Arizona State
2:02.03
7
Maggie Vessey
Unattached
2:02.19
8
Sarah Brown
New Balance
2:02.94
9
Chanelle Price
Nike
2:03.15
10
Stephanie Brown
Nike
2:03.68
11
Latavia Thomas
HS International
2:03.81
12
Heather Kampf
Asics
2:04.07
13
Morgan Uceny
Adidas
2:05.20
Men's 400m: Kirani James is King
The men's 400m was expected to be another Kirani James-LaShawn Merritt showdown. The only time Merritt beat James last year in their three match-ups was at Drake, but tonight Merrit was a non-factor in 45.27. The guy challenging James down the homestretch was Yousef Ahmed Masrahi of Saudi Arabia, who finished second in 44.70.
However, James was too good as despite the sub-optimal sprinting weather he ran 44.22, breaking Michael Johnson's 44.41 meet record. Thirty-six-year-old Chris Brown also broke 45 in 44.76 as this was a fast early season race with the $20,000 1st place prize.
Place
Athlete
Time
1
Kirani James
Nike
44.22
2
Yousef Ahmed Masrahi
Saudi Arabia
44.70
3
Chris Brown
Adidas
44.76
4
Tony McQuay
Adidas
45.14
5
LaShawn Merritt
Nike
45.27
6
Gil Roberts
Nike
45.29
7
Luguelin Santos
Puma
45.49
8
Josh Mance
Unattached
46.35
Men's 400m Hurdles: 'Batman is Back'
Javier Culson led until the final hurdle when Bershawn Jackson, the 2005 World Champ, a man who said he last had a good race before the 2012 Olympic Trials, went by for the comfortable win in 48.87. Afterwards Batman was very happy when talking to Universal Sports thanking his family for sticking with him and saying, "Batman is back."
This was a big win for Jackson even if the time was not fast due to the conditions. Jackson ran 48.61 to win last week in Waco.
Place
Athlete
Time
1
Bershawn Jackson
Unattached
48.87
2
Michael Tinsley
Adidas
49.39
3
Javier Culson
Adidas
49.47
4
Johnny Dutch
USA
49.59
5
Kerron Clement
USA
50.48
6
Roxroy Cato
Puma
50.64
7
Eric Alejandro
Mizuno
50.70
8
Annsert Whyte
Racers TC
50.87
Men's 110m Hurdles: Aleec Harris Pulls the Upset, David Oliver Shows He Could be a Force, Questions Marks on Merritt
Aleec Harris had not lost in three minor races this year but this was a huge win for him as he picked up the $20,000 in 13.16, just off his 13.14 pr. David Oliver was a close second in 13.19. The world record holder Aries Merritt was only 4th in 13.37 as his world-record year of 2012 remains an incredible anomaly. Merritt ran 12.80 that year and has never run under 13.09 in any other year in his career (and ran under 13.09 twelve times in 2012).
Place
Athlete
Time
Wind
1
Aleec Harris
Adidas
13.16
-0.6
2
David Oliver
USA
13.19
-0.6
3
Andrew Riley
Puma
13.32
-0.6
4
Aries Merritt
Nike
13.37
-0.6
5
Hansle Parchment
Puma
13.40
-0.6
6
Ronnie Ash
Adidas
13.43
-0.6
[13.422]
7
Ashton Eaton
Nike
13.43
-0.6
[13.426]
8
Ryan Wilson
Mizuno
14.24
-0.6
Men's 4×800: Loyola of Illinois with the Upset
This was a crazy race. Air Force got a big lead on leg 1, it was gone by leg 2, and then around the final bend it looked to be a battle between powerhouses Arkansas and Nebraska. Howewver, little Loyola of Illinois with Sam Penzenstadler on the anchor (a 3:58 miler who was 3rd in the 1500 at NCAAs last year, made NCAA indoors in the mile, and made NCAA Cross) was not done. Penzenstadler, with his head tilting to the side, may not be the prettiest runner, but he got it done as he passed Arkansas' Ryan Thomas for the win.
Place
Team
Time
1
Loyola (Ill.)
J Mazanke, P Archibald, R Van Portfliet, S Penzenstadler
7:25.12
2
Arkansas
A Pisechko, T Squella, C Wallace, R Thomas
7:25.63
3
Nebraska
E Propst, A Tobias, L Hawk, M Mohammed
7:26.99
4
Iowa
C Lilly, R Dorman, W Teubel, B Davey
7:31.48
5
Ohio State
J Fleming, A Johnson, K Blank, D Seitzer
7:31.96
6
Iowa State
B Wheat, P Peterson, J Aune, E Kemboi
7:32.34
7
Wyoming
T Atkinson, C Kepler, R Faure, H Fisher
7:33.15
8
Illinois
M Lee, T Zea, T Kuehr, G Lee
7:33.92
9
Washington
N Harris, D Schreiber, K Blume, A Prentice
7:35.30
10
Illinois State
T Rippel, J Lafayette, R Bybee, C Hamilton
7:36.18
11
Marquette
R Shields, A Miller, D Sajdak, A Miller
7:38.87
12
Air Force
Z Perkins, G Caswell, Z Petrie, G Garst
7:39.69
13
Missouri
B Goodman, C Winebrenner, M Sheridan, C Dye
7:43.83
14
South Dakota St.
A Kassim, R Swenson, D Slaba, D Pettit
7:49.58
15
Saint Louis
P Sheil, R Noonan, C Maxwell, A Marban
7:50.19
Women's 4×800: Oklahoma States Dominates, Washington Moves Up to 2nd
Place
Team
Time
1
Oklahoma State
S Camacho, K Dodd, K Edwards, N Piliusina
8:27.88
2
Washington
R Christen, E Fulton, A Maxwell, B Mires
8:36.59
3
Ohio State
R Weber, T Berger, J Olberding, K Borchers
8:36.97
4
Arkansas
D Robison, R Simko, T Haiss, J Kamilos
8:37.58
5
Illinois
N Choquette, L Rakosnik, A Duvendack, C Schmidt
8:38.76
6
Minnesota
S Swatek, A Ferguson, A McSherry, L Domski
8:43.18
7
North Dakota St.
J Guibert, A Andrushko, M Kitching, E Teschuk
8:45.89
8
Eastern Illinois
D Dean, A Yeoman, J James, K Paris
8:46.98
9
Northern Iowa
A Wilson, L Kite, B Correy, T Connelly
8:54.60
10
Marquette
N Ethier, J Parker, K McClure, J Parker
8:55.47
11
Saint Louis
E Moore, A Groene, M Alexander, J Holmes
8:57.98
12
Iowa
K Nelson, S Maser, T Wilberding, A Reischmann
9:07.51
13
South Dakota St.
J Eibs, R Dykstra, K Konkol, M Shady
9:08.95
Men's High Jump: Derek Drouin Loves Drake
Last year Drouin set a Canadian and meet record of 2.40 here. Tonight he got the $10,000 win in 2.32 (7'7.25″).
Pos
Athlete Name
Mark
1
Derek Drouin
Nike
2.32m
7-7 ¼
2
Bryan McBride
SR – Arizona State
2.29m
7-6
3
Nick Ross
Unattached
2.25m
7-4 ½
4
Jesse Williams
Nike
2.21m
7-3
4
Marco Fassinotti
Unattached
2.21m
7-3
4
Erik Kynard
Air Jordan
2.21m
7-3
7
Guowei Zhang
Nike China
2.21m
7-3
8
Ricky Robertson
World Express
2.21m
7-3
8
Mike Mason
Canada
2.21m
7-3
10
Jeron Robinson
JR – TAMU-Kingsville
2.21m
7-3
10
Trevor Barry
Unattached
2.21m
7-3
12
Geoff Davis
Unattached
2.21m
7-3
13
Dusty Jonas
Unattached
2.16m
7-1
14
James Harris
Unattached
2.16m
7-1
14
Robbie Grabarz
Great Britain
2.16m
7-1
16
Mickael Hanany
Nike
2.11m
6-11
17
Donald Thomas
Unattached
2.11m
6-11
Women's Pole Vault: Katerina Stefanidi Wins
Pos
Athlete Name
Mark
1
Katerina Stefanidi
Nike
4.71m
15-5 ½
2
Demi Payne
JR – Stephen F. Austin
4.66m
15-3 ½
3
Sandi Morris
SR – Arkansas
4.51m
14-9 ½
4
Becky Holliday
Asics
4.31m
14-1 ¾
5
Katie Nageotte
Team Pacer
4.16m
13-7 ¾
6
Melissa Gergel
Team Pacer
4.16m
13-7 ¾
DNS
Marion Fiack
Nike
April Steiner-Bennett
Asics
Marion Lotout
Nike
Mary Saxer
New York Athletic Club
Shuttle Hurdles: Two Teams Almost Tie With World All-Time Bests
This is a bizarre event that isn't run that much but the U.S. is so good that the two teams that had the same time both broke the all-time world best in this event. Props to the "B" team of Coward, Nelvis, Porter and Stowers nearly winning this.
Place
Team
Time
1
Blue
K Castlin, Q Harrison, D Harper-Nelson, B Rollins
50.50
[50.495]
2
White
J Coward, S Nelvis, T Porter, J Stowers
50.50
[50.500]
3
Red
J DeLoach, R Clay, T Jones, C Manning
52.32