Jared Ward (2:12:55) and Blake Russell (2:34:57) Win 2015 US Marathon Championships as Both Finish 3rd Overall at Asics LA
by LetsRun.com
March 15, 2015
Jared Ward and Blake Russell have won the 2015 US Marathon Championships held as part of the Asica LA Marathon today. Ward and Russell were both third overall. Ward ran 2:12:55 and Russell 2:34:57. The overall winners were Kenyans Daniel Limo (2:10:34) and Ogla Kimaiyo (2:34:09).
American Ryan Hall went out aggressively but ended up a DNF: Ryan Hall DNFs at LA. Will he ever run a good marathon again?.
Article continues below player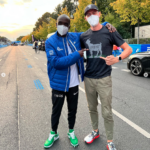 Kipchoge loves the 1:59:40 Shirt Get Yours Today
Shirts are $10 off if he breaks the world record and you order today.
Chris Chavez caught up with Jared Ward and Matt Llano, who was the second American in 2:16:12 (an improvement of his 2:17:43 debut in Chicaco), for us after the race. Their interviews appear below.
Jared Ward after winning 2015 USA Title:
Matt Llano after finishing as 2nd American:
Chavez has a piece on the race on ESPN.com: LA Marathon notebook: Kenyans sweep; Ward wins U.S. title; Hall drops out.
Discuss the race on our fan forum: 2015 Official LA Marathon Thread.
Go USATF.tv for more coverage.
Top 10 Overall Men's Results
| Pos. | Name | City, State | Bib | Sex | Age | Pace | Time | Diff |
| --- | --- | --- | --- | --- | --- | --- | --- | --- |
| 1 | DANIEL KIPROP LIMO (KEN) | | 8 | M | 31 | 4:58/mi | 2:10:34.49 | +0:00 |
| 2 | LANI RUTTO (KEN) | | 13 | M | 25 | 5:03/mi | 2:12:41.99 | +2:07.50 |
| 31 | JARED WARD | PROVO, UT | 19 | M | 26 | 5:04/mi | 2:12:55.21 | +2:20.72 |
| 41 | EDWIN KIBET KOECH (KEN) | | 10 | M | 27 | 5:05/mi | 2:13:34.65 | +3:00.16 |
| 5 | DAVID KEMBOI KIYENG (KEN) | | 3 | M | 31 | 5:10/mi | 2:15:33.28 | +4:58.79 |
| 6 | MATT LLANO | FLAGSTAFF, AZ | 32 | M | 26 | 5:11/mi | 2:16:12.29 | +5:37.80 |
| 71 | MIKE MORGAN | ROCHESTER HILLS, MI | 21 | M | 35 | 5:13/mi | 2:16:55.28 | +6:20.79 |
| 81 | DANIEL TAPIA | MAMMOTH LAKES, CA | 22 | M | 28 | 5:13/mi | 2:17:13.04 | +6:38.55 |
| 9 | MAX KING | BEND, OR | 23 | M | 35 | 5:14/mi | 2:17:30.60 | +6:56.11 |
| 10 | STEPHAN SHAY | HUNTINGTON BEACH, CA | 29 | M | 29 | 5:16/mi | 2:18:06.56 | +7:32.07 |
Top 10 US Results via USATF.tv
Men's Results
1    2:12:55  Jared Ward
2    2:16:12  Matt Llano
3    2:16:55  Mike Morgan
4    2:17:13  Daniel Tapia
5    2:17:30  Max King
6    2:18:06  Stephan Shay
7    2:19:40  Scott Smith
8    2:20:02  Sage Canaday
9    2:21:54  Patrick Rizzo
10  2:22:01  Carlos Trujillo
Top 10 Women's Results
| Pos. | Name | City, State | Bib | Sex | Age | Pace | Time | Diff |
| --- | --- | --- | --- | --- | --- | --- | --- | --- |
| 1 | OGLA JERONO KIMAIYO (KEN) | | 106 | F | 26 | 5:52/mi | 2:34:09.41 | +0:00 |
| 2 | NATALYA PUCHKOVA (RUS) | | 104 | F | 28 | 5:53/mi | 2:34:32.34 | +0:22.93 |
| 3 | BLAKE RUSSELL | PACIFIC GROVE, CA, CA | 105 | F | 39 | 5:54/mi | 2:34:56.68 | +0:47.27 |
| 4 | MAO KURODA (JPN) | | 135 | F | 25 | 5:54/mi | 2:35:03.43 | +0:54.02 |
| 5 | HEATHER LIEBERG | HELENA, MT | 114 | F | 35 | 5:55/mi | 2:35:31.25 | +1:21.84 |
| 6 | BRIANNE NELSON | GOLDEN, CO | 153 | F | 34 | 5:57/mi | 2:36:06.43 | +1:57.02 |
| 7 | JODIE ROBERTSON | MELVILLE, NY | 115 | F | 30 | 5:57/mi | 2:36:17.77 | +2:08.36 |
| 8 | REBECCA (BECKY) WADE | HOUSTON, TX | 108 | F | 26 | 6:00/mi | 2:37:29.94 | +3:20.53 |
| 9 | KATHLEEN DICAMILLO | PROVIDENCE, RI | 120 | F | 28 | 6:01/mi | 2:37:58.35 | +3:48.94 |
| 10 | LAUREN JIMISON | MAMMOTH LAKES, CA | 116 | F | 24 | 6:04/mi | 2:39:15.51 | +5:06.10 |
Top 10 US Women's Results
1    2:34:57  Blake Russell
2    2:35:32  Heather Lieberg
3    2:36:07  Brianne Nelson
4    2:36:18  Jodie Robertson
5    2:37:30  Becky Wade
6    2:37:59  Katie Dicamillo
7    2:39:16  Lauren Jimison
8    2:41:50  Meghan Peyton
9    2:42:20  Sarah Cummings
10  2:42:29  Rachel Jaten