Mo Farah Gets His First World Record, Runs 8:03.40 2-Mile in Birmingham
By LetsRun.com
February 21, 2015
Who needs competition when you run a world record?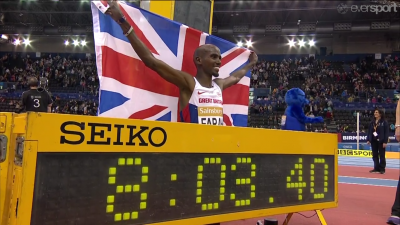 No matter who the Sainsbury's Indoor Grand Prix meet organizers lined up against Mo Farah on Saturday afternoon, chances are they weren't beating the 31-year-old Brit, who ran an incredible 3:58 final mile to break Kenenisa Bekele's seven-year-old 2-mile world record of 8:04.35. Farah broke away with six laps to go and ground out consistent 60-second laps before finishing in around 57.6 seconds for his final 400 meters to set a new world mark of 8:03.40.
Earlier in the week, fellow British pro Andy Vernon called out Farah and the meet organizers for once again assembling a weak field to face Farah on home soil. After Farah's domination on Saturday, Vernon can't complain anymore. It didn't matter who was in the field on Saturday — Farah was going to destroy them, and take the world record too.
This was Farah's first race of 2015 after spending the last two months training at altitude in Ethiopia. While it was a great sign for him, the strength and speed Farah demonstrated in this performance has to be terrifying for anyone who hoped of unseating him as world champion in the 5,000 or 10,000 in Beijing.
The Race
There had been talk of a world record attempt this week and from the start of the race, it was clear Farah wanted a fast time as first rabbit Dale Clutterbuck took off and ran 59 seconds for the first 400 meters. After four laps (passed in 2:02), the lead pack was down to four: Paul Koech (who would serve as the second pacemaker but stayed in to finish after Farah took off with six laps to go), Farah, 40-year-old American Bernard Lagat and Alberto Salazar-coached Suguru Osako.
Article continues below player.
With 1600 to go (they passed 1618 meters in 4:05.06), it was down to Koech, Farah and Lagat, but once Farah moved just after 1800 meters, it was one man against the clock. With two laps to go, Farah carried a pained expression on his face, but his form remained good; the clock read approximately 7:35.6 with 200 to go, meaning Farah required a last lap of about 28 seconds to break the world record. He delivered, coming through with a final 200 27.8 seconds (unofficial) to break the old record by 1.05 seconds.
This was the sixth-fastest 2-mile ever (counting outdoors; only Daniel Komen and Haile Gebrselassie have run faster). Komen has the outdoor record at 7:58.61.
Farah's time is equivalent to 7:27.51 for 3000 meters, according to LetsRun.com stat guru John Kellogg. Indoors, three men have run faster than 7:27.51. Daniel Komen has the world record at 7:24.90 and Haile Gebrselassie twice ran 7:26 (7:26.16 is his indoor pb). Outdoors, Komen holds the 3000 WR of 7:20.67. 11 men in history have run faster than 7:27.51 outdoors according to alltime-athletics.com:
1 7:20.67 Daniel Komen KEN 17.05.76 1 Rieti 01.09.1996
2 7:23.09 Hicham El Guerrouj MAR 14.09.74 1 Bruxelles 03.09.1999
3 7:25.02 Ali Saïdi-Sief ALG 15.03.78 1 Monaco 18.08.2000
4 7:25.09 Haile Gebrselassie ETH 18.04.73 1 Bruxelles 28.08.1998
5 7:25.11 Noureddine Morceli ALG 28.02.70 1 Monaco 02.08.1994
8 7:25.79 Kenenisa Bekele ETH 13.06.82 1 Stockholm 07.08.2007
9 7:26.62 Mohammed Mourhit BEL 10.10.70 2 Monaco 18.08.2000
10 7:27.18 Moses Kiptanui KEN 01.10.70 1 Monaco 25.07.1995
11 7:27.26 Yenew Alamirew ETH 27.05.90 1 Ad-Dawhah 06.05.2011
Splits (unofficial)
59 (400)
2:02 (818)
4:05.06 (1618)
5:06 (2018) (61)
6:06 (2418) (60)
6:36 (2618)
7:05.8 (2818) (59.8)
7:35.6 (3018)
8:03.40 finish (57.6 final 400)
Farah post-race with Phil Jones of the BBC:
"That was amazing. Training has been going well. I knew I could go close but I haven't raced in so long. The pacemaker did well and the crowd was really behind me. I'm just so pleased.
2 MILES Men
OFFICIAL RESULTS'
1 Mo FARAH GBR 8:03.40 WR
2 Paul Kipsiele KOECH KEN 8:13.46 PB
3 Bernard LAGAT USA 8:17.05 SB
4 Suguru OSAKO JPN 8:25.76
5 Thomas FARRELL GBR 8:26.01 PB
6 Philip HURST GBR 8:26.56 PB
7 Tom LANCASHIRE GBR 8:30.79 PB
8 Jonny HAY GBR 8:31.69 PB
9 Rob MULLETT GBR 8:32.50 PB
10 Florian CARVALHO FRA 8:32.87 PB
Dale CLUTTERBUCK GBR DNF
Othmane EL GOUMRI MAR DNS
"I couldn't quite hear him (agent Ricky Simms yelling splits trackside) but with the crowd I could sense it (that I had a chance to get the record). It was an amazing atmosphere. With 200 meters to go, I saw the clock and I was like, 'I need to run 30 seconds or under.'
"It definitely means a lot for me. I love representing my country and giving something back to them (the fans)," said Farah (who kissed the Union Jack on his singlet when introduced before the race) when asked about what this meant to him given the controversy surrounding him this week.
"It's unbelievable [to have my first WR.] So many people have asked me, 'When are you going to break the world record?' I knew training had been going well. I wanted to do it."
Quick Take #1: World, look out. Mo Farah isn't going anywhere.
Farah is 31 (he turns 32 next month) and coming off a year in which he ran just four races on the track, it wasn't clear where his fitness would be as 2015 opened. After today's extremely impressive race, it's clear that Farah remains the man to beat anytime he steps onto a track.
How good was Farah today? Consider that he basically ran the same split for his final 1500 as Matthew Centrowitz did in the open 1500 (3:40.80). Yes, Centrowitz had a bad race, but Farah may be the only man alive right now who can close a 2-mile in 3:58 all alone with a 57.6 last 400. And he did this in February, in his first race of the season. As Centrowitz will tell him, one great race (or even three) isn't a guarantee of future success, but a world record is usually a good sign that training is going pretty well, especially when that world record used to be held by Kenenisa Bekele.
Quick Take #2: Will Farah take a crack at any world records outdoors?
Farah has five global gold medals (three from Worlds, two from the Olympics) but until today he had zero world records. Five global golds (with the possibility of more to come), including back-to-back 5k/10k doubles at the Olympics and World Championships is a lot and starts to put Farah in the discussion for greatest track distance runner of all-time. But what separates Farah from legends like Bekele and Gebrselassie are his personal bests. Here are each of their PRs outdoors:
| | | |
| --- | --- | --- |
| Athlete | 5,000 pb | 10,000 pb |
| Mo Farah | 12:53.11 | 26:46.57 |
| Haile Gebrselassie | 12:39.36 | 26:22.75 |
| Kenenisa Bekele | 12:37.35 | 26:17.53 |
Yes, Farah has a much better 1500 pb than either of them (3:28.81, T-#7 all-time), but he lags far behind in the 5k and 10k. If Farah can win double gold in Beijing, he'll surpass Gebrselassie in terms of career outdoor global golds (Geb has six: two Olympic, four World) and pull within one of Bekele (three Olympic, five World). He'll also have pulled off the 5k/10k double three straight times, something no one in history can match. Is that more impressive than a fast PR?
Farah turns 32 in March; his window for setting PRs is closing. Most athletes say that they don't think about their legacy while they're still competing, but as his gold medals pile up, surely he must feel some desire to stake his claim as the best of all-time? To do that, he needs to run faster than 12:53 and 26:46.
Does Farah care about times? Or is he solely focused on double gold in Beijing? We'll have to wait until the outdoor season for the answer. Just to be safe, keep July 17 free on your calendar. That's the date of the always-loaded Monaco Diamond League meet, which just so happens to include a men's 5,000 this year. We can only hope…
Quick Take #3: Birmingham has a monopoly on fast 2-miles.
When Genzebe Dibaba broke the world record for 5000 meters earlier this week, we noted how Stockholm's Ericsson Globe has played host to the three fastest 5000s ever indoors. Well Stockholm has nothing on Birmingham's Barclaycard Arena, which now has hosted the five fastest 2-mile times in history, 11 of the top 13 and 22 of the top 31. Of course, it's probably also hosted more indoor 2-mile races than almost any other venue, given how infrequently the event is run. But there can be no doubt it's a fast track.
Athletics Weekly called the meet this week the "world's premiere indoor grand prix." We're sure the ISTAF Berlin organizers (12,500 attendance) or some of the American organizers might want to quibble with that title but with 3.5 hours of BBC One live coverage, they make a strong point.
Quick Take #4: Another fast time for Bernard Lagat
There's no official masters world record for the 2-mile, but Lagat ran the fastest time ever for a man 40 years old or older with his 8:17.05. We don't know if there was a timer at 3000 meters, but if there was, Lagat took down his masters 3000 record of 7:48.80 set two weeks ago in Boston. If he ran perfectly-even splits, Lagat would have come through 3000 in 7:43.28. Even if he picked it up over the final 218 meters, he had to have come through 3000 faster than 7:48.80.
---
Want more about Farah's world record? Talk about it on our messageboards: Mo Farah gets his first World Record – 8:03.40!!!!!!!!!!!!!!!!!
More Screen Shots From The BBC One Broadcast: