by Letsrun.com
February 10, 2015
Previous versions of The Week That Was – our weekly recap – can be found here. We already gave many of our thoughts on the great action at the 2015 USA Cross Country Championships and 2015 New Balance Indoor Grand Prix when they took place. If you missed that analysis, click on the links to go to the two events' special sections.
****
Stat of the Week
Most Consecutive U.S. Cross Country Titles (Since World War II)
8 – Pat Porter (1982-1989)
4 – Frank Shorter (1970-1973)
3 – Chris Derrick (2013-15)
Derrick's got his work cut out for him to catch Porter but there is something very refreshing about Derrick racing and winning cross country each year. His dominant victory last week in Boulder was a thing of beauty:  Chris Derrick 3-Peats!
More: Full Coverage of 2015 USA Cross Country Championships.
****
Quote of the Week I (That Wasn't Quote of the Day)
"I just wanted to do something fun this time. Don't worry, next time I'll go back to being boring."
– Chris Derrick talking about his "three goggles" victory celebration that he flashed after winning on Saturday. In case you didn't see the race or watch the NBA, you can see his celebration below.
Swaggy Chris. #usaxc pic.twitter.com/Y5BsnxIKYn

— Kevin Liao (@RunLiao) February 7, 2015
****
Instagram Of The Week
The post-race Boulder XC party hosted by Sara and Steve Slattery looks likes it was a lot of fun. The Oiselle crew certainly helped lived it up.
As for everyone else? We're not sure what went on. We thought the description on facebook post by Kevin Beck was hilarious:
"(I) felt like I was at a junior-high dance. The men looked like well-kept, hopeful nerds while the women looked glamorous and self-assured…People stood in tight, almost defensive groups of three to five, throwing "casual" looks over their shoulders in case some can't-miss event that hadn't been unfolding ten seconds earlier was now underway in earnest."
****
Who the **** is Ben Blankenship? / Quote of the Week II (that wasn't Quote of the Day)
"The Americans are so good now. Some dude named Ben Blankenship runs 3:53. Who the **** is Ben Blankenship?"
– Chris Lear, author of Running With the Buffaloes (and LetsRun.com co-founder Robert Johnson's college roommate), talking about how deep U.S. distance running is and how great Ben Blankenship has been of late.
The week before last, Blankenship took down Galen Rupp and ran 8:16.53 for 2 miles at the Armory Track Invitational to finish third behind Cam Levins. This week, he took down everyone but Nick Willis and ran 3:53.13 for the mile at the New Balance Indoor Grand Prix mile. Not bad for a guy who isn't exactly a household name.
Blankenship certainly is on the upswing. To answer Chris' question, Blankenship is 26 years old and from Stillwater, Minnesota, where he ran 4:13 and 9:09 (1,600 and 3,200) as a junior and 3:51, 4:09 and 9:15 (1,500, 1,600 and 3,200) as a senior in 2007 before going to Mississippi State for two years and then transferring to Minnesota.
At Minnesota, he ran 3:57 for the mile and 3:39 for 1500 as a junior but was only 14th and 15th at the NCAA championships that year. As a senior in 2010-11, he was 39th in cross country (All-American), ran 7:52 for 3000 indoors and was second in the men's 3000 at NCAAs – runner-up to fellow Minnesotan Elliott Heath. He also ran a 3:54.61 split on Minnesota's third-place DMR team the day before.
As a pro, Blankenship's claim to fame before this year was running 3:37 for 1500 in both 2011 and 2013 (he also ran a 3:54.10 mile in 2011). He also ran 7:49 for 3000 in 2011 and 7:47 in 2013. He missed all of 2012 and most of last summer with what we assume was injury. The highest he's ever finished at USAs outdoors is 10th in the 1500 in 2013 (he was 5th in the 3k last year indoors).
It will be interesting to see if Blankenship can find similar success outdoors. Lear is right, USA distance running is very deep. Take Will Leer for example. Leer has run 3:52 for the mile and 7:42 for 3000 indoors and never made a US outdoor World Championship or Olympic team.
We hope Blankenship is enjoying the ride as he's had a great two weeks. As we pointed out in our NB Grand Prix recap, according to All-Athletics.com the last two weeks have been the best two performances of his life back to back.
Blankenship wasn't the only thing to impress Lear last week. The whole New Balance Indoor Grand Prix impressed him.
"It was the first time in a really long time that I was really entertained at a track meet and I felt like I'd go back even if I [wasn't a track nut]. They did a really good job. You guys should write an article on the presentation of that meet," said Lear, who now lives in Boston and took his two young children to the meet. Lear loved how there was little down time between events.
****
Quote of the Week III (that wasn't Quote of the Day)
"We are very proud to be the number one sport of the Olympics and we have a strong position within the [Olympic] Movement.
"The IOC looks to make the program attractive and I am confident athletics will keep its strong position.
"I think we will keep 47 events with 2,000 athletes."
– Sergey Bubka, who is running against Seb Coe for IAAF head, talking to Reuters about how he doesn't want parts of track cut for other sports.
****
Quote of the Week IV (that wasn't Quote of the Day) / Even superstars need a little boost in confidence every now and then
"The Olympic 1500m champion Taoufik Makhloufi came up to me ahead of the Prefontaine Classic meeting last year and said 'You are the future, but you are the only one who can make changes and take that step to reach your goals.'
"Suddenly a feeling built up in me like I am in charge of my own destiny. From that moment on I have thought I can do this. In the past I had gone into races and not really believed in myself. I had lost the race before it had even started."
– Olympic 800 silver medallist Nijel Amos talking to Spikes last week. The fact that a guy who ran 1:41 at age 18 was lacking in self-confidence definitely surprised us.
****
Quote of the Week V (that wasn't Quote of the Day)
"I think AK[thletics Kenya] should reveal who aided Rita Jeptoo into doping or, if not, tell us the doctor who treated her. This will help coaches advise our athletes to avoid such doctors."
– Brother Colm O'Connell, coach of world 800m record holder David Rudisha, talking to The Standard.
****
Only in Africa….
So what does "relative unknown" mean when it comes to a powerhouse like Ethiopia?
In last week's Weekly Recap, we failed to talk about the 2015 Ethiopian cross country championships. On the men's side, many of Ethiopia's biggest stars showed up — Muktar Edris (2014 world's fastest man at 5000), Yenew Alamirew (7:27/12:48 pbs), Imane Merga (2011 World XC champ), Hagos Gebrhiwet (2013 Worlds silver at 5000), Atsedu Tsegaye (Ethiopian national record holder at 13.1) — but the winner according to the IAAF was "relative unknown Tamirat Tola."
Get this, Tola is a guy who debuted in the marathon at 2:06:17.
The 24-year-old Tola was 4th in Dubai in 2014 in 2:06:17 before struggling later in the year in Gongju (2:12:22).
Regardless, with all of those names, it's clear their will be plenty of Ethiopian talent on the men's side competing at Worlds in China in March.
Senior men's 12km
1 Tamirat Tola 35:08
2 Bonsa Dida 35:08
3 Atsedu Tsegaye 35:12
4 Hagos Gebrehiwet 35:18
5 Tesfaye Abera 35:20
6 Muktar Edris 35:25
Senior women's 8km
1 Genet Yalew 26:09
2 Mamitu Daska 26:17
3 Senbere Teferi 26:27
4 Netsanet Gudeta 26:30
5 Belaynesh Oljira 26:33
6 Alemitu Haroye 26:40
More: IAAF Recap of 2015 Ethiopian XC Champs
****
Robby Andrews Fans – No Need To Panic
If you are an obsessed fan like us, you likely scour early-season results looking for signs from big-time talents like German Fernandez, Andrew Wheating and Robby Andrews who are trying to get back on top.
If you subscribe to Race Results Weekly, you got a bit of a false scare as it said the following about the indoor meet last weekend at Penn State, "Robby Andrews ran the 800m here, finishing sixth in 1:51.62, some three seconds back of winner Jesse Garn (1:48.57 PB)."
The reality is Andrews did run 1:51. But Andrews ran (and dominated) the second heat. The race went out in 58. Coach Jason Vigilante simply wanted Andrews to have a low-key rust buster as he readies himself for a 1000 against Duane Solomon this weekend at Millrose.
****
Three World Records Go Down / You Win Some and You Lose Some
Last week was an interesting week for Russia's Vyacheslav Shabunin.
On Saturday, at the Moscow champs, the 45-year-old set a new age-45 world indoor record by running 1:55.64 for 800. Later that day, he lost a masters world record as Bernard Lagat smashed his 8:01.44 age-40 world record for 3000 in Boston. Shabunin ended up plus one for the weekend in terms of world records as on Sunday he got his second age-45 world indoor record by running 3:52.31 for 1500.
In his prime, Shabunin was a stud as he was a three-time Olympian for Russia. He still is the country's 1500 (3:32.38) and mile (3:49.83) record holder.
Given the recent developments in Russia, let's just hope he was and is clean.
More: MB: Move over Bernard Lagat, Russia's Vyacheslav Shabunin set 2 Masters World Records last weekend at 800 and 1500 (45+)
Shabunin On The LetsRun.com Boards At Age 40: 2010: Vyacheslav Shabunin — 3:43.59 1500 at age 40!!
2010:Masters Mile Record
2010: Vyacheslav Shabunin sub-4 mile at age 41???
*****
Other News of Note
Brit Jenny Meadows Ran A World-Leading 1:59.21 800 In Vienna
****
Recommended Reads and Listens
RunnersWorld: USATF Versus Its Critics: Who's Off Track? Nick Weldon gives a rundown of the past year full of controversies and asks, "How did USATF (which recently secured half a billion in sponsorship) become so polarizing?"
Spikes Talks To Max King About How He Manages To Excel At Everything From The Steeple To Ultra Marathons King: "My take on it is running is running. It is all the same mechanics. There is something to be said for focusing on one event and being really good at it, but for me I would just burn out."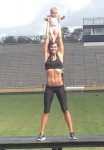 Awesome profile of mom and collegiate pole vault record holder Demi Payne The Stephen F Austin vaulter is the daughter for former US WC team member Bill.
In-Depth Piece On Footlocker Champ Anna Rohrer Who Returned From A Serious Injury/Foot Surgery Her Junior Year To Get Glory As A Senior *MB Thread "I finally realized if this was something I wanted to do so much, why would God want me to stop doing that? So I figured it's part of His plan and He has a purpose behind this. And so I guess I just kept pushing through it, because I felt in the end it was going to turn out right."
Great Podcast Q&A With Mark Wetmore Hear about his track aspirations for this year and how Colorado is going to start attracting more sprinters, throwers and jumpers. Also why he stopped coaching Jenny Simpson when she graduated.
Paula Radcliffe Thankful Just To Be Back Running Again As She Prepares For The London Marathon "It will be emotional for lots of reasons – for the fact that it's London, for all of the happy memories of growing up and taking part, for all of the times that I couldn't do it and I think as well for the fact that I couldn't run at all. I never thought I could be back here. I get emotional just talking about it now."
****
Quote of The Day and Last' Week's Home Pages
To see the quotes of the day from last week or last week's homepage or any homepage, go to our archive page.
****
That is it, if you were gone over the weekend and we had extensive coverage and analysis of the two big pro meets the 2015 USA Cross Country Championships and the  2015 New Balance Indoor Grand Prix. Click on those links to see all our coverage.
Questions, comments, please email us or post them in our running fan forum.