2015 Tokyo Marathon Results
by: LetsRun.com
February 21, 2015
Below are top 10 results for the 2015 Tokyo Marathon which took place Sunday morning (February 22nd in Japan). Tokyo may be a part of the Abbot World Marathon Majors but when it comes to results and live time tracking, Tokyo was very far from a major. It had no live leaderboard. You could track runners if you knew there bib number (or name in Japanese).
Fortunately the TV broadcast had a screenshot of the top 10.
Article continues below player.
Endeshaw Negesse pulled away from defending champ Dickson Chumba over the final 3k as Olympic champ Stephen Kiprotich battled back to pass Chumba for second just before the line.
Birhane Dibaba won comfortably on the women's side. American Lauren Kleppin 2:37:13 ran 2:37:13 while American Josphat Boit didn't start.
Men:
1) Endeshaw Negesse (Ethiopia) – 2:06:00
2) Stephen Kiprotich (Uganda) – 2:06:33
3) Dickson Chumba (Kenya) – 2:06:34
4) Shumi Dechasa (Bahrain) – 2:07:20
5) Peter Some (Kenya) – 2:07:22
6) Markos Geneti (Ethiopia) – 2:07:25
7) Masato Imai (Japan) – 2:07:39
8) Tsegaye Kebede (Ethiopia) – 2:07:58
9) Hiroaki Sano (Japan) – 2:09:12
10) Benjamin NGandu (Kenya) – 2:09:18
***Tariku Bekele fell off the pace before 20k, and did not make any checkpoints past 25k.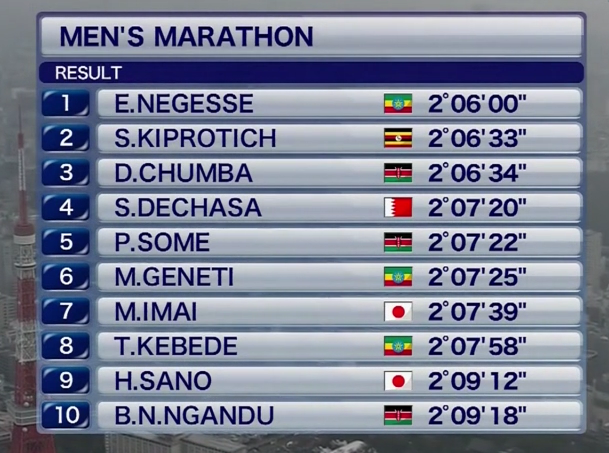 Women: 
1) Birhane Dibaba (Ethiopia) – 2:23:15
2) Helah Kiprop (Kenya) – 2:24:03
3) Tiki Gelana (Ethiopia) – 2:24:26
4) Sally Chepyego (Kenya) 2:26:43
5) Flomena Cheyech Daniel (Kenya) – 2:26:54
6) Yeshi Esayias (Ethiopia) – 2:30:15
7) Madoka Ogi (Japan) – 2:30:25
8) Albina Mayorova (Russia) – 2:34:21
9) Yukari Abe (Japan) – 2:34:43
10) Yumiko Kinoshita (Japan) 2:35:49
***Lauren Kleppin  (USA) 2:37:13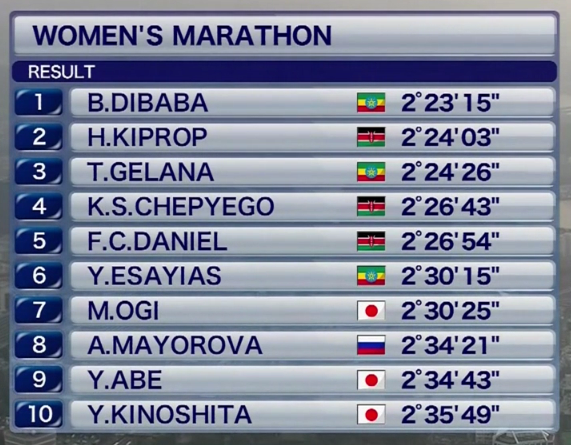 Negesse's Splits (Halfway was around 63:10)
Point
スプリット (ネットタイム)
Split (Net Time)
ラップ
Lap
5km
00:14:56 (0:14:55)
0:14:55
10km
00:29:54 (0:29:53)
0:14:58
15km
00:44:50 (0:44:49)
0:14:56
20km
00:59:52 (0:59:51)
0:15:02
25km
01:14:45 (1:14:44)
0:14:53
30km
01:29:50 (1:29:49)
0:15:05
35km
01:44:45 (1:44:44)
0:14:55
40km
01:59:21 (1:59:20)
0:14:36
Finish
02:06:00 (2:05:59)
0:06:39
Dibaba's Splits:
地点名
Point
スプリット (ネットタイム)
Split (Net Time)
ラップ
Lap
5km
00:16:53 (0:16:52)
0:16:52
10km
00:33:44 (0:33:43)
0:16:51
15km
00:50:48 (0:50:47)
0:17:04
20km
01:07:59 (1:07:58)
0:17:11
25km
01:25:09 (1:25:08)
0:17:10
30km
01:42:08 (1:42:07)
0:16:59
35km
01:58:43 (1:58:42)
0:16:35
40km
02:15:24 (2:15:23)
0:16:41
Finish
02:23:15 (2:23:14)
0:07:51