2014 TCS New York City Marathon American Men's Preview: Can Meb Keflezighi Do It Again?
By LetsRun.com
October 29, 2014
We already previewed the major international men's contenders at Sunday's 2014 TCS New York City Marathon. Now it's time to look at the American men toeing the line on the Verrazano-Narrows Bridge. The field includes 2009 NYC champ (and 2014 Boston champ) Meb Keflezighi as well as veterans Ryan Vail and Nick Arciniaga and debutants Luke Puskedra and Aron Rono. Check back later in the week after we speak to the American men at the pre-race press conferences in New York.
Key facts
Article continues below player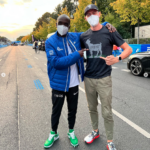 Kipchoge loves the 1:59:40 Shirt Get Yours Today
What a legend!
Start time: Sunday, 9:10 a.m. ET
TV/Streaming: National TV coverage on ESPN2, starting at 9 a.m.  You can also stream it on ESPN3.com or the WatchESPN app (online streaming coverage begins at 7 a.m. ET). In the NYC area, TV coverage will be on ABC7 starting at 9 a.m. NYC-area residents can also stream it on WatchABC and 7online.com (online streaming coverage begins at 7 a.m. ET).
Prize money: $705,000 total (plus time bonuses)
1st, $100,000
2nd, $60,000
3rd, $40,000
4th, $25,000
5th, $15,000
6th, $12,500
7th, $10,000
8th, $5,000*
9th, $3,000*
10th, $2,000*
11th, $1,500*
12th, $1,000*
*reduced by half for times slower than 2:16:30
Time bonuses range from $60,000 for a sub-2:05 to $10,000 for a sub-2:10 (course record is 2:05:06)
Meb Keflezighi – 39 years old, 2:08:37 pb (2014 Boston), 61:00 half
Last two marathons: 1st, 2014 Boston (2:08:37); 23rd, 2013 New York (2:23:47)
Prep race: none
In April, we calculated that the odds of an American winning the Boston Marathon were somewhere between 1 in 27 and 1 in 19,813. Now maybe our calculation was off a bit, but Meb did what he's always done in his career -defied the odds to become the first American since 1983 to win Boston.
Keflezighi's clearly not the favorite in New York, but to count him out — even at age 39 — would be foolish especially after what he's done in his career. What separates Keflezighi from someone like Mutai, Kipsang or Desisa is that he needs a certain set of circumstances to win the race. Can he get the perfect storm of circumstances?  If the winning time is fast (2:06s or low-2:07s), Keflezighi isn't going to be a factor. Yes, he PR'd by 31 seconds to win Boston in April, but it's unlikely that he's going to lop off a minute or two on another challenging course at 39.
It's also unlikely that Keflezighi wins the race in the same manner in which he won Boston. In that race, the pack (perhaps with some help from the Americans) let Keflezighi and Josphat Boit go, after eight miles and was never able to catch up. That's not going to happen in New York for two reasons:
1) The top guys in New York will know what Keflezighi did in Boston and won't let him go easily if he makes an early move. It's the same thing that happened to Emma Coburn after she won the Diamond League opener in the steeple this season in Shanghai — once everyone realized she was a legitimate threat to win, the top women made sure that Coburn never gained too much ground on them up front.
2) Mutai and Kipsang are attacking the course record (2:05:06), so there's no chance Meb breaks away from them early as he's not going to go out on 2:04 pace.
The second point could actually help Keflezighi, though. Keflezighi isn't going to go out and run 2:05, but if a bunch of people try to, the chances of multiple top guys blowing up skyrockets. With a field this good, odds are that someone is going to be able to hang on well enough to win, even if he doesn't set a course record. Still, anything can happen in the marathon, so don't be shocked to see Keflezighi running down the leaders over the final 10k if the record attempt fizzles.
We think he has a tiny chance to win, but said the same thing in Boston and look what happened. Before Meb won New York in 2009, we had him on our radio show, not thinking he'd win but simply because we thought it was absurd he was being totally ignored and he won the damn thing. Every major marathon we discount Meb's chances and his agent/brother Hawi writes us telling us not to forget Meb. We won't forget him this time.
The bad thing about people attacking the course record is we may not see Meb in the main tv feed for long, but ESPN likely will have quite a few cameras out there.
Ryan Vail – 28 years old, 2:10:57 pb (2014 London), 62:04 half
Last two marathon: 10th, 2014 London (2:10:57); 13th, 2013 New York (2:13:23)
Keflezighi has the highest ceiling but if he's off his game, the top American could be Ryan Vail. Vail was the first American across the line last year in 13th (it took 3:12 for the next American, Jeff Eggleston, to cross) and he'll be looking to repeat that feat in 2014 while improving his overall place.
While it's difficult to tell how fit some runners are in marathon buildups, that's not the case with Vail. He posts his training log online and updates it weekly, so it's easy to tell how he's feeling. This buildup seems to have been a good one for Vail, as he's logged some big mileage weeks. His full buildup (from the week ending 8/17 until the week ending 10/19): 111, 145, 150, 136, 150, 150, 121, 140, 125, 110.
That's a solid 10 weeks of work (plus last week and a taper this week) and there are some workouts — particularly 16 miles at 2:09 marathon pace at the Victoria Marathon on October 12 — that indicate he's ready for another good race on Sunday.
"It's been like every other six-month period he's had with me," said Vail's coach, Dave Smith, who also coached him at Oklahoma State "He's a little bit better than he was six months ago and he's never taken a step backwards…We've kind of kept all our paces the same the last 5-6 years but we've been increasing the volume he can do."
Smith pointed out that Vail has been improving as a runner across all distances and surfaces and that it follows that he should have improved as a marathoner as well. Last year, Vail was 17th at the World Cross Country Championships for the silver-medal winning U.S. men. He then ran a pb of 27:44 for 10,000 on the track and was the top American at the NYC Marathon. This year, Vail lowered his marathon pb to 2:10:57 in London, finished third at USAs in the 10,000 (his highest-ever finish at USAs on the track) and ran a 5,000 pb of 13:28 on August 2, after which he ended his track season to begin his NYC buildup.
Vail will have a tough time running a pb as New York is a more challenging course than London. Smith said his approach will be to run the first half of the race conservatively and then pick it up depending on how his body's feeling. A starting point would be lowering his time from last year — 2:13:23 — and trying to replicate his top-10 performance from London.
Be sure to check our Ryan's blog. He's one of a few athletes, actively engaging and educating fans of the sport. Plus, he created this video below to get you excited for New York:
Nick Arciniaga – 31 years old, 2:11:30 pb (2011 Houston), 63:22 half
Last two marathons: 9th, 2014 Grandma's (2:14:31); 7th, 2014 Boston (2:11:47)
Prep race: 67:46 win at Baltimore Half Marathon on October 18
Arciniaga, who had his best-ever showing at a major in April (7th at Boston) is running marathon #3 of 2014 in New York. This is the first time he's raced NYC since 2009 and he ran well that year, placing eighth in 2:13:46. Arciniaga, like Vail, is in the tier of guys that could put themselves in the Olympic conversation with a strong showing this year or in 2015. For Arciniaga, a strong showing would be defeating both Meb and Vail to finish as the top American (at the very least beating Vail) and running something close to the 2:11:47 he ran at Boston in April. 2016 will be Arciniaga's best chance at an Olympic team, and how he runs in New York against two of his rivals at those trials — Meb and Vail — will be a good indicator of how realistic his Olympic chances are right now.
Two debutants (plus another guy who has never finished a marathon)
Luke Puskedra – 24 years old, 61:36 half, 27:56 10,000, 13:31 5,000
Prep race: 61:32 for 3rd at U.S. 20K Champs on September 1
Aron Rono – 32 years old (on Saturday), 27:31 10,000, 13:23 5,000
Prep race: 48:45 for 4th at Army 10-Miler in Washington on October 12
Brent Vaughn – 30 years old, 62:04 half, 27:40 10,000, 13:18 5,000
Prep race: 68:18 for 3rd at Denver Rock 'n' Roll Half Marathon on October 19
Puskedra and Rono will make their marathon debuts on Sunday, while New York is marathon #3 for Vaughn (he DNF'ed the Olympic Trials and Fukuoka in 2012). Puskedra is the most intriguing prospect of the three, given that he's a pretty talented track runner and has turned to the marathon at a young age. This isn't a short-term experiment, either. Puskedra told Portland Track last month that the marathon is now his full-time event and he's focused on competing at the Olympic Trials in 2016. It makes sense for Puskedra. He's a solid track runner, but the 61:36 half marathon he ran in Houston in 2012 — while still a senior at Oregon — suggests that he could have a big future in the marathon.
The Kenyan-born Rono has some eye-popping track pbs (his 27:31 10,000 is particularly impressive) but he hasn't run that well on the track the past few years (he was only 8th in the 10,000 at USAs in '14 and 18th in '13). At 32, he's still young enough to have a few good years as a marathoner, but it's hard to imagine him running the 2:09/2:10 his 10,000 pb equates to (according to LRC's John Kellogg) in his debut, especially in New York.
Vaughn is best-known for winning the 2011 U.S. Cross Country Championships and perhaps less-known as the University of Colorado school record holder in the 5,000. He's struggled in his first two attempts at the marathon, failing to finish both races, but he seems to be in a good place now mentally as he balances a full-time job in the roofing business and his training under coach (and former marathon world record holder) Steve Jones. Vaughn told Competitor.com he doesn't have a specific goal in mind but just wants to go out and race in New York.
Full U.S. elite field
| | | | |
| --- | --- | --- | --- |
| Name | Country | PB | Comment |
| Meb Keflezighi | USA | 2:08:37 | 2009 NYC champ coming off win/pb at Boston in April |
| Ryan Vail | USA | 2:10:57 | After pb in London and 3rd-place finish at USAs in 10k, appears primed for strong race |
| Nick Arciniaga | USA | 2:11:30 | 2013 US champ was 7th at Boston, 9th at Grandma's Marathon |
| Craig Curley | USA | 2:15:16 | Rough go of it in first marathon of 2014 (2:29:26 at Boston) |
| Zach Hine | USA | 2:16:40 | 64:48 to win Omaha Half on September 7 |
| Stephan Shay | USA | 2:16:48 | Hasn't broken 2:21 since debut at '12 Olympic Trials |
| Chris Siemers | USA | 2:18:47 | |
| Nick End | USA | 2:19:48 | |
| Philippe Rolly | USA | 2:19:40 | |
| Ted Callinan | USA | 2:21:56 | |
| Luke Puskedra | USA | Debut | 61:36 half pb; 3rd at US 20k Champs on September 1 |
| Brent Vaughn | USA | N/A | 2011 US XC champ DNF'ed debut at '12 Olympic Trials |
| Aron Rono | USA | Debut | US Army runner has pbs of 13:23/27:31 |
 Want to know who will win NYC? Read our men's international preview: 2014 New York City Marathon Men's Preview: 2-Time Defending Champ Geoffrey Mutai Takes on Wilson Kipsang, Stephen Kiprotich, and Meb