Women's 800: Oregon's Laura Roesler Comes Through As The Favorite To Earn 10-Points For The Women Of Oregon
by LetsRun.com
June 13, 2014
Eugene, OR – Coming into the 2014 NCAA Outdoor Track and Field Championships, there was no bigger favorite in a men's or women's distance event than Oregon's Laura Roesler. She was the top returner, has a PR more than 2 seconds faster than anyone else in the field and handily won the indoor title by 1.68 seconds. As Oregon's head coach Robert Johnson said in his post-Day 3 interview, she should be able to win this race any way she runs it. And that's exactly what she did. In front of the roaring home crowd, Roesler blew away the field over the final 200m to win her second individual NCAA title (4th overall as she's been on two winning 4×400 relays) in 2:01.22.
Winning the fight for second was Stanford sophomore Claudia Saunders who finished 1.7 seconds behind Roesler in 2:02.92, beating out Iowa State's Ejiroghene Okoro (2:03.37) and Georgia's Megan Malasarte (2:03.42). Dartmouth's Megan Krumpoch was 5th and Stanford's Amy Weissenbach was 6th.
The Race
This race went out fairly conservatively with no one jumping right to the lead as they went through 200 in about 29 seconds. Going into the turn, Georgia's Malasarte took control and lead the field through a 60.59 first 400m. Roesler sat in the middle of the pack boxed in on all sides.
Malasarte continued to lead through the next turn, but with about 270m to go Amy Weissenbach made a big move to take the lead. Her bid for glory was short-lived however, as Roesler followed her and seized control of the race right about the 200m mark with such a burst of speed that she had already gaped the field by 150m to go.
Coming into the home stretch, it was a clear victory for Roesler as Saunders worked hard to earn a clean second and Okoro just nipped Malasarte for 3rd. Roesler ran negative splits with laps of 61.06 and 60.16. Weissenback was our pre-race pick for second, but she faded badly over the final 200 with a 63.32 last lap for 6th place, the same spot she finished last year.
Quick Take #1: A solid victory for Laura Roesler, who earns 10 crucial points for Oregon in the team battle. Roesler is in a class of her own right now among collegiate 800 runners as her overall strength and finishing speed just can't be matched, whether it be a slow or fast race.
However, this was a fairly weak year in the women's 800, so just how good is Roesler on the whole? Well her her 2:00.54 800 PR puts her 8th on the NCAA all-time list which is lead by Suzy Favor Hamilton in 1:59.11 so she'd be competitive for an NCAA title just about any year. She was 5th last year at the US Championships, but she'll have to work hard to improve on that as 3 of the 4 in front of her (Brenda Martinez, Ajee Wilson and Kate Grace) are all young and in the prime years of their career. At 28 years old Alysia Montano is not by any means on her way out, but it remains to be seen how good she'll be once she returns from her current pregnancy.
QT #2: It's a real shame that 2013 NCAA champion Natoya Goule wasn't in this race as a showdown between her and Roesler would have been great (Goule's PR is 2:00.06). Goule had to sit out this year after transferring from LSU to Clemson, but still has eligibility. However, Roesler is a senior so will be moving on and next year (barring any breakthroughs from current collegiates) Goule will dominate the 800 just like Roesler did this year. It's fun to watch great athletes, but even better when you get two of them competing against each other.
QT #3: In her post-race interview Roesler spoke like the favorite as rather than being ecstatic about winning she said that it was great to get this huge weight off her shoulders. She said the feeling afterwards was "more relief than happiness" and she had been extremely nervous going in and even felt sick to her stomach in the hours before the race. She felt that this win was a long time coming for her and knew there wasn't any reason she couldn't get the 'W'.
Talking about her big move at the end she said, "I was getting tripped a little bit with 250 to go and I got pretty competitive and I was like, 'All right, play time is over.' Coach Johnson said I make one move and one move only and so I made it and I went hard and went 100% and it worked out for me today."
QT#4: Stanford's Claudia Saunders was happy and satisfied with her second place. Talking about racing against someone who was as much of a favorite as Roesler she said, "When you're running against someone like that you don't want to tell yourself 'Oh I'm going to go out and beat this person' because you don't want to give yourself unrealistic expectations. But I think it's nice having someone like that in the race because you know they're going to run quickly and they're going to get to the front so I just try to get as close to those people as I can and hope the last 100 I have something left and finish as hard as I can."
QT #5: Iowa State's Ejiroghene Okoro was super-excited to get third but had to interrupt her warmup to watch her twin sister race. Okoro's twin, Eseroghene, was running the 400 hurdle final 45 minutes before the 800 final, and Okoro said that she stopped by the track during her warmup to make sure she could see Eseroghene's race.
QT #6: Dartmouth's Megan Krumpoch accomplished her two big season goals by breaking 2:04 and improving on her sixth-place finish from indoors (she was fifth today). Krumpoch, who ran the 400 hurdles at the Ivy championships, looked back on her sixth-place finish indoors and decided to run the 800 at NCAAs given her past success.
Results:
Place
Name
Affiliation
Time
400m
800m
1
Laura Roesler
UO
2:01.22
1:01.06 [1:01.06]
2:01.22 [1:00.16]
2
Claudia Saunders
STAN
2:02.92
1:00.95 [1:00.95]
2:02.92 [1:01.97]
3
Ejiroghene Okoro
IAST
2:03.37
1:01.18 [1:01.18]
2:03.37 [1:02.19]
4
Megan Malasarte
UGA
2:03.42
1:00.59 [1:00.59]
2:03.42 [1:02.84]
5
Megan Krumpoch
DART
2:03.82
1:01.29 [1:01.29]
2:03.82 [1:02.53]
6
Amy Weissenbach
STAN
2:04.16
1:00.84 [1:00.84]
2:04.16 [1:03.32]
7
Sonia Gaskin
KSST
2:04.55
1:00.72 [1:00.72]
2:04.55 [1:03.83]
8
Alexis Panisse
TENN
2:06.63
1:00.99 [1:00.99]
2:06.63 [1:05.65]
| Split | Intermediate Leader | Time | Fastest Split | Time |
| --- | --- | --- | --- | --- |
| 400m | Megan Malasarte | 1:00.59 | Megan Malasarte | 1:00.59 |
| 800m | Laura Roesler | 2:01.22 | Laura Roesler | 1:00.16 |
Article continues below player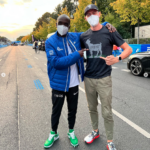 Kipchoge loves the 1:59:40 Shirt Get Yours Today
What a legend!