DQGate Gets Interesting: Gabriele Grunewald DQ Footage From US Indoor Women's 3,000 Mistakenly Leaked By USATF
LetsRun.com
April 29, 2014
USATF DQGate has its own set of previously unreleased tapes surfacing late in the game.
Two months ago, the US track and field world exploded into controversy when cancer survivor Gabriele Grunewald won her first US title, then didn't win as she was DQd, and then won it again as after an uproar USATF reversed their DQ of Grunewald (See The Inside Story Of Gabriele Grunewald's DQ – Insider Access, False Promises And A Violation Of USATF's Own Rules? and Irony Of Ironies: USATF's Reinstatement Of Gabriele Grunewald Was Another Example Of Itself Violating Its Own Rules And Making Them Up On The Spot).
Article continues below player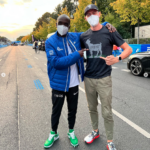 Kipchoge loves the 1:59:40 Shirt Get Yours Today
What a legend!
Despite repeated pleas, USATF never released the video evidence it says the officials used to correctly DQ Grunewald. Now thanks to a mistake by USATF, we have what we believe is that footage.
Embedded below is video evidence presumably used by officials to disqualify Gabriele Grunewald from the women's 3,000 at the 2013 USA Indoor Track and Field Championships in Albuquerque, NM. It is comprised of footage from the NBC broadcast of the event as well as not previously released footage from Eagle Eye Video Timing which shows the contact between Grunewald and Jordan Hasay from multiple angles including views from the other side of the track.
According to Chris Chavez writing for FloTrack, the video evidence was accidentally released on the USATF Vimeo account when it was not marked as "private". The link here initially had 37-minutes of video from the women's 3,000. However, not long after the Chavez's article went up, the video went down.
Fortunately, LetsRun.com downloaded the video from Vimeo before it could be deleted and we have re-uploaded it to our Vimeo account. The entire video is more than 37 minutes long. We have taken out the four minutes of footage relevant to the Grunewald DQ/unDQ and provide it to you as a highlight reel below. We also provide the full 37 minutes as well in case you want to verify where we got the footage.
USATF initially said the DQ of Grunewald was based upon the Jury of Appeal looking at "additional video evidence". When Grunewald was reinstated USATF wrote that DQ was based upon "enlarged, digital footage of the legs and feet of both athletes." However, USATF refused to release that evidence. Since the Jury of Appeal had initially rejected the protest by coach Alberto Salazar for Grunewald to be disqualified, USATF competition rule 119, section (c), says the decision is final unless "new conclusive evidence is presented."
Reporter Jon Gugala pressed USATF for more info on the "new conclusive evidence." Gugala contacted USATF Chief Public Affairs Officer Jill Geer for comment. Gugala wrote on LRC:
"When asked to clarify the nature of the "new conclusive" footage, Geer wrote, "The jury had access to video that provided a more close-up view but also they viewed it on a different medium (computer rather than projected)."
When asked to clarify if there was new footage, she wrote, "It was enlanged [SIC] and enhanced footage. It was supplied by our videographer."
After a third request clarification, Geer wrote, "It was a different viewing and presentation of the footage (enlarged, enhanced, different medium)."
Men's 3k DQ Still Not Resolved
It's interesting to note that a few times erroneously in the clips below, USATF titles the clips "Men's 3k Review" instead of "Women's". At the same USATF indoor meet, in the men's 3000m, USATF disqualified wrong the athlete, Andrew Bumbalough, in a case of mistaken identity. 66 days later, USATF still has not corrected its mistake. Bumbalough's agent Tom Ratcliffe was assured by USATF that the matter would be addressed but is growing impatient.
"I haven't heard anything from USATF since the beginning of April which is pretty ridiculous. He was disqualified in error. Admit the mistake was made and let's move on," said Ratcliffe today when contacted by LetsRun.com. "It seems pretty simple – as outlined by Greg Harger – as to what they need to do to legally reinstate him. Eighth place doesn't seem like a big deal, but it is a big deal because of the principal."
Meanwhile the NBA twice last week admitted to getting calls wrong in the playoffs.
Update: Jill Geer of USATF has written in response to LRCs questions as to whether this video was the  "new conclusive" evidence used to DQ Grunewald in the first place and whether USATF had a comment on why the Andrew Bumbalough erroneous DQ had not been acknowledged.
Jill wrote, "The Working Group has been meeting since its formation was announced. They have been following their charge of examining all videos, reports and paperwork; speaking to officials and affected parties; and taking a look at the applicable rules and bylaws that relate to field-of-play and adjudication issues. They are continuing their work and plan to have a report complete in June. All videos will be posted on usatf.tv at that time. The group has not completed their work or their interviews. There are several people who have yet to be interviewed."
For, everything on the Gabriele Grunewald DQ click here. If you just want to get an overview click here.
4 Minute Highlight Tape
[raw][/raw]
Full Unedited 37 Minutes
[raw][/raw]
More From Our Special "Gabriele Grunewald Disqualification" Section: