Jamaica Day 4: Rare Insider Access To A Racers Track Club Workout With Yohan Blake And Warren Weir, And Watching Track In The Bathroom At Usain Bolt's Sports Bar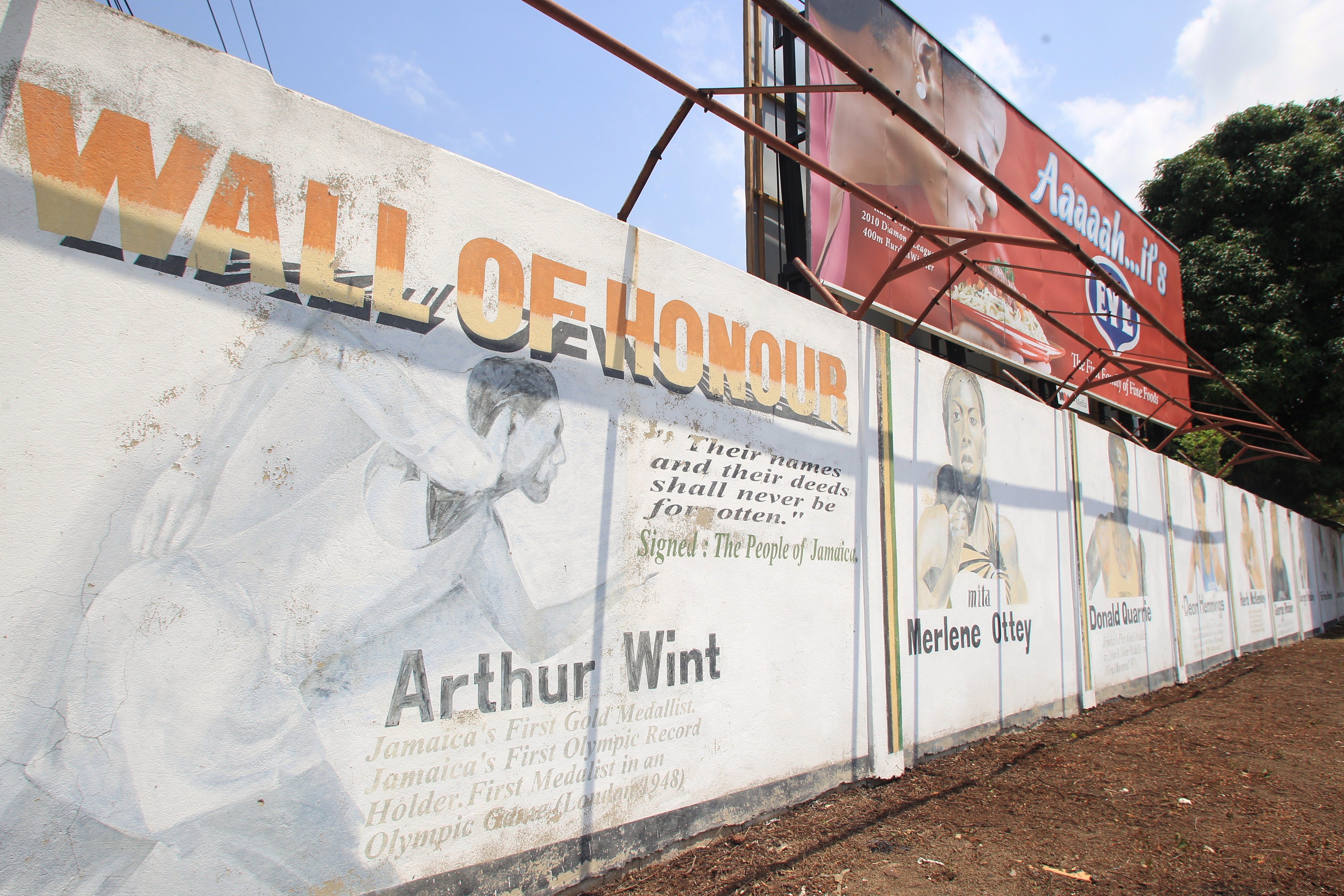 March 23, 2014 to March 30, 2014
by Steve Soprano
March 28, 2014
LRC note: Empolyee 1.1 Contractor 1.1, Steve Soprano, had never left the USA until this January. After travelling to World Indoors in Sopot, Poland two weeks ago, he had a one week stint at 2014 NCAA Indoors in Albuquerque, NM, and now he's off to Jamaica for the IAAF's Caribbean Day in the Life Project where he will spend the next 7-days in Jamaica meeting some of the world's top sprinters like Yohan Blake and Shelly-Anne Fraser-Pryce and giving you an inside glimpse at their daily routine and training regimen. Steve will try and write a day-by-day journal plus provide more in depth coverage once he returns.
The IAAF had a similar program a few years ago in Kenya where we spent 20 days in Kenya with the likes of Geoffrey Mutai, Moses Mosop, Wilson Kipsang, David Rudisha, Mary Keitany: LetsRun.com Goes To Kenya – IAAF Day in the Life Kenya.
Article continues below player
Editor's Update: Check this out: LRC Zharnel Hughes Does It – Takes Down Yohan Blake's Champs Record At 10.12!!!
Kingston, Jamaica – My fourth day in Jamaica started pretty late. I'm not going to even admit how late I stayed up after my 1AM run, but even though we didn't leave for the University of West Indies track until the afternoon, I was still tired.

It wasn't until I got there that I really understood that what we were doing was a pretty big deal. We were going to the Racers Track Club practice where we would get to see Yohan Blake and Warren Weir, as well as the rest of the club except for Usain Bolt (who's in Germany getting his foot worked on), do their workouts for the day. We were told that this kind of access has never been given before (even the reporter from the Jamaican national paper The Gleaner, had never been) and were given strict rules about talking to the athletes during their workout and giving them enough space. We also weren't allowed to take pictures of any of the other athletes … just Blake and Weir. I felt like I was being given a tour of a museum with valuable, fragile relics and being told not to touch anything.
Just being on the track where the best sprinters in the world workout was cool. It's a great place to workout since it was surrounded by grass fields and has beautiful views of the surrounding mountains. The only negative is there was almost no cover anywhere from the sun so it's really hot most days. It was in the high 80s and I was told it felt cooler than average because it wasn't very humid.
Unfortunately for the journalists, today's workout was an easy day as they had worked out very hard yesterday. Instead of gut wrenching repeats on the track, today was mostly technical form work and plyometrics. We watched Weir and Blake do a lot of drills on the cricket field next to the track (Blake also did some sled pulls) and then they both did hill sprints on grass and some 60m repeats.
I spoke with Racers Technical Director Patrick Dawson (We were told Coach Glen Mills is almost always at practice but today he was at "Champs") and he contrasted today's workout to a hard day, which are usually on Tuesdays and Thursdays. He said today's 60m repeats was simply technical work at about 70% effort with the focus being on transitioning out of the drive phase. He even yelled to one of the IAAF High Performance Center athletes from Mauritius about not racing the guy that was next to him as it was about doing it right, not fast. Since it was only 70% effort, they took relatively short rests, walking back from the 60m finish to the start and going again.
Dawson gave me example of what a truly hard day might look like. He said they might do 2-sets of 4 x 150m sprints in around 17-seconds, but take 8-10 minutes rest between repeats and up to 20-minutes between sets.
Even though today was an "easy" day, the overall workout still lasted for around 2-hours. Looking at all the drills and plyos, what impressed me most was what they could do with a weight vest on. Much of their work for the day was done wearing weighted vests, and at times, even weighted shorts under their normal training shorts.
If you look at the pictures below, you'll probably assume as did I that the vests are really light as they don't look particularly heavy. As I watched them throughout most the afternoon, I didn't give the vests too much thought. That was until I was watching Warren Weir do his hill sprints. He had a set of five but only wore his vest for the first one or two (Blake did 10 or 12 and wore it for the whole time). On the final three, Weir let me hold the vest and it was extremely heavy. I couldn't believe he was running around doing drills, plyos and hill sprints with that thing on in the 80+ degree weather. Just standing there and doing nothing but watch, I didn't even want to be wearing my cotton t-shirt. We did the math and figured out the vest was about 13 or 14 pounds and the weighted shorts another 5.
No way I could do any workout with an extra 20 pounds of body weight on – let alone in 80+ degree heat. I guess that's why I'm a distance runner.
My First Daytime Pre-10PM Run In Jamaica
We got back from the UWI track around 6PM which gave me 2-hours to get a run in before we left for dinner at 8PM. I knew I had to get it in then or it wasn't going to happen as we are starting tomorrow at 5:30AM – doing another midnight run was out of the question.
We got back to the hotel and I immediately went into my "desperate to make this run not feel like crap" routine. This involved putting my feet on a bag of ice, running ice cubes up and down my shins and calves, laying back on the floor with my legs elevated up against the wall and taking a caffeine filled Walmart energy flavor packet.
Even with that, I wasn't expecting much from this run. I had been on my feet all day, hadn't had a solid nights sleep all week and had been running on the treadmill/pavement instead of Flagstaff trails, so I was ready for a death march.
I crossed my fingers and hoped for the best as I set out from the hotel and amazingly, I actually felt great. I don't know if it was the above mentioned routine, or the fact I was actually running before midnight, but it was the first enjoyable run I'd done since getting to Jamaica. I headed to the same nearby park from last night (editor's note: if you haven't read about Steve running in the streets of Jamaica at 1 am click here), except this time instead of locked gates I found a crowded jogging path that was near impossible to run on. The surface was nice as it was some kind of track-like surface that was way softer than the road, but there were just dozens and dozens of walkers and joggers on it going extremely slow and sometimes walking 3-abreast. I had to weave in and out of people or jump off the path to avoid collisions.
I was doing a bit of an easy pickup today, so just did the 4-mile warm-up on the path (it was nice to zone out and not worry about where I was going, and contantly having to dodge people actually helped pass the time) and then took to the roads for the up-tempo. I made it about 3-miles outside before heading back into the hotel to finish up the last 2-miles of the pickup on the treadmill since there was a ton of traffic on the roads and I wanted to get a pace for the last couple of miles. Then I finished with a 2-mile cool-down to get 11-miles for the day. It was actually a bit frustrating since I felt good for once and it would have been great to take advantage of it by getting in 15-miles or so, but I just didn't have time. As it stood, I only had 7-minutes to take a shower, get dressed and meet the group for dinner.
Dinner At Usain Bolt's Track and Records Sport Bar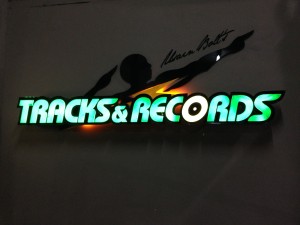 I had no idea where we were going to dinner tonight so I was pretty psyched when I got out of the van and saw we were at "Usain Bolt's Tracks and Records". It's a sports bar with a track and field / music records theme and it's pretty cool. There were TVs galore all playing sports and the food was pretty good. I tried the jerk pork with festival and friend plantain since the menu said it was one of Bolt's favorites (festival is basically a funnel cake without the white powder).
My only problem with the place was that this is USAIN BOLT's restaurant, there are about twenty or more TVs and what has been pumped up to me all week as the "best high school meet in the world", the Jamaican ISSA Boys and Girls Championships, was on live television – but it was only on one freaking TV!?!?! I couldn't believe it. And what was on almost every single other screen including the huge mega screen in the center of the restaurant? The Miami-Indiana NBA game. The restaurant had free wifi (ok, another +1 for them) so I took to twitter with my anger.
Why is the only tv showing track in the @usainbolt sports bar not facing anyone?!? #wtf pic.twitter.com/ipemS6eeOi

— Steve Soprano (@SteveSoprano) March 27, 2014
And what's on the big screen and just about every other TV in the bar? The Miami-Indiana game. Again … #wtf pic.twitter.com/pkkPXXC2D3

— Steve Soprano (@SteveSoprano) March 27, 2014
Anyway, after the staff saw us all craning our necks to see the one TV that had track, they were nice and put it on two addition TVs (still neither one was great for me since one was angled away from me and the other was behind me. Actually the only time I got a good view of the track meet was when I went to the bathroom as it turned out there was a TV in there showing the meet.
But hey, at least track is on in the bathroom. pic.twitter.com/7oWPwZTqDK

— Steve Soprano (@SteveSoprano) March 27, 2014
Yes, I'm in Jamaica, sprinting capital of the world, in the restaurant of the fastest man in history, Usain Bolt, and the only time I got a good look at track on the TV was when I was in the bathroom taking a piss. If that isn't a perfect metaphor for the popularity of track and field I don't know what is.
Update: To be fair, this was day 2 of the "Champs" so mostly prelims (although the 2K steeple finals were on when I was trying to watch). However, I looked it up and there are actually more than 45 TVs in the restaurant so no excuse.
Update 2: I later found out that Bolt doesn't own the restaurant, but they pay him to use his name and he helped with some of the design/menu choices.
Editor's note: Steve don't feel bad. Soccer is certainly more popular than track in Kenya and Ethiopia as well. Also don't feel bad for not appreciating how hard sprinters work until today. In college, LetsRun.com co-founder Weldon Johnson was told by famed sprint coach Dan Pfaff that there was no way he could physically finish a tough sprint workout – he simply wasn't explosive, strong enough.
Photos and coaches interviews below.
Editor's Update: Check this out: LRC Zharnel Hughes Does It – Takes Down Yohan Blake's Champs Record At 10.12!!!
Editor's note: LetsRun.com paid for Steve to get to Jamaica. The IAAF pays for Steve's accommodations and in country travel while in Jamaica. They have no say on what we publish or what he writes.
Technical Director Patrick Dawson
Sprints Coach Jermaine Shand