4X800 American Record Assault at New Balance Indoor Grand Prix Gets Even Better: Duane Solomon Joins the Mix
By LetsRun.com
January 29, 2014
The American 4×800 record attempt next Saturday at the New Balance Grand Prix in Boston just got even better. Duane Solomon, the second fastest 800m man ever in America, is now getting a team together and will take on the Brooks Beasts team led by 5 time US Champion and World Champion silver medallist Nick Symmonds and the NY/NJ Track Club team led by NCAA Champion Robby Andrews, according to a tweet from meet organizers.
Article continues below player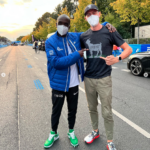 Kipchoge loves the 1:59:40 Shirt Get Yours Today
What a legend!
Solomon is coming off his 600m victory over American record holder Erik Sowinski this past weekend at the New Balance Games in New York City.
After the race, Solomon indicated that would be his only indoor race of the season.
That is no longer the case and American track and field fans can watch Solomon vs Symmonds vs Andrews for the 4×800 American record live on national television on the NBC Sports Network next Saturday.
The American record is 7:13.94 which means the teams need to average 1:48.48 a leg.
When the Brooks Beasts vs NY/NJ Track Club matchup was announced, we took a look at what the Brooks Beasts could theoretically run for 4 x 800. It's well under the record:
Brooks Beast 4 x 800 Based on PBs
Matt Scherer – 1:46.11
Mark Wieczorek – 1:45.36
Casimir Loxsom – 1:45.28
Nick Symmonds – 1:42.95
Total: 6:59.70
NY/NJ Track Club you say?
Robby Andrews: 1:44.71
Mike Rutt: 1:45.08
Brian Gagnon: 1:45.45
Tevan Everett: 1:46.02
Total: 7:01.26
No word yet on who will be on Solomon's team.
Update: A Message board poster found a link to Solomon's team on the meet website:
Duane's All-Stars
Duane Solomon 1:42.82
Richard Jones 1:45.56
Erik Sowinski 1:45.21
David Torrence 1:45.14
Total:  6:58.73
*Discuss this race in this thread in our forums
More from our previous story on the fields at the New Balance Indoor Grand Prix.
Tweet from Meet organizers below:
Great race just got better: @DuaneBang800 to lead a team in 4×8 WR try at #NBIGP! @NickSymmonds @RA_Andrews @letsrundotcom

— NB Indoor Grand Prix (@NBIndoorGP) January 29, 2014