Mary Cain Is A Nerd, US 1,500 Runners Run Fast But Somehow We Get Depressed, Don't Believe Everything You See On Facebook
by LetsRun.com July 9, 2013 Last week's weekly recap can be found here. This week we remind you not to believe everything you see on Facebook, talk about the crazy-fast US 1,500 times from last week but somehow get a little depressed by it before getting out of our funk to realize Mary Cain is […]
Join Our Supporters Club To Keep Reading
Sign up today to get a free 12-week training program and t-shirt.
by LetsRun.com
July 9, 2013
Last week's weekly recap can be found here.
This week we remind you not to believe everything you see on Facebook, talk about the crazy-fast US 1,500 times from last week but somehow get a little depressed by it before getting out of our funk to realize Mary Cain is a nerd, discuss some crazy Russian doping news, and praise Bridget Franek for taking a sabbatical at age 25. Plus talk of Alan Webb, Evan Jager, Chris Lear and Lolo Jones.
Article continues below player
****
Photo Of The Week I / Don't Always Believe What You See On Facebook/Twitter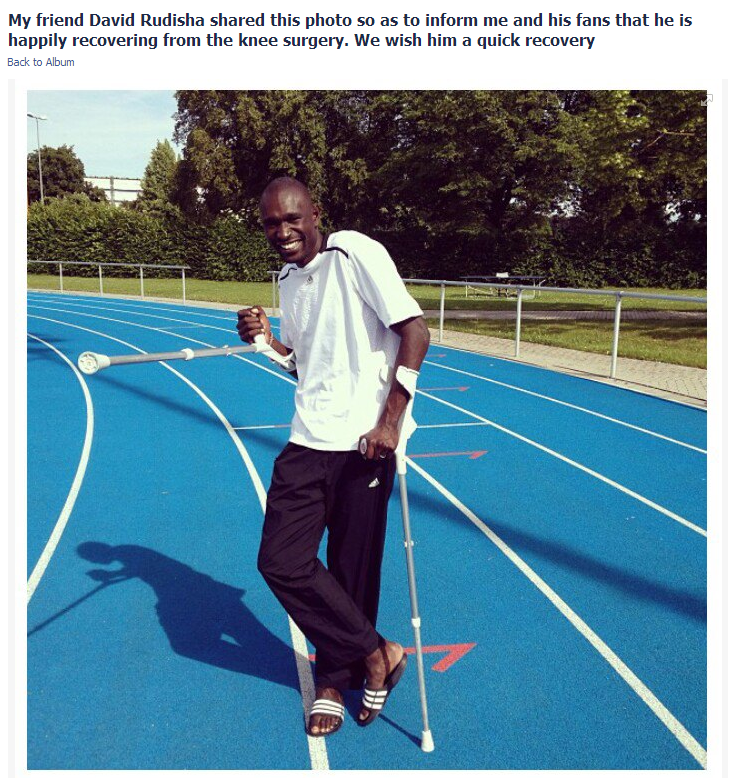 That photo showed up on the Facebook page of Lordvick Okech, a Kenyan who says he's friends with Rudisha, but it's improperly captioned.
For the record, David Rudisha's agent James Templeton has said Rudisha didn't have knee surgery as the photo implies. Because of it's importance, we gave this item its own story: LRC For The Record, David Rudisha Has Not Had Surgery
****
US 1,500 Runners Run Fast
Last week, was a good week for US 1,500 runners. Heading into the week, no US 1,500 man had run under 3:36 on the year outdoors (Galen Rupp had split 3:34.79 indoors in his 3:50.92 mile).
Guess how many have done it now?
Ten.
The 10 Fastest US 1,500 Runners Outdoors This Year
1 Leo Manzano 3:33.14 (2nd fastest time ever, PR is 3:32.37)
2 Jordan McNamara 3:34.00 (previous PR 3:35.63)
3 Garrett Heath 3:34.12 (previous PR 3:36.03)
4 David Torrence 3:34.19 (previous PR 3:34.25)
5 Andy Bayer 3:34.47 (previous PR 3:37.24, but he PRed first on 7/2 at 3:36.08)
6 Lopez Lomong 3:34.55 (3:32.20 is his PR)
7 Cory Leslie 3:34.93 (previous PR 3:37.97)
8 Will Leer 3:35.27 (previous PR 3:36.33)
9 Craig Miller 3:35.48 (previous PR 3:36.35)
10 John Bolas 3:35.54 (previous PR 3:36.33)
Eight of the ten guys on that list PRed last week and 2012 NCAA champ and Olympic Trials 4th placer Andy Bayer set PRs twice last week. That's some good work.
What does it mean?
The main ramifications of the fast running is that the US 1,500 team for Moscow, barring injury, will be the top 3 at USAs – Matt Centrowitz, Leo Manzano and Lopez Lomong. It also confirms to us what we thought we already knew after USAs – the Olympic silver medallist Leo Manzano is officially back (MB: Manzano IS BACK – 3:33.14 in Paris!!!).
Other than that, the fast times are great for the guys who ran them but they don't have any real practical implications in terms of World Championships/Olympics. The times may help the guys get in a race or two down the road and may help anyone without a contract, but there are no World Championships next year to qualify for (and even if they were, the qualifying window likely wouldn't open up until October).
****
Three Somewhat Depressing Takeaways Amidst All The 1,500 Personal Bests?
Many of the 1,500 PRs came from the 22nd Memorial Léon Buyle in Oordegem, Belgium, which is known for it's fast track and great wind conditions.
We know one thing. The weather must have been ideal (either that or the track is short*) as everyone in every race around the oval was setting a PR or at a minimum a seasonal best.
Check this stat out.
Stat Of The Week I
18 of the 28 guys in the top heat of the 800/1,500 listed in the results on tilastopaja.org, ran a lifetime personal best (3 others ran seasonal best times).

17 of the 27 women listed in the results on tilastopaja.org for the 800/1,500 top heat finished with a personal best (9 others ran seasonal bests).
So what's depressing about that? Well, it seems as if you were going to run fast this year, you would have done it in Belgium, and consider this:
1) American mile record holder Alan Webb wasn't one of the guys to set a personal or seasonal best in Belgium as the former 3:46.91 miler ran a 3:46.53.
We've said it earlier, if Webb doesn't put up a decent time this year, we really think he should start training for the 2016 Olympics in the triathlon. The times we threw out earlier in the year were 3:35/13:20. We'll make them easier – 3:37.00/13:25.00.
That's depressing point #1.
Two other things that have us a little bit worried.
2) The winner of the men's 1,500 in Belgium was 2013 world #3 Zakaria Maazouzi of Morocco in 3:32.89.
Earlier in the year, we told everyone to keep a close eye on him, including WADA, given his massive 6.78-second personal best this year (he's gone from 3:38.72 to 3:31.94). Now just because he's improved that much at age 27/28 doesn't mean he's on drugs (Mary Cain has actually improved by about as much (6.39 seconds)) but it would probably be better for just about everyone in the sport but Maazouzi and the Moroccans if he wasn't a major player this year. After Maazouzi regressed to a 3:37.40 on June 9th, there was hope he wasn't going to be a big player this year but it doesn't look like we're going to get that lucky now.
3) US third-placer Cory McGee didn't get the 4:09.00 "B" standard.
McGee did have a nice race and broke 4:10.00 for the first time at 4:09.85 in Belgium (previous PR of 4:10.55).
Given the fact that she was top three at USAs, we expected she would get the standard before the July 20th deadline. But given how fast everyone was running in Belgium, the result makes us a little bit nervous about her chances for eventually getting it.
The one big positive for her is the women's race wasn't as deep up front as the men's and only one woman got the standard, Heather Kampf (4:08.45). McGee was third in the race so maybe if she gets in a higher quality race she'll be able to get it, but we're less confident than we were at the start of the week.
*We don't actually think the track is short. It's just like when the Stanford meets first started being held. The times are so fast they almost defy logic.
More: LRC Goes To Paris: Men's 1,500: Mission Accomplished* For American Men; Leo's BACK!!!
MB: Mcnamara, Heath, Bayer, Leslie A standard!! 7 Americans 3.35.54 or faster!! *MB: Great Britain 1500 team in Moscow
MB: David Torrence Runs 3:34.19 for 1500m to Become First American With "A" standard
*Heather Kampf Wins Women's 1,500 In Belgium With Almost 4-Second PR Of 4:08.37 As McGee Just Misses B *Full Results
****
Big Doping News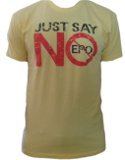 Last week, there was a huge story on doping that came out in the UK that was seemingly overshadowed on our homepage by all of the Paris and Lausanne coverage. But in our minds, the special investigation by the Mail on Sunday in the UK is a must read for any true athletics fan.
The story is full of amazing allegations.
The two biggest:
A Mail On Sunday investigation has established that the boss of the key (Russian drug testing) laboratory was arrested and questioned on suspicion of sourcing and selling banned drugs.

Director Grigory Rodchenkov, 54, was released without charge or public explanation and is back running the lab — but his sister was convicted and jailed in December 2012 for buying and possessing banned drugs, with the intention of supplying them to athletes.
The story also includes another very serious allegation as it quotes at least three people (a lawyer, a coach and an athlete) saying that Russian athletes were expected each year to pay each year for a doping protocol which also would included testing protection from the lab.
400 runner Valentin Kruglyakov "told local media that he had been stopped from going to last year's Olympics after refusing to pay $1,500 to ensure a clean drug test" and as a result, tested positive and didn't go to London even though the test was eventually overturned.
The day after the story broke, the allegations were denied by the Russians. Russia's national team head coach Valentin Maslakov said, "These are people who themselves do not have clean hands, who are themselves mixed up in doping cases."
Maslakov is basically saying, "This isn't true. The people making the allegations are dopers."
It's all very interesting. Do we have a huge conspiracy to dope going to the very top or do we have dopers being busted and then saying something like, "I didn't do it. The Russians nailed me because I wouldn't dope and pay the people for protection?"
Hopefully we find out soon. Clearly in the past, there were conspiracies to dope. In 2008, seven were suspended for switching their urine samples. But are these conspiracies to dope coming from the officials in charge themselves?
More Doping News: Veronica Campbell-Brown Likely To Only Get 6-Month Ban (article behind paywall) The Times of London is reporting Campbell-Brown is likely to only get a 6-month ban. *Summary
Drug Cheat Rashid Ramzi DNFs In 1,500 At Asian Champs
More: SPECIAL INVESTIGATION: Drugs, bribery and the cover-up! Russian athletes – including those who robbed Brits of medals – 'ordered to dope by coaches' and officials 'demanded cash to mask positive tests'
*Russian Athletics Coach Slams Doping Claims
****
Quote Of The Week I (that wasn't quote of the day):
"We're the nerds of the grade. I am a complete nerd, I am not cool at all."
– US high school sensation Mary Cain talking to Sports Illustrated's Tim Layden about her status at Bronxville High.
The piece by Layden is highly recommended.
More: Here Comes Mary Cain
****
Quote Of The Week II (that wasn't quote of the day):
"They say athletics is 90% mental, which is not exactly correct, but still, the mental is very important. I first took confidence for granted, as for the first 4 years on the circuit I remained unbeaten. Then I did not win one single medal for 8 years. I started to lose confidence, to be scared: of the line, of the race, of the one who would do a better time than me … Once I realised the effects these mental games had on me, I started implementing little tricks and things, mind games in order to stay focused, relaxed."
– 2004 and 2012 Olympic 400 hurdles champ Félix Sánchez talking to LetsRun.com in Lausanne last week. The fact that a guy who once didn't lose a 400 hurdles race that he finished for over four years (he lost on July 2nd, 2001 and then again on July 16th 2006), could struggle mentally should pump everyone up.
More: Felix Sanchez Is Just Like You, Ryan Wilson Never Quit, The 100 Vs. Hurdles, Jeter, Montsho And More Lausanne
****
Quote Of The Week III (that wasn't quote of the day):
"I've decided to hang up the spikes temporarily and take an extended break from the sport.
I am headed back to Oregon for the summer. My soul, my spirit, and my passion need to be recharged.
I am scared, I am nervous, but I am also excited. I did not achieve my running goals this year but I have decided to take this as a new opportunity, a wake up call. I never wanted my personal identity to be defined solely by who I am on the track but in my dedication and intense focus throughout the past 8 years, I realize I have been blocking out a huge portion of myself and life. Its time for me to be reminded again of who I am outside the oval. I love running and competing and I am not ready for this phase of my life to be over, I just want to learn how to incorporate and express my true self through it better. That is my new summer mission."
– 2012 US Olympic steeplechaser Bridget Franek, blogging that she'll be taking a sabbatical from the sport at age 25 after failing make the 2013 Moscow World Championships team.
When we read the piece, we thought it was a great idea. To be truthful, we're surprised more runners don't do similar things, but we know that having a narrow focus is what enables runners like Franek to be successful in the first place.
But if you are looking at it objectively, how much more is Franek going to do in the sport? She's made an Olympic team but her 9:29 personal best means she's probably 20 seconds away from sniffing a medal. Does she want to continue for another 3 years, hoping for that one Billy Mills-esque moment that likely won't come? If she really enjoys the lifestyle and commitment like Paula Radcliffe once did, then by all means go for it. But if she's doing it just because she's always done it and it is good at it, then do something else.
We've always felt you know if you are really a runner if when you stop doing it that you realize you really miss it.
It's good to at least contemplate not doing it before you commit to three more years.
More: Steepling Barriers, Chasing Dreams
****
Weird Thought Of The Week: Americans Hope To Run Fast Enough Not To Work, But Africans Hope To Get Fast Enough To Get A Good Job
Last week, we enjoyed reading a Running Times/Runner's World feature on Cal grad Taylor Bryson, who is trying to juggle two part-time jobs while continuing to train, as it reminded us of our own early post-collegiate years. As Running With The Buffaloes author Chris Lear said to us earlier this summer, "Do you remember when we just got out of school and the only thing we cared about was making rent and running? Those were the days."
That being said, we had a weird thought along those lines last week. How come in the US, runners want to be able to get to a level where they don't have to work? Whereas in Africa it seems to be the opposite.
In Ethiopia, Haile Gebreslassie has for years relished in balancing running a business empire while being a 2:03 marathoner. In Kenya, runners use their achievements to get good jobs with Police or Defense Forces. More recently, Uganda's Olympic marathon champ Stephen Kiprotich said he can't wait to return to his work as a prison guard,
"(The prison) that is my place of work. Running is just a short period of time. After I retire I need to go and work."
That's our Random Thought Of The Week. If you have thoughts about it, email us or post it on the message board.
OK, enough of the randomness. On to full list of Recommended Reads:
1. The Real World: A running career without sponsorship? How a recent grad makes ends meet.
2. Did You Know That In 1968, Up To 300 People Were Massacred 10 Days Before Olympics After Protesting The Costs? Let's hope there isn't a repeat in Brazil 2014/2016. Death totals aren't known for sure from 1968, but it was between 30 and 300 for the Tlatelolco massacre.
3. Nice Dallas Morning News Profile On Newly-Minted American Record Holder Michelle Carter
4. Tim Layden Article On Mary Cain's Emergence As The Fastest Prep Mid-Distance Female In US History And Her Coping With The Burden Of Great Expectations
****
A Few Quick Parting Thoughts
Lolo Jones is no dummy. She may have made fun of her measly $741.83 paycheck for bobsledding but she realizes an Olympic gold medal could be worth hundreds of thousands/millions for her over the course of her lifetime in terms of endorsements/speaking engagements. Why else would she not race the hurdles the rest of the summer when she's close the best form she's even been in?
####
Evan Jager told us after his steeple at Prefontaine that he and Jerry Schumacher realized they need to get where Jager can close in 57 in a steeple to have a shot at a medal. After watching Ezekiel Kemboi close in 58-low in a 7:59 race, we were wondering if 57 would even be fast enough if the race was somewhat tactical.
It probably would be, as the Olympic silver medallist Mahiedine Mekhissi-Benabbad, closed in about 59 for second.
More: *Lolo Jones Goes To The Bobsled and Accepts Her Twitter Date: Who Will Pay And Is He "Legal"?
Ezekiel Kemboi Breaks 8:00 As Mahiedine Mekhissi-Benabbad Breaks The European Record In The Men's Steeplechase At The 2013 Paris Diamond League
****
Other News Of Note
2013 AJC Peachtree *Top Results
Rudy Winkler Sets US National HS Record In The Hammer
Patrick Makau & Wilson Kipsang To Clash At 2013 Berlin Marathon; Desi Davila Commits As Well
****
Quotes Of The Day & Last Week's Homepages:
Note: To see a particular day's homepage, click on the hyperlink of the date. The hyperlink below the date on the quotes will take you to that particular article – not that day's homepage.
---
"I know people have been saying all sorts of things about Caster's fitness, but she is going to silence them. The rehabilitation has gone well and we are happy with the training process. Caster will be back in action in Europe in two weeks."

– Caster Semenya's coach, Maria Mutola, saying that Semenya is back from her knee injury and still planning on racing in Moscow even though previous reports have said she wasn't. If her only race is really in 2 weeks, she'll only have one shot at posting a qualifying time for Moscow. She hasn't raced since the London Games, but in the article, Semenya says, "The bigger picture for me is to reclaim the title I won in 2009 in Germany."
---
"Next thing you know it feels like I have more pop in my legs and I say, 'It's either now or never' and start moving. … I just kept moving and I was hoping to close and win the race but I was (just) a little bit off. …"
"… I feel like I'm just now starting to come back. … I would say that the lion is out of hibernation."
– Leo Manzano talking after his third place finish in the Paris Diamond League 1,500 yesterda,y where he got the IAAF "A" standard by running 3:33.14.
---
"My manager told me how much I would get if I jumped 2.41m, so I did it. But he didn't tell me if I'd get anything for breaking the world record!"

– Ukraine high jumper Bohdan Bondarenko joking after being asked why he didn't clear the 2.46m World Record at the Lausanne Diamond League Meet. He has come out of nowhere this season, winning the meet in 2.41m (the best jump since 1994; third best all-time) and actually came close in his WR attempt. He received a $10,000 bonus for clearing 2.41m.
---
"Solomon, I am very happy for him. We'll see (who is best) in Moscow."

– Ethiopia's Mohammed Aman talking to LetsRun.com about 2013's world fastest man at 800, the US's Duane Solomon. Aman picked up his sixth straight victory in Lausanne and said he won't race again until squaring off with Solomon and everyone else in Moscow.
---

– 32 is the number of times that hurdlers Jason Richardson and Ryan Wilson have raced each other in the last three-plus years. 12 is the number of times Tyson Gay and Usain Bolt have faced each other in 7+ years.
---
"My work days and workout days are two different worlds. I work one day and try to live out my dream the next day."
– University of California-Berkeley 2012 graduate Taylor Bryson, talking about how she continues to chase her dreams post-collegiately and supports herself without being at the sponsorship level.
---

"It feels like your own body has betrayed you, like I've been stabbed. I'm an athlete. I workout, I train. It can't be possible."
"… I competed at the Olympics, I got fifth in the 400 and third in the 4 x 400. Was it crazy? Yes. That's everybody's dream, to run at the Olympics. But I was thinking about my hurdles that I have to come back to fight. I was thinking: 'Am I going to survive this?' … My teammates in the relay did not know. But I was standing on the podium and I didn't know if I would ever run another race."
"… I'm still one of the top 400m runners in the world and I want to see what I can do. Moscow will be for all the breast cancer survivors out there. I want them to know it's still possible."
– Jamaican 400m national champion Novlene Williams-Mills, who was diagnosed with breast cancer before the 2012 Games, but still went, competed, and placed 5th in the open 400 and won bronze on the 4 x 400 relay. She had her last surgery in January, started full training again until March, and still made the Jamaican Worlds team, winning the Trials in 50.01.