by: Letsrun.com
July 4, 2013
Lausanne, Switzerland
With Rome, Ostrava and Birmingham winner Milcah Chemos not showing up on the start line (no reason was given but the Kenyan Trials are next week), there was a big opportunity for someone to pick up a Diamond League victory here. At the bell, this was a two-woman affair between Ethiopians Sofia Assefa and Hiwot Ayalew. For nearly the entire last lap, the Ethiopian national record holder and Olympic bronze medallist Assefa looked to be on her way to victory as she was 3-4 meters ahead of 2013 World Cross-Country silver medallist Ayalew.
Assefa had no problem with the last barrier and was on her way to victory. Then Ayalew suddenly moved outside and stole the race at the line. The following two pictures perfectly show what happened.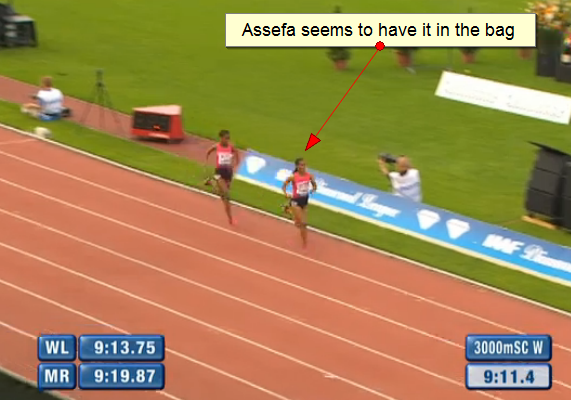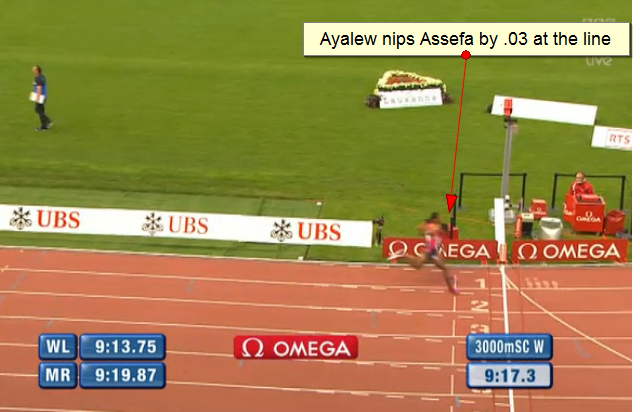 Article continues below player
No More Steeples For Higginson Until Worlds?
2013 USA runner-up Ashley Higginson didn't hit the "A" standard of 9:43.00 today. She went out in around 3:09-3:10 but faded to last in 9:49.62. As a result, as of now, the US team going to Moscow is 2013 USA winner Nicole Bush, Higginson and 2013 USA 4th placer Jamie Cheever (who has the "A"). 2013 USA third placer Shalaya Kipp needs to get the "A" or have Higginson get it or she won't go to Moscow.
The bad news for Kipp fans is that Higginson indicated this may be her last steeple before Worlds. The plan was to run the steeple in Monaco on the 19th, but after this performance, Higginson may have trouble getting into that meet. She said if she doesn't get in she'll focus on the flats until Worlds.
Higginson said she'll soon resume training in her European base of Brussels. But before that, she said she wanted some European wine. Nothing wrong with some vino on the 4th of July.
Ashley Higginson:

QT: The news about Higginson possibly not steepling again this summer was what we took away most from this. Without Chemos here, the win doesn't mean as much (unless Chemos is hurt). But young track and field fans should watch the end of this race if they want to learn why it's important never to stop running until the race is actually over. Ayalew was very impressive the last 10 meters, whereas Assefa, while not clearly letting up, sort of just allowed the race to be stolen.
| | | | | | | | |
| --- | --- | --- | --- | --- | --- | --- | --- |
| 1 | | ETH | 9:17.66 | MR | 6 | 4 | |
| 2 | | ETH | 9:17.69 | | 8 | 3 | |
| 3 | | ETH | 9:24.40 | | 3 | 5 | |
| 4 | | ETH | 9:35.08 | | | | |
| 5 | | ROU | 9:37.35 | SB | | | |
| 6 | | ESP | 9:46.25 | | | | |
| 7 | | ETH | 9:46.52 | | | | |
| 8 | | USA | 9:49.62 | | | | |
| | | FRA | DNF | | | | |
| | | ETH | DNS | | | | |
| | | KEN | DNS | | 8 | 2 | |
| | | RUS | DNS | | | | |
1,000m: Navez, Claire (FRA): 3:07.55
2,000m: Assefa, Sofia (ETH): 6:18.75
---
Advertisement
The 1:59:40 GOAT shirts are here