by LetsRun.com
June 6, 2013
Ethiopia's recenty turn 19-year old Hagos Gebrhiwet suffered his first loss of the season in Rome today as he was stunned by 23-year old Ethiopian Yenew Alamirew who used a 54-flat final lap to give himself the win in a new world leading time of 12:54.95. Hagos was next best in 12:55.73. The man who beat Mo Farah in Eugene last week, Kenya's Edwin Soi, was only fifth in 13:02.54.
Given the fact that he'd earned dominant victories in Doha and New York, Gebhiwet came in as the big favorite. The race had an odd feel to it as the field didn't go with the three rabbits early on. BBC announcer Steve Cram said Gebrhiwet used a sub-2 800 in the middle of the race to catch back up to the rabbits by the six minute mark (we can't confirm that the split was that fast).
At the bell, Gebrhiwet went to the lead but it was Alamirew, who himself is no slouch as he did run 12:48 last year and make the Olympic final, who took a bit of the lustre off of Hagos' shine as he took the lead maybe a third of the way down the homestretch and powered home to victory.
Two quick takes, full results and video highlights appear below.
Article continues below player
Quick Take #1: A weird race. We have no idea why they didn't go with the rabbits early on as they were spot on. Then it seemed as Hagos just thought he'd run away from people like he did in New York.
Perhaps the big early race surge proved costly as late in the race Hagos couldn't match Alamirew. We know one thing. Hagos isn't nearly as unbeatable as he seemed coming into this race – he just lost.
QT #2: Coming into this one, Alamirew had been third in the Doha 3000 and third in the Prefontaine 5000. Here he won in a world leading time. 54.02 is a nice last 400m in a 12:54 race. At Pre, Soi closed in 53.5 but the winning time was 13:04.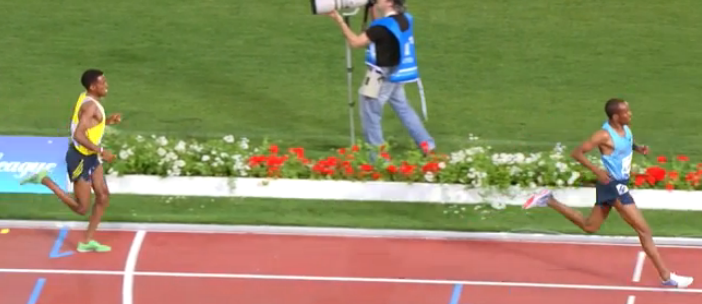 ANK
ATHLETE
NATION
RESULT
DIAMOND POINTS
DIAMOND RANKING

1

ETH

12:54.95

WL

5

2

2

ETH

12:55.73

SB

10

1

3

KEN

12:58.85

SB

1

5

4

KEN

13:01.64

SB

5

KEN

13:02.54

SB

6

KEN

13:03.80

PB

7

ETH

13:09.17

8

BRN

13:10.14

SB

9

ETH

13:13.18

SB

10

KEN

13:17.97

11

KEN

13:33.97

2

3

12

MAR

13:43.31

13

RWA

13:45.39

PB

14

BEL

13:53.28

KEN

DNF

AZE

DNF

TUR

DNF

KEN

DNF
1000m Rono, Vincent (KEN) 2:35.46
 2000m Rono, Vincent (KEN) 5:09.67
 3000m Barusei, Geofrey (KEN) 7:44.32
 4000m Kipkoech, John (KEN) 10:22.55