Shalane Flanagan and Kara Goucher on The Beauty and Emotion of the Boston Marathon
by: LetsRun.com
April 22, 2013
Due to the horrific bombings last week in Boston, we only did cursory coverage of the actual races.
Now a week later, we're honoring the runners and the city of Boston by celebrating the great achievements of the runners. Our men's race story is here and women's race here. In this piece we're looking at the reaction of the top two American women in the trace, training partners Shalane Flanagan and Kara Goucher.
Article continues below player
The actual results of a footrace may seem pointless in the big scheme of things, but the very fact a city has come together to celebrate a footrace for 117 times is what makes it so joyous.
One of the big story lines heading into Boston was whether Massachusetts native Shalane Flanagan (or Kara Goucher) could end the American drought in Boston. An American hasn't won in Boston since 1985. In the end, Shalane would finish fourth in her Boston debut with Kara sixth.
Shalane would tear up at the finishline (picture below) and Kara would tear up at the press conference just talking about Shalane wanting to win so badly.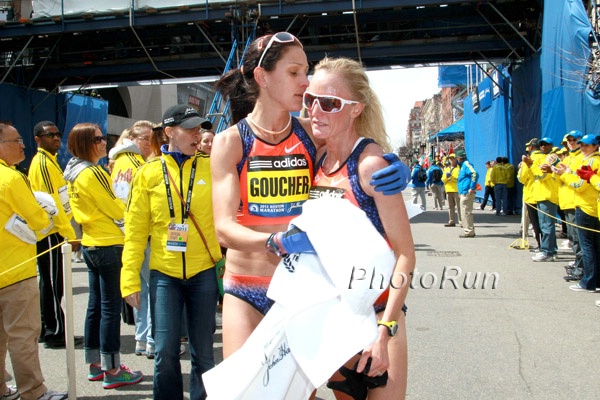 It's a bit strange to go back and look at post-race comments from the press-conference after the race but before the bombings. The bombings changed the significance of everything.
One unintended consequence of the bombings was they just reinforced and reminded us what a wonderful event Boston is. Hundreds of thousands of people go and line the streets to cheer for loved ones and people they do not even know who have spent months of their lives training for this day. A marathon is a celebration of community, and the Boston marathon is such a celebration on a grand scale.
Only because Boston means so much did Flanagan and Kara tear up afterwards. They knew what a big deal it would be for the Boston community, for our American community to have an American winner.
Flanagan On Her Tears and The Beauty of The Marathon
"Running in a marathon is an emotional event. You pour a lot of yourself into the preparation and into the race day. It's a celebration," Flanagan said. She added, "Yeah I was disappointed, so there were some tears."
(Editor's note: You can watch video highlights of these comments from the American women in the video at the bottom of this article).
As Flanagan said in her post-race comments, the beauty of sport comes from the fact that we can not determine its outcome, all we can do is do our best. The marathon reminds us of this perhaps more so than any other event, because twenty plus thousand of us all at once are doing our best.
Flanagan said her coach Jerry Schumacher told her he was proud of her for her effort. She said, "All we can ask is to put ourselves in position to capitalize on the day… I'm genuinely proud of my buildup, I'm proud of my race. It's not what I want. I'm still hungry for more. But that's part of sport. That's the beauty (of sport). We may not achieve them (our goals) all the time."
If an American won the Boston Marathon every year, it wouldn't be quite as special would it?
Kara Chokes Up for Shalane
Kara, who battled an injury in the fall, came into Boston not as fit as Shalane. Kara was surprised to find herself in the lead pack so late in the race, so she saved her tears for her training partner saying, "We train for the opportunity and one day the opportunity is going to be there. I know Shalane is so crestfallen right now and I know what she is going through (Editor's note: Kara was third in her Boston debut in 2009). It's going to happen (an American winner). I just feel bad for her."
Pro-American Crowd
In light of the bombings, it's worth noting that before the bombings occurred one thing many people talked about was how pro-American the crowd was. Everyone even LetsRun.com noted the patriotic sentiment of the day.
Defending champ Wesley Korir of Kenya said the crowd was yelling "USA, USA" as Jason Hartmann passed him for fourth. In his post-race television interview at the finish line, Hartmann himself said "I'm just glad I'm American as the crowd really pushed me. They really supported me and helped with my performance today."
Shalane Flanagan said it was loud, really loud for the Americans. "There were moments I had chills. There were moments my ears actually hurt they were yelling so loud," she said.
And we at LetsRun.com were struck by how the #1 rule in the media of "There is no cheering in the press bo,x" was violated in the media room in both the men's and women's races. When both Hartmann and Flanagan finished fourth, cheers erupted in the media room.
The Legend of Joanie (Keeps Growing)
Ultimately, Kara and Shalane want one thing.
"We want to be the next Joanie," said Shalane referencing American Olympic champion Joan Benoit Samuelson, who set a world's best of 2:22:43 in winning the 1983 Boston Marathon.
30 years later, Samuelson was back in Boston this year, hoping to run within 30 minutes of her 1983 time. Samuelson did even better running 2:50:29, faster than the 50+ world record (2:52:14) of Rae Baymiller.
Samuelson's goal in Boston was not the world best but the internal one of running within 30 minutes of her 1983 time. Runners everywhere might be relieved to know that even a great like Samuelson got brain fatigue in the marathon, as she thought she was on pace, but then at one point late in the race, had trouble adding up the time and she wasn't so sure anymore. Then when she realized she was on pace she thought, "Don't blow it now."
Samuelson prepared seriously for the event and added a lot of cross-country skiing when she couldn't run. Interestingly she said she didn't run faster than 7:08 pace in preparing for this race. Yet somehow she averaged 6:30 a mile for 26.2 miles last Monday. Amazing.
Different Rules for the Pros
One light hearted moment came when Shalane was talking how beneficial it was to have Kara with her as Kara had run Boston before and helped her with the logistics.
Shalane revealed that both women had to ….. ummm … urinate before the start and there wasn't time to go to a Porta Potty. So what did they do? Get a bunch of officials around and have them shield the crowd so they could go right there on the roadway.
Shalane said referencing all her experiences with Kara including the Porta Potty, "We may not have the laurel wreath on our head but we have some great memories from today."
The memories of Boston 2013 would change dramatically roughly an hour later when the bombs went off. More than anything, it means that next year we must celebrate the greatness of one of the world's oldest foot race.
***
In the video below, we've got 5 minutes of video highlights from the press conference with many of the quotes above for you to watch.
As for Shalane and the actual race, the hardest thing for her were the downhills. She says, "My legs were jello and the downhills were really hard."
5 Minute Video Highlights of
Post Race Comments from Shalane Flanagan and Kara Goucher
More: 2013 Boston Men's Analysis
*Women's Recap/Analysis